Foreign Minister Receives The New Canadian Ambassador to Vietnam
Canada considers Vietnam one of key partners in Southeast Asia, said the new ambassador.
Foreign Minister Bui Thanh Son received new Canadian Ambassador to Vietnam Shawn Perry Steil in Hanoi on June 10, VNA reported.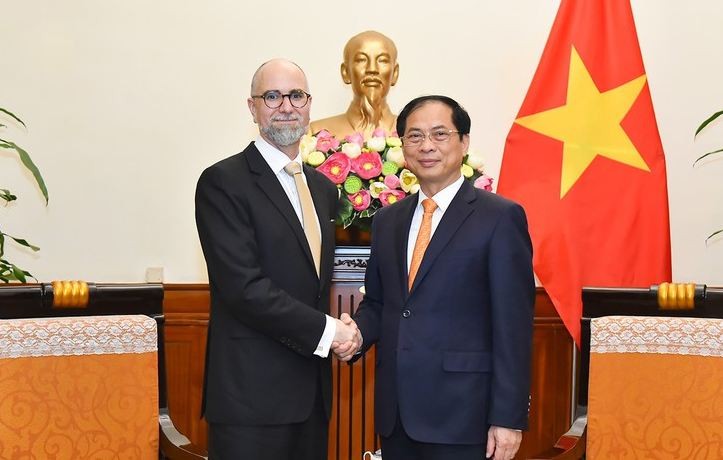 Foreign Minister Bui Thanh Son (R) welcomes Canadian Ambassador to Vietnam Shawn Perry Steil in Hanoi on June 10, 2022. Photo: Tuan Anh/baoquocte.vn
Minister Son said he hopes Ambassador Steil continues contributing to the development of the Vietnam – Canada Comprehensive Partnership, especially in the context that the two countries are looking towards the 5th anniversary of the comprehensive partnership (2017-2022) and the 50th anniversary of the diplomatic ties (1973-2023).
The FM asked for the ambassador's coordination to promote high-level visits and delegation exchanges between the two countries and bilateral cooperation in important and priority areas such as post-pandemic economic recovery and growth, infrastructure construction, energy, response to climate change, green and sustainable development, human resources training, as well as enhance ASEAN-Canada relations.
Ambassador Steil, for his part, spoke highly of good outcomes of the Vietnam-Canada Comprehensive Partnership in recent times, saying Canada regards Vietnam as one of its important partners in the region.
He affirmed that he will work closely with Vietnamese ministries, sectors and agencies, especially the Ministry of Foreign Affairs, to strengthen cooperation in all areas between the two countries as well in regional and international matters.
At the event. Photo: nhandan.vn
According to Canadian announcement of new diplomatic appointment, Shawn Steil joined the Department of Foreign Affairs and International Trade in 2002. In Ottawa, he has served as director for foreign policy planning and executive director for Greater China.
In 2004, he began back-to-back postings in China, first in Beijing, with responsibility for foreign policy and relations with Mongolia, then as head of the consulate in Chongqing. From 2011 to 2014, he served as head of the consulate in Istanbul, Turkey, and as senior trade commissioner for Turkey, Georgia, Azerbaijan and Turkmenistan. In 2014, he was appointed ambassador to Kazakhstan, the Kyrgyz Republic and Tajikistan.
Previous, Minister of Public Security, General To Lam had a meeting with Ambassador Steil, during which he suggested that Vietnam and Canada continue negotiations on more security agreements to create a legal foundation for the bilateral partnership in criminal combat, while strengthening collaboration in personnel training.
The minister proposed that the Canadian ambassador continue to help promote the partnership through bilateral and multilateral channels, including the Interpol, thus increasing the exchange of information for the prevention and combat of trans-national crimes and the investigation and settlement of specific cases.
He expressed his belief that with rich knowledge, experience and leadership capacity, the Canadian ambassador will contribute to the growth of Vietnam-Canadian ties.
The newly-accredited ambassador from Canada has presented his credentials to President Nguyen Xuan Phuc in late May.
Vietnam's exports to Canada reeled in USD 2.04 billion in the first fourth months of 2022, up 31.77% on-year. Of the total, the export value of apparel, phones and components, and seafood hit USD 392.278 million, USD 314.862 million, and USD 139.5 million, growing 57.59, 22.97, and 73.56% annually, respectively.
In 2021, despite Covid-19, Vietnam shipped goods worth USD 5.3 billion to Canada, an annual increase of 20.8%.
According to the Vietnam Trade Office in Canada, Vietnam is the biggest partner in Southeast Asia of the North American nation. However, room for Vietnamese products to enter the Canadian market remains large, as their value now just accounts for 1.7% of Canada's total imports.
Apart from the Comprehensive and Progressive Agreement for Trans-Pacific Partnership (CPTPP), of which both nations are members, Vietnam also signed a free trade agreement with Canada, therefore enjoying tariff reduction or elimination. Notably, since January 1, 2021, Canada removed a total of 96.3% of the tax lines for goods originated from Vietnam.