Foreign reporters and press assistants in Vietnam receive Covid shots
Reporters and press assistants at foreign press agency offices in Vietnam will be vaccinated against Covid-19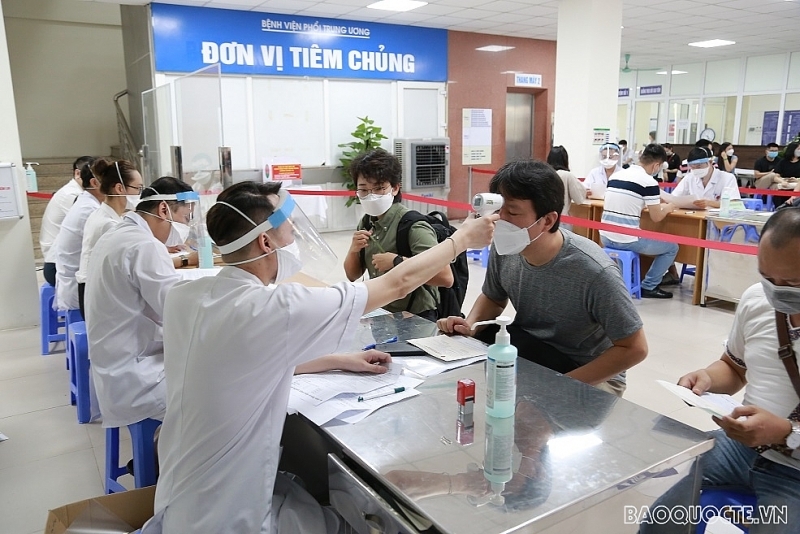 Before the injections, reporters and press assistants make medical declarations and are checked up by doctors. Source: TGVN
About 50 reporters and press assistants at foreign press agencies' offices residing in Vietnam were vaccinated against Covid-19 at the Hanoi-based Central Lung Hospital on June 27, reported TGVN newspaper.
They were prioritized by the State for vaccination against Covid-19, with the Ministry of Foreign Affairs and the Health Ministry to be the main agencies in speeding up access to vaccines for Vietnam, including through the Covid-19 Vaccine Global Access (COVAX) program.
In this round of vaccinations, reporters and press assistants were arranged to receive different time frames to strictly follow the prevention and control rules of the Health Ministry.
To ensure safety of people vaccinated, the procedures for vaccination were for different countries. There is screening, pre-vaccination counselling, safe vaccination sessions, and the vaccination person is monitored at the injection site for at least 30 minutes, this is then continued with home health monitoring for at least a day, before receiving follow up checks for up to three weeks after injection.
Hospitals are ready to prevent severe reactions after vaccinations to ensure maximum safety for people being vaccinated.
Manan Vatsyayana, a reporter of Agence France-Presse (AFP), being vaccinated. Source: TGVN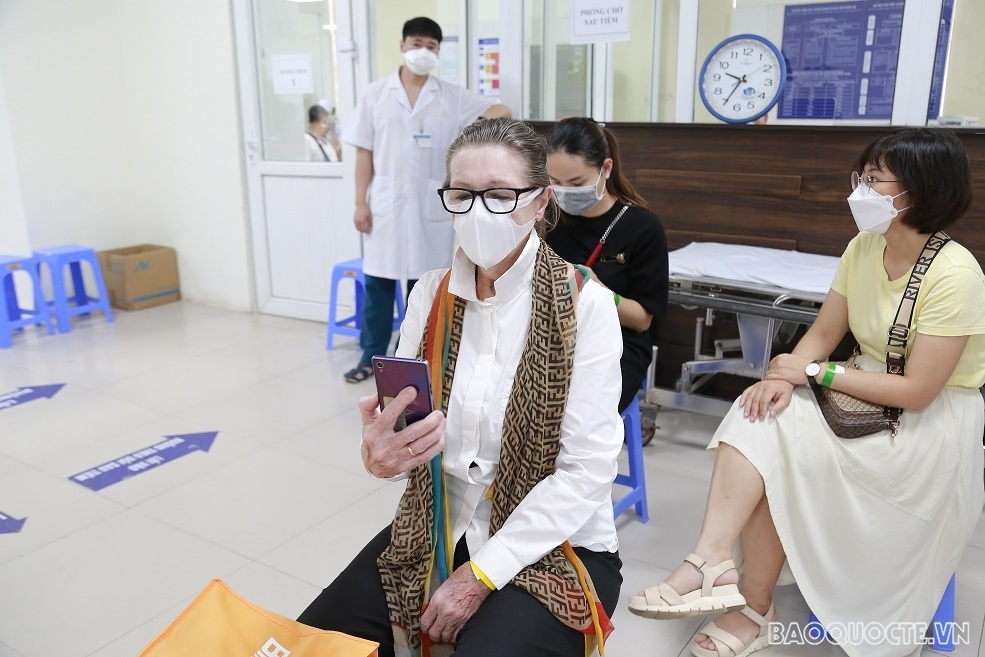 Christine Elizabeth Pas, reporter for The Southeast Asian Times, is monitored after vaccination at the injection site. Source: TGVN
The vaccination session went smoothly, with no abnormal signs detected. Talking to TGVN reporters, a number of reporters and press assistants said they appreciated Vietnam's pandemic prevention and control work and especially the support for their early Covid-19 vaccination.
Vietnam is implementing the vaccination campaign, and preparing the best conditions for planning and deploying the campaign nationwide in an appropriate, scientific and effective roadmap towards herd immunity. There is no discrimination between Vietnamese and foreigners during the Covid-19 vaccination campaign, Foreign Ministry spokesperson Le Thi Thu Hang asserted at a press conference held online on June 24.
Hang said that with a goal of herd immunity, Vietnam has inoculated more than 600 members of foreign diplomatic missions, and United Nations agencies in the country and their family members..
In humanitarian spirit, the Vietnamese government always cares for and supports foreigners living, studying and working in Vietnam so they can live normally and safely, and receive medical care and intensive treatment when necessary.
Foreign citizens will be vaccinated when Vietnam receives more vaccines, with the aim to create herd immunity to drive back the pandemic, Hang said.
As of 4 p.m. on June 27, over 3.38 million vaccine doses had been administered. The number of people getting two shots is 157,136, reported VNA June 28.
Fourteen localities have gone 14 days without new infections and ten localities have recorded no new secondary infections.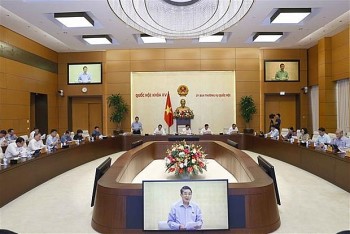 National
The National Assembly (NA) Standing Committee examined the draft revised Law on Protection of Consumer Rights on August 15 as part of its monthly session.