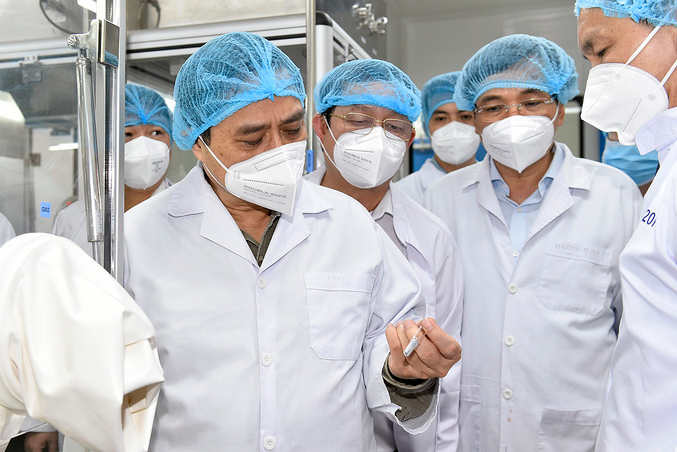 Prime Minister Pham Minh Chinh visit a vaccine production site. (Photo: VN Express)
210 new Covid-19 cases
A total of 37 new Covid-19 cases, including one imported one, were recorded in Vietnam from 6 am to 12 pm on June 26, the Ministry of Health has reported. Of the 37 domestic cases, 18 were in quarantine areas.
Vietnam recorded 123 new Covid-19 cases, including 108 domestic ones, from 12 pm to 7:30 pm on June 26. As many as 108 local cases were detected in quarantine sites or sealed-off areas.
50 new local infections of Covid-19 were found in the ln the past 12 hours to 6 am on June 27, according to the Ministry of Health. Among the newly-detected cases, 40 were in Ho Chi Minh City, seven in Long An, and three in Bac Giang. Forty-thee were recorded in quarantine sites or sealed-off areas.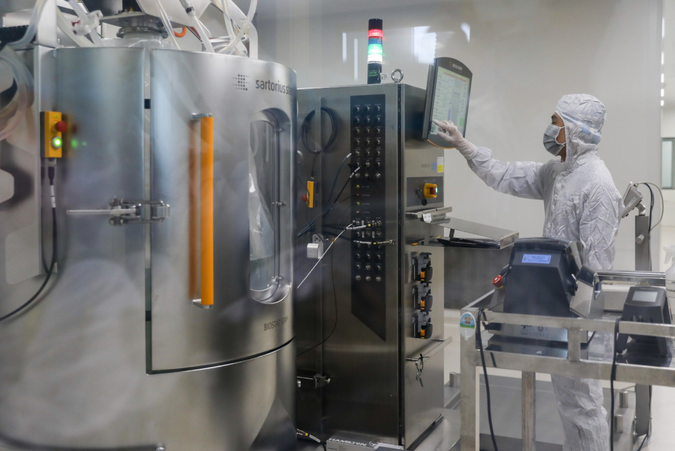 Inside a vaccine factory. (Photo: VN Express)
Vietnam to welcome foreigners with vaccine passport under the new pilot scheme
According to the Ministry of Health, all travelers will be placed into a concentrated quarantine facility for a period of seven days upon their arrival, in line with relevant Covid-19 guidelines. The north-eastern border province of Quang Ninh has been selected to receive foreigners, providing that they hold a vaccination certificate known as a vaccine passport.
The decision will see the pilot scheme apply to those who have either received two vaccine shots or who have previously recovered from Covid-19. In addition, the foreigners must have a negative RT-PCR test result for the SARS-CoV-2 virus and have a positive anti-SARS-CoV-2 antibody test on the first day of their entry.
Their vaccine must be approved by the World Health Organization, the US Centers for Disease Control, the European Medicines Agency, or from Vietnam. The last dose must be given at least 14 days before arrival and no more than 12 months from the time of entry.
For those who have fully recovered from the disease, their certificate must be issued by competent authorities from their country, whilst the time from hospital discharge to the entry date must not exceed 12 months.
Other cases will be placed into quarantine for 14 days as opposed to 21 days, as regulated in current Covid-19 guidelines. The decision will not apply to people entering the country who come to work for less than 14 days. The pilot scheme will be carried out from July 1 – 30.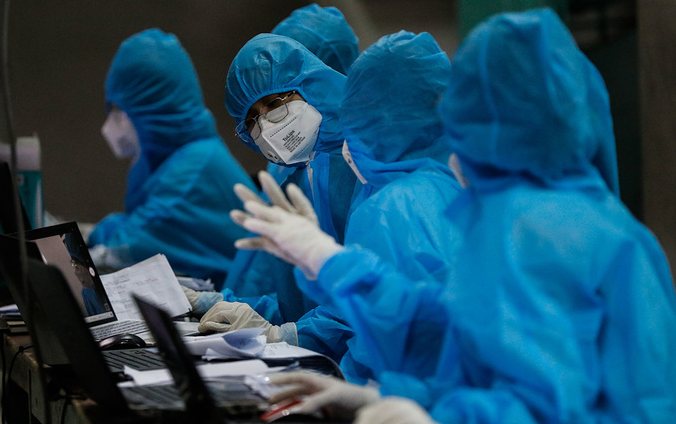 Health staff in Binh Tan, Ho Chi Minh City. (Photo: VN Express)
Hanoi allows outdoor physical, sports activities from June 26
The Hanoi People's Committee has permitted the resumption of certain outdoor physical and sports activities from June 26, given the local Covid-19 situation basically brought under control. This is part of the local authority's move to ease restrictions on several activities.
Accordingly, some physical and sports activities with no more than 20 people in one place at the same time are allowed, but participants still have to comply with the 5K principle.
In its urgent dispatch sent on June 25, the People's Committee also requested local departments, sectors, districts, and Noi Bai International Airport to maintain anti-coronavirus measures in the new context.
At a meeting on June 25, Deputy Director of the municipal Health Department Hoang Duc Hanh said Hanoi has stayed free of Covid-19 community transmission for 11 straight days. Since April 27, when the fourth wave of infections began, 106 places across the city have been sealed off, with 98 places already seeing lockdown lifted. The eight remainders are in the districts of Dong Anh (five), Long Bien (two), and Soc Son (one). Hanh said Covid-19 clusters in Hanoi have been brought under control, but high risks remain as the pandemic situation is still complicated in Ho Chi Minh City and some other localities.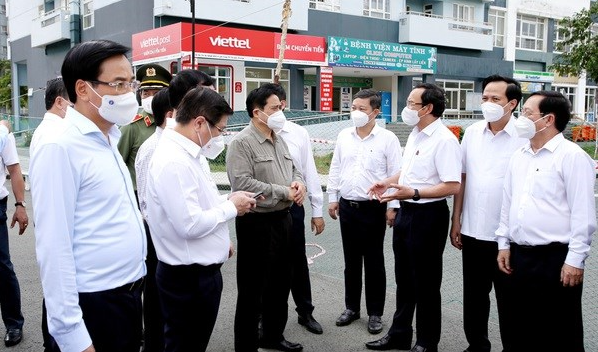 Prime Minister Pham Minh Chinh (in brown shirt) inspects COVID-19 prevention and control in Ho Chi Minh City (Photo: VNA)
Prime Minister inspects pandemic fight in Ho Chi Minh City
Prime Minister Pham Minh Chinh on June 26 led a Government delegation to inspect the Covid-19 prevention and control in Ho Chi Minh City which is being hit hard by the pandemic.
Inspecting the work at a concentrated quarantine site in the dormitory of the Vietnam National University - Ho Chi Minh City, Chinh asked municipal authorities to take care of the material and spiritual lives of quarantined people. The city needs to arrange appropriate quarantine and speed up quick testing in quarantine facilities, he stressed, requesting ministries and sectors to prioritize the transportation of medical equipment and supplies serving quick testing for the city by air.
The Government leader also visited and encouraged laborers who are working at Nissei Electric Vietnam Company in Linh Trung 1 processing and export zone in Thu Duc city, and toured the Nanogen Pharmaceutical Biotechnology JSC in Ho Chi Minh City's Hi-tech Park - one of the four producers of homegrown Covid-19 vaccines.
Praising the company's efforts to produce made-in-Vietnam vaccines, Chinh said that the vaccine has a decisive factor to bring life back to normal. He ordered the acceleration of the research and production of the vaccine and, at the same time, the abidance of a strict, safe, scientific, and effective process to protect people's health.
The new cases brought the national tally to 15,325, with 1,760 imported and 13,565 locally transmitted ones. Fourteen localities have gone 14 days without new infections and 12 localities have recorded no new secondary infections.
The ministry said 6,137 patients have been given the all-clear so far. The death toll was 74. Among the patients being under treatment, 370 have tested negative once for the coronavirus SARS-CoV-2 that causes the disease, 125 twice, and 152 thrice.
As of 4 pm on June 26, nearly 3.3 million vaccine doses had been injected. The number of people getting two shots was 155,488.
Valerie Mai