Foreign Sailors Rescued by Vietnamese Forces
"If it weren't for you, we would already be on the ocean floor!" says one grateful survivor.
The leader of the Southern Vietnam Helicopter Company under the Vietnam Helicopter Corporation (known as Army Corp 18), on Nov. 13 announced that the unit has just sent two flight crews EC 225 - 8622 and EC 225 - 8426 to rescue two foreigners in distress on the waters of Ba Ria - Vung Tau province and Phu Quoc island, Kien Giang province.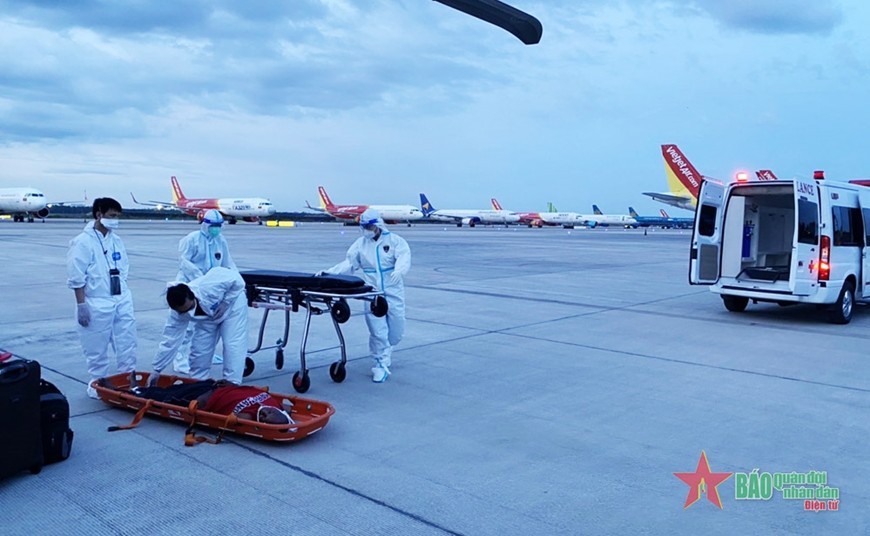 Transfer patients by helicopter. Source: PANO
According to the PANO newspaper, two foreign patients transported to the mainland for treatment are Ahmadi Ally, a Tanzanian crew member of Container ship CHARLESTON, which is operating in the sea about 300km from Ba Ria - Vung Tau province, with severe hypoglycemic coma; Svensson Dan Leo Viking, Swedish nationality, living and working in Phu Quoc island.
Ahmadi suffered a episode of hypoglycemic coma while Svensson has abdominal pain, right ureter tear, and needed urgent surgery.
Although performing the task in bad weather conditions, one patient had to give first aid during the night, but the flight crew handled all situations well and landed safely at Ho Chi Minh City based-Tan Son Nhat airport. Right after that, two patients were received and treated by FV Hospital and Vinmec International General Hospital.
Previously, on the morning of Nov. 11, at Song Tu Tay (Southwest Cay) Island in the Truong Sa (Spratly) Islands, a representative of the Vietnam People's Navy transferred two fishermen, Crisanto Misa and Benjemin Abdulla, to the Philippine Navy. Abdulla emotionally thanked the Vietnamese navy and fishery control force. "If it weren't for you, we would already be on the ocean floor. This sentiment, I will never forget. You are so great!"
Reportedly, on Nov. 9 night, one Filipino fisherman was saved by a ship of the Vietnam Fisheries Resources Surveillance (VFRS) while drifting in the area of the Truong Sa.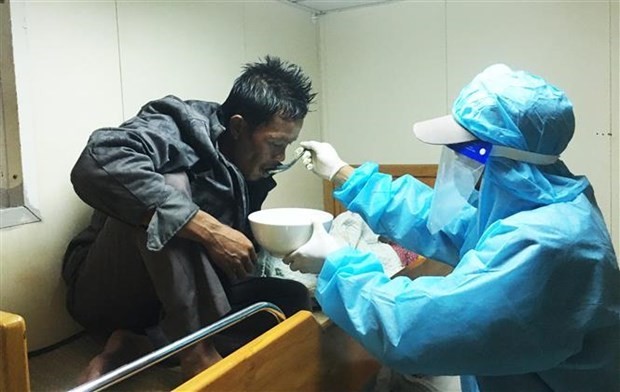 Benjamin Abdulla, a 32-year-old Filipino fisherman, is saved by a ship of the Vietnam Fisheries Resources Surveillance (VFRS) on November 9 night while drifting in the area of the Truong Sa (Spratly) Islands. Photo: VNA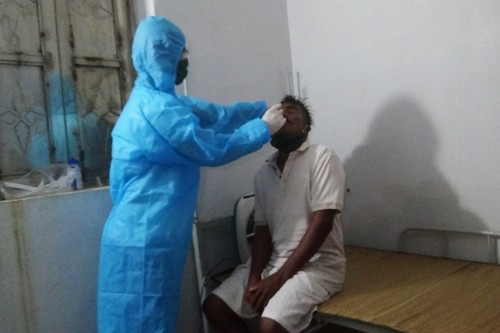 The fisherman has his sample taken for Covid-19 testing. Source: PANO
Vessel KN 464 of VFRS Division No.4 found Benjamin Abdulla, a 32-year-old Filipino fisherman, adrift near Song Tu Tay, the northernmost island of the archipelago at around 8:00pm while performing duties in the area.
The sailor said he and another Filipino fisherman were knocked into the water by high waves after the engine on their fishing boat broke down near Sinh Ton Dong Island. He was brought aboard the VFRS ship, with Covid-19 preventive rules strictly observed, and now in a good condition.
The other man was rescued by Song Tu Tay islanders on the same night.
At 17:00 on the same day, the troops found a fishing boat drifting in the northeast of the island with two crew-members on board signaling SOS.
From the beginning of 2021 until now, Truong Sa soldiers on 21 islands, island points/33 garrison points and officers and soldiers of 15 DK1 rigs have rescued dozens of fishermen in distress and damaged boats.
Senior Lieutenant Colonel Hoang Thanh Tu, Commander of Song Tu Tay Island, said: "Rescuing and helping fishermen as well as protecting fishing grounds is one of the important tasks of the Vietnam People's Army in peacetime. Regardless of who is in distress, Vietnamese or foreign fishermen, they are all rescued safely. For foreign fishermen, search and rescue also show humanity without borders, regardless of race or skin color".
Under the 1982 United Nations Convention of the Law of the Sea, ships have a clear duty to assist those in distress. Article 98 (1) states that " every State shall require the master of a ship flying its flag, in so far as he can do so without serious damage to the ship, the crew, or the passengers… render assistance to any person found at sea in danger of being lost [and] to proceed with all possible speed to the rescue of persons in distress, if informed of the need of assistance, in so far as such action may reasonably be expected of him. "
Article 98(2) goes on to say " Every coastal State shall promote the establishment, operation and maintenance of an adequate and effective search and rescue service regarding safety on and over the sea and, where circumstances so require, by way of mutual regional arrangements cooperate with neighbouring States for this purpose. ".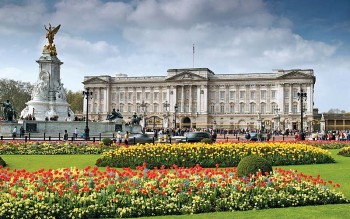 World
From the classic Buckingham Palace to Seven The Pinnacle, these luxurious houses are considered the most expensive houses in the world.