Foreigner in Vietnam distributes food to homeless in Covid hotspot
For more than 3 months, a British expat in Ho Chi Minh City has been handing out hundreds of free meals to the homeless, lottery ticket sellers and motorbike taxi drivers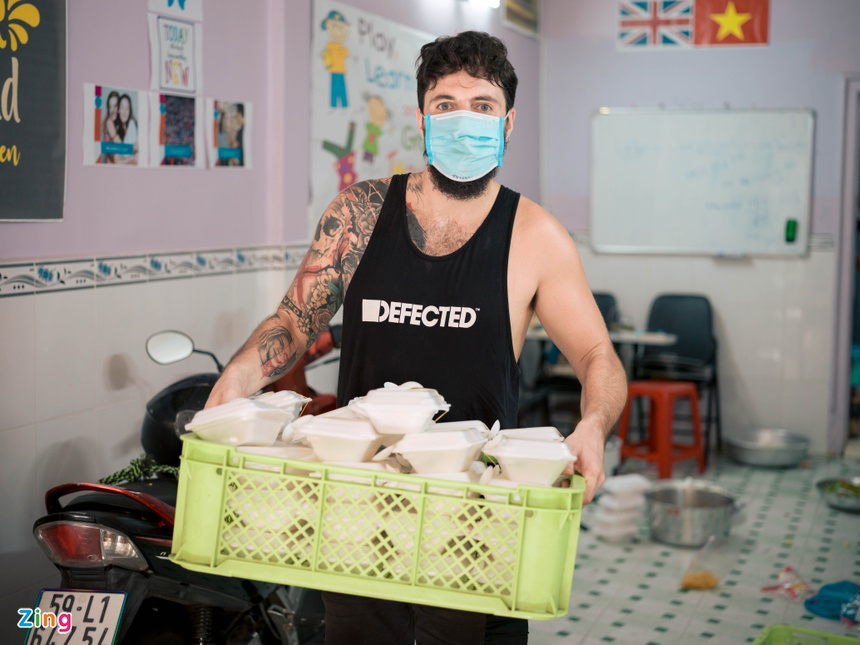 Percy Smith rides a motorbike to distribute hundreds of free meals to the poor in Ho Chi Minh City. Photo: Zing
Pulling the motorbike to the curb, Percy Smith wakes up the lottery ticket seller lying on the bus stop bench. "Chú ơi, cơm ạ," (Here is your meal) he says in his meager Vietnamese.
The dozing man is slightly startled when he sees the foreigner handing him a lunch box to him, but takes it all the same, thanking him for his kindness.
Over the past 3 months, from 10:30 a.m. to noon, Smith a teacher who has lived in Ho Chi Minh for nearly 3 years, and a group of foreign friends ride motorbikes all over the streets the city to distribute hundreds of free meals.
In the early days, the image of this "foreign shipper" was strange to many. However, Smith has gradually became familiar. Instead of just nodding thanks, people now ask questions and pay him more attention.
Roaming the streets of Ho Chi Minh City
Around 6 a.m., Smith arrives at the rented house of Nguyen Quoc Bao, 33, in an alley on Le Hong Phong street. Bao comes up with the ideas and is in charge of most of the volunteer group's activities. Smith and his foreign friends are volunteers who contacted Bao to offer help.
"I knew Bao when I just arrived in Vietnam. At that time, he had a motorbike rental shop and I was his customer," Smith says. "I like Bao when he often organizes charity activities and helps the community. During this pandemic, I have more free time. When I found out he organized a free meal distribution, I came to support."
In a room less than 20 square meters, Smith and the volunteers divide the vegetarian food that Bao had prepared into 400 portions. About 150 portions of food are picked up and delivered by a volunteer in Binh Tan district. The rest is distributed by Smith on his own motorbike in the city center.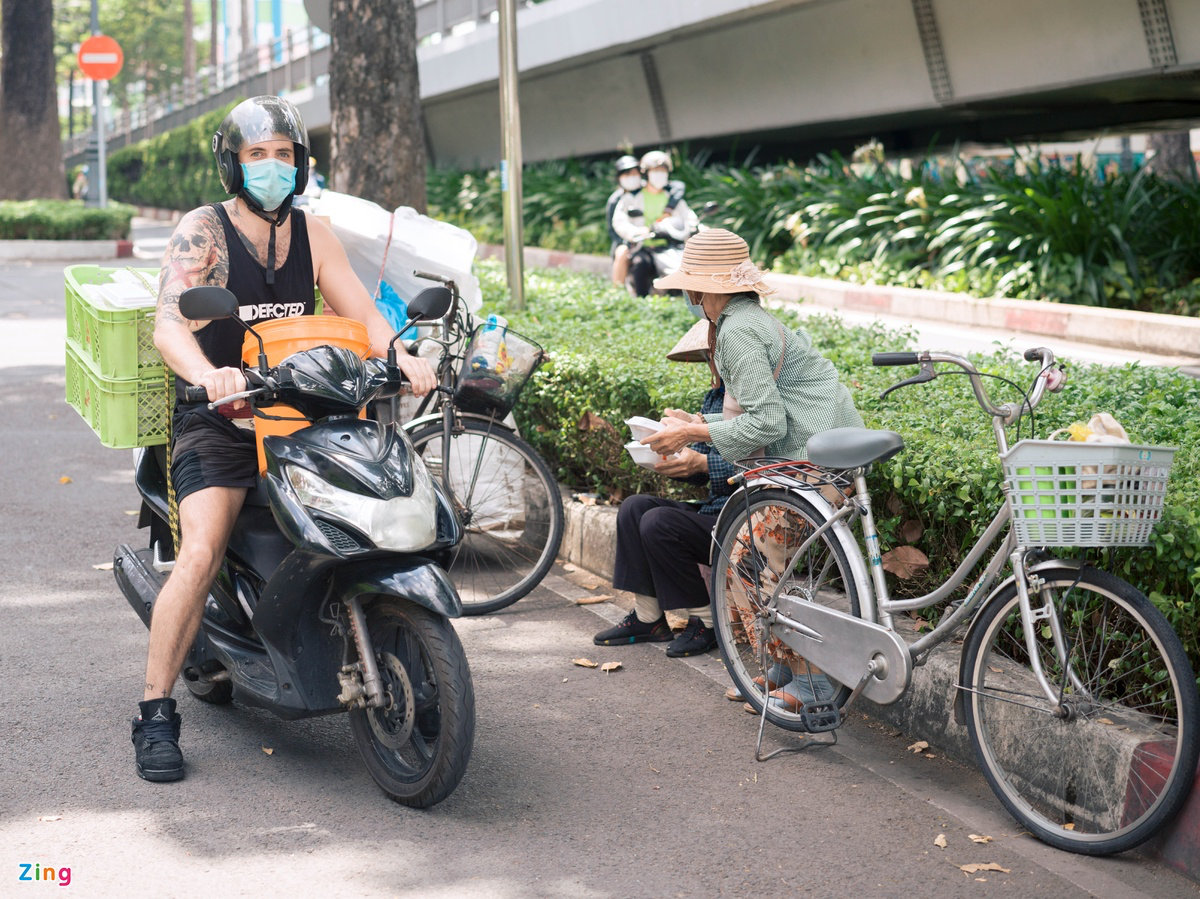 Percy as a special shipper. Photo: Zing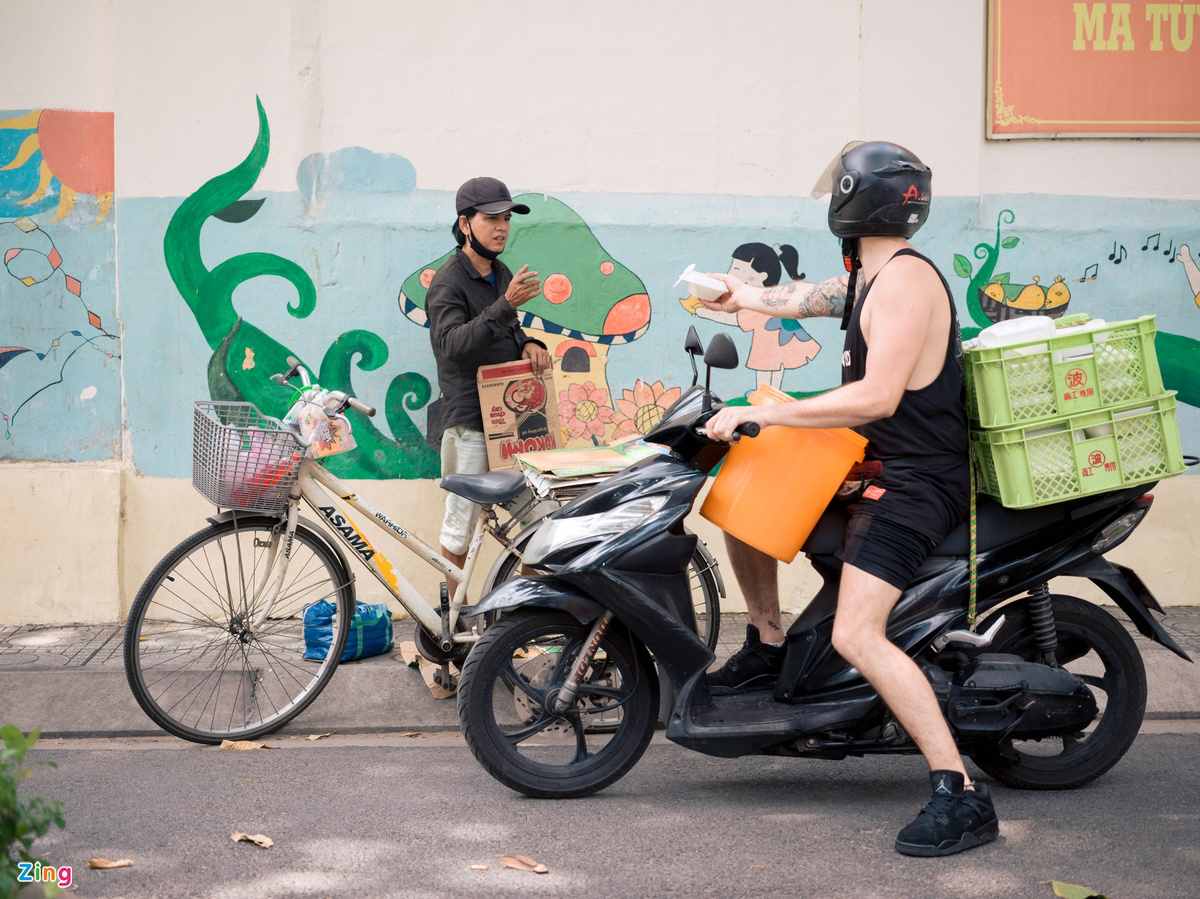 People selling lottery tickets and homeless on 3/2 street, Le Hong Phong street are familiar with Smith. Photo: Zing
After many months of working as a free meal delivery shipper, the foreign teacher created his own travel route. He knows which sections of the road will gather many people selling lottery tickets and motorbike taxis at noon.
"This job gives me a very meaningful experience. During the Covid-19 pandemic, everyone is having a hard time. I'm happy to be able to help people, but it's also sad to see people have to live like this," Smith says.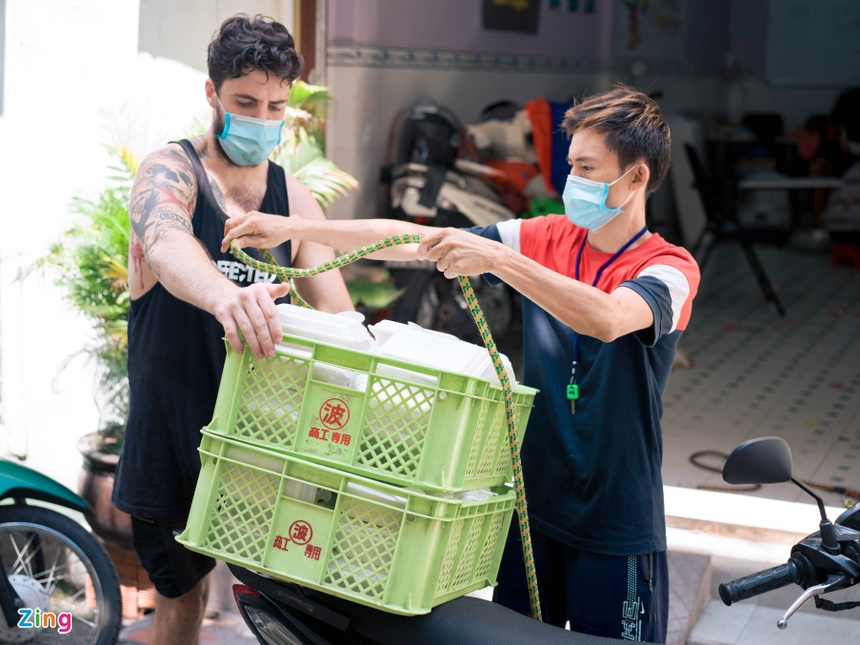 Percy and Quoc Bao have known each other for nearly 3 years, doing many charity programs together. Photo: Zing
Foreign volunteers amid Covid-19 pandemic
When he first distributed rice for charity during the pandemic season, Quoc Bao said that only he and Smith worked together, about 3-4 days a week.
Because of the small number of people, less than 100 servings were distributed each day. Initially Bao did not intend to call other's for help.
"However, Percy told me it would be better and less lonely if more people came to help. So he helped me share the group's activities on Facebook, and unexpectedly, many people, especially foreign friends, were interested and supported," Bao says.
Thanks to the online post, many people have sent money and donated rice and vegetables to the group. Others wanted to contribute directly.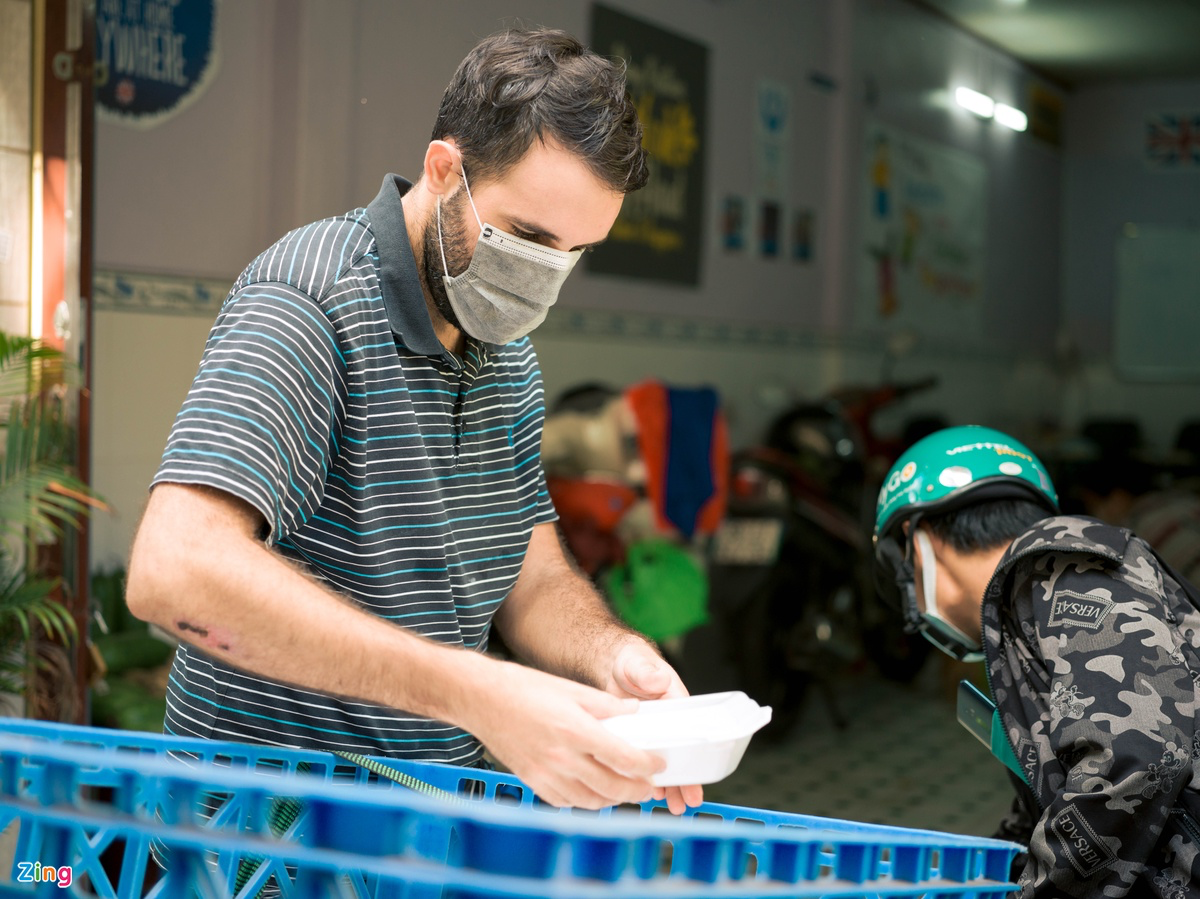 Smith helps distribute charity meals during the week. Photo: Zing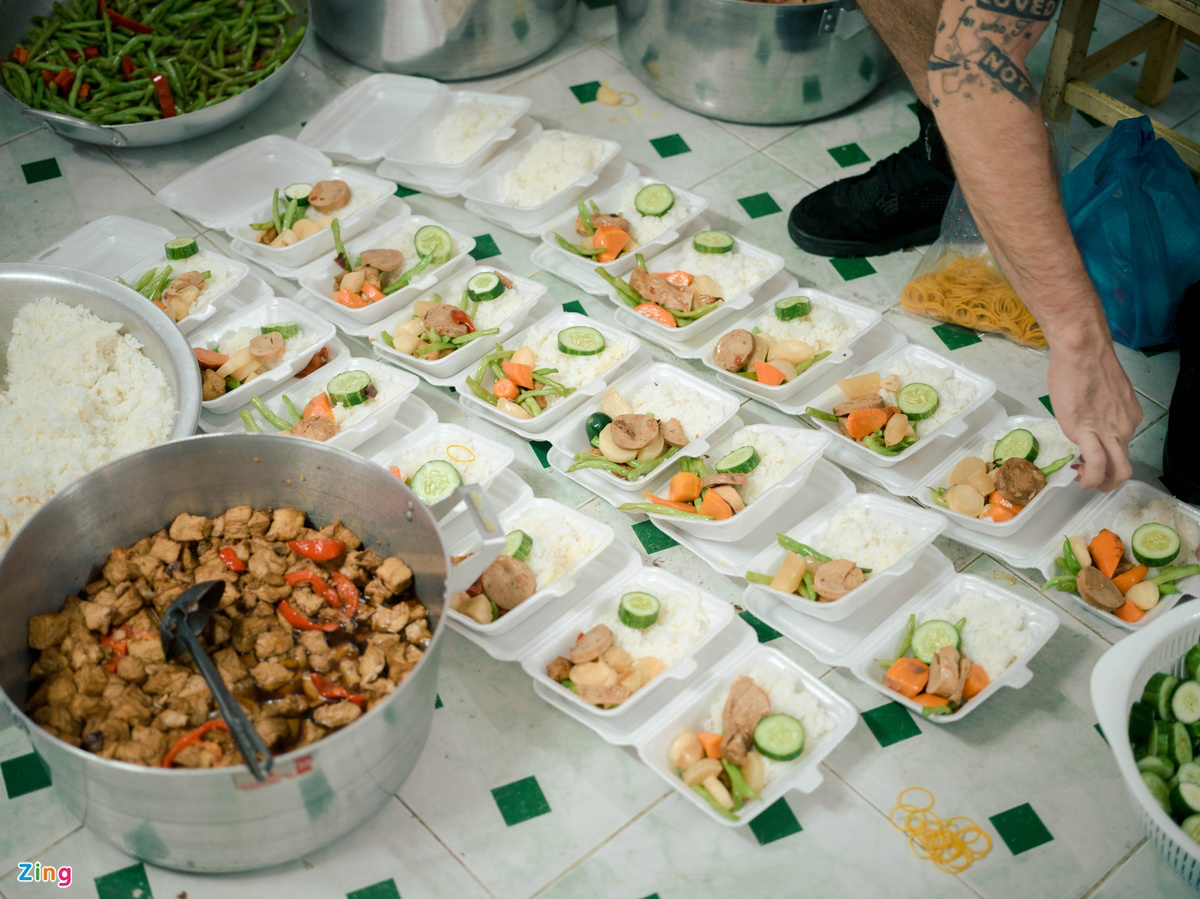 Each day, the group has 2-3 volunteers make about 400 meals. Photo: Zing
Photo: Zing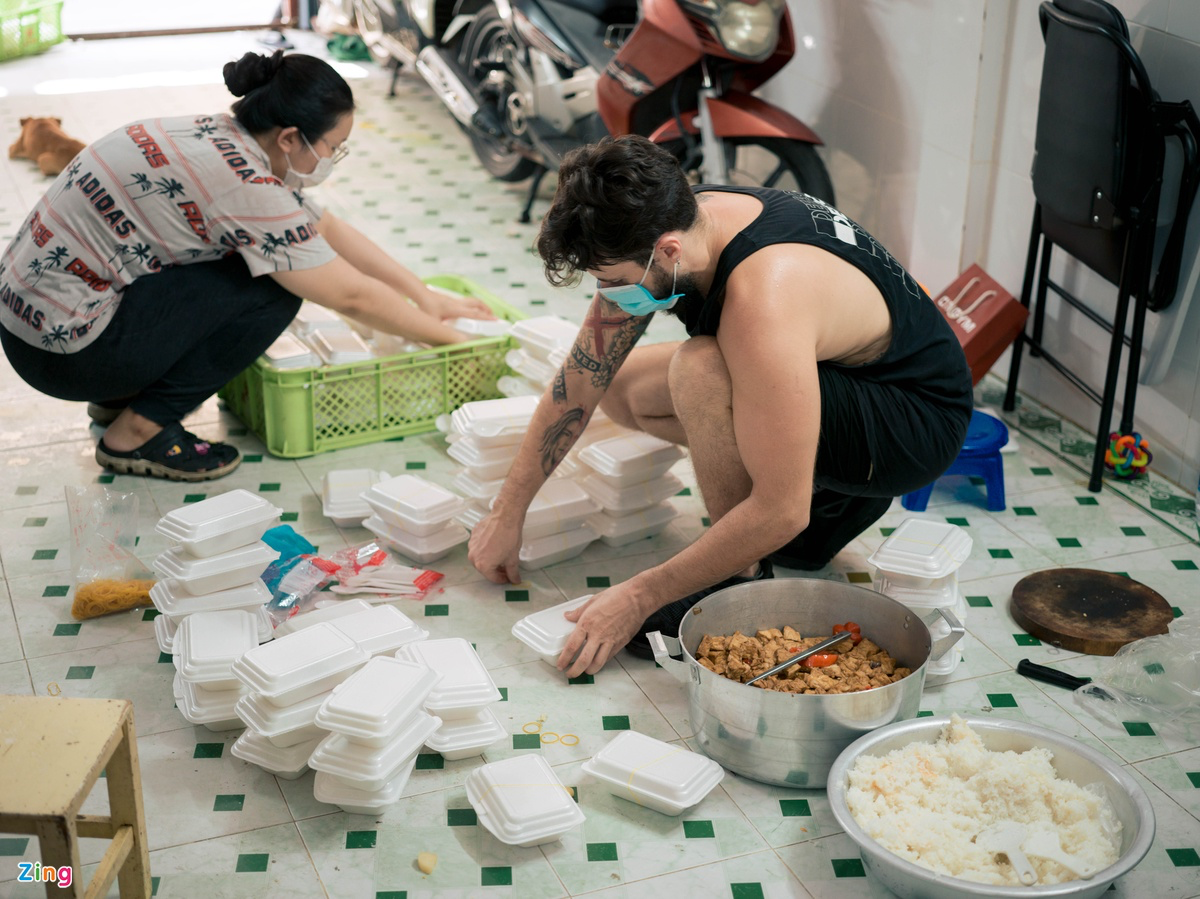 Smith and other volunteers prepare the free meal before delivery. Photo: Zing
Alex from Spain became one of the group's regular volunteers after reading Smith's post. "Before that, I also knew Bao. He is a very good person, often has meaningful charity and community activities," he says.
Cat Phi, a freshman at Western Sydney Vietnam, feels excited after the first session with the volunteer group. "Everyone here is very friendly and fun. On the first day, I just helped pick vegetables and distribute the food. In a few days, I plan to help everyone cook and ride a motorbike to deliver food," he says.
Bao says that in recent days he has received more support. There was a bit of pressure at first, but when he worked on a large scale and was able to help more people, he felt happier and more motivated than before.
"Amidst the stressful pandemic, I am also quite nervous when traveling. However, both me and the volunteers try to stay safe and strictly follow the 5K regulations. Most importantly, we are trying to spread the sharing, the message of love to those in more difficult circumstances than ourselves," Bao says.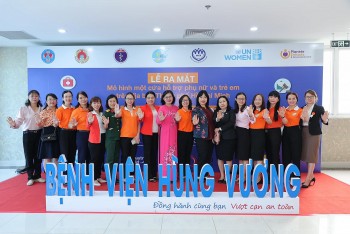 Viet's Home
What is the one-stop centre for women and children experiencing violence?