Cabin transfering Covid patients helps reduce cross infection at hospitals
A lecturer of Da Nang city's University of Science and Technology has invented a cabin which helps transfer Covid-19 patients at healthcare facilities and avoid cross-infection.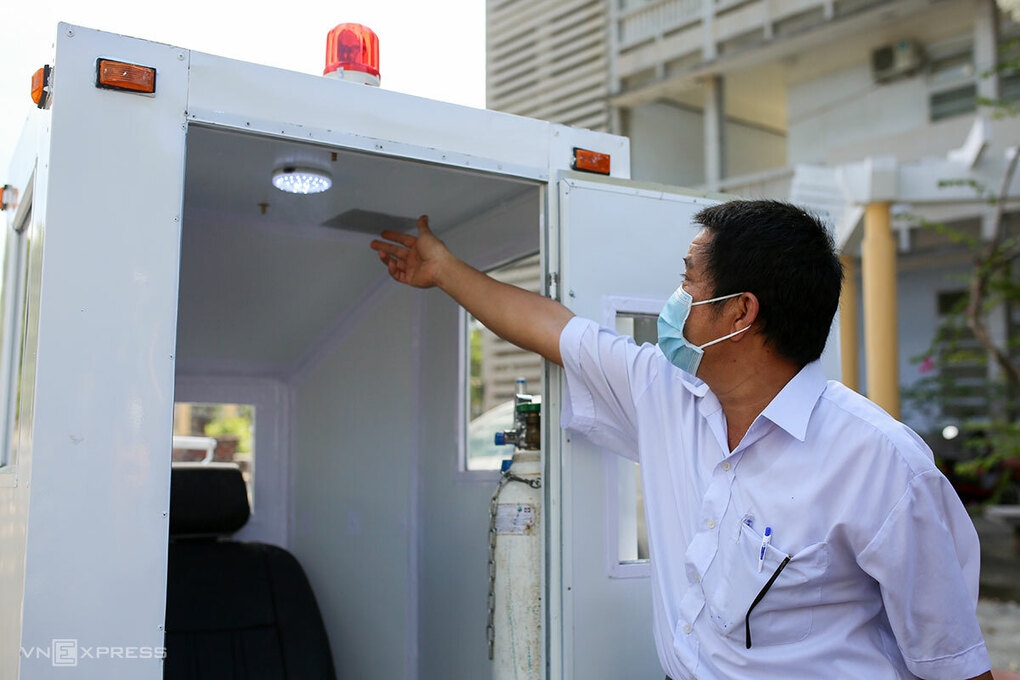 Dr Dang Xuan Thuy has invented the negative pressure cabin equipped with a chair for Covid patients. Photo VnExpress
The cabin has been ordered to be made by Lien Chieu district's healthcare center to facilitate medical forces in conveying Covid patients from places to places.
Dr Dang Xuan Thuy, the inventor, said the cabin used negative pressure which limits bacteria from being spread out. Only the air from outside can move in. People in the cabin will not feel hot.
The cabin looks like a small box with the length of 1.5m, width of 1m and height of 1.8m.
The cabin is equipped with adjustable seats, the systems of mist sterilization, fans, led UV lamps and oxygen cylinders in case there is a serious patient in need of breathing assistance.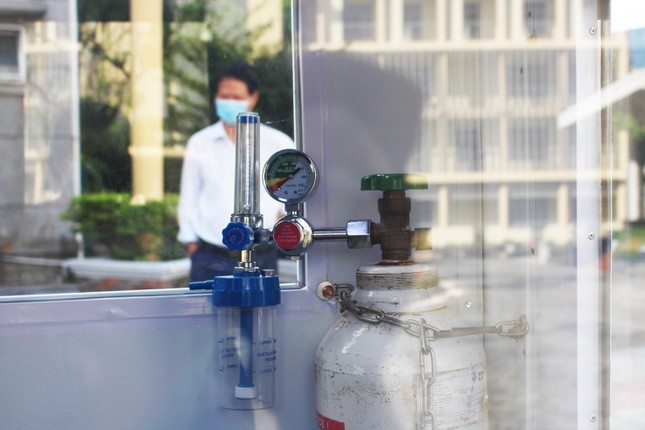 An oxygen tank is set up in the cabin. Photo Tien Phong
The cabin is also equipped with warning lights and handbrake. The total weight of the cabin is about 80 kg, including a tank of disinfectant liquid and a battery.
Thuy said the cabin could carry a total weight of up to 200kg. A normal person can use one hand to move it along the hospital lobby or attach it with an electric bike to move it around the hospital.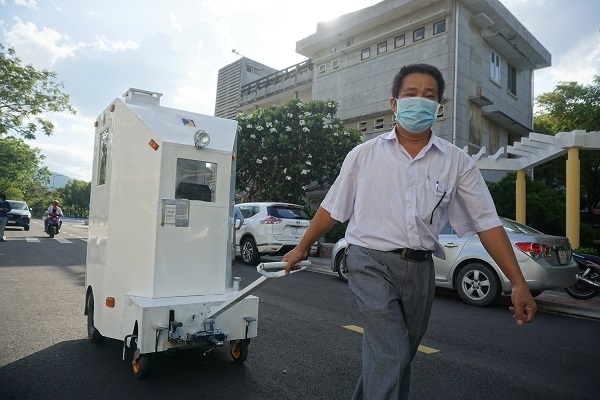 Dr Thuy can use on hand to pull the cabin. Photo Vietnamnet
Or he can pull it using an electric bike. Photo Vietnamnet
It takes VND60 million (USD2,600) to finalise a cabin. The production cost will be lower if many products are made at the same time, Thuy told VnExpress.
"By pressing the sterilization button, we can disinfect the cabin. This cabin can be applied at hospitals having large areas. When doctors and nurses find it difficult to use ambulances to move patients in a short distance, they can also use the cabin," Thuy said.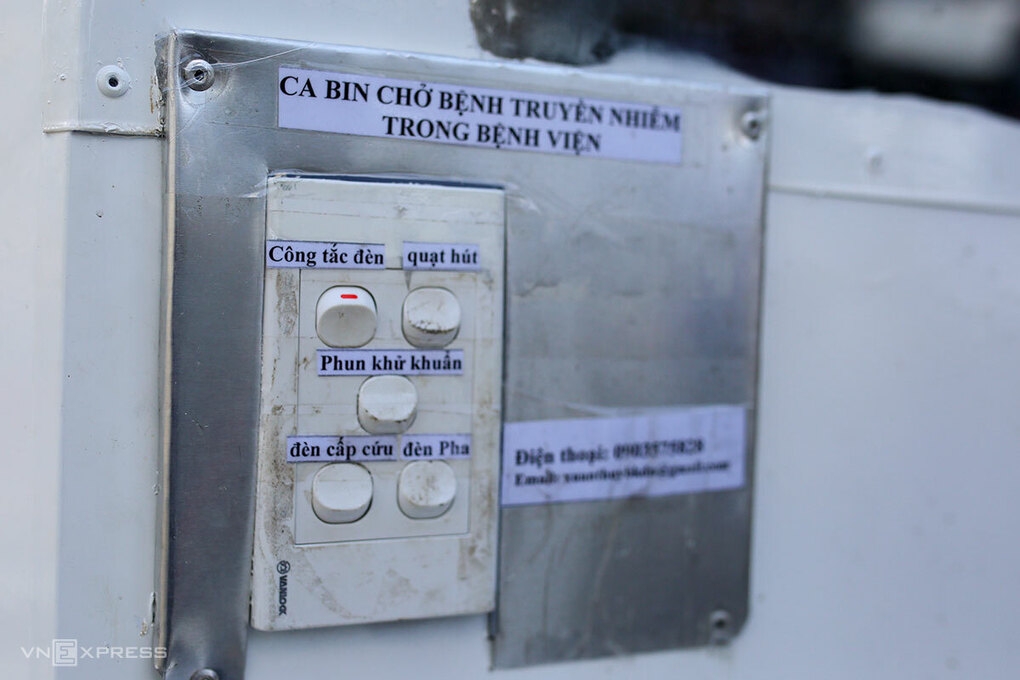 Switches for the lighting and sterilization system. Photo VnExpress
While doing research on the cabin, Dr Thuy was lucky to receive assistance from other colleagues at the university's Department of Traffic Mechanics. However, during the peak time of Covid in Da Nang, large crowd gathering restriction forced him to stay alone at the factory to complete the product.
"I have done almost all processes from researching, manufacturing, assembling, inventing the disinfection spray system and the electric light. I had to look for many devices which sometimes did not match the machine. Then I had to look for others to replace.
"I expected to complete the product in 15 days but in fact it took me one month," he said.
Le Van Sy, director of Lien Chieu district's healthcare center, said the cabin would help transfering people suspected of Covid-19 from quarantined areas to health check-up areas and vice versa. It will help avoid cross-infection at healthcare facilities.
In the first wave of Covid in March last year, lecturers and students of University of Science and Technology under Da Nang University invented a robot delivering food to people in quarantined areas and presented them to Da Nang Maternity and Children's Hospital.
Lecturers and students of University of Science and Technology invented a robot delivering food to people in quarantined areas. Photo courtesy of Da Nang University
They also invented hand sanitizer liquid and automatic hand sanitizing machines for frontline medical workers.