Foreigners keenly awaiting Vietnam return, saying Covid-19 protocol not a problem
Foreigners from many countries are eagerly awaiting a chance to return to Vietnam, buoyed by news that the country's considering entry permission for vaccine passport holders.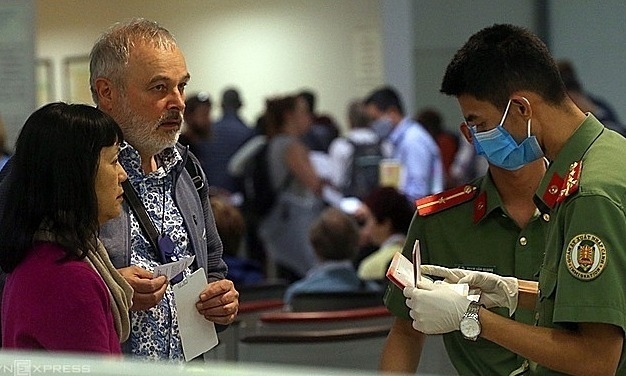 Foreigners arrive at Noi Bai Airport in Hanoi in March 2020. Photo by VnExpress/Ba Do.
"I have been fully vaccinated with Pfizer vaccine mid-February and I long to go back to Vietnam soon," said Charlie Bowland, a resident of Maryland in the U.S.
Bowland's eagerness has been given an edge this month after Vietnamese authorities said three groups might be able to enter Vietnam with a vaccine passport, including Vietnamese stranded abroad, foreign investors, and vaccinated tourists. They said the country's information technology infrastructure for handling Covid-19 vaccine passports was basically ready and fully adapted to international preparations for vaccine passport deployment.
Bowland, a veteran and semi-retired insurance agent, has visited Vietnam every year since 2011 to do different charity works on his own.
He has made donations to poor people and taught children English in Ho Chi Minh City, Da Nang, Da Lat, Phu Quoc. He said he had made many friends and felt like Vietnam was his second home.
However, he could not keep to his regular schedule in 2020 because of the pandemic. After getting vaccinated, Bowland sent a letter to Vietnamese embassy in Washington DC to ask to return to HCMC at the end of April. He attached documents showing his health status.
"This time I may look at buying property in Vietnam so I can have a longer stay."
Bowland said he would be willing to take tests and be quarantined if he can return to Vietnam. Though he has been infected with the virus, he has proof of negative tests and subsequent vaccination.
In England, Rebecca Jennings received two shots of the Pfizer vaccine in February. She wants to come back to Vietnam to work as a teacher, she says. Jennings is currently a babysitter.
"I miss teaching, I miss a wonderful country with amazing people, weather and food," she said.
With a Covid-19 vaccine card, Jennings looked at the chances of her return to Hanoi, but found it would be very expensive at this time. She is now hoping to get back in July or August with a business visa.
Jennings thinks it is reasonable for overseas Vietnamese people to be prioritized for return ahead of foreigners. She is also okay with undergoing tests, quarantine and "anything else I have to do." She hopes everything will be back to normal soon.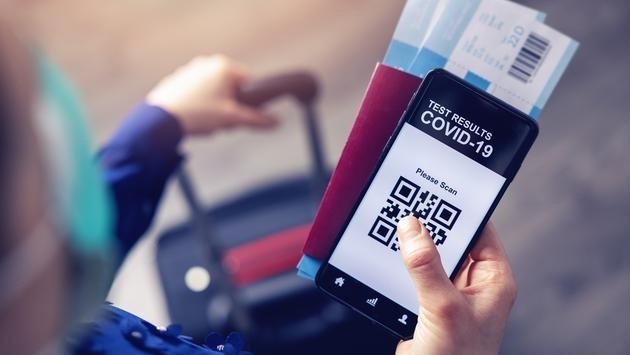 When going abroad, people can scan the QR-code to access the right data source, and verify the information. Photo: CAND
Working as an immigration consultant in HCMC, Rey Concepcion of the Philippines has heard that it's not easy to get vaccinated in Vietnam. So he flew to Canada and get himself vaccinated with the Moderna vaccine. He got two shots in March and has a certificate issued by Vancouver. He is waiting to get back to Vietnam to run his business with partners.
Concepcion said he would prefer that vaccinated are not quarantined, but he is ready to accept it, along with testing and contact tracing.
"Covid-19 in Vietnam is under control thanks to those rules. I am happy to see that."
In the queue
Yuliana Leon, a teacher in Hanoi, returned home to Mexico for her holiday last February and has not been able to return since. All of her family members have been vaccinated and have certificates. Nonetheless, she does feel that such "simple cards" are not safe enough for traveling.
Leon wants to return to Vietnam, but she has not heard about any official policy. She plans to go to the U.S. to get vaccinated if Vietnam opens its borders. She said she will be prepared to get quarantined, but hoped the authorities are more flexible with hotel options.
"I am still waiting. I miss Vietnam a lot."
Viktor Kryvachok, a Ukrainian living in the UAE, has "urgent" reasons to return. He wants to get married to his Vietnamese fianceé. He has been stuck outside since March 2020. Kryvachok said he will take the first Chinese vaccine shot at the end of April "if everything is fine.
"I'm in the queue and I'm ready to come back to Vietnam".
The health Ministry on April 15 recommended that the centralized quarantine period for those entering the country with a Covid-19 vaccine passport should be halved to seven days.
In a proposal it sent to the Steering Committee for Covid-19 Prevention and Control, it said those with a vaccine passport would be tested for the coronavirus once on arrival and again on the sixth day. If both tests are negative, they could leave quarantine facilities but remain at home or their place of work under the supervision of local authorities until they complete the mandated 14-day quarantine period.
Associate Professor Nguyen Viet Nhung, director of the National Lung Hospital, agreed it is necessary to reduce the quarantine period for those holding a vaccination certificate and even waive the requirement if visitors have a vaccine passport and test negative for Covid on arrival.
So, for now, Vietnam should focus on "low-contact tourism," allowing foreign visitors with a vaccine passport to travel to places without crowds, Tran Dac Phu, a senior advisor at the Public Health Emergency Operations Center, said.
It needs a strategy to recognize vaccine passports with countries under the bilateral or multilateral agreement or pilot the implementation of passports with countries with high vaccination rates or with vaccines reaching high immunological efficiency, he added.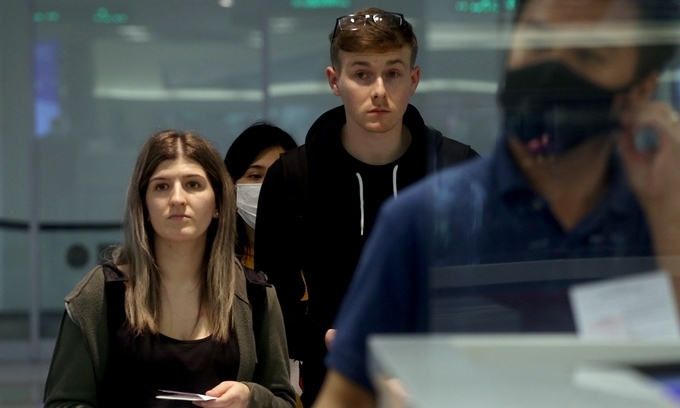 Foreigners arrive at Noi Bai International Airport in Hanoi, March 13, 2020. (Photo: VNE)
At a regular meeting of the National Steering Committee for Covid-19 Prevention and Control, related agencies and telecom providers said Friday that the information technology infrastructure for handling Covid-19 vaccine passports was basically ready and "fully adapts to international preparations of vaccine passport deployment."
With the vaccine passport, specifically, Vietnam would divide entrants into three different groups.
The first group would be Vietnamese citizens who are stranded abroad and have been administered the Covid-19 vaccine. The Ministry of Health will be in charge of providing detailed guidance on isolating and monitoring arrivals from different countries. A similar protocol would also apply for Vietnamese businesspeople returning home after going abroad in pursuit of investment and business opportunities.
The second group would be foreigners entering Vietnam to invest and do business. The Health Ministry would specify the protocol for testing, medical isolation and medical monitoring based on the entrants' citizenship and the vaccines they have been administered.
The third group would comprise international tourists. For this category, the health ministry would work with the Ministry of Culture, Sports and Tourism and submit to the committee specific plans on allowing international tourists.
It is expected that Vietnam will welcome visitors from countries that have basically brought the pandemic under control and those that have deployed vaccination programs to achieve community immunity. Such tourists would be allowed to go to Vietnamese destinations where sufficient control can be maintained in terms of Covid-19 precautions.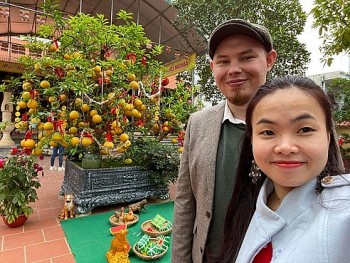 Expats in Vietnam
In anticipation for the Tet season, the Vietnam Times came up with some tips to help foreigners enjoy the holiday.