Health Ministry proposes to halve quarantine time for vaccine passport holders
The Ministry of Health has recommended that the centralized quarantine period for those entering the country with a Covid-19 vaccine passport should be halved to seven days.
When going abroad, people can scan the QR-code to access the right data source, and verify the information. Photo: CAND
In a proposal it sent to the Steering Committee for Covid-19 Prevention and Control, it said those with a vaccine passport would be tested for the coronavirus once on arrival and again on the sixth day. If both tests are negative, they could leave quarantine facilities but remain at home or their place of work under the supervision of local authorities until they complete the mandated 14-day quarantine period.
They would be tested a final time on the 14th day.
People entering the country have been required to undergo 14 days of quarantine since last year, VNE reported.
Associate Professor Nguyen Viet Nhung, director of the National Lung Hospital, agreed it is necessary to reduce the quarantine period for those holding a vaccination certificate and even waive the requirement if visitors have a vaccine passport and test negative for Covid on arrival.
Tran Dac Phu, a senior advisor at the Public Health Emergency Operations Center, said the pandemic has been controlled, but the vaccination rate is not high yet and immunity at the community level is low. Therefore, the risk of community outbreaks is very high if someone enters the country with Covid.
Furthermore, the virus has been mutating and vaccines may be ineffective or less effective against new strains, he said.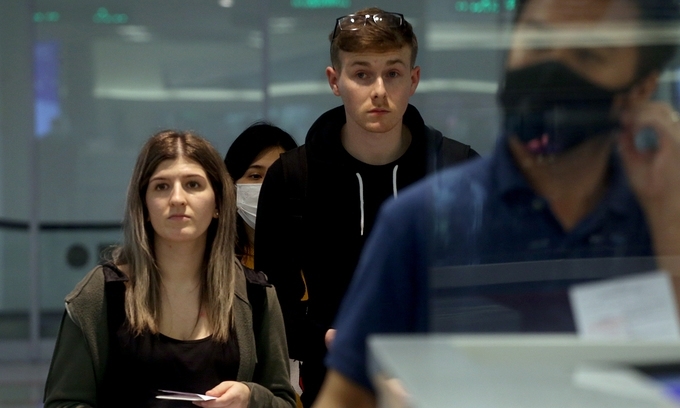 Foreigners arrive at Noi Bai International Airport in Hanoi, March 13, 2020. (Photo: VNE)
So, for now, Vietnam should focus on "low-contact tourism," allowing foreign visitors with a vaccine passport to travel to places without crowds, he said.
It needs a strategy to recognize vaccine passports with countries under bilateral or multilateral agreement or pilot the implementation of passports with countries with high vaccination rates or with vaccines reaching high immunological efficiency, he added.
Earlier this month the government said Vietnamese citizens stranded abroad, foreign investors and tourists could enter the country with a vaccine passport. But specific quarantine measures have not been decided.
Vietnam plans to admit tourists from countries and territories that have controlled the pandemic well and have mass vaccination campaigns.
The government closed the borders and canceled all international flights in March last year, allowing in only certain categories of people and with stringent conditions.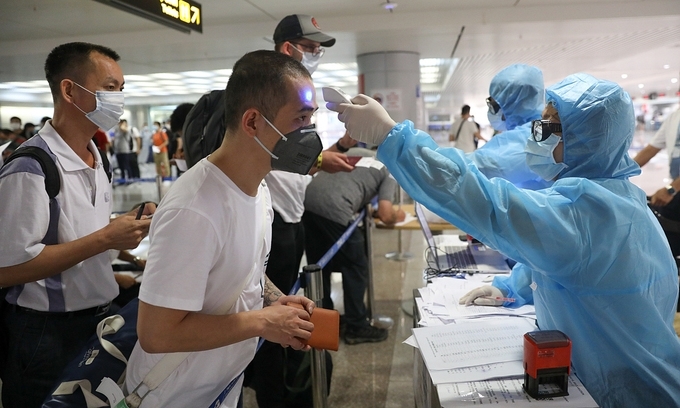 Medical workers check the temperatures of people arriving from overseas at Tan Son Nhat Airport before Vietnam closed borders, March 17, 2020. Photo: VNE
At a regular meeting of the National Steering Committee for Covid-19 Prevention and Control, related agencies and telecom providers said Friday that the information technology infrastructure for handling Covid-19 vaccine passports was basically ready and "fully adapts to international preparations of vaccine passport deployment."
With the vaccine passport, specifically, Vietnam would divide entrants into three different groups.
The first group would be Vietnamese citizens who are stranded abroad and have been administered the Covid-19 vaccine. The Ministry of Health will be in charge of providing detailed guidance on isolating and monitoring arrivals from different countries. A similar protocol would also apply for Vietnamese businesspeople returning home after going abroad in pursuit of investment and business opportunities.
The second group would be foreigners entering Vietnam to invest and do business. The Health Ministry would specify the protocol for testing, medical isolation and medical monitoring based on the entrants' citizenship and the vaccines they have been administered.
The third group would comprise international tourists. For this category, the health ministry would work with the Ministry of Culture, Sports and Tourism and submit to the committee specific plans on allowing international tourists.
It is expected that Vietnam will welcome visitors from countries that have basically brought the pandemic under control and those that have deployed vaccination programs to achieve community immunity. Such tourists would be allowed to go to Vietnamese destinations where sufficient control can be maintained in terms of Covid-19 precautions.
Addressing the Government's regular meeting on March 31, Prime Minister Nguyen Xuan Phuc ordered the health, tourism and diplomacy sectors to soon study and issue a "vaccine passport" mechanism in order to promote trade and investment.
The Government leader demanded the health sector to submit a plan on the matter as soon as possible.