Foreigner's Perspective on Vietnam's Best Street Cuisine
Without ever setting foot inside a restaurant, Vietnam is one of the world's top street-food destinations, promising robust and diverse flavors.
Vietnam is one of the places with the best street food in the world, according to a review from Lonely Planet. Here is the perspective of international culinary and tourism experts to answer the question: "Why is street food so popular in Vietnam?".
Would you want to try some grilled corn with green onion oil or a steaming bowl of wonton noodle soup, washed down with a glass of ice-cold sugar cane and kumquat juice? Welcome to Vietnam's culinary delights paradise.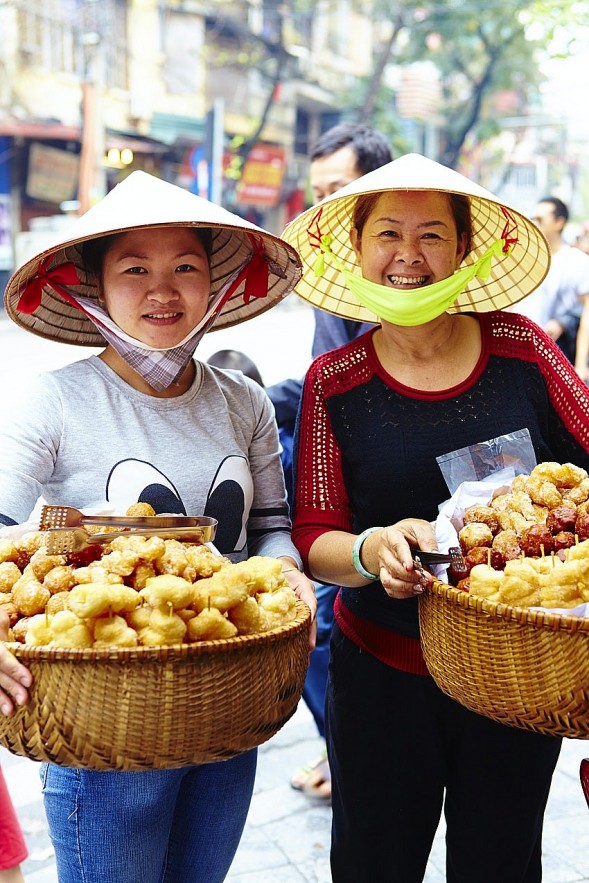 Hanoi Old Quarter area is one of the famous places for delicious and rich street food. Photo: Lonely Planet
Why is street food so popular in Vietnam?
The first factor stems from the long history of urban dwellers. Particularly in large cities, street dwellings are typically small, narrow, and cramped. As a result, people do not have enough space to welcome and eat with guests that visit their homes. Instead, they crowded together on the sidewalk tables of street food shops, leading each other out.
In addition, those who travel to big cities to live and work have a transitory residence. These individuals frequently rent modest rooms. Many people who live alone have developed a small practice of cooking for themselves or simply preparing basic culinary utensils. Instead, they dine at sidewalk restaurants, which are inexpensive but wonderful.
"Vietnam is one of the world's best street-food destinations, offering the promise of bold and diverse flavors without ever stepping foot inside a restaurant," according to Lonely Planet.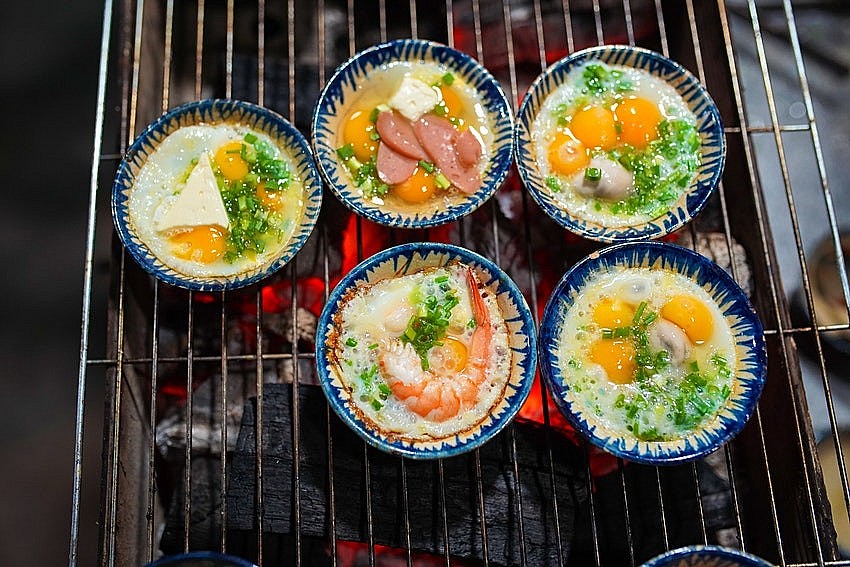 Bánh căn is often served with shredded mango and fish sauce Photo: Getty Images
Then there's the transient nature of Vietnam's major cities, which attract people from the countryside for jobs and school. These city inhabitants frequently rent rooms and residences and may have only the bare necessities – a portable gas stove is better suited to late-night instant noodles than entire dinners.
Another explanation for the locals' enjoyment of street food is that most residences do not have air conditioning, so it makes sense to postpone cooking in a hot kitchen on an even hotter day when you can simply pay someone else to do the task for a little more money. As the evenings grow cooler, hopping on your motorcycle and going for a ride has become a favorite hobby. Around this time, they often stop for a snack, cold drink, or a beer to cool off.
A peculiarity of street food is that diners are compelled to sit next to each other, whether they are alone or with a group of friends, and the proprietor only needs to travel a few steps to present the meals in front of you.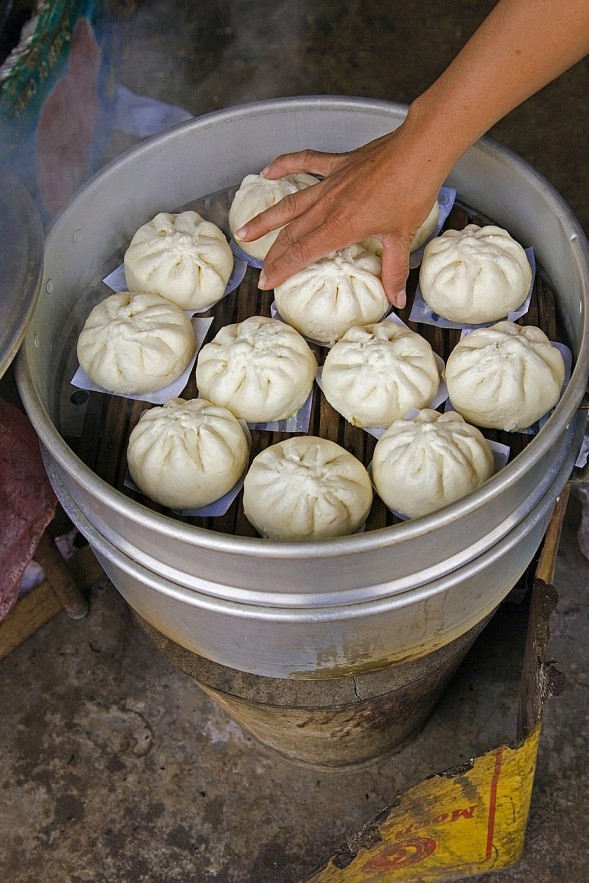 Bánh bao are steamed buns with a savory filling. Photo: Getty Images
Top tips for trying street food in Vietnam
Street food like summer rolls are sold by the piece or by the amount. Vendors will often ask whether you want 15,000d or 20,000d worth; both equate to less than US$1, so if in doubt, just nod and let them go with the default. Food safety awareness is generally good in Vietnam, but the extent to which the chefs and servers who touch your food observe good practice obviously ranges enormously. Smaller street food stalls are purposely designed to be packed up and moved at a moment's notice, with limited access to water, electricity and sanitation.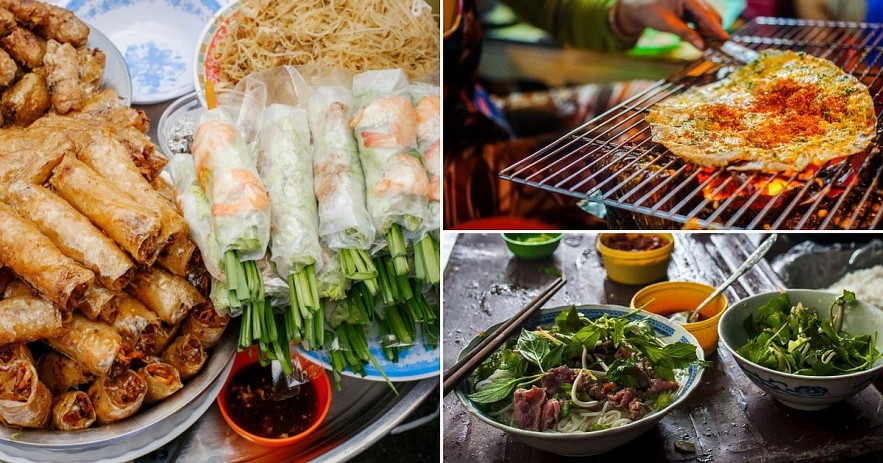 Vietnamese Street Food That Are Just To-Die-Pho. Photo: Klook
There are a few things to keep in mind if you want to avoid getting sick from food:
Eat where and when others are dining -a high volume of customers means food gets changed over fast, leaving less time for contaminants to accumulate. It also implies that ingredients are updated more frequently.
Be observant - Take a glance around the kitchen and see whether the oil is clear if there are fly nets, and if the food smells fresh. Examine how the vendor transitions from handing food to managing money.
Clean the silverware - numerous hands will have rummaged in the cutlery container over the day, so wipe them down with sanitizer and a napkin before eating.
Eating fruit and vegetables - any fruit with inedible skin (watermelon, mango, banana) is typically good; all other fruits should be well washed before consumption. While not washed correctly, fresh herbs, sprouts, and lettuce may retain residues of pesticides (or worse); if eating soup, you may always request that they be dipped in hot water before being loaded into your bowl - ask for "tráng" while pointing to the vegetables and making a dipping gesture.
Using ice in your drink - ice used in cities is often safe, especially if it comes in uniformly formed cubes or cylinders, indicating that it was manufactured (these typically use treated water). Strangely shaped ice shards have been broken from a larger block and should be handled with caution or avoided entirely.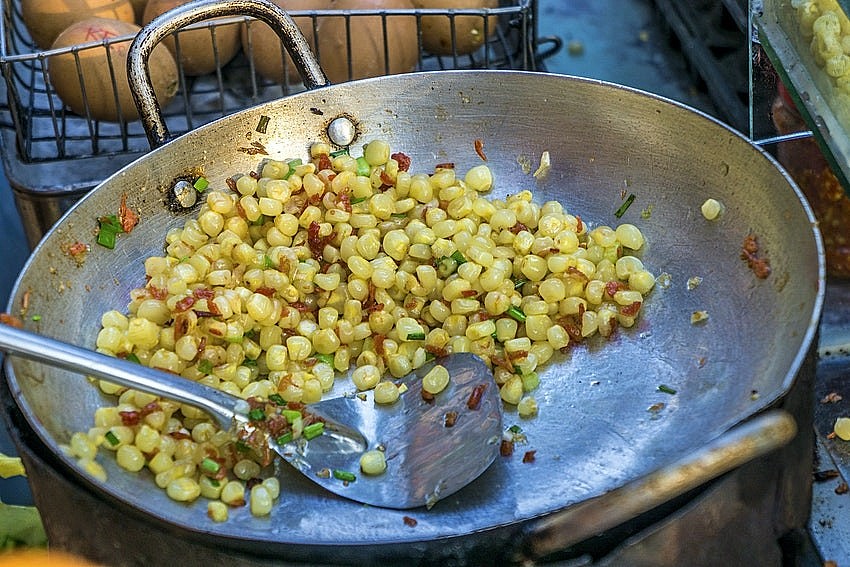 Bắp xào is wok-fried corn. Photo: Shutterstock
Eat Vietnam, a new book from Lonely Planet provides a comprehensive guide to the diverse cuisine culture of Vietnam. This excerpt from Eat Vietnam, by Barbara Adam and James Pham, enables you to explore the wonderful diversions Vietnamese cuisine offers, helping travelers get the most out of their gastronomic experience, from must-try specialties to etiquette and vital terminology.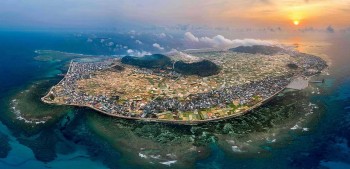 Viet's Home
Dozen of beautiful photos from the "Homeland View from the Sea" national photo contest will be featured in a 2022 calendar.