10 Specialties of Nam Dinh's Winter Cuisine
Banh mi in Do Quan bridge, noodles with deep-fried pork lard in Ngo Ngang market and sticky rice with char siu are most loved in Nam Dinh when winter comes.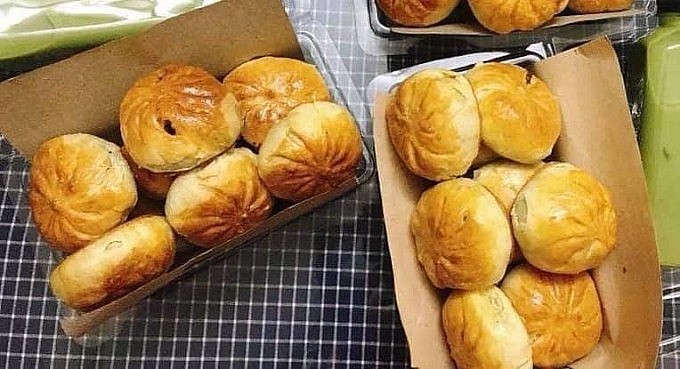 Xiu pao (Photo: VN Express)
Xiu Pao
Referring to Nam Dinh's food, xiu pao is the first name that comes to most people's minds. Xiu pao was brought to Vietnam by Chinese immigrants and has become one of the signatures of Nam Dinh's cuisine.
Xiu pao is somewhat a combination of mooncake and bao bun. The filling is made from pork shoulder (for chai siu) and pork belly (to create a fatty taste), quail egg, would ear mushroom, and a mixture of seasonings for which each baker has his own recipe. Xiu pao's dough is quite similar to bao bun, but instead of being streamed, xiu pao is baked twice.
Each xiu pao costs VND 4.000-7.000 (US$ 0,2-0,3). The dish is sold widely in Nam Dinh. Therefore, tourists can ask a random local for the most trusted sellers.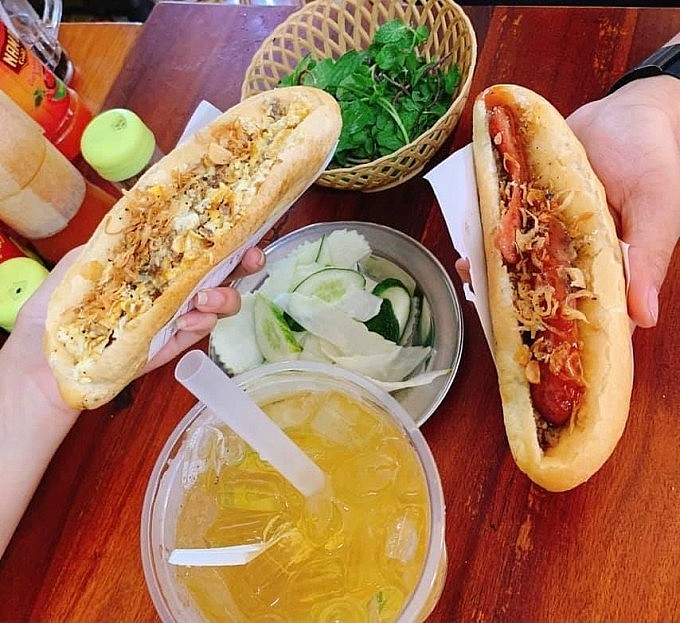 Banh mi in Do Quan bridge. (Photo: VN Express)
Banh mi
Banh mi is considered the second most loved dish in winter. In the chill air of Vietnam's northern region, nothing can beat a crunchy banh mi served next to a hot coal stove where savory pate, pork, and egg are fried.
The banh mi stall at the foot of Do Quan bridge is often chosen by both locals and tourists for its reasonably priced but tasty dishes. Customers have to pay only VND 15.000 (US$ 0,65) for a banh mi with diverse fillings. The stall also serves soya milk and ice tea.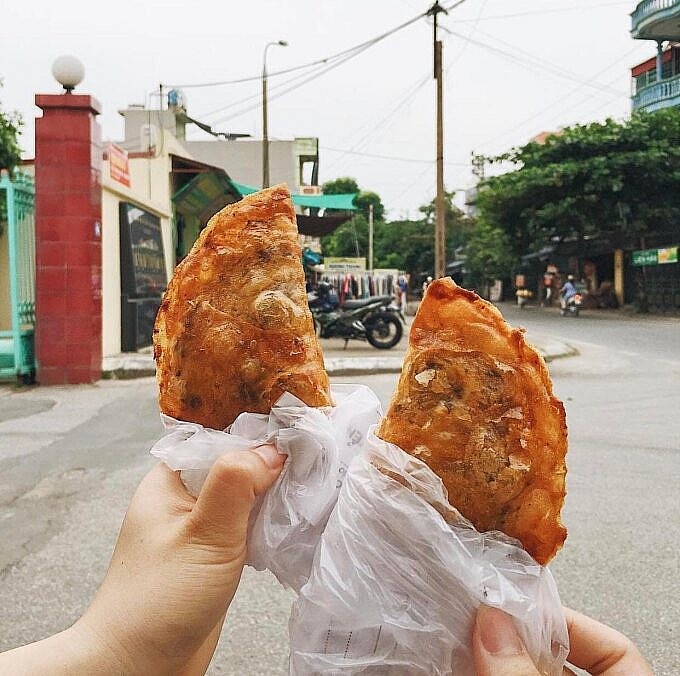 Pillow dumpling (Photo: VN Express)
Banh goi (Fried "pillow" dumpling)
The fried dumplings with the shape of pillows and fillings made of pork, noodles, wood ear mushroom, and vegetables are loved by students. The hot and crunchy dumplings, often cut into small pieces, dipped into fish sauce, and wrapped in fresh vegetables, are a perfect afternoon snack on cold days. Each dumpling costs about VND 10.000 (US$ 0,43)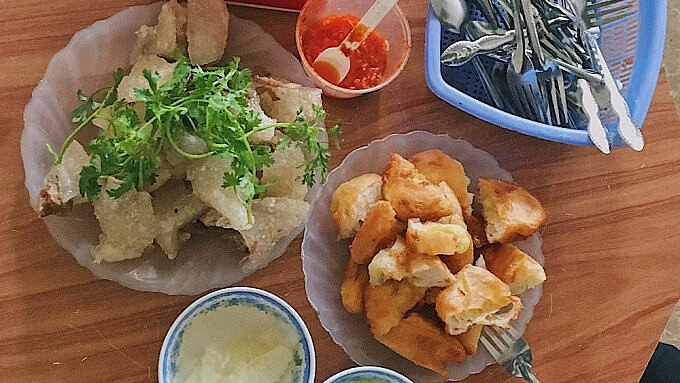 Photo: VN Express
Banh bot loc (Tapioca dumpling) and fried banana
When visiting Nam Dinh, tourists should try tapioca dumplings and fried bananas. Unlike the popular tapioca dumplings in Hue, Nam Dinh's version has fillings made from pork, wood ear mushroom, and noodles. The dish is served with dipping sauce and herbs.
Deep-fried bananas covered in crispy dough can be found on any street. Each serving costs less than VND 10.000 (USD 0,4).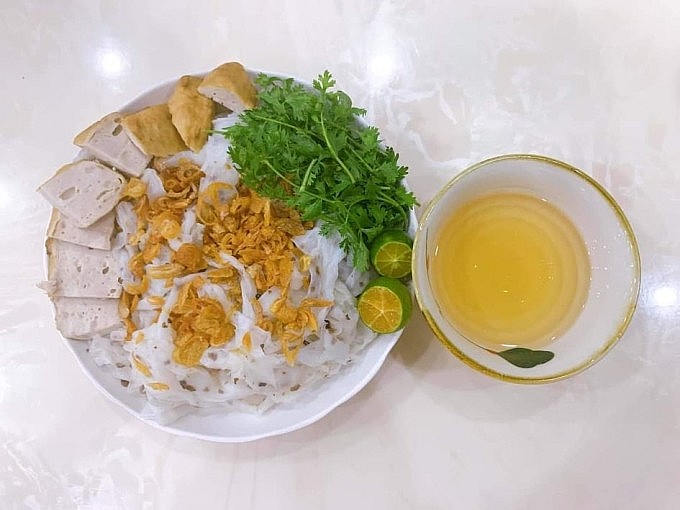 Photo: VN Express
Banh cuon (streamed rice roll)
While Hanoi's banh cuon has pork and mushroom filling, Nam Dinh's dish comes with cha (pork roll), fried onion, and stir-fried wood ear mushroom on the side. The roll itself is warm and soft, making a good combination with the chewy mushroom, savory pork roll, and fatty onion. Banh cuon is so common in Nam Dinh that tourists can find the dish in nearly all local markets.
Photo: VN Express
Banh beo (steamed rice cake in banana leaves)
Though sharing the same name, banh beo in Nam Dinh has nothing similar to Hue's banh beo. Banh beo in Nam Dinh is made from a mixture of grounded rice. The mixture is poured into a mold from banana leaves and steamed. When served, banh beo is cut into small pieces and dipped into spicy and sour fish sauce. Each banh beo cost VND 6.000 (US$ 0,3). Banh beo stalls in Ngo Ngang and Phu Long markets are recommended by locals.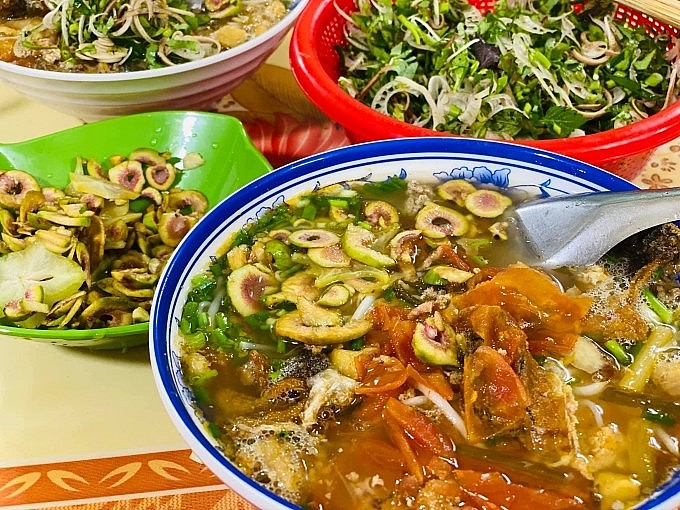 Photo: VN Express
Noodles with deep-fried pork lard
Lying opposite to the banh beo stall in Ngo Ngang market, the counter that sells noodles with deep-fried pork lard is usually crowded. The dish, which can hardly be found anywhere else, comprises noodles, pork lark, tomato, fried fish, meatballs and figs. Each bowl of the special noodles cost VND 15.000 (US$ 0,7).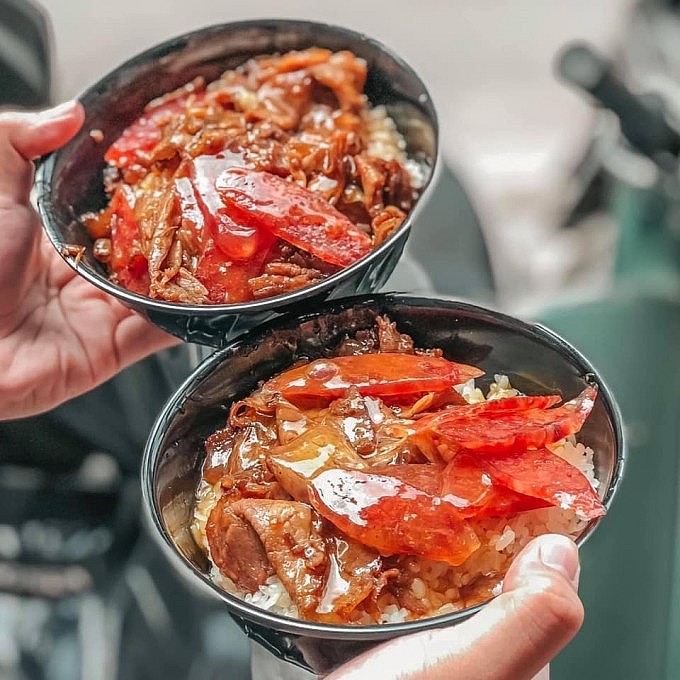 Photo: VN Express
Xoi xiu (sticky rice with char siu)
As its name suggests, xoi xiu consists of steamed sticky rice, hot char siu and sausage. Each potion is sold at around VND 15,000 (US$ 0,7). One of the most famous vendors in Nam Dinh is in Hang Sat, which is quite close to Ngo Ngang market.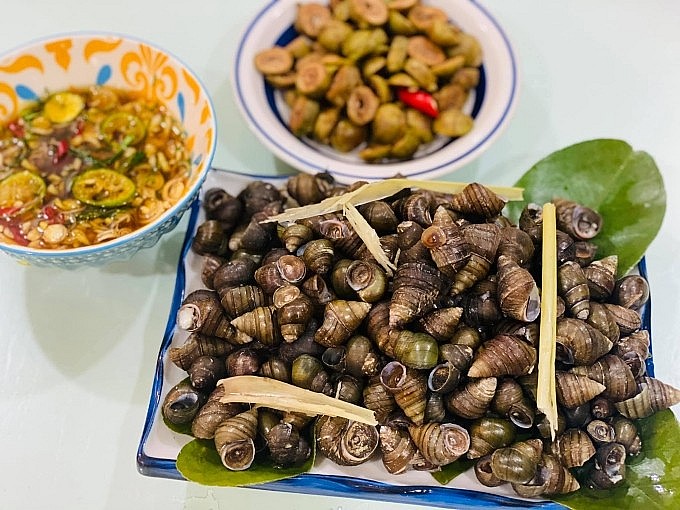 Photo: VN Express
Boiled snails
Boiled snails are a treat on cold winter nights. Diners usually sit around small tables, chatting and enjoying the simple but delicious dish. Nam Dinh snails are famous for the dipping sauce. The price for each bowl of snails starts from VND 10,000 (US$ 0,4).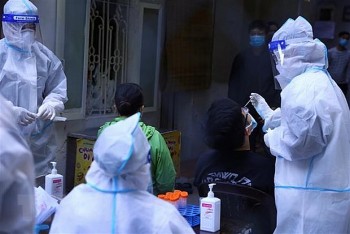 Focus
Vietnam's Covid-19 death toll is now 26,483, or 2 percent of total cases. More than 7,000 coronavirus patients nationwide are in serious condition, with 741 requiring invasive ventilation and 20 on life support.