Former Australian Ambassador Honored for Contributions to Vietnamese Community
In June 2023, Graham Alliband, former Australian Ambassador to Vietnam, was awarded a medal by the Australian government for his contributions to the community in Vietnam.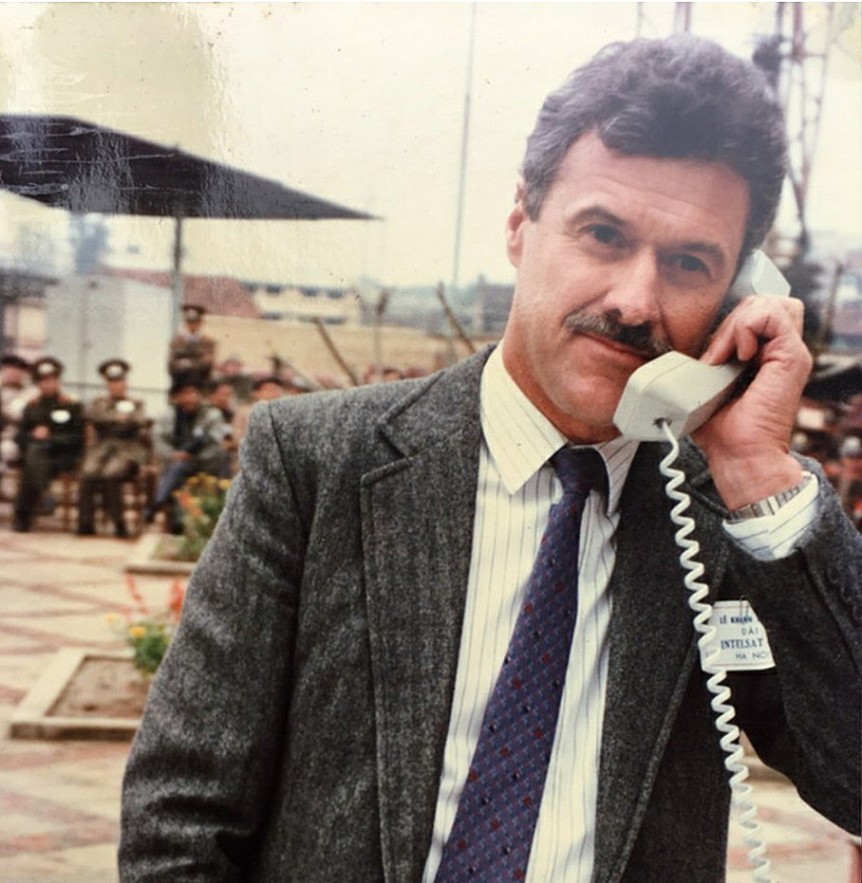 Graham made the first phone call from Ho Chi Minh City to Australia via the INTELSAT satellite system installed by the Australian company OTCI (Telstra) in Vietnam. Photo: Australian Embassy in Vietnam
Since the 1970s, Graham Alliband has served three diplomatic terms in Vietnam, including as Ambassador from 1988-1991.
He is also the Director of four human resource development programs in Vietnam of the Australian government. He is currently continuing to contribute as an advisor to the Aus4Skills program.
Over the past five decades, Graham Alliband worked tirelessly to contribute to Vietnam's economic and social development, and strengthen the diplomatic relations between the two countries. He speaks Vietnamese fluently, has a deep understanding of Vietnamese culture, and is a great friend to many Vietnamese.
Sharing with the press about the time when he arrived in Vietnam as Australia's Ambassador in 1988, 2 years after Vietnam started the Doi Moi (renewal process), Graham Alliband believes that the Doi Moi policy brought new vitality and dynamism to Vietnam.
It promotes change in many aspects of the country. In his mind, the typical image for the hopeful new atmosphere that the renewal process brings is the street lights that lit up Hanoi overnight in 1989.
The former Australian Ambassador to Vietnam also had an unforgettable impression of the rebirth of the private sector with shops, markets, restaurants and cafes. He saw an eagerness to learn about the world in Vietnam, and he thinks Vietnam can benefit from closer links.
One of the moments of great pride during his tenure was when he personally made the first direct phone call connecting Ho Chi Minh City and Australia in 1998, via the INTELSAT satellite system, installed by Australian company OTCI (now Telstra) in Vietnam. This new telecommunications link marks Vietnam's entry into the wider international community.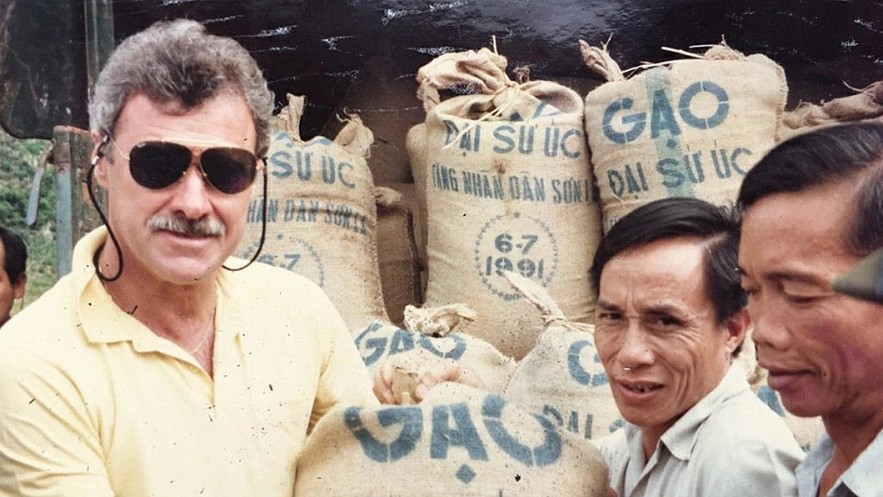 Graham provided rice for Son La after the flood in 1991. Photo: tuoitre.vn
Realizing the importance of expanding English teaching when Vietnam wants to join the international community, he created favorable conditions for the first Australian to volunteer as an English teacher in Vietnam.
He used a small fund of the ambassador to provide equipment and English textbooks to the foreign language departments of five universities in Vietnam.
He also provided equipment and books to set up the first semi-independent English center in Hanoi (probably all over Vietnam) in mid-1991, led by two English teachers from Foreign Language University Hanoi (now Hanoi University).
The Australian Government Medal, awarded by the Governor-General of Australia, honors Australian citizens with outstanding achievements and contributions to society, after they have been nominated by the community, and evaluated by an independent organization.