Foster Families Nurture Seeds of Vietnam-Laos Friendship
90 Laos students were introduced to Vietnamese host families in a recent event.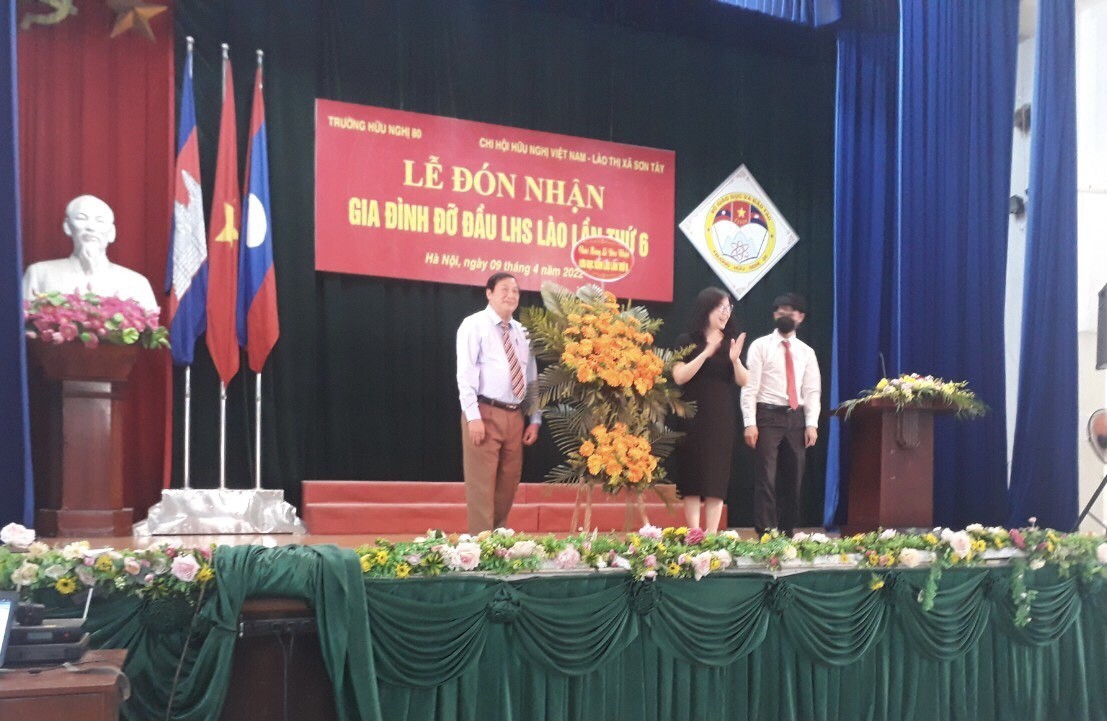 At the event. Photo: VNT
An introduction ceremony "Host families of Laos students in Vietnam" was held by the Son Tay town's Vietnam-Laos Friendship Association and the Friendship School 80.
Those in attendance were Tran Thi Phuong, vice president of Hanoi Union of Friendship Organizations (HAUFO); Nguyen Van Huong, vice president of the Son Tay town's Vietnam-Laos Friendship Association; Nghiem Thi Thuy Hang, vice chairwoman of Vietnam Fatherland Front Committee in Son Tay town and 18 members of the friendship association.
Chu Kim Phuong, vice principal of the school stated the goal of the program is to provide Laos students a second family in Vietnam.
Through the program, Laotian international students studying at Friendship 80 School will have godparents and a second family.
On weekends or even some weekdays, the students will visit their host families, joining in their daily activities, experiences the lifestyle of local peoples.
Engaging with host family is also a great opportunity for the Laos students to polish their Vietnamese language skills naturally, enhancing their cultural understanding, enrich their knowledge, and nourish the long-standing friendship and solidarity between two countries' peoples, the vice principal noted.
She also took the occassion to thank members of Son Tay town's Vietnam – Laos Friendship Association who have stepped up to take on the role of host parents providing care for Laos students in the school.
She believed that the willingness of the host families today would be evident for the strong mutual supports between two countries.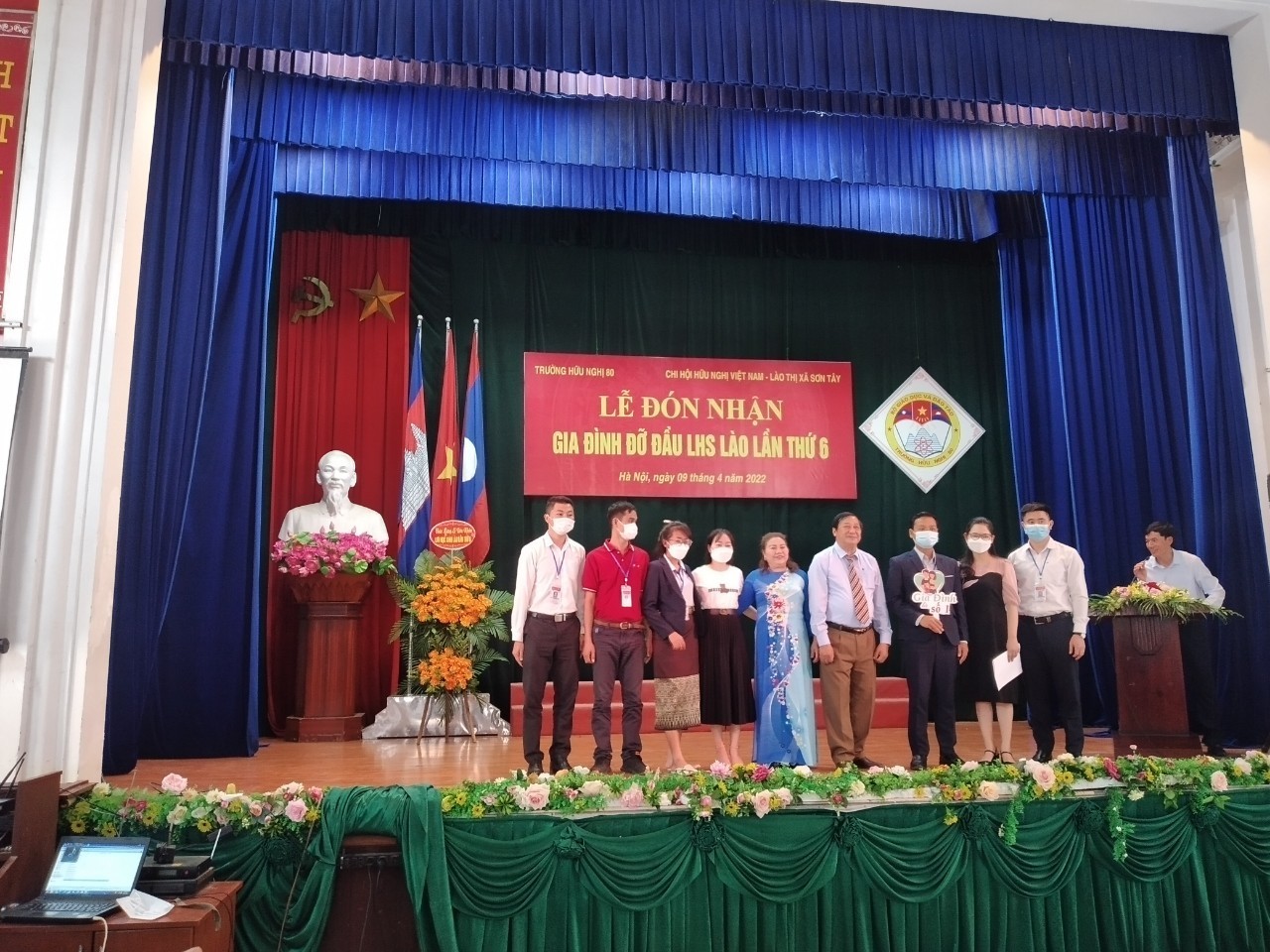 Lao students and their sponsors at the event. Photo: VNT
Phan Van Bon, president of the Vietnam-Laos Friendship Association in Son Tay town, said that in the past sixth events, 18 families have been sponsored by over 465 Lao international students.
The majority of the members were born and grew up in Laos, therefore hosting Laos students in the family will be huge happiness for them. They will do their best to support the students for the time they are studying in Vietnam in general and at the school in particular.
"We, who were born and raised in Laos, feel like we are reliving our youth years. At the same time, the students will have a second family in Vietnam", Bon said.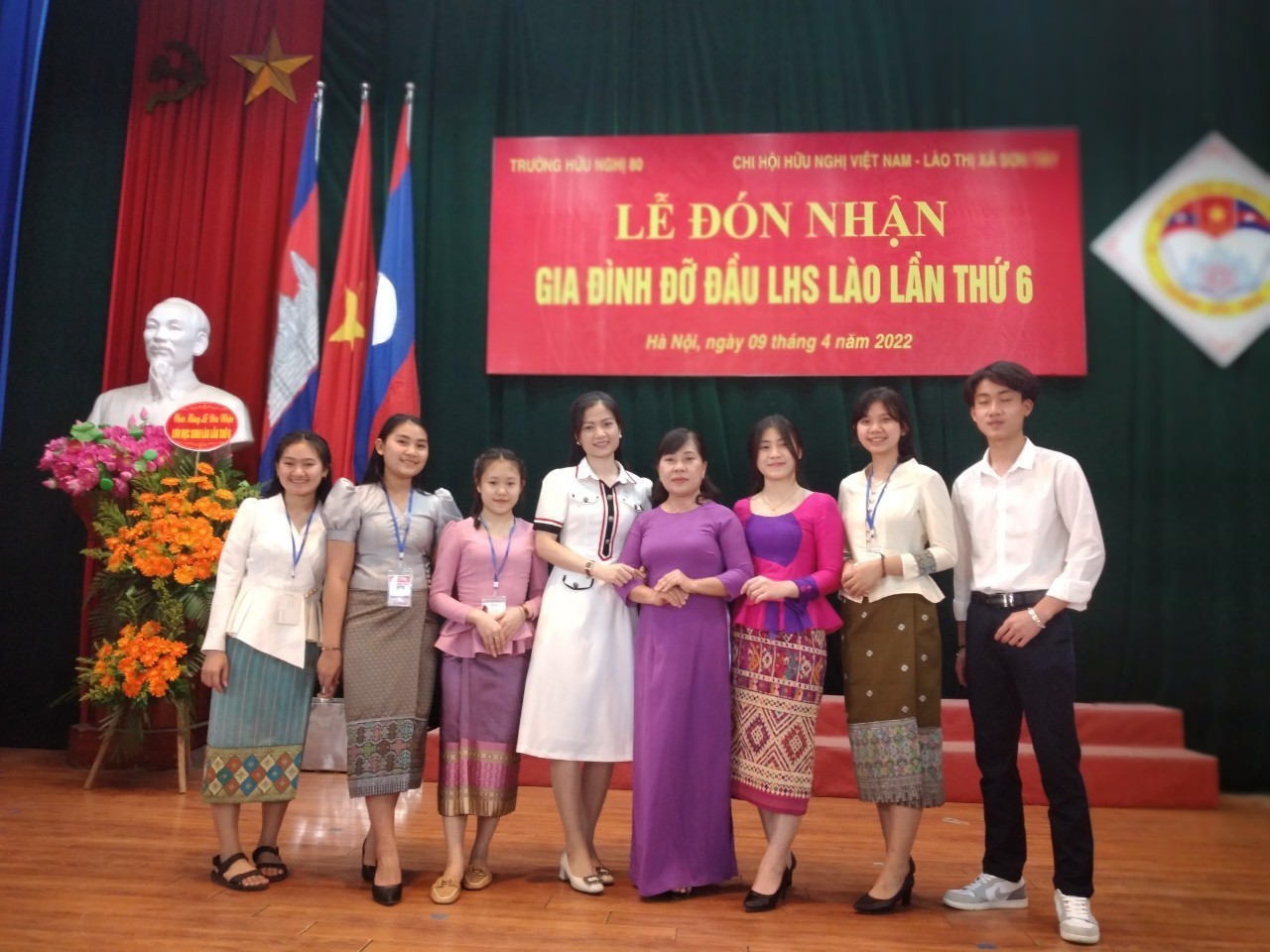 Tran Thi Hong Ly, a member of the Vietnam - Laos Friendship Association in Son Tay town and her 7 Lao foster children. Photo: VNT
With his deep-rooted affection for Laos, Tran Thi Hong Ly, a member of the Vietnam - Laos Friendship Association in Son Tay town has to date sponsored seven Lao students in Hanoi.
To the Laotian students, Ly's family is like a second home far away from home. They come to him not only to receive support but also to share their joys and sorrows when living abroad.
To these students, the experience of their time in Vietnam under the warm care of their foster parents will never be forgotten.
Ly is only one among 18 volunteering families participating in the program under which they support 90 Lao students in this event.
After the ceremony concluded, the organizing boards and delegates of the Vietnam Fatherland Front took the students to their host family, where they shared heartwarming moments together.
The Governments of Vietnam and Laos are expanding cooperation in education, human resources development and vocational training this year, reported Vientiane Times newspaper in February.
The Vietnamese Government has granted 1,100 scholarships to Lao officials and students and its Lao counterpart provided 60 to Vietnamese ones for short-term training and bachelor's and master's programs at the country's universities.
This was also to celebrate the 60th founding anniversary of diplomatic relations (1962-2022), and 45 years since the signing of the Treaty of Amity and Cooperation between the two countries (1977-2022) in Vietnam - Laos, Laos - Vietnam Solidarity and Friendship Year 2022.