Four Outdoor Cafes With Instagramable View In Ho Chi Minh City
With people who enjoy the fresh air and beautiful views, these outdoor cafes will offer you the most extraordinary view of nature and help boost your energy after a long, hard-working week.
Missing Garden Café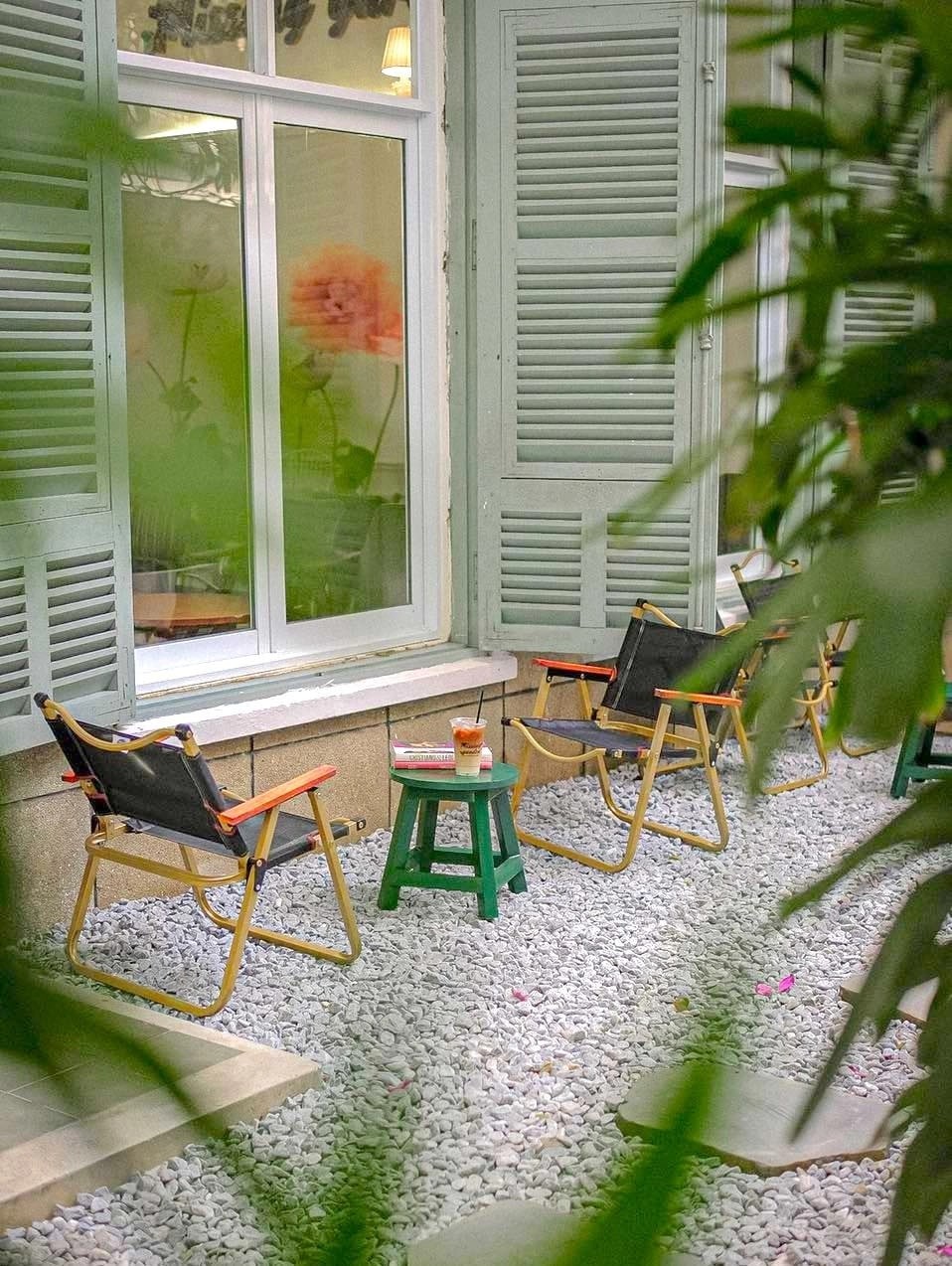 Photo: Missing.garden
Address: Le Van Sy, District 3
Opening hours: 8 am – 10 pm
Prices: From VND45.000 (US$1.81)/ plate
The café is nestled inside a small alley, renovated from an 80-year-old villa with a green garden that makes you feel like you are stepping into a different world. The indoor space includes the ground floor and two upper floors. It also has a reading corner full of books for those who prefer quietness to enjoy their coffee with a good story. This place features the dominant gray-white tone and classic-style wooden tables and chairs.
The outdoor space is covered under the cool shade of tall, green trees, with tables and long camping chairs for groups of friends gathering and chatting. The highlight of the café is the bright, colorful bougainvillea flowers from the ground floor to the terrace. At night or in the evening, guests can enjoy the fresh and relaxing atmosphere on the terrace.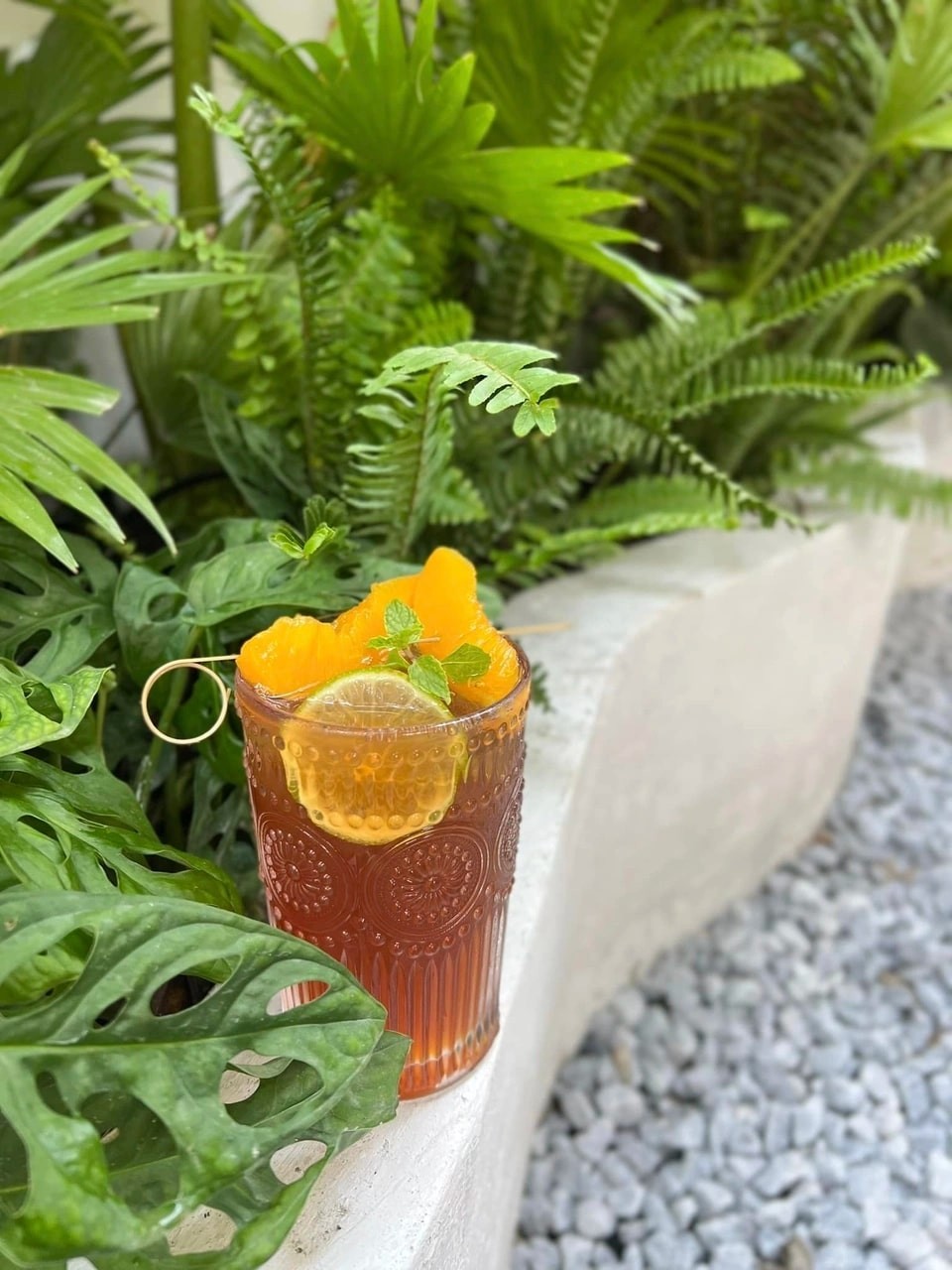 Photo: Nguyen Nhung
The simple menu includes different types of coffee, fruit teas, smoothies, and sodas. You can also try out almond coffee, salted coffee or cocoa, Thai tea with aloe vera, pomegranate jasmine tea, rose lychee tea, scented tea with hazelnuts, Blue Forest soda, Rose Sky or Red Sunset, etc. Do not forget to order the cakes here too, and taste some of the best cake flavors with tea.
Salted coffee has a layer of fatty malt cream on top, with mild saltiness and a strong coffee flavor. The fruit tea is refreshing on hot days. Overall, the drinks' taste and quality receive many positive reviews. The staff is friendly and well–trained to bring the best services to customers.
Ollin Café
Address: Branch 1: 300 Nguyen Thi Thap, Tan Quy, District 7, Ho Chi Minh City
Branch 2: 220 Tran Nao, District 2, Ho Chi Minh City
Opening hours: 7 am – 10 pm
Prices: From VND40.000 (US$1.61)/ plate
Photo: OllincafeSG
Aside from the one branch located in District 7, a new branch is in operation at Tran Nao Street, Thu Duc, with a large and airy space. The inside of the café is air-conditioned and the bar helps to increase the connection between the bartender and customers. There is also a reading room with soft couches, which is suitable for visitors who come to work and enjoy some quiet time. The large windows allow fresh air and sunshine to get in, and make the scene more dreamy.
The open space attracts many visitors for its lovely garden with green trees, paved with white pebbles like a tropical garden. The tables and desks are made camping style, combined with the large umbrellas that bring a comfortable feeling for guests. Under the tall trees, there is also a bench that offers a Korean-style photo corner.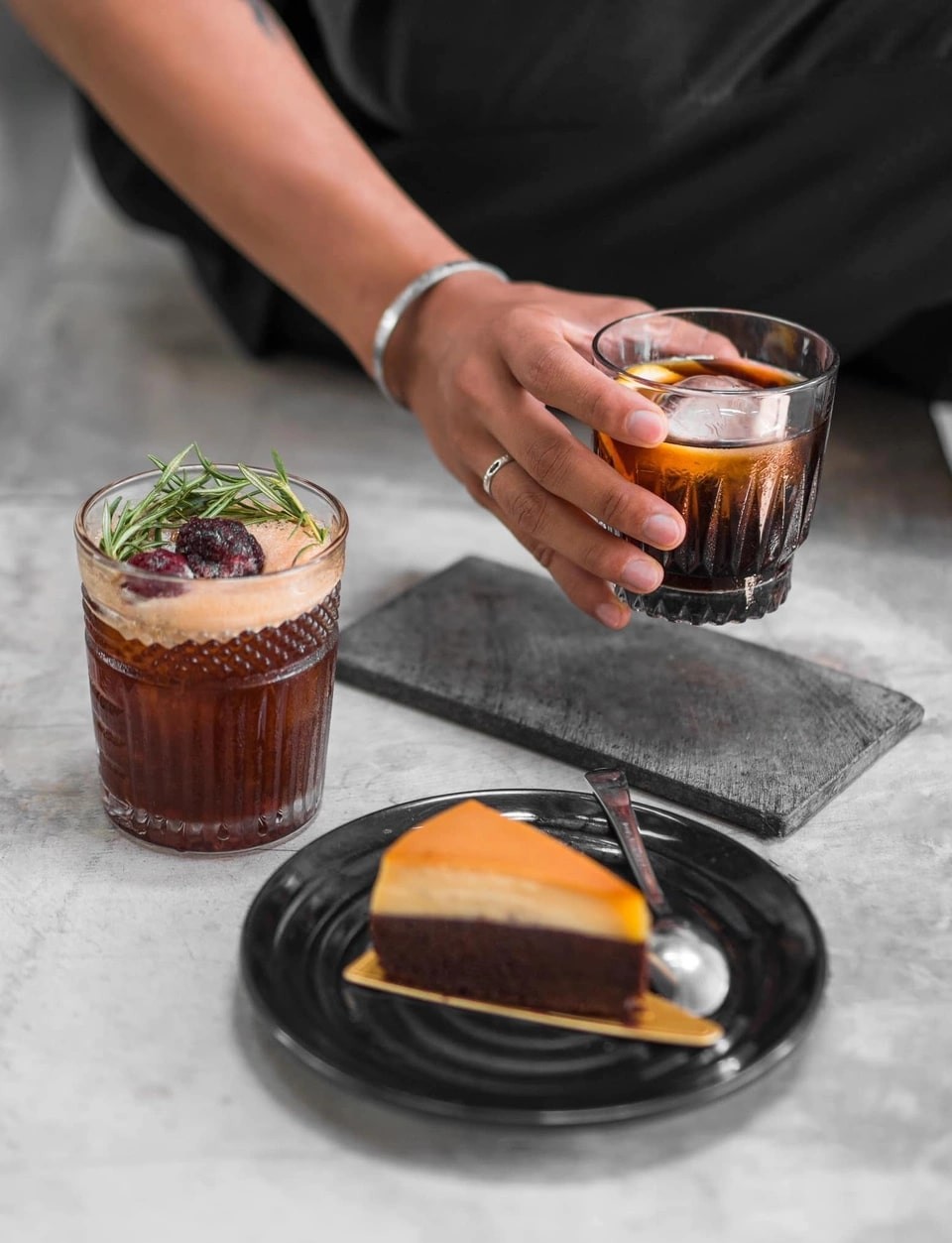 Photo: OllincafeSG
Crushed ice, fruit tea, juice, milk tea, coffee, and some cakes are the most popular choices on the menu. Cocofifi, Red cold brew, Ollin coffee with coconut milk, and Affogato are some of the signature flavors of Ollin Café.
Affogato features vanilla ice cream and an espresso shot. Coconut milk coffee is served in 2 separate cups, including an espresso shot and coconut milk cream for guests who do not like the bitterness of the coffee. Coconut milk is smooth, lightly sweet, fragrant, and fatty with a charming bitter taste. The staff is enthusiastic and friendly.
Barbaro Coffee
Address: Nguyen An, Thu Duc
Opening hours: 8:30 am – 5:30 pm
Prices: From VND45.000 (US$1.81)/ plate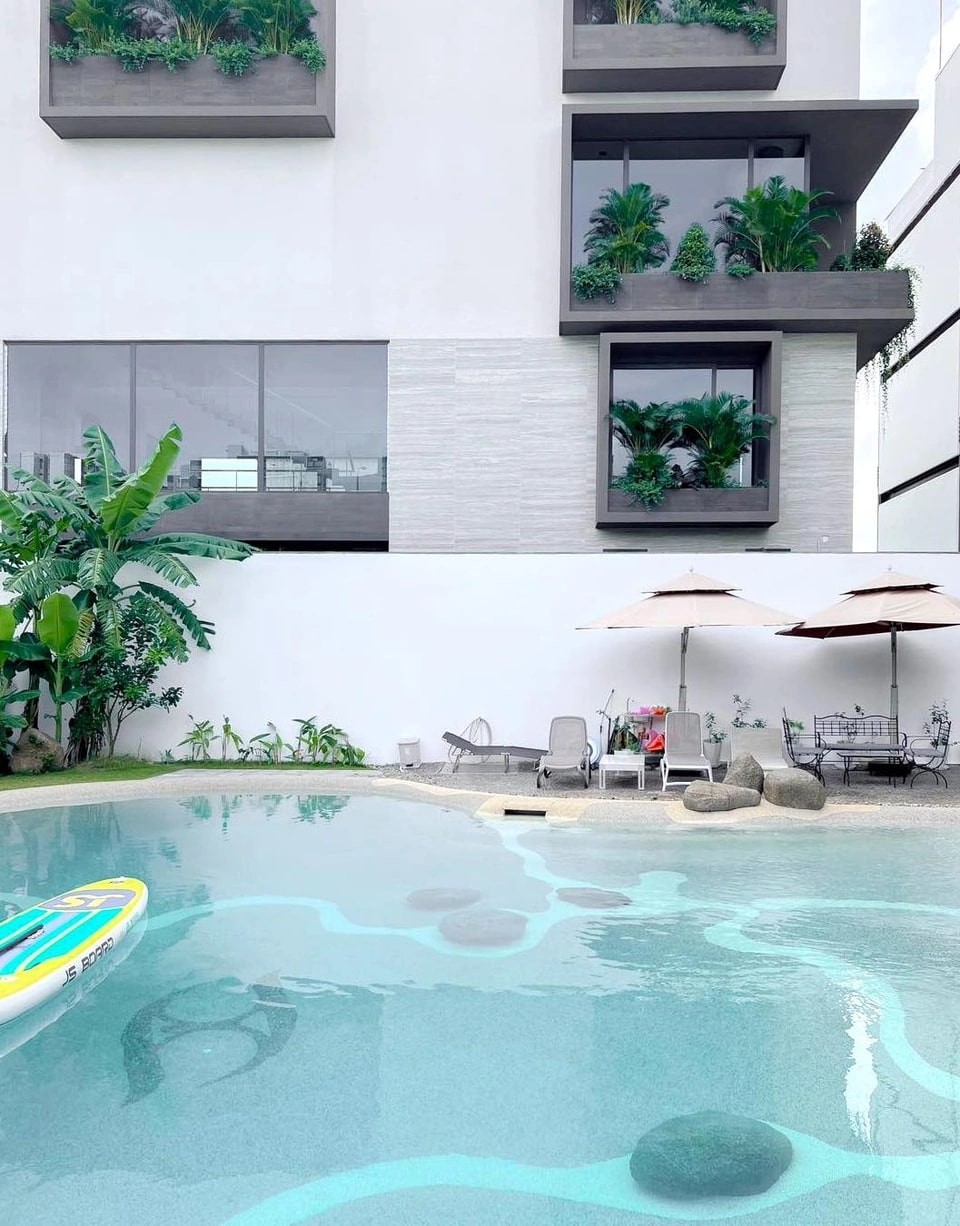 Photo: @hifasne_.
This used to be a large studio that is located in a luxurious villa area. This place has just opened a small coffee shop, which is convenient for guests to stop by, relax and take the best Instagram photos.
The highlight of this place is the outdoor swimming pool that looks like a resort. The green landscape, with the rocks, arranged artfully and the tall trees bring a harmonious scenery. The early morning or late afternoon are the best times to visit this place.
The menu is not too extensive, serving only a few simple drinks such as cappuccino, espresso, latte, tea, chocolate, and cake. The prices are affordable, and the quality of the drinks and food is great.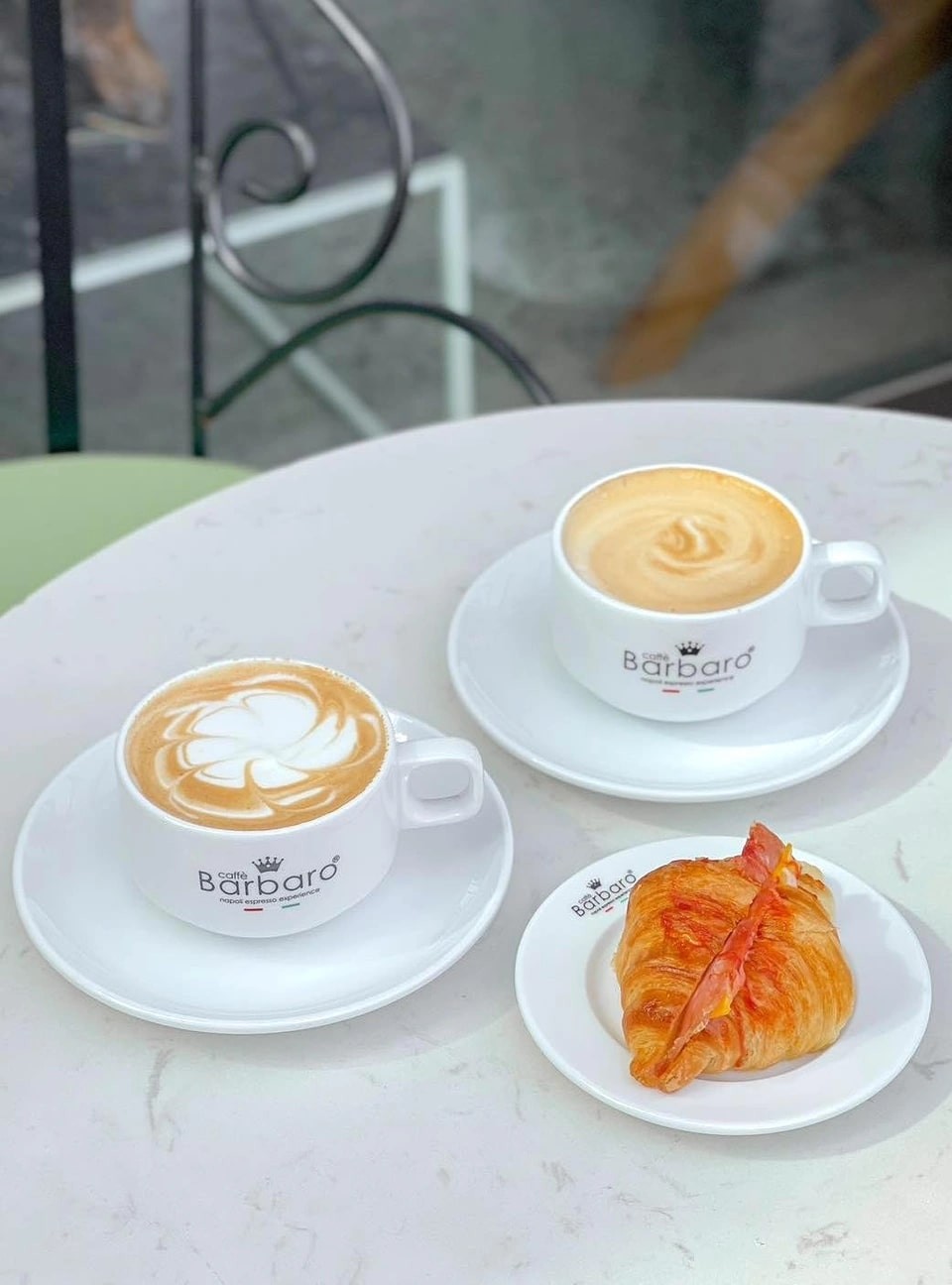 Photo: @hifasne_.
The staff is friendly and professional in helping customers with their orders.
Chuyen.Coffee
Address: Nguyen Tri Phuong, District 10
Opening hours: 8:30 am – 10 pm
Prices: From VND40.000 (US$1.61)/ plate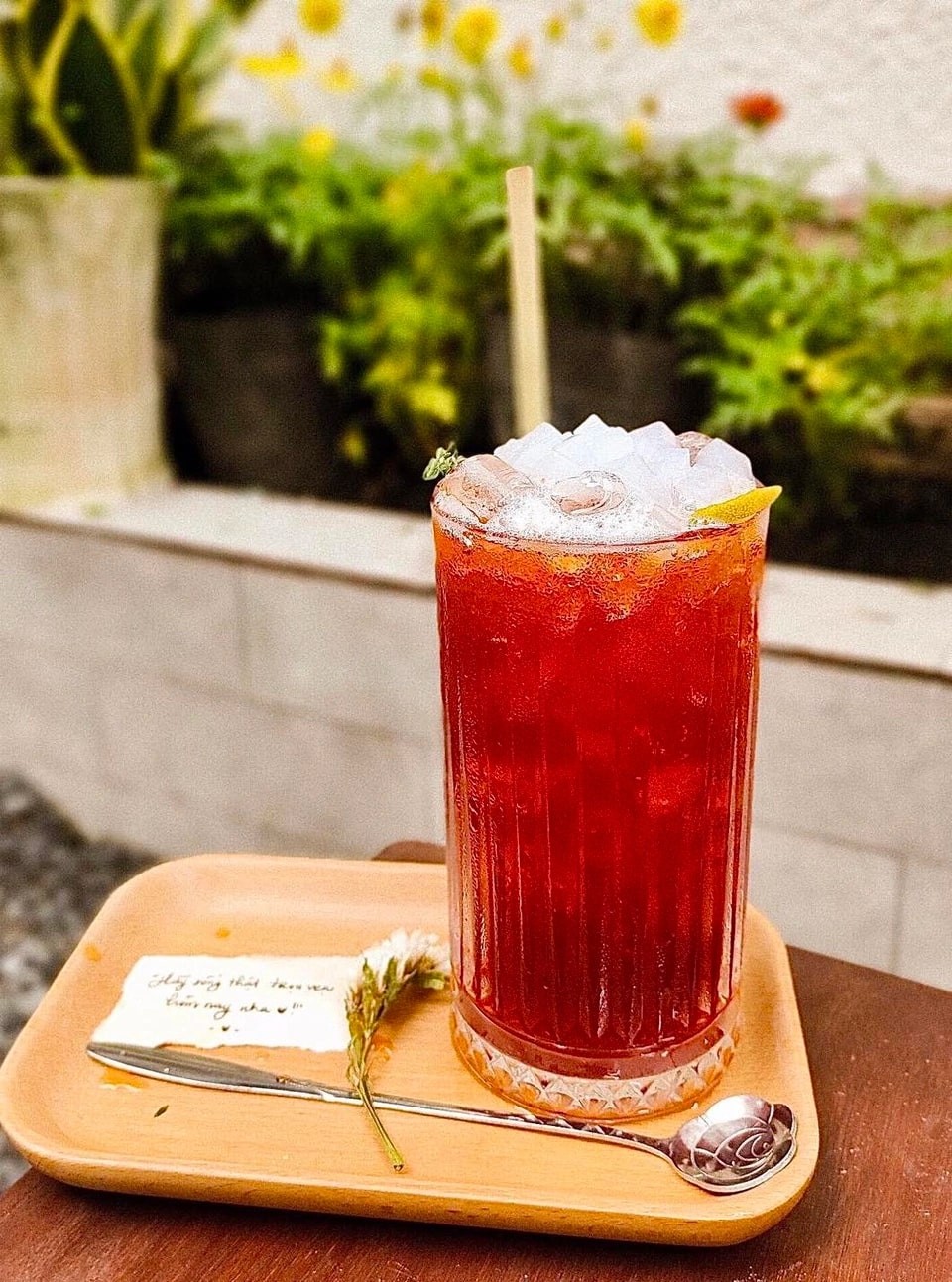 Photo: Nokkaewdessertcafe
This place is a complex of handmade gifts combined with coffee. Nestled in a small alley, Chuyen.coffee stands out with its main cream-white color. Inside the ground floor area is a display of handmade products. You can choose postcards, notebooks, pictures, bags, or bags from fabric and crochet. The first floor is for people who like to gather and work in groups.
The garden is simply arranged with a few sets of wooden tables and chairs, with a poetic atmosphere that charms tourists coming here.
The menu includes traditional coffee, fruit tea, milk tea, yogurt, or chocolate. The highlight is the interesting naming of the drink, which is inspired by famous songs such as "Hon Ca Yeu", "Vao Ha", "Giac Mo Trua", "Mat Biec", etc.
Giac Mo Trua is a simple tea, with the main ingredients including chamomile tea and honey, jujube, goji berries, and chrysanthemum. The drink called Trot Yeu is Thai milk tea with pearl boba topping. Drinks are served on a neat wooden tray with small flowers and a lovely message written by hand.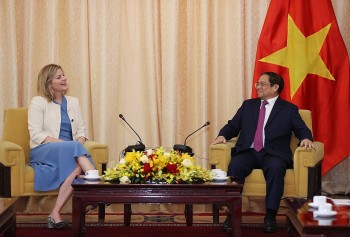 National
The Netherlands committed to cooperate with Vietnam, and together find innovative and sustainable solutions to accelerate green economy transformation.