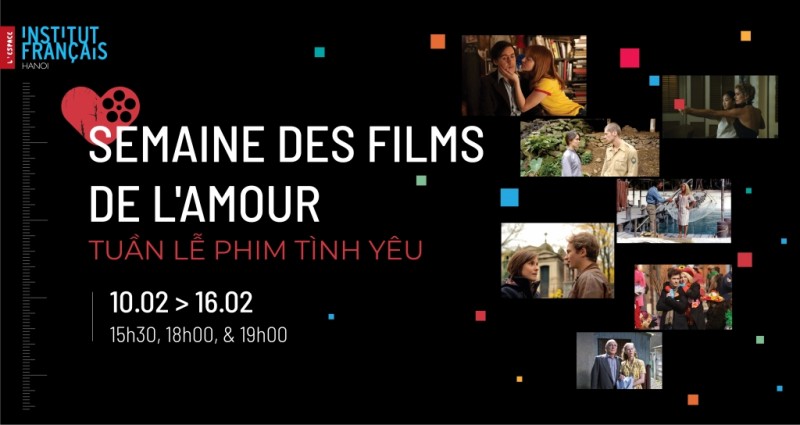 The French cultural centre L Espace in Hanoi is scheduling a week where seven different movies on the topic of love.
The occasion is held as part of the nation's Valentine's Day celebrations, with the special day falling on February 14 annually.
The movies shown will tell seven different stories of love among different people. The films will also focus on many different aspects of love and will display love struggles in various contexts, such as in wartime, in a relationship involving different cultures, in the private world of teenagers, in family relationships, and more.
Throughout the week the French cultural centre L'Espace will host cheerful stories, quiet moments, romantic scenes and intermittent tensions for the entertainment of viewers.
The event will be opened by a story detailing a complex and funny love triangle in the film "Caprice" by director Emmanuel Mouret. Having won the Best Film Award at the Cabourg Film Festival 2015, the move explores sensitive topics among lovers in a unique way through comedy.
During the second screening of love movie week, audiences will be able to experience emotional ups and downs in Jean-Paul Rouve's nostalgic film: "Memories", known as "Les souvenirs" in French.
Audiences will also have the chance to enjoy viewing other love movies throughout the week, including "Le sauvage", "Pas son genre", "Ciel rouge", "Tamara", and "Indochine".
A ticket for a couple will cost VND50,000 with tickets available at the French cultural centre L'Espace in Hanoi from 8:30am to 7pm on Monday to Thursday, 8:30am to 6pm and 6:30pm to 8pm on Friday, in addition to 9am to 7pm on Saturday.
VOV