French National Day Celebrations Held in Vietnam
The multi-faced cooperation between HCM City and France and especially the Rhone-Alpes region and Lyon city has also developed.
The Ho Chi Minh City Union of Friendship Organization (HUFO) and the city's Vietnam-France Friendship Association on July 12 held a ceremony to mark the 233rd anniversary of the National Day of the French Republic (July 14), also called "Bastille Day", VNA reported.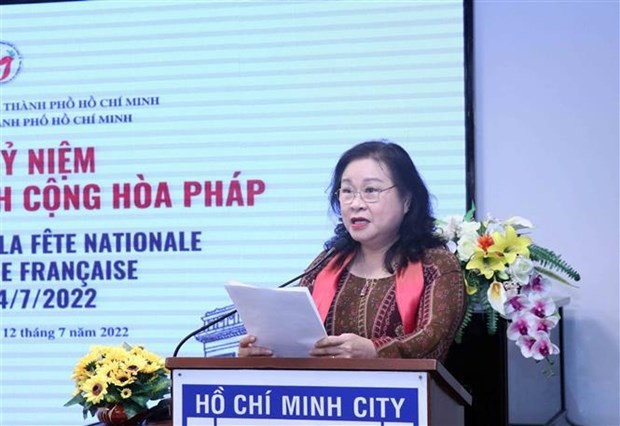 Nguyen Thi Kim Dung, Chairwoman of the Ho Chi Minh City's Vietnam-France Friendship Association, speaks at the ceremony. Photo: VNA
The event was hosted by the HUFO and the city's chapter Vietnam-France Association in the presence of the French Consul General in HCM City, business representatives and those who once studied and worked in France.
Addressing the event, Chairwoman of the city's Vietnam-France Friendship Association Nguyen Thi Kim Dung affirmed that Vietnam and France have a long-term relationship with deep historical and cultural ties.
Currently, France is Vietnam's fourth largest trading partner in Europe, she said, adding that another important area in the bilateral relationship between the two countries is the French culture and language teaching.
Consul General of France in HCM City Emmanuelle Pavillon-Grosser emphasised the friendship between France and Vietnam has been fostered over the decades.
Last year, in spite of being affected by the Covid-19 pandemic, the two countries still exchanged activities and supported each other in the pandemic fight, she said.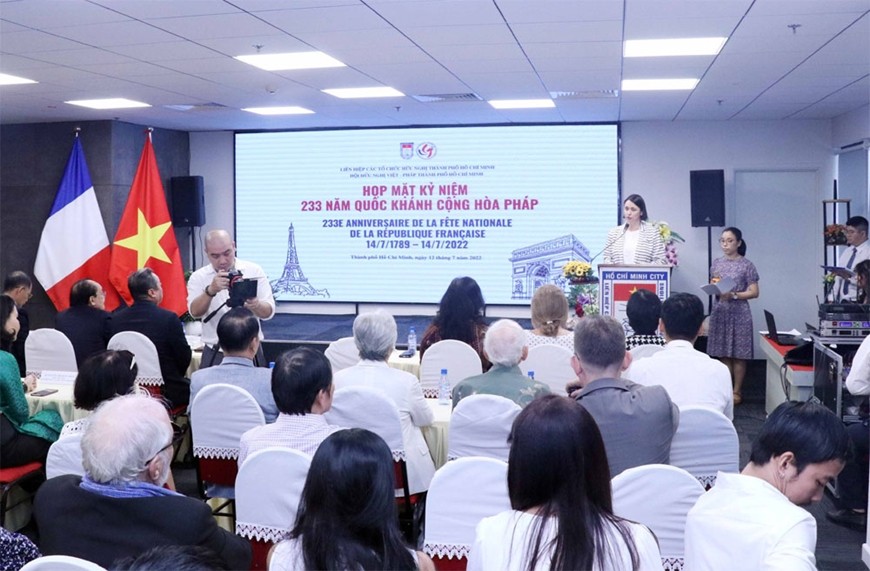 Consul General of France in HCM City Emmanuelle Pavillon-Grosser speaks at the event. Photo: VNA
The French diplomat also committed to working with HUFO and the city's Vietnam - France Friendship Association to devise a plan and deploy collaboration activities between the two sides in 2023, on the occasion of the 50th anniversary of the diplomatic ties and the 10th anniversary of the strategic partnership between France and Vietnam .
France is the 5th largest trading partner of Vietnam among European countries, he also noted that for Ho Chi Minh City alone, it had set up a cooperative program with France's Lyon City.
Vietnam's southern hub and Lyon have completed many artistic lighting works and some architectural works in HCM City, and there are more than 300 projects of French investors in the city.
A French culinary week kicked off on July 11 in MM Mega Market An Phu in Ho Chi Minh City, featuring the involvement of 250 famous brands from France, reported Radio the Voice of Vietnam (VOV).
Addressing the opening ceremony, Bruno Jousselin, CEO of MM Mega Market Vietnam, expressed his hope that the event will provide an ideal venue for visitors to taste food delicacies from various regions throughout France.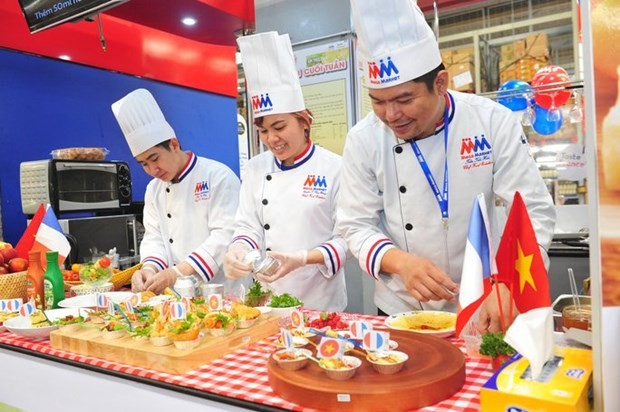 The French culinary week is scheduled to last until July 20 at all stores of the MM Mega Market chain nationwide. Photo: nld.com.vn
Some of the French branded products on offer at the occasion include Casino cakes and jam, Bottega cheese, Le Chef pate, Markal organic nuts, Panzani noodles, French wine, and especially typical French cakes such as baguettes, croissants, and pate chaud.
In addition, visitors can have an opportunity to sample a wide range of food products from different countries in the world.
Vietnam and France have maintained their relations despite impacts of the Covid-19 pandemic through online talks, the exchange of letters or bilateral meetings, notably the visit to France by Prime Minister Pham Minh Chinh last November, French Ambassador to Vietnam Nicolas Warnery told the press prior to France's National Day.
The two countries have also maintained people-to-people exchanges, especially students, adding that France has increased scholarships to Vietnamese students.
They have continued with bilateral cooperation projects, including metro line No. 3 in Hanoi – a symbol of the bilateral economic ties, and others in climate change, heritage preservation and French language teaching in Vietnam.
According to the ambassador, Vietnam and France showed their friendship, solidarity and support during the pandemic combat, as Vietnam provided facial masks for France in 2020, while France donated 3.5 million doses of Covid-19 vaccines to the Southeast Asian nation through bilateral cooperation channels and the COVAX Facility.
He stressed that France wants to promote the presence of its enterprises in Vietnam, and held that bilateral trade can grow further in the context of the EU - Vietnam Free Trade Agreement (EVFTA) coming into force since 2020.
Apart from traditional cooperation spheres, France wished to expand the bilateral collaboration in new fields such as renewable energy, urban planning and sustainable city development.
For cultural cooperation, Warnery highlighted the French Institute in Vietnam with a range of activities, saying the French side will launch a project on heritage conservation in Vietnam in the time ahead, under which French museums will cooperate with their Vietnamese counterparts in this regard.
The diplomat said the value of French scholarships to Vietnamese students will increase by 20 percent this year as compared with the previous year. France is also an incubator for Vietnamese startups, he continued.
For the celebration of the 50th founding anniversary of diplomatic ties in 2023, he said it will begin right in December 2022 with a conference in Hanoi, and there will be multiple activities next year.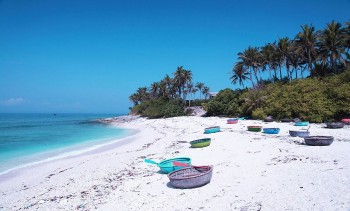 Travel
With more than 2000 miles of coastline, Vietnam brims with secluded coves, white sands, and waters fit for snorkeling. Crystal blue water, sandy beach, and bright sunshine, Vung Tau, and Nha Trang are voted among the most beautiful beaches by TikTok users.