French-Vietnamese Artist's Career Pays Tribute to Vietnam
With his beautiful music and lyrics, Gerard Addat - a French-Vietnamese artist highlights Vietnamese culture to the Western world.
French - Viet musician Gerard Addat was born in Dakao, Ho Chi Minh City. His family lived in Saigon until 1956 when he was 13 years old. For over 50 years, Gerard has been bringing memories of his life in Vietnam together with his passion for swing dance. Vietnamese stories in his songs have attracted the attention of European media. In 1984, he released the song "Mes Souvenirs de Saigon" - Memories in Saigon. This was the turning point of his singing career.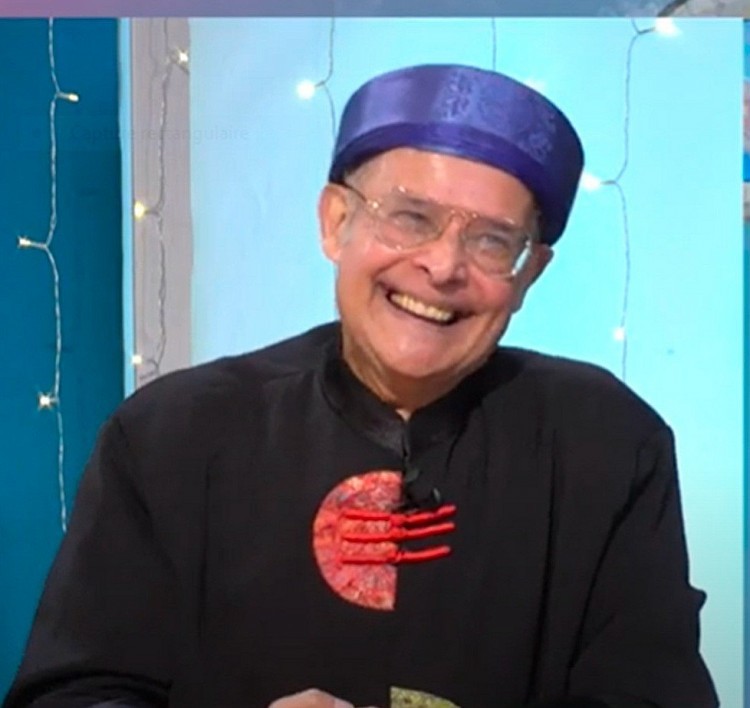 Gerard Addat. Photo: VNT
As a child of a French father and a Vietnamese mother, the love Gerard has for his mother's hometown is like an eternal flame, helping him overcome the language barrier. Even when away from Vietnam, he spread his love of Vietnam to the audience through Spanish music combined with a contemporary ballet performance
Gerard's first visit to Vietnam was in 1990. After that, he still kept the habit of returning here every 3 to 4 years. And every time he comes back here, he takes time to go to public places to interact and sing for people.
Reminiscing Saigon in France
"I will never forget the tearful farewell the day we left," said Gerard Addat, "My whole family cried with the nanny. My mother was sad that we had to leave our beloved homeland. However, she tried to wipe away her tears to comfort us. A few days ago, the cyclo took us back to visit schools, churches, streets, and neighbors… The scenery was so familiar. Every place I go leaves me with so many regrets. Back then, the neighbors hugged us to say goodbye with tears in their eyes, and cyclo driver, our good friend, couldn't hold back his tears."
Having lived in Vietnam for thirteen years, Gerard always carries with him nostalgic memories of magnificent Saigon with the bustling Chinese quarter in Cho Lon, Notre Dame Cathedral, City Post Office, Catinat Hotel - works imbued with French architecture...especially La school San Taberb, now Tran Dai Nghia School, where he attended. It was that sentiment that inspired him to write the song Mes souvenirs de Saigon (Memorial in Saigon) in 1984.
The lyrics tell the story of a son's heartfelt experience towards his distant motherland: "The ships along the Mekong take people far away to strange lands, far from rice fields, far from Saigon, far from my Vietnam..."
Video by Maurice Loaique Youtube Channel
Music brings people together
Gerard said that people cry listening to his songs. Not only Vietnamese audiences, but audiences from countries such as France, Finland, Portugal, etc., felt the songs he wrote about Saigon - Ho Chi Minh City deeply. He believed that music brings people together, that is why many people can relate to his songs about trapped fates, being caught in the middle of the war, when his mother's hometown and father's hometown were on two different front lines.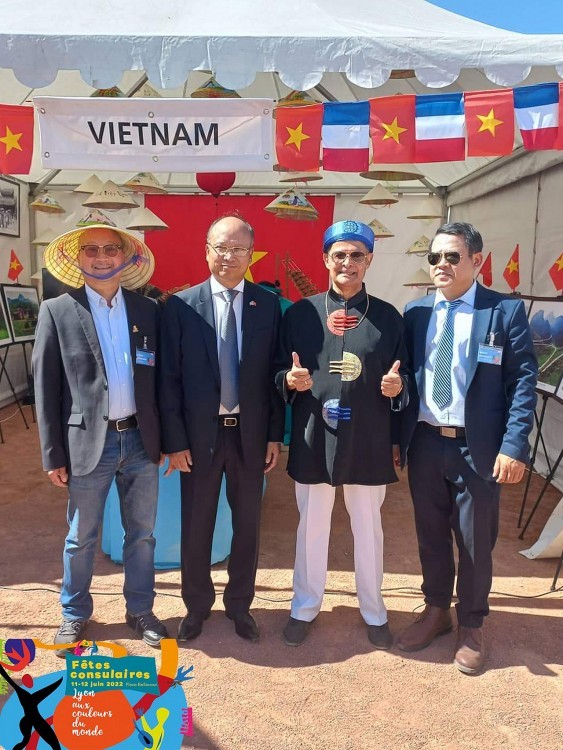 Gerard Addat, 2nd from right, with Dinh Toan Thang, 3rd from right, Ambassador of Vietnam to France, after a performance at the Consular Festival held in Lyon for two days 11- June 12, 2022 in Lyon city. Photo: VNT
When he is not on the mic, the passionate musician loves to get to know more about the Vietnamese people in his neighborhood. In France, whenever he misses Vietnam, he often drives to District 13, Paris to enjoy Vietnamese dishes, and meet and chat with Vietnamese people here.
With fellow Vietnamese, he always wants to have more connections with them by talking and performing songs about Vietnam that he composed. He is happy whenever there are invitations to perform from the Vietnamese Embassy in France, the Vietnamese Cultural Center in France, and the Vietnamese Association in France…
One of the memories he cannot forget that it was the time when she sang two songs in English and Spanish with Mrs. Kim Phuc - the Napalm bomb girl in the famous Pulitzer Prize-winning photo of photographer Nick Ut. They gave a public talk in Vietnamese at a community Tet party organized by the Vietnamese Association in Troyes.
The latest song he composed, "Les values du Mékong", tells the story of not only Saigon but also the region where he grew up. The lyrics go "The paradise of my childhood – Saigon, Cho Lon, Da Kao – Where I return to my true happiness real – Vietnam is always in my heart.."