French President extends Lunar New Year greetings in Vietnamese
French President Emmanuel Macron's Lunar New Year greetings in Vietnamese have received more than 13,000 likes, over 1,500 comments and some 1,500 shares on Facebook.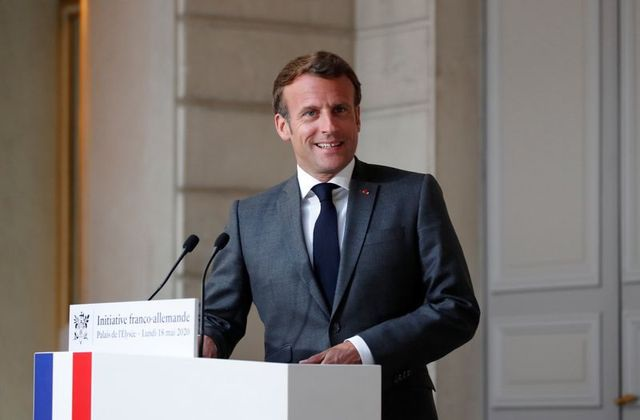 French President Emmanuel Macron. Photo: Reuters
French President Emmanuel Macron February 12 extended his Lunar New Year greetings on Twitter and Facebook in Vietnamese, Chinese, and Korean languages.
Macron said "I extend my best wishes to all those celebrating the Lunar New Year, and wish everyone health, success and happiness!"
His greetings in Vietnamese have received more than 17,000 likes, over 2,100 comments and some 1,900 shares on Facebook.

Photo: Facebook
This year's Lunar New Year falls on February 12, and according to the lunar calendar, it is the year of the Ox.
On February 12 morning, Macron shared a video on Twitter to "all our compatriots who celebrate the Lunar New Year," in which he wishes "the Year of the Ox full of joy, hope and happiness," according to China's Xinhua News Agency.
"Numerous people are in French mainland and overseas to share this cultural heritage and link with China, Korea, Vietnam and Southeast Asia," he said.
"Thanks to your dynamism and engagement in cultural, artistic, associative, economic and political domains, you contribute to the opening of France to new horizons and to the building of the future of our country," he added.
Vietnam's Tet festival in the eyes of foreign diplomats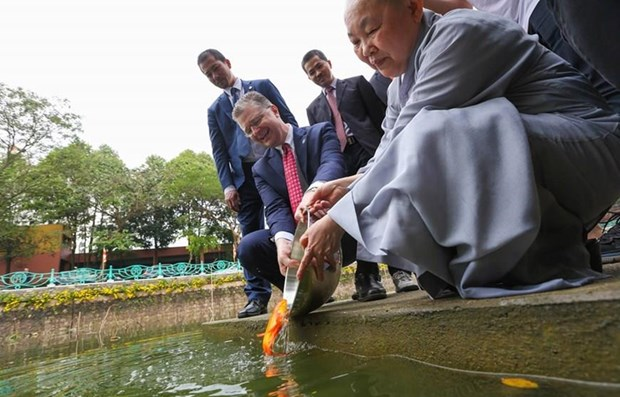 US Ambassador Daniel J. Kritenbrink releases carps at Kim Lien pagoda on Kitchen Gods ceremony. Photo: VNA
The Ambassadors of the US and France to Vietnam have shared their experience of celebrating the biggest festival in a year of Vietnamese people – the Lunar New Year or Tet.
For US Ambassador Daniel J. Kritenbrink, it is the fourth year he has celebrated Tet in Vietnam. He said Tet is a special time when everyone is happy, when we slow down and spend time with families and friends, according to the Vietnam News Agency (VNA).
Every year, he participates in Tet activities such as wrapping Chung cake (square glutinous rice cake), visiting peach blossom gardens and visiting pagodas.
He said the Tet of the Year of the Buffalo will be special for him as this year may be the last in his working term as the US Ambassador to Vietnam.
Regarding the US-Vietnam relations, he expressed his delight that the two countries were able to find cooperation opportunities in 2020 amid the COVID-19 pandemic. The US granted over 13 million USD and 100 ventilators to help Vietnam's fight against the pandemic, while Vietnam presented millions of face masks and medical supplies to the US.
The year 2020 also marked the 25th anniversary of bilateral diplomatic ties, he stated, adding that collaboration in security, defence, trade, people-to-people exchanges and health has enjoyed progress.
Optimistic about the two nations' common future, the diplomat showed his belief that the US and Vietnam will continue building and deepening mutual trust and respect, promoting trade and people-to-people exchanges, and completing underway cooperation works.
Meanwhile, French Ambassador Nicolas Warnery shared that he first had a chance to experience Vietnam's Tet festival 15 years ago, when he assumed the position as French Consul General in Ho Chi Minh City.
According to him, Vietnamese Tet is similar to France's year-end holidays, particularly Christmas Day, as they are an opportunity for family gathering.
The diplomat said he plans to get up early on the first day of the Year of the Buffalo and walk around to enjoy the deserted streets, and visit Ngoc Son Temple in Hoan Kiem Lake.
Looking back the past year, the Ambassador spoke highly of Vietnam's role as the ASEAN Chair and a non-permanent member of the UN Security Council in 2020 in the context of the pandemic.
Believing the pandemic will be put under control in 2021, he hopes the two countries will coordinate with each other to further develop the bilateral relations in all fields, such as economics, culture and health.
During his working term, he expressed his wish to bolster the France-Vietnam strategic partnership, tighten political ties, speed up projects in health, culture, higher education, climate change response and environmental protection.
Robin Bednall, First Secretary in charge of economic and development cooperation at the Australia Embassy in Vietnam, also thinks that Vietnamese Tet is similar to Australia's Noel, as family members often gather on these occasions. He said that Tet is unique and meaningful, so Vietnamese people should be proud of their traditional festival and maintain the unique cultural identity./.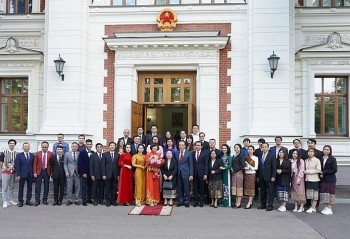 Friendship
The Vietnamese Embassy in Cuba will make efforts to consolidate and cultivate the special Vietnam-Laos relationship in the spirit of respect and support for mutual benefits.