Friendship Association gives Cambodia medical supplies to fight COVID-19
The Vietnam-Cambodia Friendship Association handed over medical supplies and cash to Cambodian Ambassador to Vietnam Chay Navuth on April 17 to help the Cambodian people cope with the COVID-19 pandemic.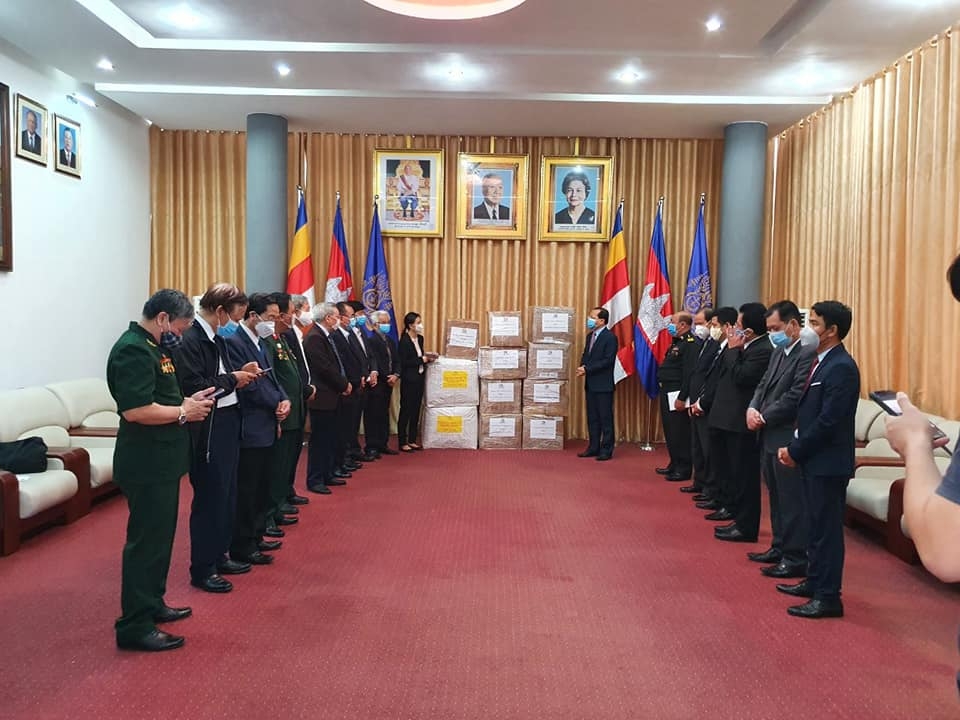 At the hand-over ceremony.
Ambassador Navuth received the materials' assistance and funds to fight the COVID-19 epidemic, from the representatives of the Vietnam-Cambodia Friendship Association led by Vu Vuong Viet and Nguyen Van Hung, Vice President of the Association, and the former Vietnamese Volunteer Army to the Cambodia-Vietnam Friendship Association in Phnom Penh.
The handover ceremony took place at the Cambodian Embassy, with gifts consisting of 12,500 face masks, 500 bottles of disinfectant, and VND 50 million (about USD 2.142).
According to the Cambodian Embassy in Vietnam, the assistance included 500 bottles of hand-washing alcohols and 5,000 masks from Phuong Hoang International Tourism Company; 2,500 masks and VND 30 million (about USD 1.285) from Vietnam Business Club in Cambodia; 5,000 masks from Chua Thap branch of the Vietnam-Cambodia Friendship Association; and VND 20 million (about USD 857) from Vietnam – Cambodia Friendship Association of former volunteer soldiers of Front 479.
Cambodian Ambassador Chay Navuth expressed his gratitude towards the Vietnamese people and the Vietnam-Cambodia Friendship Association and its member associations for their support amid the COVID-19 pandemic.
He recalled the assistance the Vietnam People's Army gave to the Cambodian people in the fight against the genocidal Pol Pot regime.
The ambassador also expressed his belief that the COVID-19 pandemic will soon end in Vietnam, Cambodia, and the world.
The two countries will continue to promote the solidarity and traditional friendship nurtured by many generations of leaders and people of Cambodia and Vietnam, he said.
Ealier this month, the Vietnamese government has provided Cambodia with medical equipment worth more than VND7 billion (over USD 297,000), including medical masks, protective gear, and COVID-19 test kits to support the neighouring country in containing the epidemic.
In recent years, many provinces, ministries, and military units of Vietnam have also presented gifts to help Cambodian people combat the disease. In addition, Vietnamese businesses operating in Cambodia has also made considerable contributions to the fight against the epidemic in the host nation./.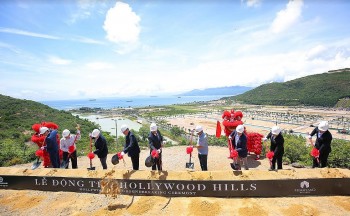 Economy
On October 2, at Hai Giang peninsula (Quy Nhon city, Binh Dinh), Hung Thinh Corporation held the groundbreaking ceremony of Hollywood Hills by YOO Inspired by Starck – a subdivision at MerryLand Quy Nhon. The event marks the first time that the world's No.1 ranked design and branded residence company YOO Inspired by Starck is officially present in Vietnam, with a collection of villas designed by creative director, Philippe Starck.