Friendship Journey - Introducing Vietnamese Culture to International Friends
For 25 years, the "Friendship Journey" organized by the Hanoi Union of Friendship Organizations (HAUFO) has offered detailed insight to Vietnamese culture for foreign diplomats.
"Friendship Journey" is an annual people-to-people diplomacy activity organized by the Hanoi Union of Friendship Organizations for the past 25 years, actively supported and participated by international friends.
This activity aims to expand people-to-people diplomacy to districts; widely promote historical sites, scenic spots and craft villages of Hanoi capital to international friends. Over the years, the "Friendship Journey" has brought foreign diplomats working in Vietnam to many historical sites and traditional craft villages of Hanoi, such as the temple of Hai Ba Trung (Me Linh). ), Tay Phuong Pagoda (Thach That), Co Loa Citadel (Dong Anh), Duong Lam Ancient Village (Son Tay), Bat Trang Pottery Village (Gia Lam), Trung Temple (Ba Vi), Van Hien Temple (Dan Phuong).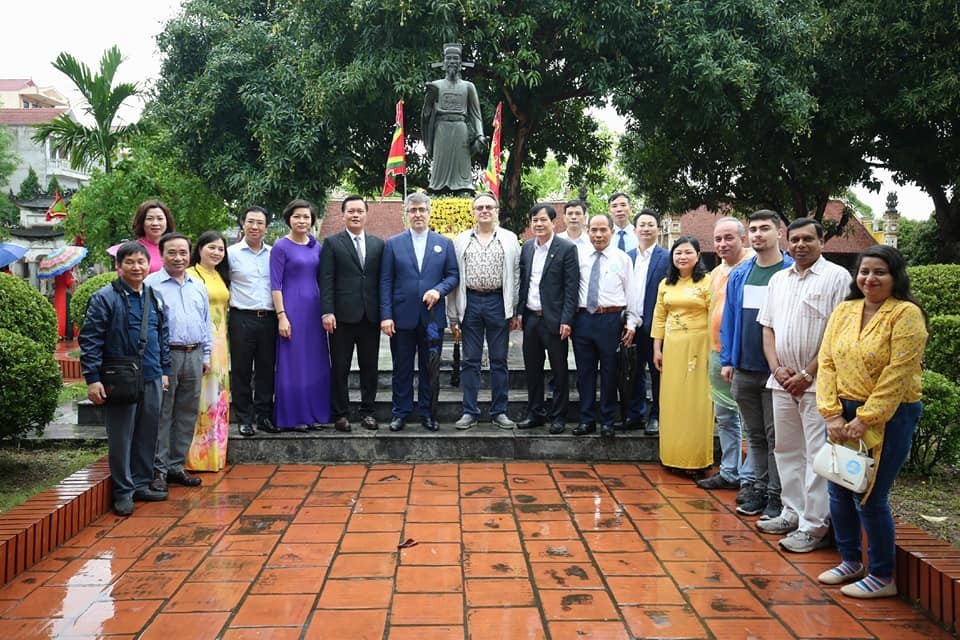 Delegates took photo at the statue of famous To Hien Thanh at Van Hien temple in Ha Mo commune (Dan Phuong district, Hanoi). Photo: HAUFO
Following the success of previous years, this year the Hanoi Union of Friendship Organizations in collaboration with the Department of Tourism and the People's Committee of Quoc Oai District organized the "Friendship Journey 2022" for nearly 400 Vietnamese delegates and International friends from embassies, international organizations, foreign non-governmental organizations in Hanoi visit Thay Pagoda - a spiritual and sightseeing tourist destination that attracts many domestic and international tourists. choice, also experience traditional culture at Tuan Chau Ha Noi tourist area in Quoc Oai district.
"Friendship Journey 2022" once again promotes international friendship towards Hanoi Capital; promoting foreign information activities, introducing the country and people of Vietnam, the elegant beauty of Hanoi people; introduce the achievements in the renovation of the capital and the country to friends across five continents.
Venezuelan Ambassador to Vietnam Tatiana Pugh Moreno expressed her pleasure to participate in the program, thereby helping her better understand the country and people of Vietnam. "It's great that the Hanoi Union of Friendship Organizations has organized a wonderful friendship journey. I am very impressed with the history of Hanoi's cultural culture and architecture and the most beautiful thing is the dear people here. In Venezuela, we have a saying: Love will be returned with love. And for us, Hanoi has become a warm, friendly home, a city. full of potential is recovering strongly after the pandemic," said Venezuelan Ambassador to Hanoi excitedly.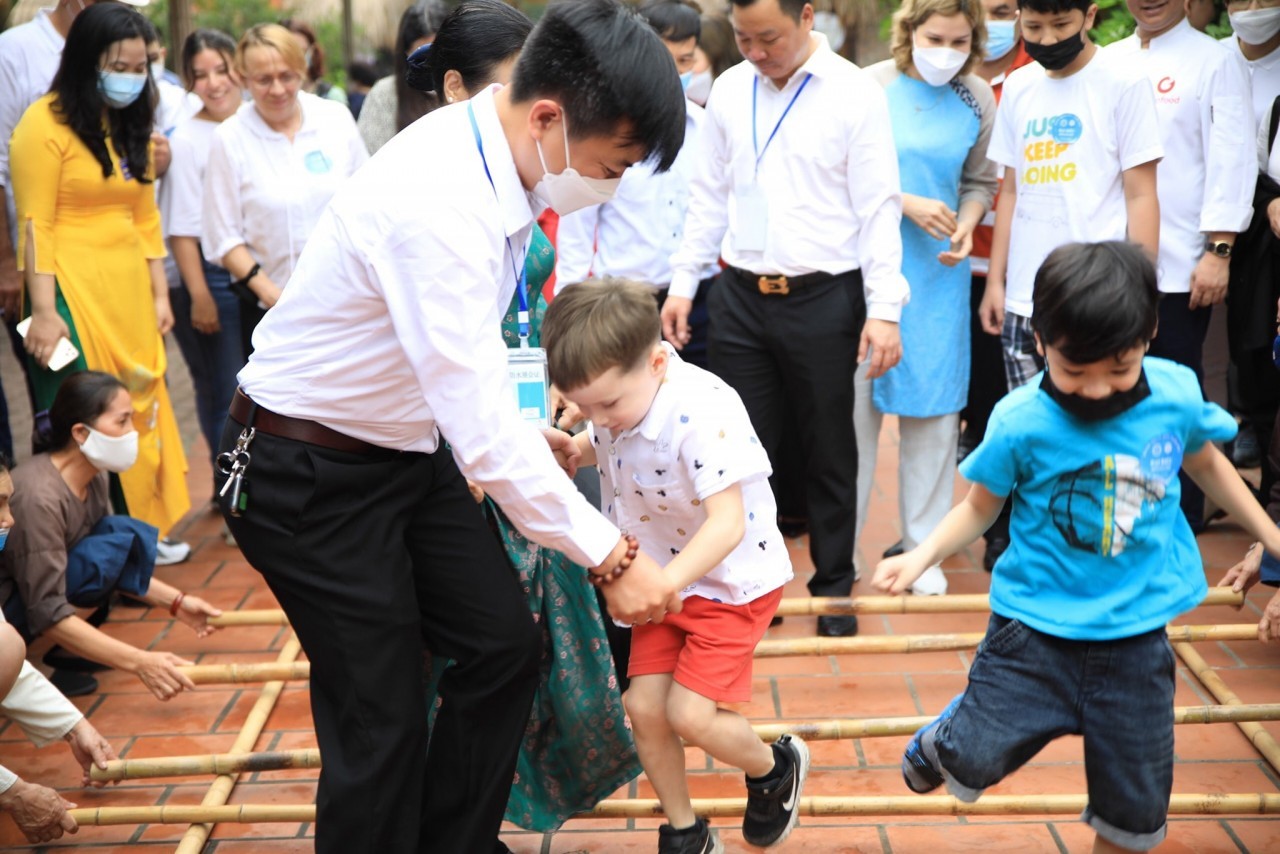 Children enjoyed cheraw dance at Tuan Chau Tourist Area, Hanoi in the program "Friendship Journey 2022". Photo: HAUFO
Having lived and worked in Vietnam for 9 years, Ms. Hastie Gonzalez Brizaida - a Cuban doctor working in Hanoi shared that from the first days she arrived in Hanoi, she felt the friendliness and hospitality of the Hanoians. Interior for foreigners in general. She also especially loves the food and the unique culture of Vietnam.
In "Friendship Journey 2022", Brizaida and her children experienced many firsts: the first time participating in this meaningful journey, the first time seeing the ancient beauty of Thay Pagoda, the first time watching water puppetry, first time playing rope skipping, cheraw dancing...
"I see Vietnam as a safe country. "Friendship journey 2022" has helped foreigners understand more about Vietnamese people. I find Thay pagoda very beautiful. I like to watch Vietnam's water puppetry," said Brizaida. "The success of the friendship journey and people-to-people diplomacy activities over the years has shown the efforts of the Hanoi Union of Friendship Organizations, creatively overcoming difficulties during the pandemic, promoting the role of the Hanoi Union of Friendship Organizations. Acting as an active and dynamic friendship bridge, enhancing mutual understanding between the people of the Capital and international friends, together towards a peaceful, creative world and a solid foundation for the future". Brizaida said she will definitely introduce to friends who are currently abroad to Vietnam.
Nguyen Phuong Nga, President of the Vietnam Union of Friendship Organizations, commented: "The friendship journey has brought international friends peace and safety when experiencing a cultural space imbued with national identity. And most importantly, promoting the image of Hanoi, Vietnam is friendly, safe and hospitable, and efforts to revive strong economic development, open safe and effective international tourism."
According to Ms. Nguyen Lan Huong, Member of the Standing Committee of the City Party Committee, Chairman of the City's Vietnam Fatherland Front Committee, President of the Hanoi Union of Friendship Organizations, more than 20 years have passed, Hanoi is still the only city Asia-Pacific region awarded the title "City for Peace" by UNESCO. It is an honor and also a great challenge for Hanoi to constantly strive to build, preserve and promote this noble title and work together towards a peaceful world, a solid foundation for the future,
Ms. Nguyen Lan Huong stated: "To highlight that Vietnam wishes to be a friend, a reliable partner and a responsible member of the international community, we hope that international friends will continue to support and contribute to economic development. Vietnamese society and Hanoi capital are developing day by day. We hope that the program will bring international friends many interesting experiences about the unique cultural values ​​and hospitality of the people of Hanoi capital as well as the people of Vietnam."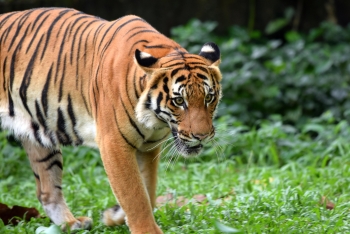 Economy
#ShopeeGivesBack, Shopee's long-term community initiative, has raised over RM48,000 from 1 May 2020 to 31 July 2022 for two Non-Governmental Organisations (NGOs) championing environmentally-conscious efforts in Malaysia.