Friendship Order Awarded to Vice President of France-Vietnam Friendship Association
France-Vietnam Friendship Association Vice President honoured with Friendship Order.
Authorized by the State President, Vietnamese Ambassador to France Dinh Toan Thang bestowed a Friendship Order on Alain Dussarps, Vice President of the France-Vietnam Friendship Association (AAFV), for his contributions to France-Vietnam relations.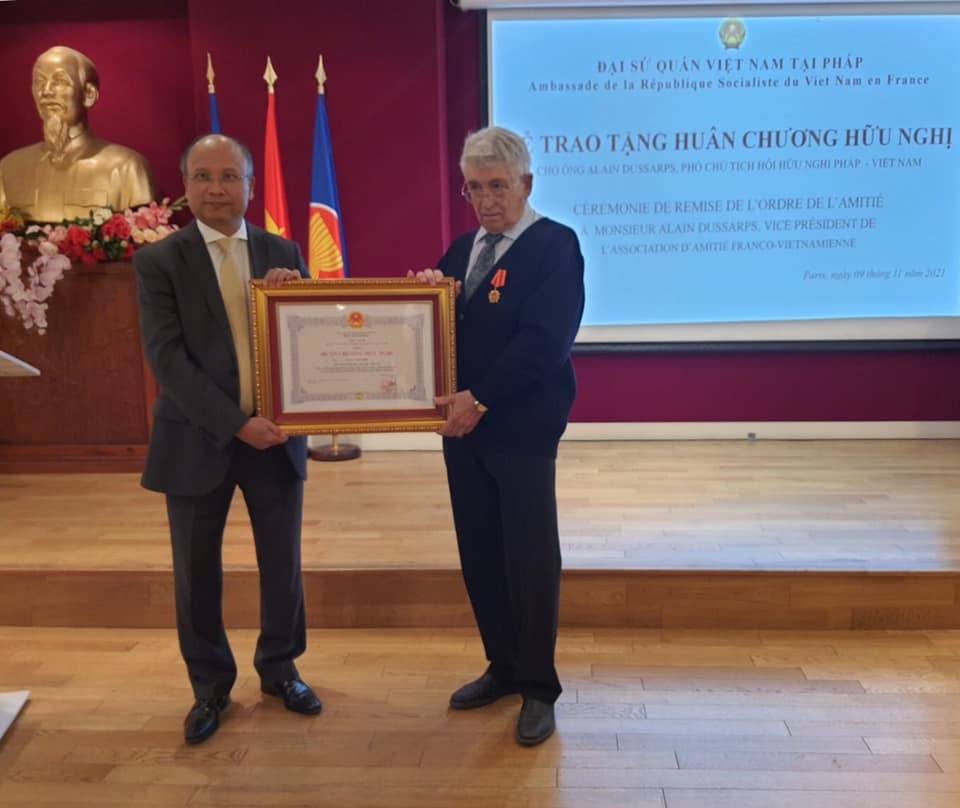 Vietnamese Ambassador to France Dinh Toan Thang (left) hands over the Friendship Order to Alain Dussarps. Photo: Vietnam embassy in France
A ceremony was held by the embassy of Vietnam to present the Friendship Order to Alain Dussarps, Vice President of the France-Vietnam Friendship Association on Nov. 9.
The order is a high honor of the State of Vietnam to foreign individuals and groups who have made tremendous contributions to the development and promotion of friendship and cooperation between Vietnam and other countries.
Addressing the ceremony, Thang praised the French activist's contributions to many effective activities and projects that benefited Vietnamese people, particularly ethnic minorities and Agent Orange/Dioxin victims.
The diplomat also highly spoke of efforts made by the Friendship Association and the France – Vietnam association for cultural and technical cooperation of which Dussarps is a member, to deepen the friendship and multifaceted partnership between the two nations.
Although the projects are not too big in value, they are of practical significance to help people, especially in remote and isolated areas, overcome difficulties to escape poverty.
With great contributions, Dussarp is considered one of the great friends of the Vietnamese people, besides the French whose names have been familiar to generations of Vietnamese people such as Raymonde Dien, Madelaine Riffaud, and Henri Martin. He has received many certificates of merit and noble titles awarded by Vietnamese agencies and organizations.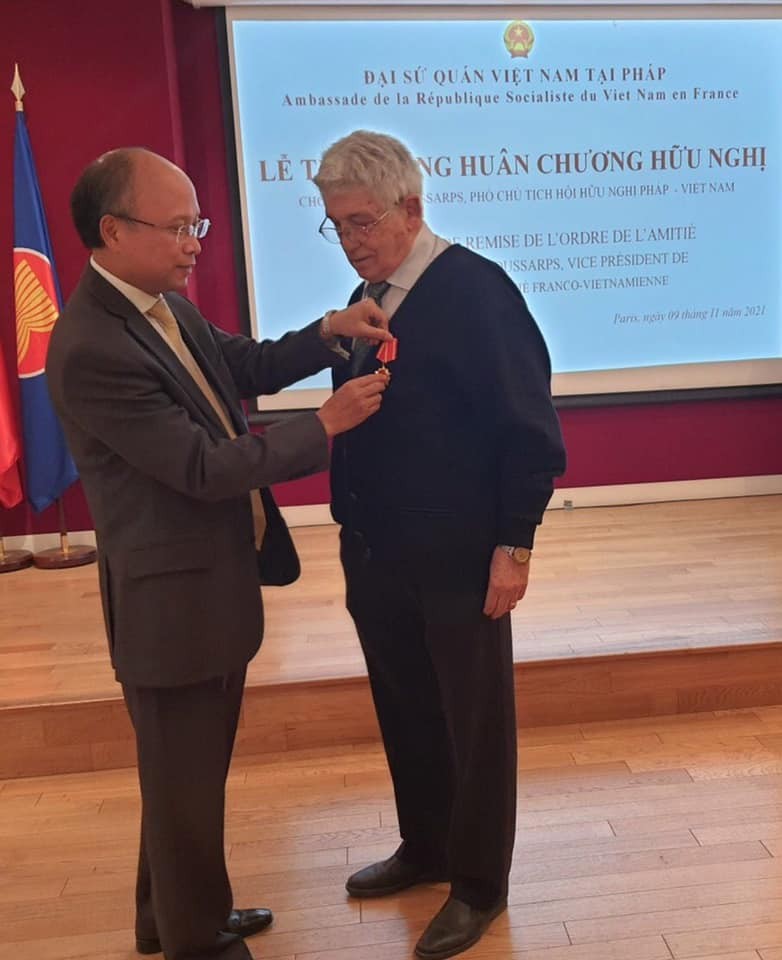 The honor was awarded to Dussarps in recognition of his active contributions to Vietnam's construction and development and to strengthening the solidarity, friendship, and cooperation between the two countries. Photo: Vietnam embassy in France
In his remarks at the event, Dussarps highly appreciated the awarding of the Friendship Order, saying it was a great honor for him.
Dussarps recalled unforgettable memories about Vietnam, saying he and his friends started raising funds and donations for Vietnamese people when he was an electrical engineer at French electricity group EDF. He came to Vietnam in 1986 to work for a project on the installation of an electrical system in vaccine laboratories of Ho Chi Minh City's Pasteur Institute.
From 1998 to 2018, Dussarps had raised funds for nearly 500 projects across Vietnam, worth around EUR 4,500 (USD 5.200) each on average, according to statistics from the association. These projects involved constructing dozens of kindergartens and primary classrooms, drilling hundreds of wells, improving rural sanitation and hygiene, providing assistance to families hit by natural disasters, and accelerating HIV/AIDS prevention and control in the country.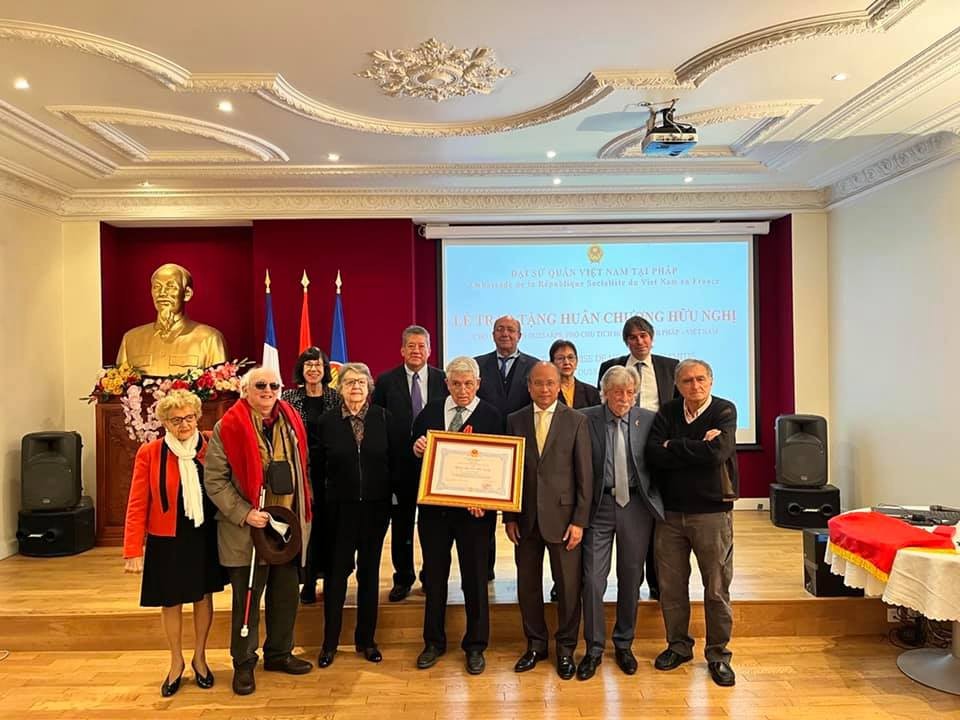 Photo: Vietnam embassy in France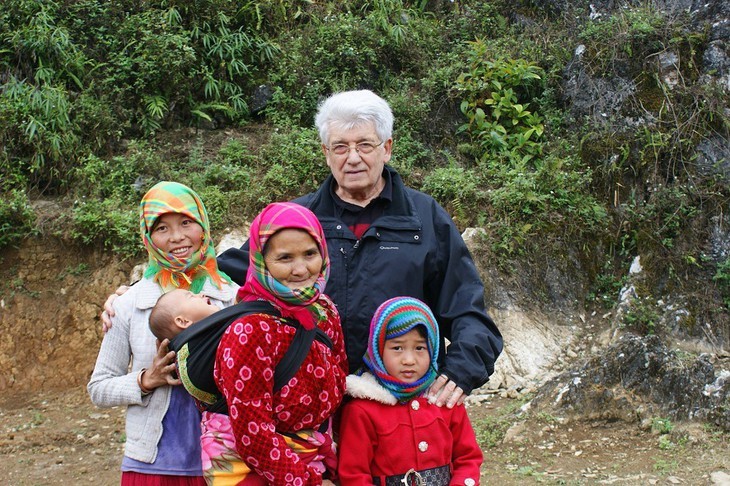 Alain Dussarps, Vice President of the France-Vietnam Friendship Association (center), poses with ethnic minority people in 2019. Photo: Dussarps' Facebook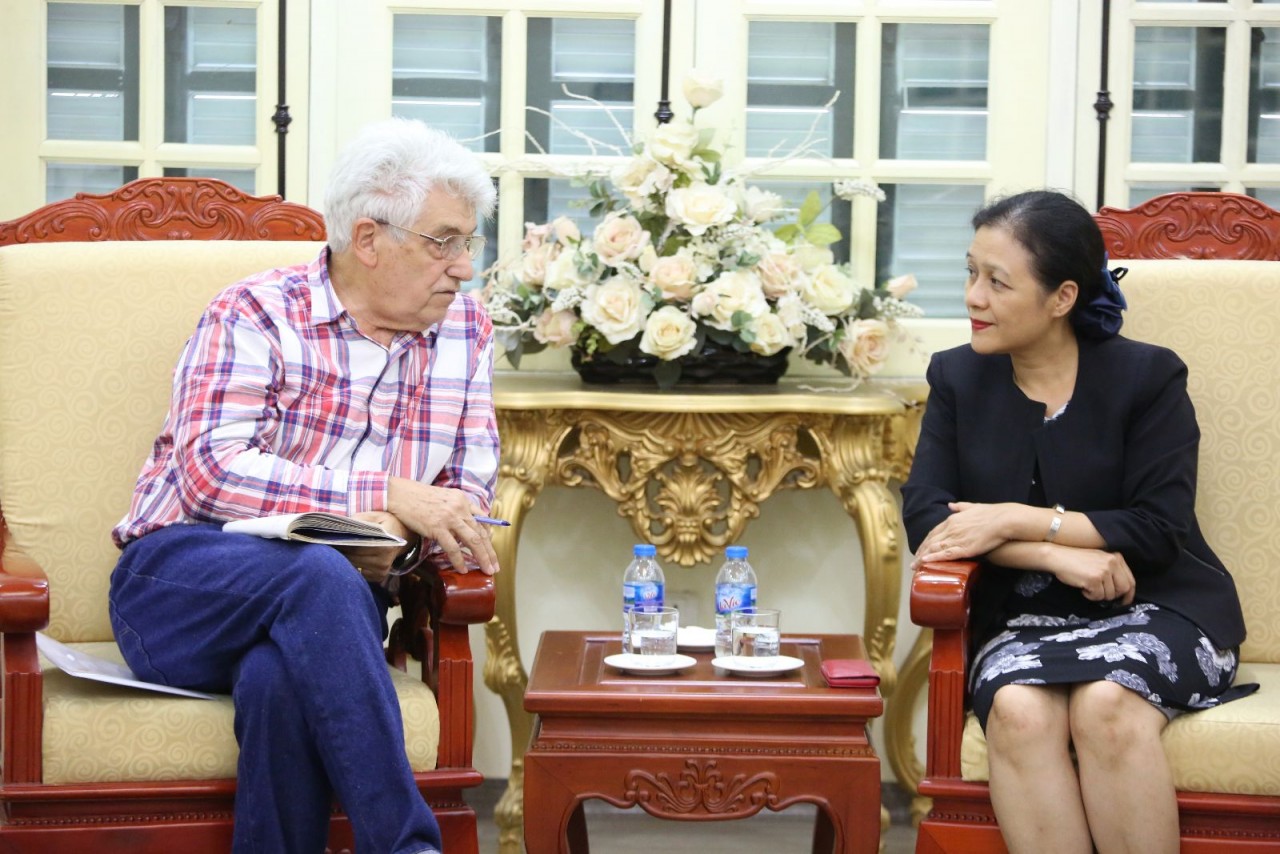 President of the Vietnam Union of Friendship Organizations Nguyen Phuong Nga works with Alain Dussarps, Vice President of the Franco-Vietnamese Friendship Association on the association's activities and projects in Vietnam during a meeting in 2019. Photo: VUFO
The France-Vietnam Friendship Association was established in 1961 with the aim of supporting the Vietnamese people in the struggle for national independence. Up to now, the association has always stood by the Vietnamese people in the cause of national construction and development. With a wide network of branches in French cities and provinces, the France-Vietnam Friendship Association has been implementing many positive and diverse activities to connect and gather French friends who are attached to and love Vietnam.
Specifically, the association has campaigned for many aid programs on childhood meningitis vaccine; sending volunteers to rebuild the TB vaccine production lab at the HCM City's Pasteur Institute so that the Institute can produce its own vaccines; arranging cataract surgery, anti-blindness, and construction of experimental animals for the Hanoi Institute of Hygiene and Epidemiology; accepting Vietnamese trainees to study high technology in France.
In the past 20 years, the Friendship Association has focused on cooperating with many partners from the central to local levels to implement poverty reduction projects, build kindergartens for children in remote and isolated areas, ethnic minorities, Agent Orange/Dioxin victims, vocational training, health education.
This month, Prime Minister Pham Minh Chinh had received a delegation of the France-Vietnam Friendship Association led by its President Gérard Daviot on Nov. 5 (local time) during the PM's official visit to France.
Daviot affirmed that the association will step up a myriad of activities with Vietnam in the time to come, including support and assistance for Agent Orange/dioxin victims, the country's Covid-19 fight, climate change adaptation, and human resources training for development.
Vietnam-Thailand: 45 Years of Cooperation

The results of bilateral cooperation between Vietnam and Thailand are thanks to the common background of the two countries, political trust, close economic connectivity and ...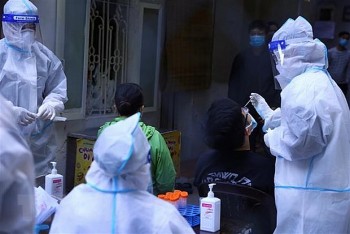 Focus
Vietnam's Covid-19 death toll is now 26,483, or 2 percent of total cases. More than 7,000 coronavirus patients nationwide are in serious condition, with 741 requiring invasive ventilation and 20 on life support.