Gender Equality and Empowerment for Ethnic Minority Girls in Quang Tri
The protection, care and education of children, especially those from ethnic minority groups, remote, border and island areas, have always been a priority for Vietnam.
The Vietnam Women's Union and Plan International Vietnam just officially launched the "Gender Equality and Empowerment for Ethnic Minority Girls in Quang Tri (DGD Programme)".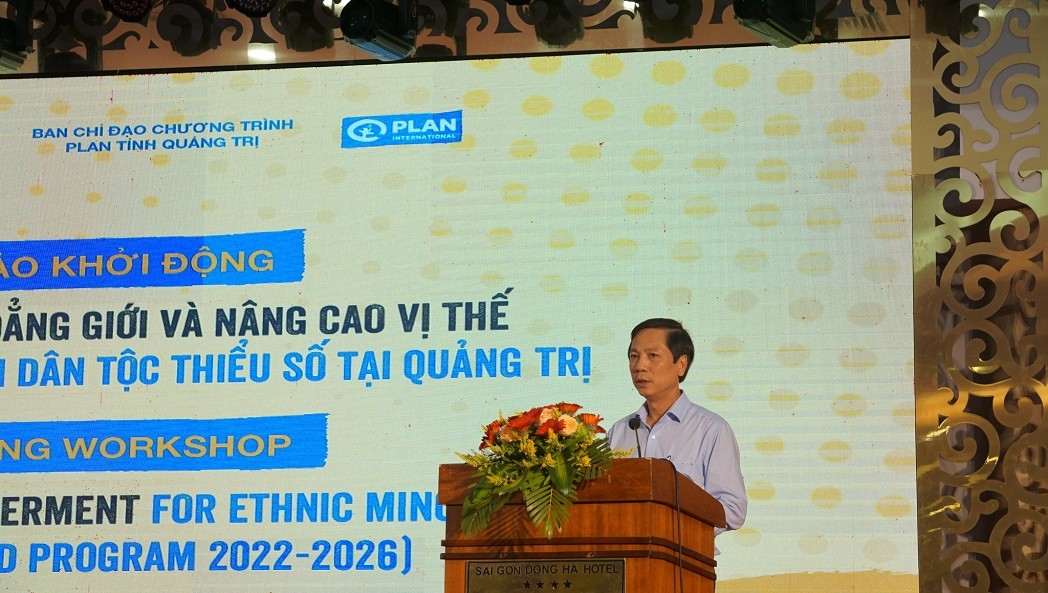 Vice President of Quang Tri Provincial People's Committee Hoang Nam.
The project is sponsored by the Belgian development cooperation (DGD) under the Ministry of Foreign Affairs and International Cooperation and Belgian Foreign Trade, Plan International Belgium, and Plan International Vietnam in five years from September 2022 to December 2026.
In Quang Tri, the program was implemented in five extremely difficult communes in Huong Hoa district, aiming to improve the economic and social status of adolescent girls and young people so that they could learn, lead, decide, and thrive without fear of violence through gender-sensitive curricula, soft skills, career development and orientation.
This event was attended by Hoang Nam, Provincial People's Committee vice president, along with delegates and representatives of the National People's Committee, Ministry of Education and Training, Department of Foreign Affairs, Vietnam's Women Union, Plan International Vietnam and Plan International Belgium.
"Much efforts against gender-based violence have been made, but the problem remains prevalent, especially for the ethnic minority community. This project is a right step towards our development goals for 2020-2025 and for the following years," said Nam. "I'd like to call for all of your support and commitment to ensure the success of this project, in empowering girls and young women who need it the most!"
Tran Thi Thanh Ha, chairwoman of the Provincial Women's Union said: "Responding to and implementing the Government's national target program for socio-economic development in ethnic minority and mountainous areas in the 2021-2030 period, the Quang Tri Women's Union accompanies Plan International Vietnam and Plan International Belgium to implement the program "Gender Equality and Empowerment for Ethnic Minority Girls in Quang Tri".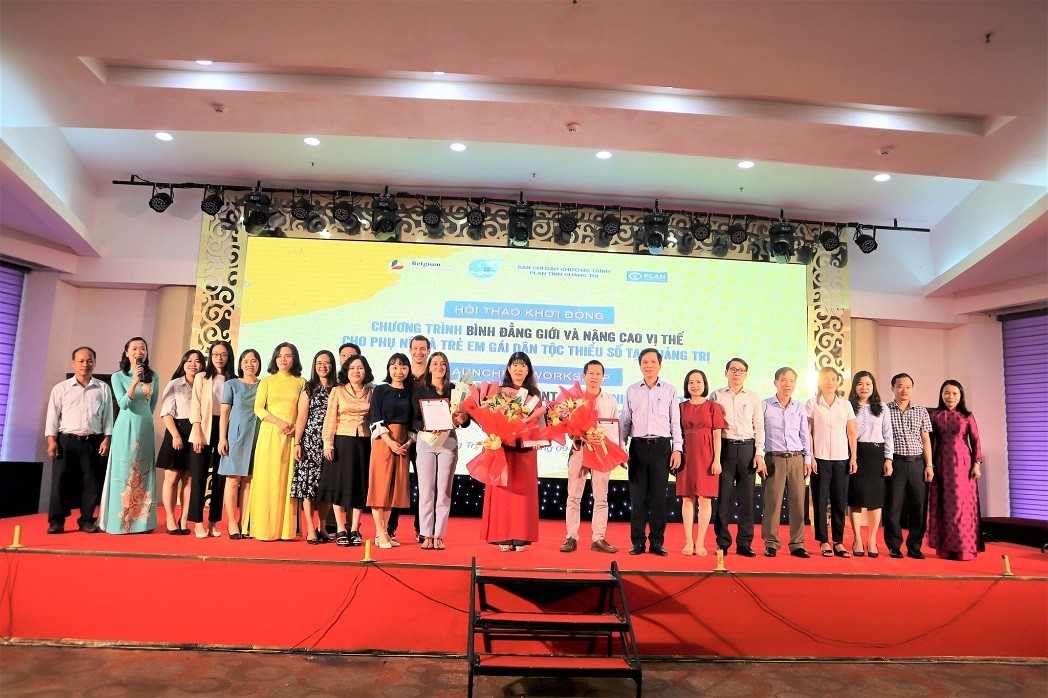 Quang Tri Vice President Hoang Nam hands over the cooperation agreement between the Women's Union of Quang Tri province, Plan International Belgium and Plan International Vietnam in Quang Tri to implement the program in 5 years.
This commemorates all partnering organizations' to Plan five-year commitment in implementing the project in Quang Tri province.
Deborah Varisano, representative of Plan International Belgium, shared an overview of the DGD program. It focuses on young people aged 10-24, to address issues related to Gender-Based Violence; Child Mariage; Teenage Pregnancy; Dropout; Girl Leadership Promotion, Economic development and Livelihood opportunities. It were implemented in eight countries in the world, including four African countries (Benin, Niger, Tanzania, Senegal), two South American countries (Bolivia and Ecuador), along with Vietnam and Belgium.
In Vietnam, the program is implemented in five communes in Huong Hoa district of Quang Tri province and 5 communes in Kon Plong district of Kon Tum province, focusing on prevention of gender-based violence in schools, communities and workplaces; helping them learn and grow in a safe environment, empowering to make positive choices for themselves, and be able to pursue career and career opportunities as desired.
In addition, the program also carries out communication and policy advocacy activities on issues of gender-based violence against girls.