German company plans to build offshore wind farm in central Vietnam
Binh Dinh Province has given a nod to German-based firm PNE AG to study the possibility of constructing the second offshore wind power plant in Vietnam.
PNE AG will conduct a year-long study for a US$1.5-billion wind power plant in the districts of Phu Cat and Phu My in Binh Dinh, VNExpress reported.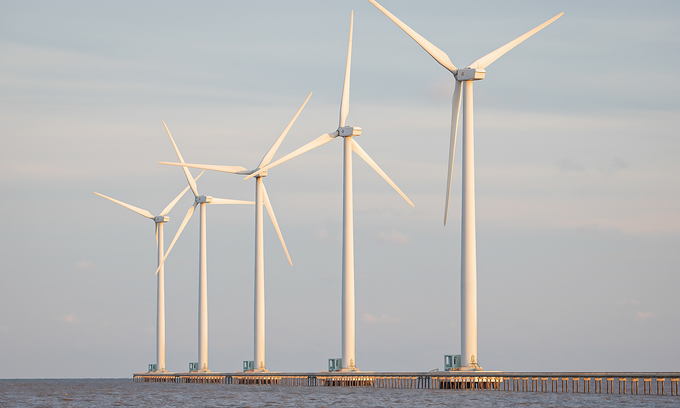 Wind turbines in Bac Lieu province, southern Vietnam. Photo: VnExpress/Nguyet Nhi.
Last month, representatives of PNE took part in a working session alongside leaders of the Binh Dinh province People's Committee to develop a US$1.5 billion wind power project in the locality, VOV reported.
Tran Minh, senior manager of the Offshore Wind Power project at PNE AG, said the group was keen to gain insights into various policies in order to encourage wind power energy development in the province, in addition to procedures that would eventually see the project gain approval.
Nguyen Phi Long, Vice Chairman of the Binh Dinh provincial People's Committee, emphasized that the local government was striving to create the perfect conditions in which the PNE group could invest in the local wind power energy sector.
Marko Walde, head of the working group of the German Chamber of Commerce and Industry in Vietnam, said that the implementation of the wind power park project in Binh Dinh is expected to transform the country into a competitive wind power supplier in both the region and across the globe.
PNE is a leading multinational corporation that has 20 years of experience in developing onshore and offshore wind power projects. The group has expanded into South America, Africa, the Middle East, and Asia, including offshore wind power park projects located in Vietnam.
The first offshore wind power plant, the 99MW Bac Lieu Wind Power Project in the southern province of the same name, went on stream in 2016.
Domestically, wind power and solar power projects are still being considered as alternative solutions for the overexploitation of hydroelectricity, which has caused a range of serious consequences for the environment.
At present, Vietnam is home to approximately 30 wind power projects which are either in operation or under construction.
Economy
Vietnam has a fast-increasing semiconductor ecosystem and possibilities to improve its position in the global supply chain. In the joint announcement of the US-Vietnam Comprehensive Strategic Partnership, the two countries acknowledged Vietnam's significant potential to become a key nation in the semiconductor industry, adding they "are supportive of the rapid growth of the semiconductor ecosystem in Vietnam."
September 22, 2023 | 09:22