German, Swiss and Israeli enterprises to invest $350 mln in Vietnam
An investment worths US $350 million from German, Swiss and Israeli firms will be poured into areas like digital tourism, digital startups, healthcare, and manufacturing of personal medical appliances in Vietnam.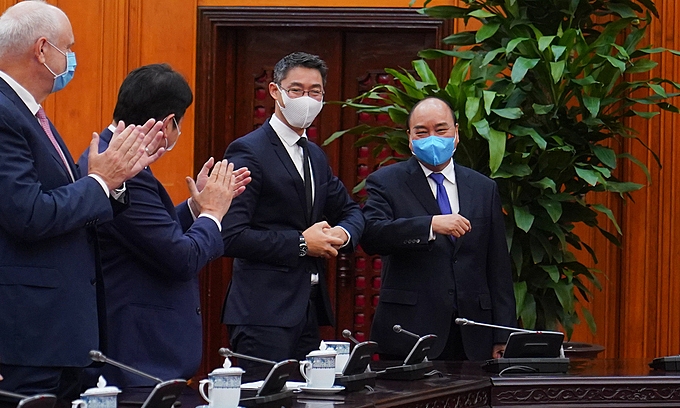 Prime Minister Nguyen Xuan Phuc meets with the foreign business delegation led by Philipp Rosler, November 25, 2020 (Photo: VGP)
According to VNE, Former Vice Chancellor of Germany Philipp Rosler made the remarks while meeting with Vietnamese Prime Minister Nguyen Xuan Phuc on Wednesday afternoon. He led a foreign business delegation, which is seeking opportunities in Vietnam.
Rosler said some investors plan to move their manufacturing plants from other markets to Vietnam. While they hold Vietnam's business environment in high regard, the investors expect the Vietnamese government to remove restrictions relating to administrative procedures.
Prime Minister Phuc affirmed Vietnam is making efforts to actively control the Covid-19 pandemic and promote manufacturing and business.
The country is also regarded as one of the top growing economies this year.
International Monetary Fund has upped its prior forecast for Vietnam's 2020 GDP growth by 0.8 percentage points to 2.4 percent.
As reported by VNE, Vietnam has benefited from prudent fiscal policies, largely geared toward supporting vulnerable households and firms, Dabla Norris, mission chief to Vietnam and division chief in the IMF's Asia said.
In the October report, IMF said Vietnam was expected to surpass Singapore and Malaysia to become the fourth biggest economy in Southeast Asia in 2020.
Vietnam's gross domestic product (GDP) is estimated to reach 340.6 billion USD this year, making it the fourth-largest economy in Southeast Asia. This is revealed in the International Monetary Fund (IMF) World Economic Outlook released this week.
It has attracted over 33,000 FDI projects from 139 countries and territories with a total capital of $383 billion. Vietnam is now calling for FDI in high technology, innovation, support industries, and human resources training, said the Prime Minister.
It is also improving its business and investment environment to make it easier for foreign investors to operate.
Phuc asked for Rosler's support in promoting investment and attracting capital from major corporations around the world. He expressed his appreciation for investment projects in Vietnam, especially in tourism, which is a spearhead economic sector promoted by the government.
The Vietnamese government always ensures the legal rights of foreign investors in the country, so they can be assured of long-term business, he affirmed.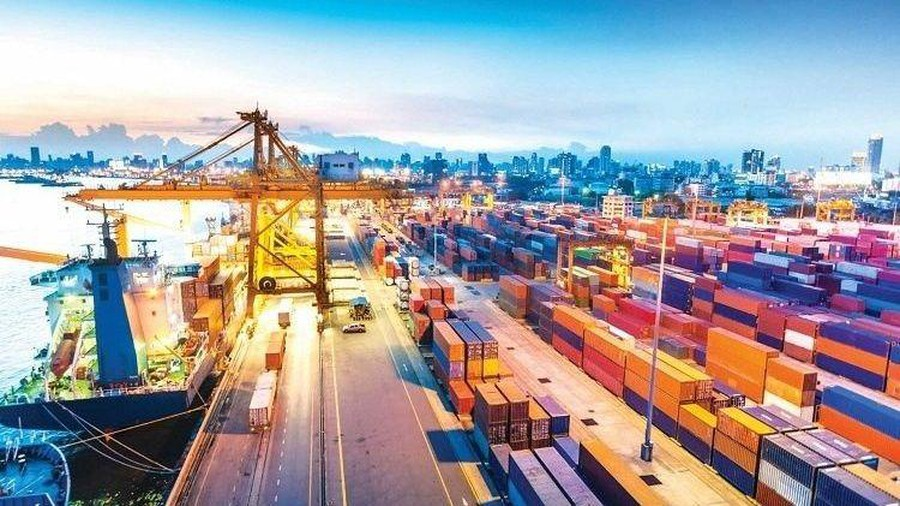 (Photo: Bao Quoc Te)
Vietnam is a worth-investing country for foreign enterprises
Whether you consider Vietnam's characteristic as long-term growth or just a way to minimize the impact of COVID-19 on socioeconomics, the country has proved itself as a potential one for investment in the short, medium, and long term.
Vietnam has gradually acquired its reputation following the ratification of trade deals with the UK post-Brexit and the two countries have strived to sign a bilateral free trade agreement by year ends. This is expected to reinforce the existing trade deals and attract more foreign investors to Vietnam.
It can be said that Vietnam's rapid and consistent economic growth has existed for 30 years, with a series of economic and political reforms launched in 1986 contributing to promoting sustainable development.
From 2002 to 2018, Vietnam's GDP per capita increased 2.7 times, with more than 45 million people getting out of poverty in this period. As of 2020, about 6% of the country's population are living below the poverty line. Vietnam has witnessed a positive economic growth rate in recent years, in which 2018 and 2019 recorded a peak of 7%.
Even the COVID-19 pandemic hasn't greatly affected the Vietnamese economy as the country is still among the few countries posting positive growth. Vietnam's economic growth rate in the first half of 2020 was 1.81% and it is expected to reach 2-3% in the remaining months of the year.
In addition, the Vietnamese government targets economic growth in the range of 6 – 6.5% for 2021, hoping that the economy can quickly rebound.