German Warship to Cross South China Sea (Bien Dong Sea) for First Time since 2002
Germany on August 2 sent a warship to the South China Sea (Bien Dong Sea) for the first time since 2002, joining other Western nations in expanding its military presence in the region.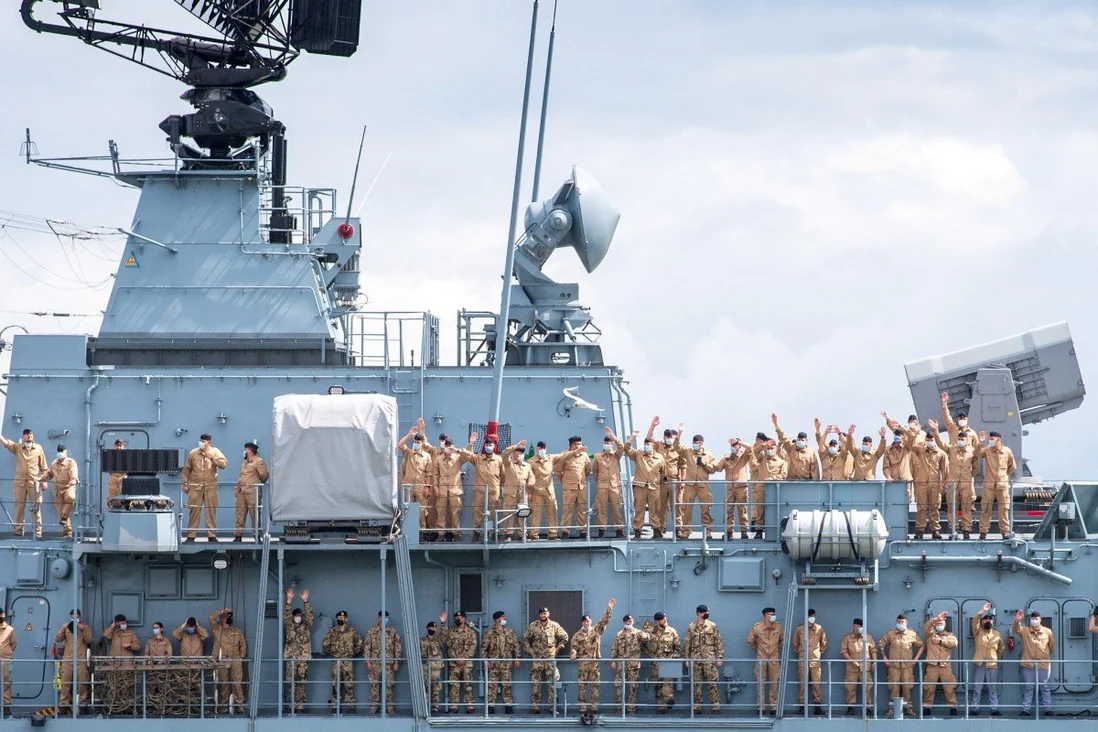 Crew members of the Bayern wave as the frigate sets sail on an exercise voyage lasting about six months in the Indian and Pacific Oceans. Photo: DPA
The "Bayern" sailed from Wilhelmshaven harbour with more than 200 soldiers on board for a six-month mission to strengthen Germany's presence in the region that will take it to Singapore, South Korea and Australia, according to South China Morning Post.
Notably, in December, the frigate will pass through the South China Sea, a flashpoint of tensions between China, its neighbours in the region and their Western allies such as the United States.
Standing up for values
"The message is clear: we are standing up for our values and interests together with our partners and allies," Defence Minister Annegret Kramp-Karrenbauer was cited by Deutsche Welle (DW) - Germany's international broadcaster- ahead of the ship's departure.
"For our partners in the Indo-Pacific, it is a reality that sea routes are no longer open and secure, and that claims to territory are being applied by the law of might is right," she added.
In the Indo-Pacific region, "important decisions on peace, security and prosperity will be made," Kramp-Karrenbauer said.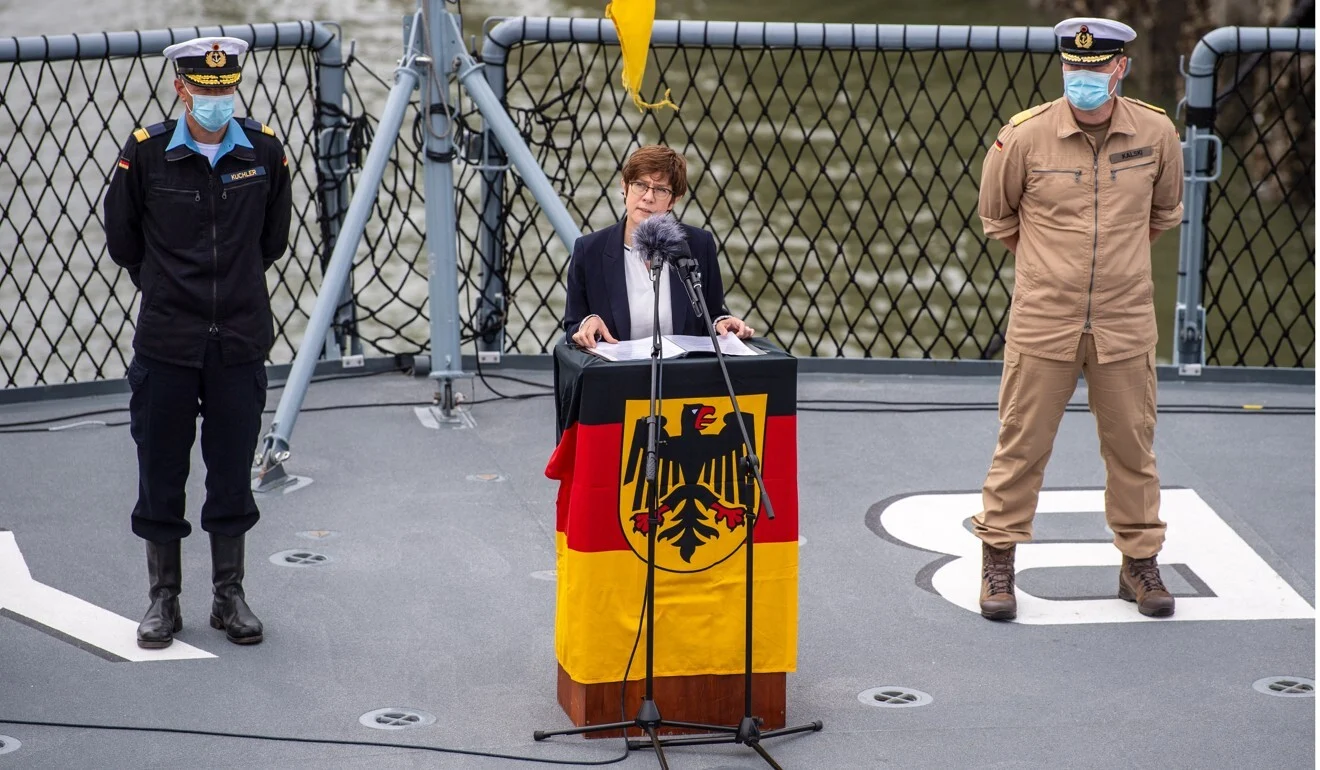 German Defence Minister Annegret Kramp-Karrenbauer speaks at the farewell ceremony for the Bayern. Photo: DPA
Yet Kramp-Karrenbauer insisted the mission was not directed against any particular country, and noted that Germany had offered to visit a Chinese harbour "in order to maintain dialogue."
Officials in Berlin have said the German navy will stick to common trade routes. The frigate is not expected to sail through the Taiwan Strait either, according to Reuters.
Nevertheless, Berlin has made it clear the mission serves to stress the fact Germany does not accept China's territorial claims.
Expanding military presence
China claims swathes of the South China Sea and has established military outposts on artificial islands in the waters that contain gas fields and rich fishing, Reuters said.
Countries including Britain, France, Japan, Australia and New Zealand, have also been expanding their activity in the Pacific to counter China's influence.
Britain's HMS Queen Elizabeth and its strike group are in the South China Sea for freedom of navigation exercises and a series of military drills with a number of other countries in the region.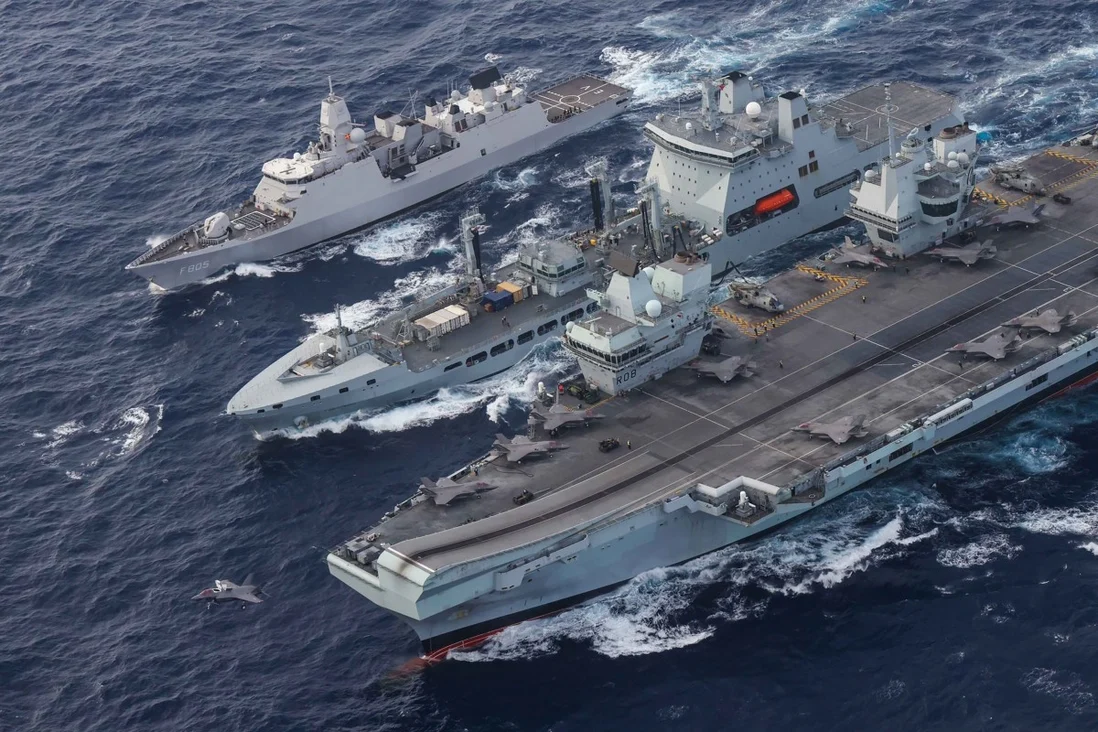 Britain's HMS Queen Elizabeth and its strike group are in the South China Sea. Photo: Twitter
Last January, a Canadian warship also sailed near the South China Sea, passing through the Taiwan Strait on its way to join exercises nearby with Australian, Japanese and US navies, according to Al Jazeera.
The US Navy, in a show of force against the Chinese territorial claims, regularly conducts so-called "freedom of navigation" operations in which their vessels pass close by some of the contested islands. China in turn objects to the US missions, saying they do not help promote peace or stability.
Washington has put countering China at the heart of its national security policy and seeks to rally partners against what it says are Beijing's increasingly coercive economic and foreign policies.
US welcomes Germany's decision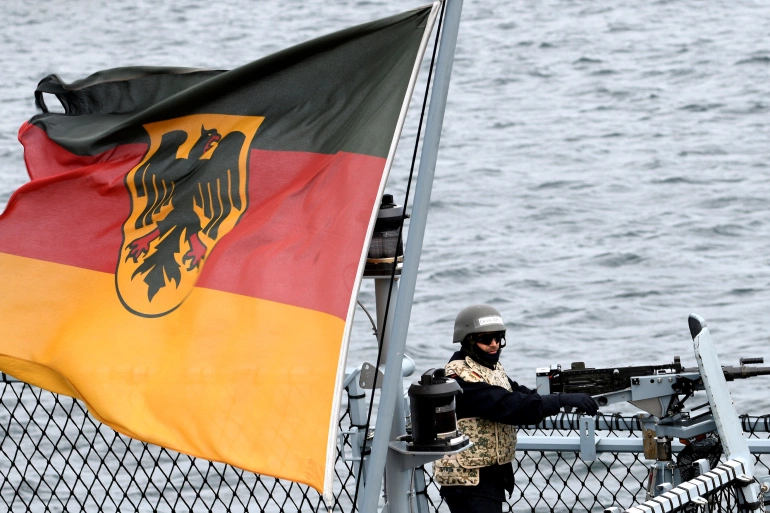 The German ship will not pass within what officials called the '12-nautical-mile' in a reference to contested areas in the crowded sea. Photo: Reuters
The US welcomed Germany's decision to deploy its ship to the region.
"The United States has a national interest in the maintenance of peace and stability, respect for international law, lawful unimpeded commerce, and freedom of navigation and other lawful uses of the sea," a spokeswoman for the US State Department was cited by Al Jazeera as saying.
"We welcome Germany's support for a rules-based international order in the Indo-Pacific. The international community has a vital stake in the preservation of an open maritime order."
A spokesman for the foreign ministry in China said countries enjoyed freedom of navigation and overflight in the waterway under international law, but added: "They cannot take it as an excuse to undermine the sovereignty and security of littoral countries."
China itself has also been stepping up its activities in the region.
Last week, the state-owned Global Times newspaper reported that China's navy conducted a series of "combat-scenario" exercises including amphibious landing in undisclosed waters "away from the mainland."/.