Vietnam Respects and Upholds universal value of UN Convention on the Law of the Sea
According to Assoc., PhD. Nguyen Thi Lan Anh, Diplomatic Academy of Vietnam, Vietnam always respects the universal value of the United Nations Convention on the Law of the Sea (UNCLOS) and strictly enforces the rights and obligations of a coastal state, in accordance with UNCLOS and international law.
It has been 40 years since UNCLOS was born. With its value as a convention, UNCLOS has set up a legal order, defining the rights and obligations of not only coastal states but also landlocked states and states with geographically special conditions.
Based on UNCLOS's legal framework, countries have obtained a comprehensive basis for sustainable use of the sea, as well as a legal basis for peaceful settlements of disputes, toward stability and common prosperity for all nations.
Pham Quang Hieu, Deputy Minister of Foreign Affairs once spoke about UNCLOS's significance: "It is necessary to apply the universal values of UNCLOS to promote cooperation on the basis of respect for the legitimate rights and obligations of coastal states and land-locked states, among member and non-member states to maintain peace, stability, safety, and freedom of navigation and overflight, and promote sustainable management of the South China Sea."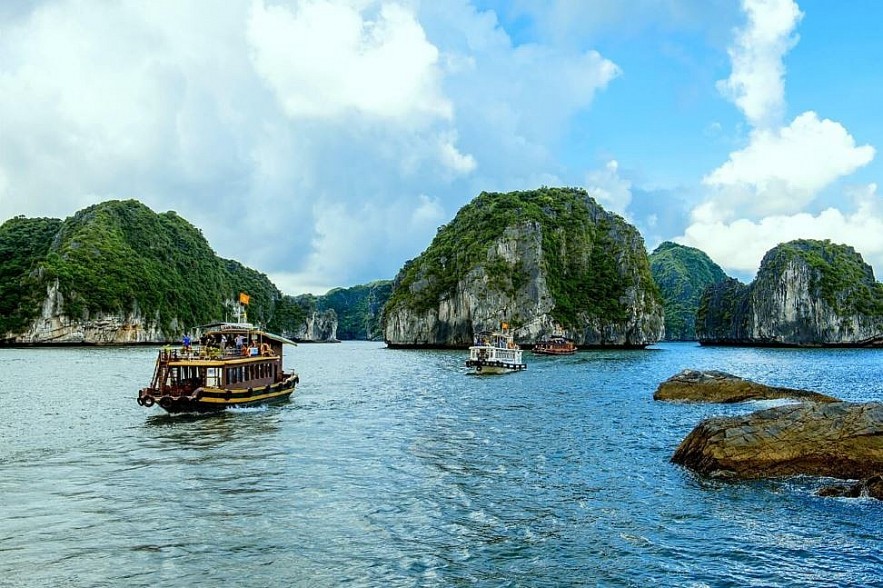 Lan Ha Bay (Photo: Industry and Trade Magazine)
The ocean brings both benefits and challenges for sustainable development, namely sea level rise, climate change, and environmental problems such as marine litter, of which plastic waste is severe.
In the face of these new challenges, UNCLOS confirms its role as a fundamental legal framework that helps countries to cooperate and solve new challenges, to continue to manage the seas and oceans in a sustainable way.
In the 8th Ocean Dialogue, held in June 2022, experts spent a session discussing the cooperation obligations of semi-enclosed coastal states, especially in the field of marine scientific research, to analyze the provisions of UNCLOS and draw practical lessons to promote cooperation in the South China Sea.
UNCLOS, notably Articles 122 and 123, will help semi-enclosed coastal states like Vietnam and Southeast Asian countries have a legal basis to promote cooperation and good practices towards sustainably addressing the future challenges of sea level rise and marine pollution.
Regarding countries' responsibilities in implementing UNCLOS to settle disputes, and maintain peace and stability on the seas, this year's Ocean Dialogue also addressed an important topic, that is how UNCLOS will be implemented with coastal states, landlocked states, and even countries that are not signatories to the convention.
Among Southeast Asian countries, there are both member and non-member states of UNCLOS, there are coastal, landlocked, and archipelagic countries, and there are developing countries and countries with strong economic, scientific, and technological potential.
Over 40 years of formation and development, UNCLOS has secured its universal values. Many of its provisions have come into practice, some are applied as customary international law and are legally binding in all countries.
States, whether members or non-members, regardless of size and development level, all share a common obligation: to uphold UNCLOS's universal values to build the general peace and stability of the marine environment in the South China Sea and the whole world.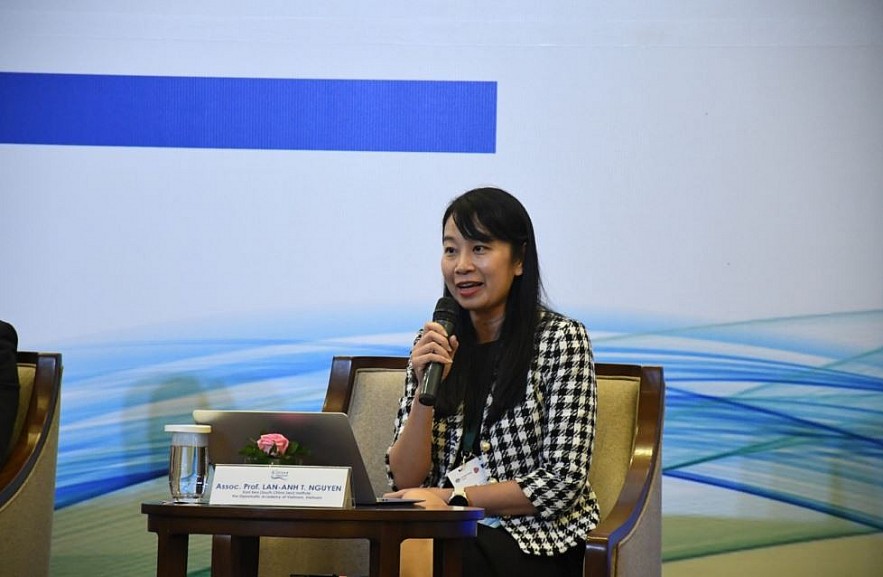 Assoc. PhD. Nguyen Thi Lan Anh, Diplomatic Academy of Vietnam, speaks at the 8th Ocean Dialogue in Hanoi on June 29.(Photo: Bien Dong Institute for Maritime Studies)
Owning a long coastline, Vietnam respects and upholds universal value of UNCLOS. Despite not being able to join the first and second conferences, right since 1977, Vietnam has actively participated in the third Law of the Sea Conference. During its participation, Vietnam expressed the views of a developing country, a coastal state. The country has contributed to forming coastal state rights and obligations in the current maritime legal order.
In 1977, Vietnam issued a Declaration on the waters of Vietnam, including internal waters, territorial sea, contiguous zone, exclusive economic zone, and continental shelf. When UNCLOS was signed, Vietnam's declaration was utterly consistent with the provisions of UNCLOS. In 1982, Vietnam issued the Straight Baseline Claim. In 1994, the country's National Assembly officially ratified Vietnam to become a UNCLOS member. In 2012, Vietnam promulgated its Law of the Sea.
Through such milestones, Vietnam has always shown itself to be a responsible country in terms of strictly implementing the rights and obligations of a coastal state, in accordance with UNCLOS and international law.
Given the current complicated developments and potential instability in geopolitics, several solutions should be taken into consideration to prevent disputes, clashes, and conflicts at sea. Relevant parties should place great significance on compliance with peaceful measures to resolve disputes.
Former Judge of the International Court of the Law of the Sea, Rüdiger Wolfrum, mentioned in his keynote speech at this year's Ocean Dialogue that UNCLOS has a mechanism for peaceful dispute settlement, enabling parties to resolve disagreements in the enforcement and interpretation of the law of the sea.
That is the first and most important basis to help the parties continue to resolve disagreements. The second basis is to promote cooperation. Only through cooperation and trust-building can we solve current and future challenges, and create a peaceful and stable environment to help parties overcome conflicts.