Germany Helps Reduce Infant Mortality in Quang Ngai Province
Lack of essential neonatal medical equipment in hospitals is one of the leading causes of infant mortality and increases hospital overcrowding because of the rate of referrals to distant higher-level hospitals. Fortunately, German leaders are happy to help Vietnamese families.
Consul General of Germany in Ho Chi Minh City Josefine Wallet and Rad Kivette, CEO of VinaCapital Foundation (VCF) on October 10 have signed a memorandum of understanding to fund VCF's "Survive to Thrive" program, aiming to reduce infant mortality and build capacity in Vietnam's healthcare system.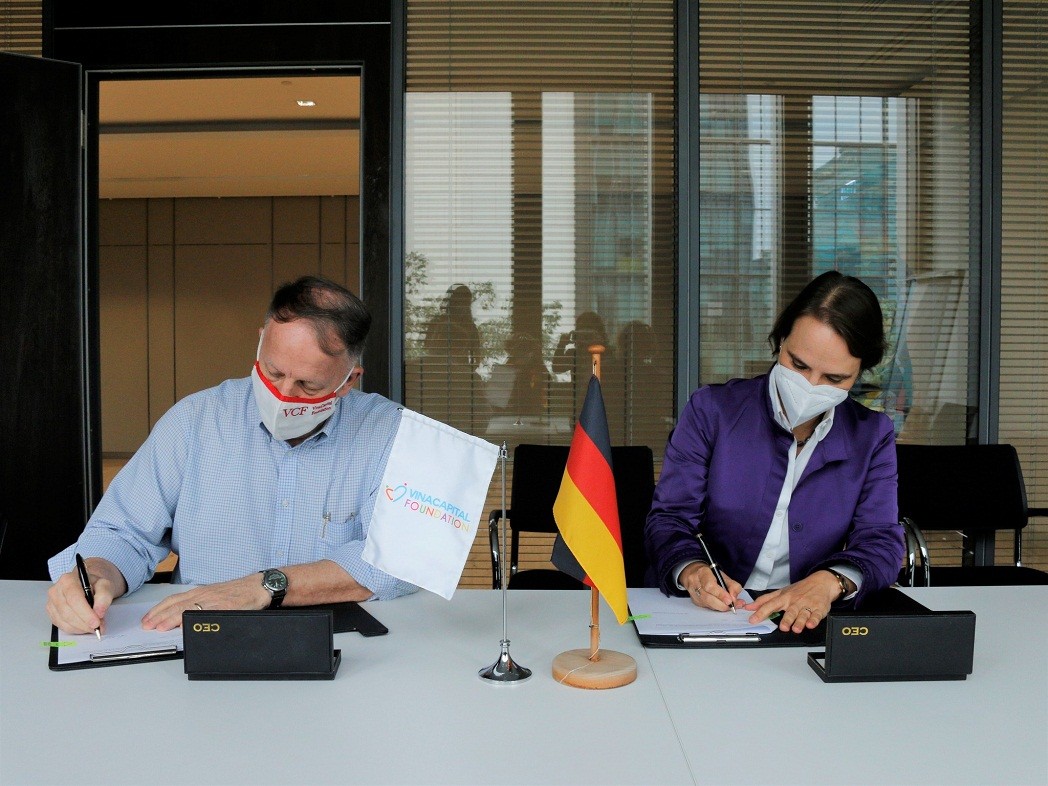 At the signing ceremony at the office of the German Consulate General in Ho Chi Minh City. Source: VCF
With this grant, the German Consulate General in HCM City will sponsor nine essential pieces of neonatal care equipment, including the Continuous positive airway pressure (CPAP) machine, beside monitor, led-phototherapy, infant warmer, injection pumps, infusion pumps with a total value of VND 380 million (equivalent to EUR16.250).
This essential equipment will be donated to Son Tay District Health Center of the central coastal province of Quang Ngai, which aims to improve the facility's capacity in neonatal emergencies, in order to reduce the infant mortality rate in this district.
Within the framework of the funding package, a neonatal emergency resuscitation training course will also be conducted in Quang Ngai with direct guidance from leading doctors of Da Nang Women and Children's Hospital.
This activity will improve the local newborn-resuscitation capacity, and maximize the medical competency to serve the local population in surrounding areas.
The Survive to Thrive program is designed to decrease infant mortality and improve outcomes for premature babies by building capacity for neonatal care in regional centers and rural hospitals throughout Vietnam. With the invaluable support of the German Consulate General, this project will protect thousands of children and families from preventable deaths and provide those benefits for generations to come.
Through the provision of essential neonatal equipment accompanied by the requisite training on the equipment, doctors and nurses in rural and remote areas of Quang Ngai will be able to provide infants with neonatal care and emergency treatment from their very first breath.
Since its inception, VCF's Survive Thrive program has donated over 300 pieces of neonatal care equipment to neonatal intensive care units of 56 hospitals in HCM City, Da Nang City, Kon Tum, Cao Bang, Son La, Bac Kan, Ha Giang, Yen Bai, Khanh Hoa, Quang Nam, Quang Ngai, and Lai Chau provinces.
In June, the program also had handed over 18 pieces of essential neonatal equipment for Nam Nhun and Sin Ho district hospitals in Lai Chau province, funded under the Bulgarian Official Development Aid program.