Gia Lai: Local Residents to Benefit from Clean Water Project
Residents in Chu Pah district in the Central Highlands province of Gia Lai will be able to get clean water from a project mitigating water shortages that has started this month.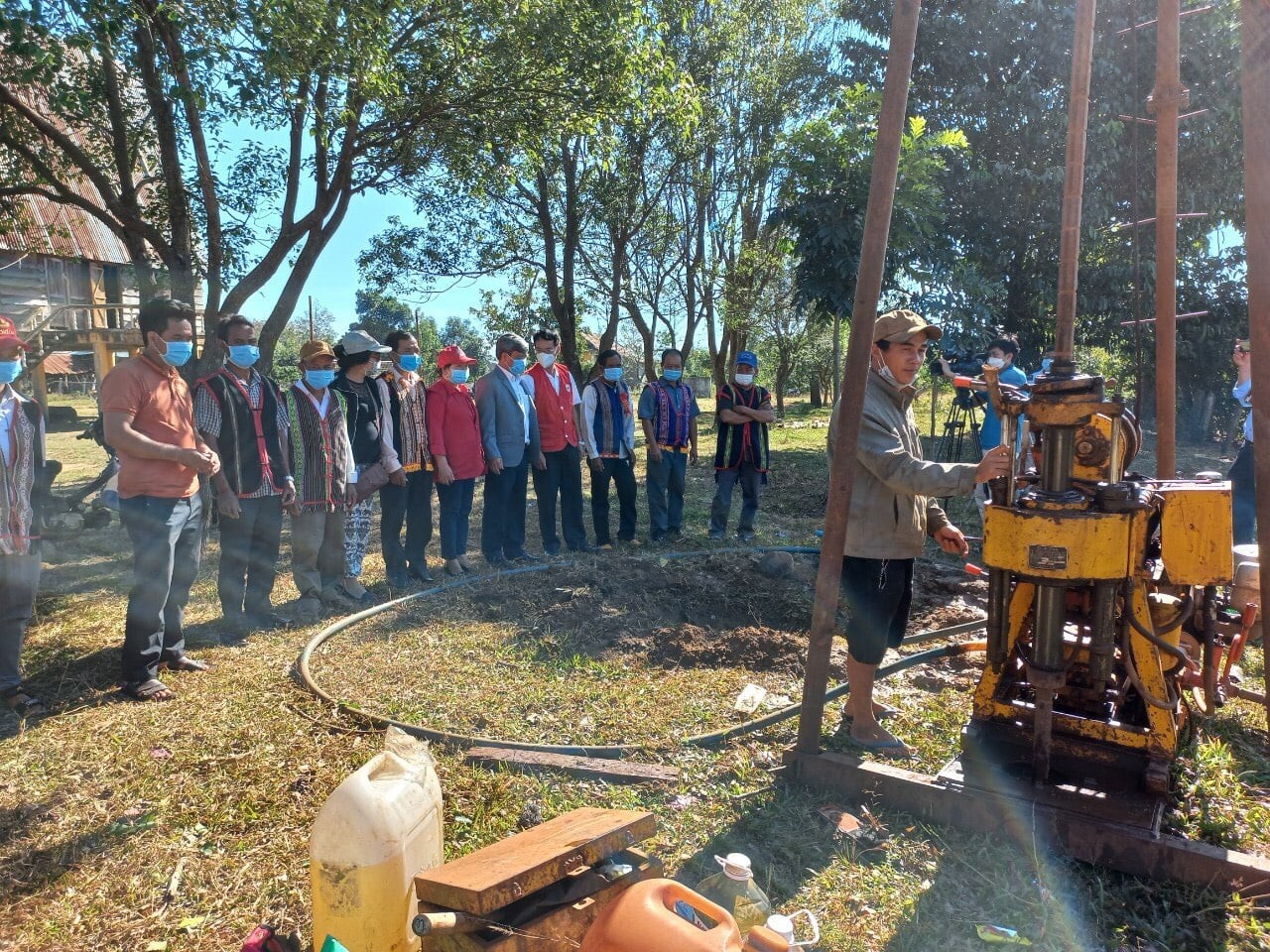 The project will improve local water access, contributing to a healthier, more stable way of life. Source: Vietnam Red Cross Society
Recently, in Ia Phi and Dak To Ve communes (Chu Pah district, Gia Lai province), the Provincial Red Cross Society in collaboration with Australasia Social Impact Foundation in Vietnam, communal people's committees held a groundbreaking ceremony of the "Clean wells for villages" project in the above communes.
Accordingly, 12 well projects (estimated VND 120 million each) are deployed in 12 villages. Each installation consists of one drilled well, 3,000-liter water tank, pump, yard, campus, flower bed covering an area of ​​100m2, and other ancillary works. The total budget of over VND 1.4 billion (USD 61.672) sponsored by Australasia Social Impact Foundation.
This is an activity within the framework of the project "Clean wells for villages", being implemented from 2022 and 2023, organized by the foundation in collaboration with the provincial Red Cross and local authorities to help drill 200 wells.
The VND 24.8 billion (USD one million) project will benefit about 70,000 people who are lacking clean water in 14 districts of Gia Lai province, including Chu Prong, Chu Se, Chu Puh, Ia Pa, Dak Doa, Chu Pah, Phu Thien, Mang Yang, Dak Po, Ia Grai, Kong Chro, Krong Pa, Kbang and Duc Co.
Clean water and rural sanitation are the core issues for developing smart human resources, thereby promoting labor productivity and economic growth. Access to clean water and good sanitation means that people are protected well against the risk of diseases.
However, in the highland provinces, every day, women and children have to walk 5-7km with baskets on their backs to collect water drops from fields, ponds, and lakes for eating and drinking. In the dry season, the scarcer water is, the farther they have to travel to get water.
As usual, people put the water they get into small plastic bottles from 500ML to 1.5L and put them all in a bag on their back. These plastic bottles are reused, which are unhygienic, difficult to carry, and easy to fall along the way.
The project is expected to help alleviate local water shortages which often peak during the summer months. At the same time, ensure sanitation at households and public places, reduce diseases related to water resources and sanitation, improve local people's living conditions, and narrow the gap between rural and urban areas.
ASIF is a non-profit organization established with a vision towards a sustainable, professional philanthropy ecosystem.
With the desire to improve the health of people in the Central Highlands, in April 2021, ASIF also officially launched the Gui project with the goal of giving 50,000 water baskets to 50,000 households in Gia Lai and Kon Tum provinces, increasing access to clean water of more than 300,000 people.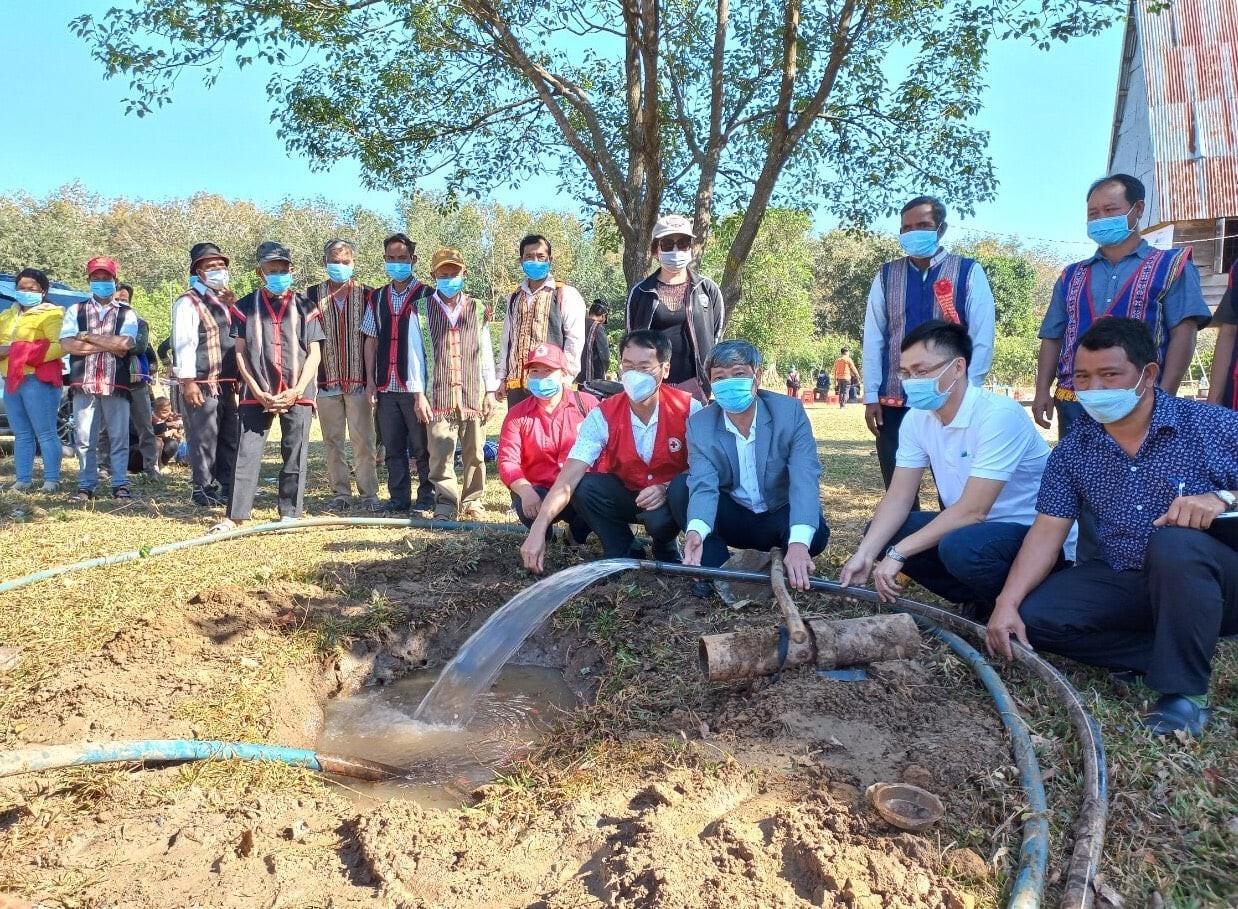 They find a location that combined the best expectations for water to be found, good accessibility for the drilling equipment, and water quality. Source: Vietnam Red Cross Society
Deputy Prime Minister Le Van Thanh just signed a decision approving the National Rural Clean Water Supply and Sanitation Strategy by 2030, with a vision to 2045, VNA reported on Jan.3.
By 2030, around 65% of the rural population are expected to use clean water, with at least 60 liters per person per day while 100% of rural households, schools, and medical facilities will have hygienic latrines.
The Government targets to raise the rate of treated wastewater in rural residential areas to 15% over the next decade and to 30% by 2045.
By 2045, 100% of rural residents are expected to use clean water and hygienic latrines. The ratio of breeding farms having a waste treatment systems is expected to reach 75% in 2030 and 100% in 2045.
Unique Bamboo Waterwheels in Lai Chau

The giant bamboo waterwheels, with slow rotation, have long been associated with cool streams and ripe rice fields in mountainous provinces, including Lai Chau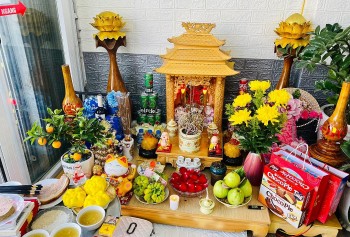 Handbook
Learn more about an ancient Vietnamese tradition that may bring you good fortune!