'Water' Exhibition: Diving into Artist's Vu Dinh Dinh Deep Emotions
Artist Vu Dinh Dinh's exhibition at Bamboo Westlake, Hanoi, occurs shortly just before the social distancing policy started again this December. Interestingly enough, the acclaimed artist's recent exhbit reflects his time in Vietnam's extensive lockdown.
An art exhibition entitled Water,by Vu Dinh Dinh, a well-known artist in Vietnam's artist community, occurred for two weeks has finally come to an end on December 19th. Vietnam Times has managed to reach out to have an exclusive interview with the artist himself to get to know the artist's attempt to reclaim himself and his creativity after months of lockdown.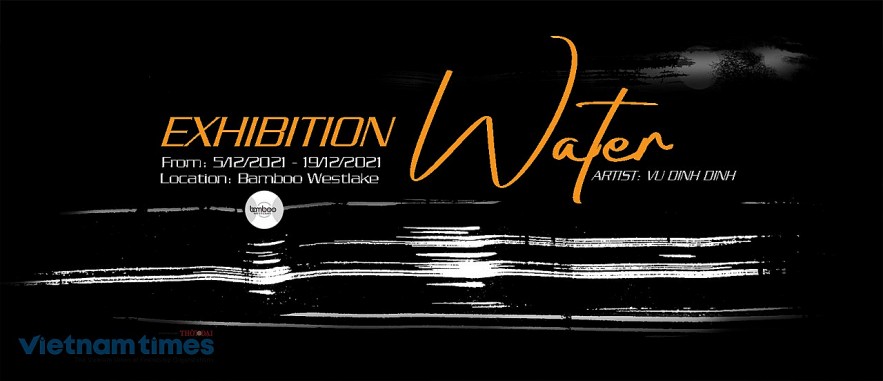 Advert for Vu Dinh Dinh's Exhibition.
Meeting up with Vu Dinh Dinh in Bamboo Westlake, we encountered his stunning artwork. His pieces resemble ripples in water, illustrating both the calmness and chaos of life. These are reflections of Dinh Dinh's feelings of isolation and anxiety in lockdwon.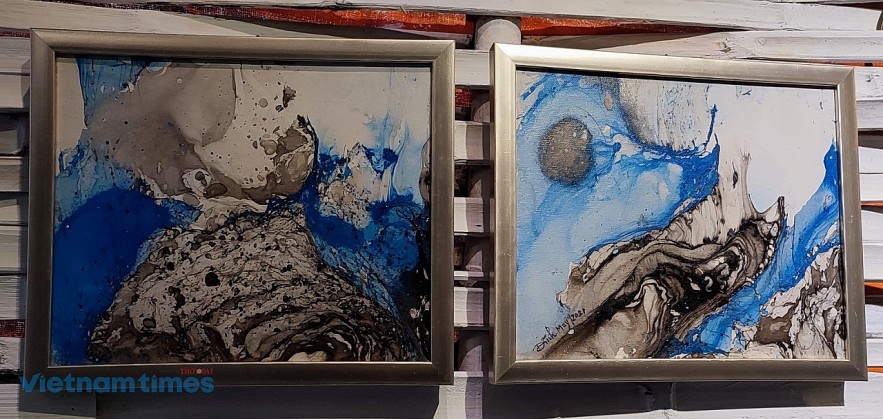 Vu Dinh Dinh's water theme paintings he made while in Hanoi.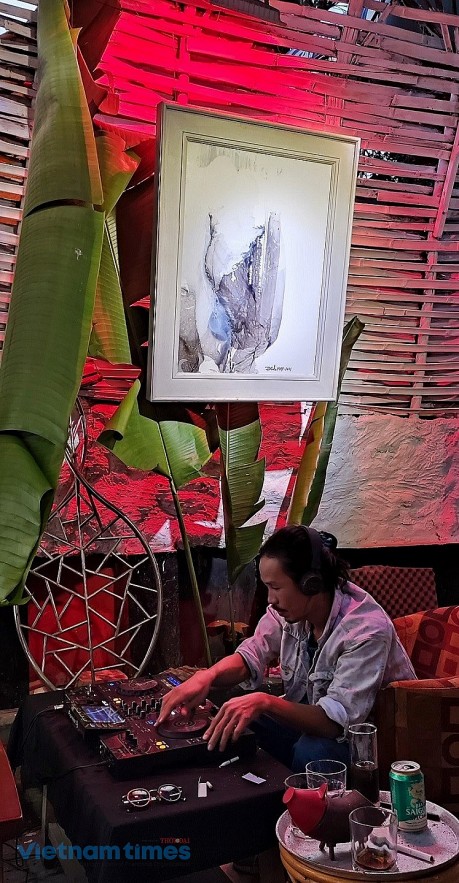 Local expats call him Dinh. Brief imagine of Vu Dinh Ding DJing for the exhibition.
When being asked about his artistic inspiration, Dinh Dinh shares that he has spent years trying to combine different techniques in painting. This versatility allows for Dinh Dinh to more easily share more his deep emotions. Over the years, he said he has trained himself 'to easily create a piece of art when there are sudden emotions hit'.
Psychological speaking, the ocean represents our deep conscious, the hidden and raging realm of the human psyche where the powerful emotions of happiness, frustration and hope are neighboring in the abyss of the mind. Dinh Dinh's work reflects the complexity of these emotions. Audiences walk away with different interpretations of his work depending on their mood.
While being stuck in lockdown, Dinh Dinh's heart returned to the waterways of Hoi An, bathing him in creativity.
"The artistic inspiration for the last 2 collections was inspired by personal works following the flow of the water and the sea," explains Dinh Dinh. "Because the work of the past two years to me is all sea, water, rivers, ponds and fields in Hoi An, where I lived for 5 months after the lockdown."

Water in the chaos of Hanoi.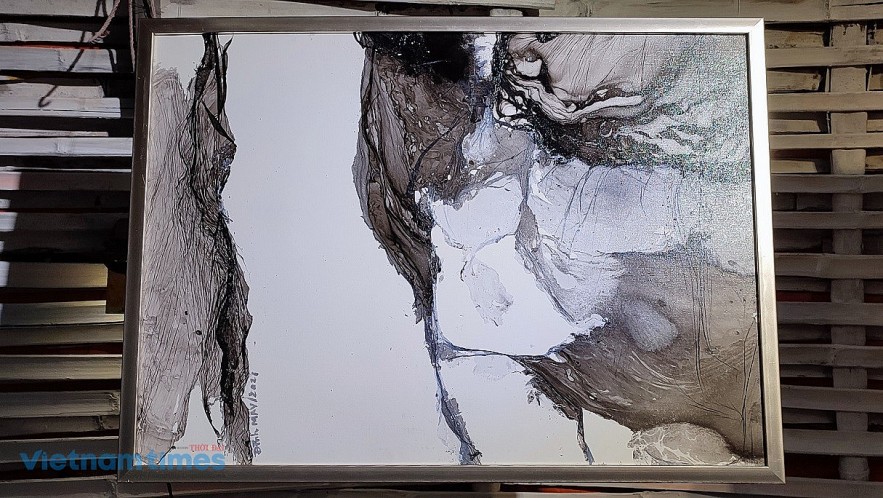 Water in the chaos of Hanoi. The intensity shows in how the color lays on canvas.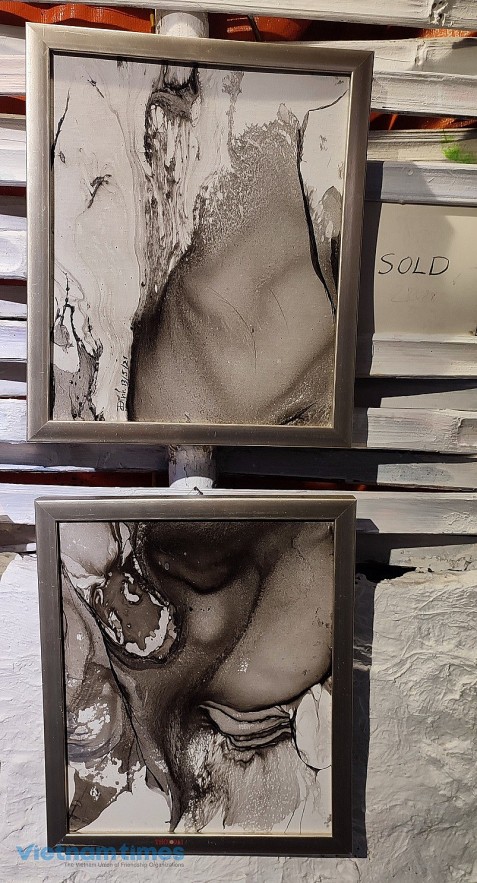 Most paintings are sold on sight, at the exhibition.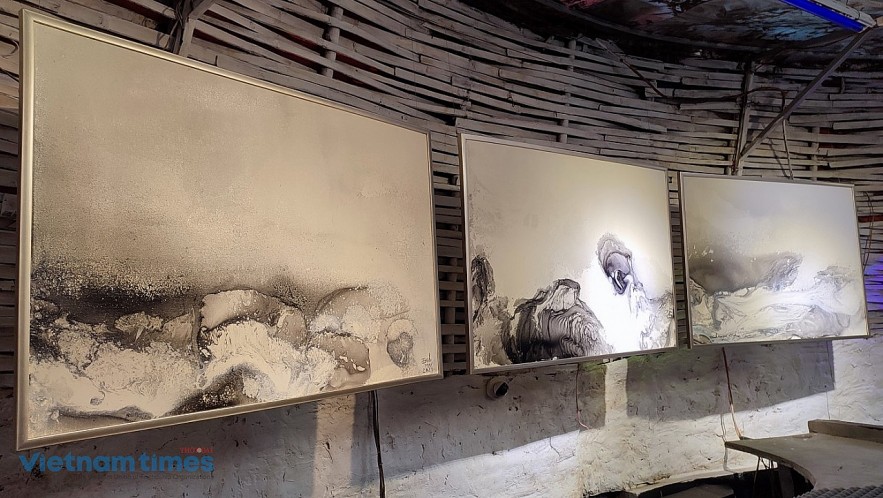 3 big centerpieces showcase the main theme of the Vu Dinh Dinh exhibition - WATER, calm vs. chaos.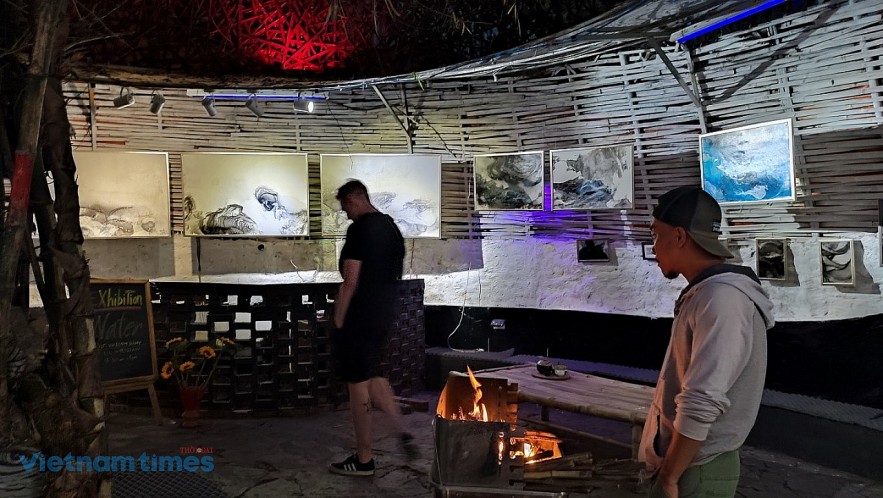 Visitors really enjoy the exhibition.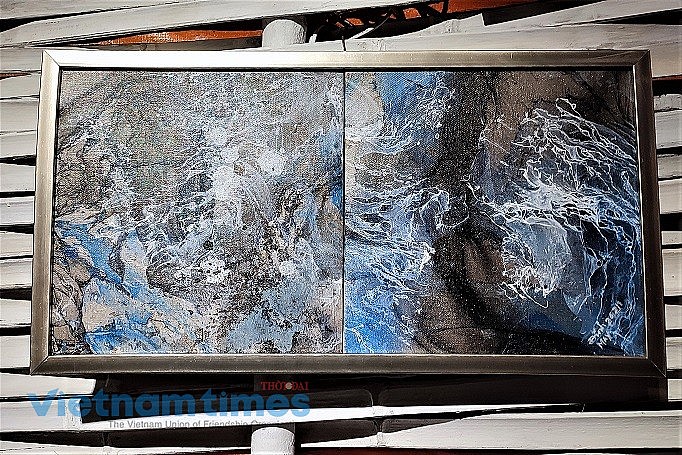 Layer of acrylic colors overlays forming this watery masterpiece.
In addition to showcasing his emotions, Dinh Dinh's work also celebrates the various places in Vietnam.
"These paintings record and depict my sincere feelings in the usual landscape of Hoi An, at times of sublimation, times of silence. I am sincere with my own feelings about the land of Hoi An and Hanoi," Dinh added. "In this exhibition, you are immersed in two states, two completely different styles. One for Hanoi, one for Hoi An. Both are great land to me."
Walking into the second half of the exhibition, where he displayed paintings he made in Hoi An, you can experience another point of view on life, the calmness of rural, the quiet of the sea.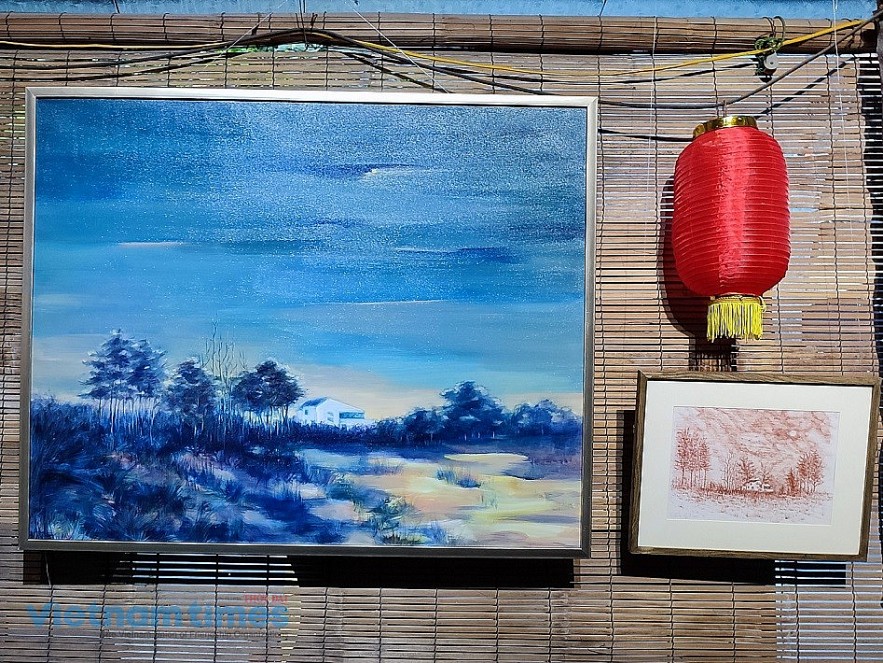 Paintings that he did in Hoi An have more colors, lively shades compared with the other half he made in Hanoi.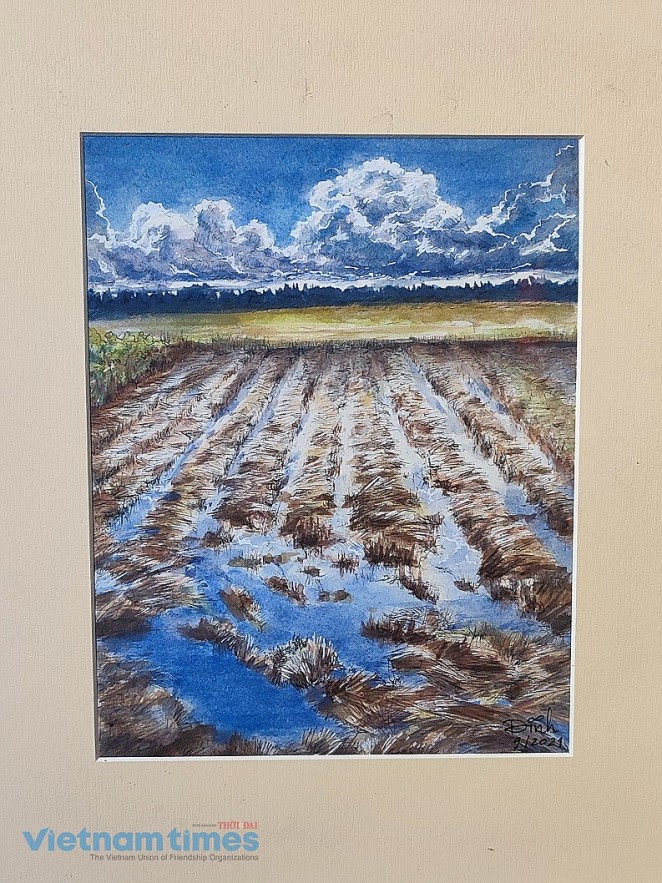 Details and tranquil.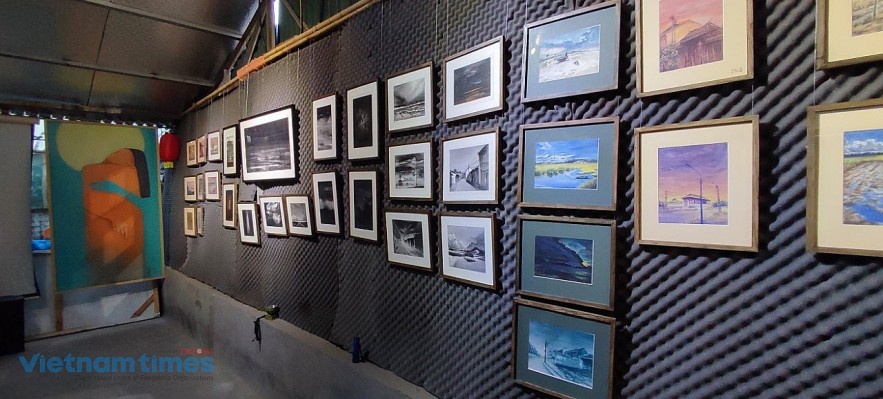 Overview of Hoi An - Water - area, these are watercolors and Japanese ink paintings.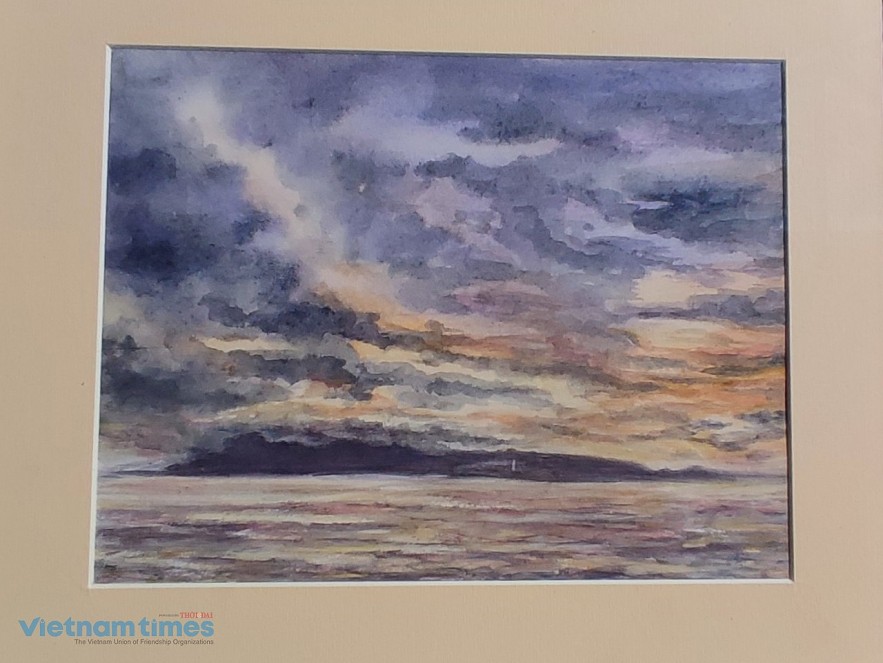 A piece Vu Dinh Dinh made while he was sitting by the sea in Hoi An.
A piece Vu Dinh Dinh made while he was sitting by the river in Hoi An.
Later, when we were talking about his accomplishments as an artist, Vu Dinh Dinh openly expressed his passionate love for art, paintings, and sculptures.
"My personal selfishness kept me from sharing my work publicly. So personally, I don't have many exhibitions. I am deeply in love and immersed in art when emotions come," shares Dinh.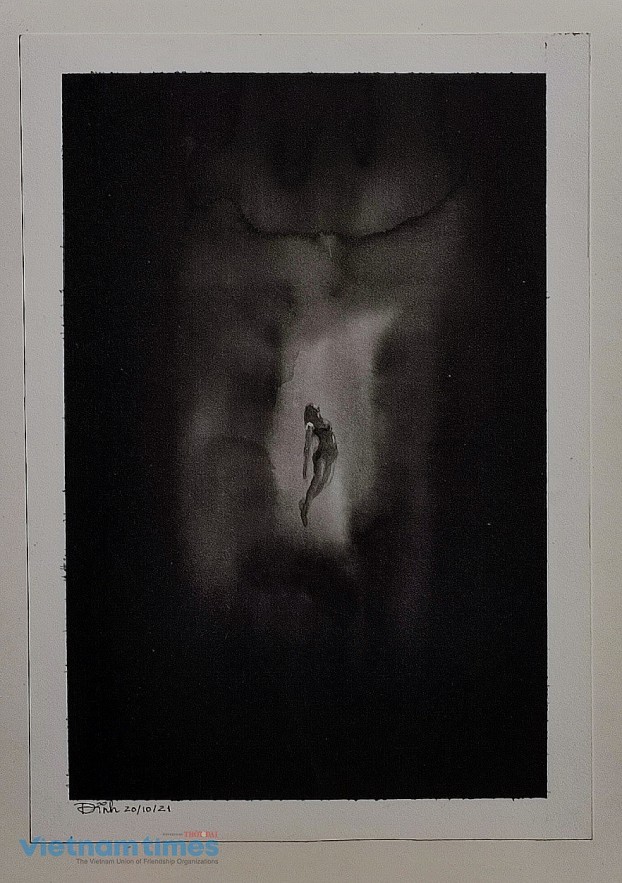 Vu Dinh Dinh. 20.10.2021. signed.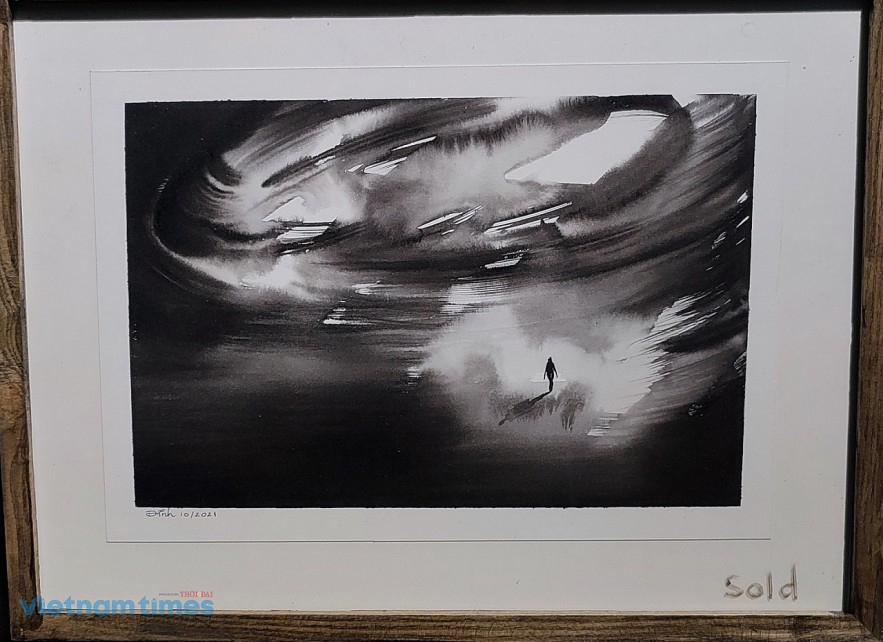 A sold piece at the event.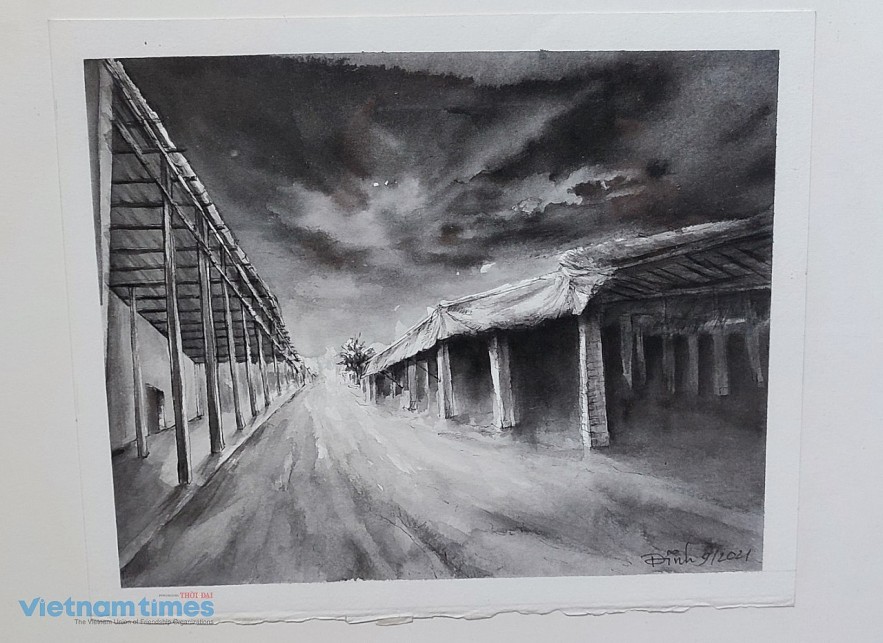 Japanese ink and watercolor forming this little beauty.
Vu Dinh Dinh's artistic pedigree is known throughout Vietnam's art world. He is responsible for many beloved projects of cultural value. He assisted in the restoration of several historical structures, including the Quang Nghiem pagoda in Chuong My, Hanoi. The pagoda's whole ceiling painting was included in the project.
Quang Nghiem pagoda is located on a hill about 50m in height, in Tien Lu village, Tien Phuong Commune, Chuong My district, Hanoi. The pagoda was established in the reign of Ly Cao Tong, in 1185. This is an architectural work of high artistic value, which has been classified as a national monument for more than 40 years.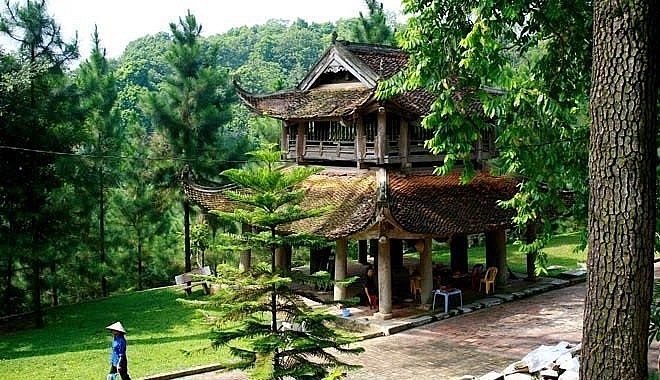 The bell tower at the gate of Quang Ng pagoda still retains its ancient look thanks to proper restoration. Photo: Vietnamnet
The Xuan Thanh beach monument is Vu Dinh Dinh's most well-known piece. He shares some of his images from the monument-building process, stating that he enjoys creating art, particularly painting and sculptures.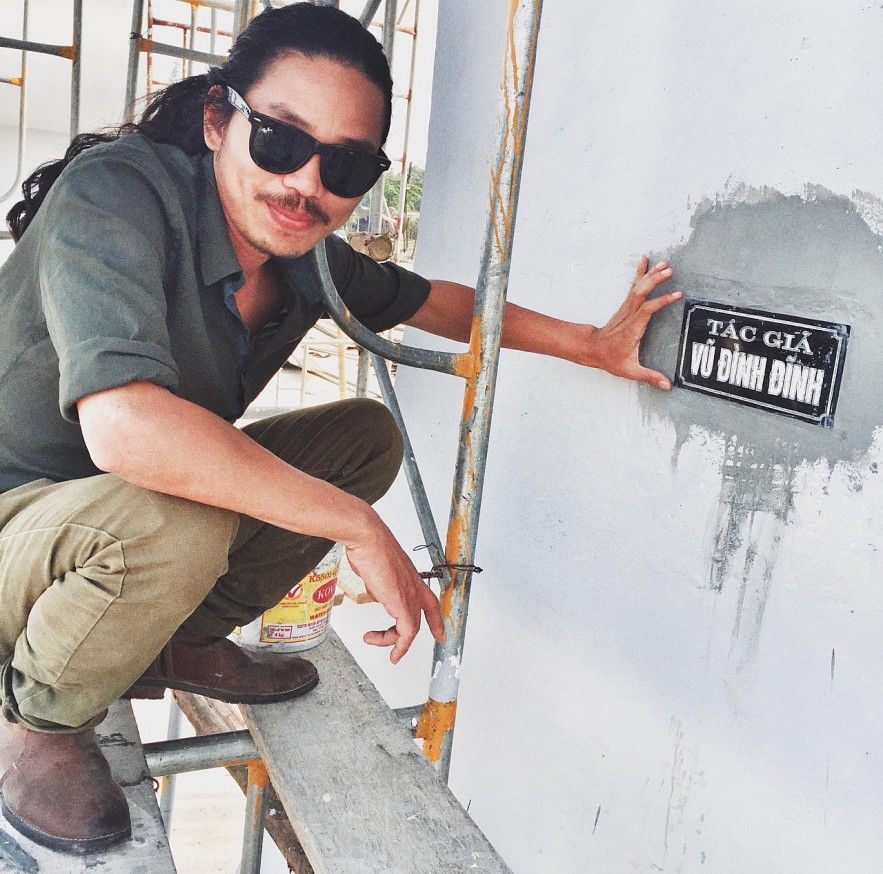 Vu Dinh Dinh on site of Xuan Thanh beach monument. Photo: Vu Dinh Dinh.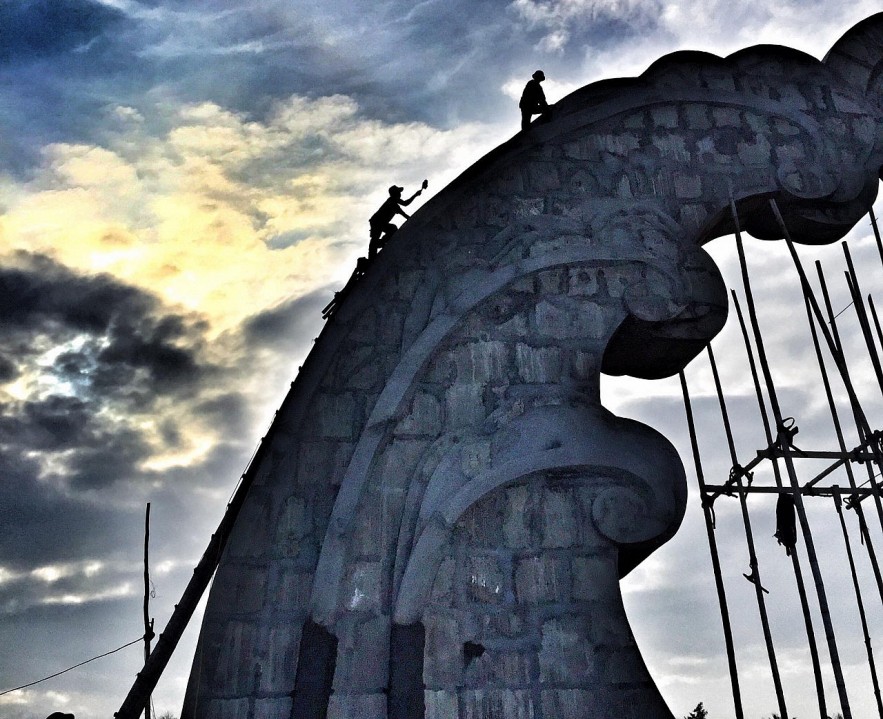 Xuan Thanh beach monument in the making. Photo: Vu Dinh Dinh.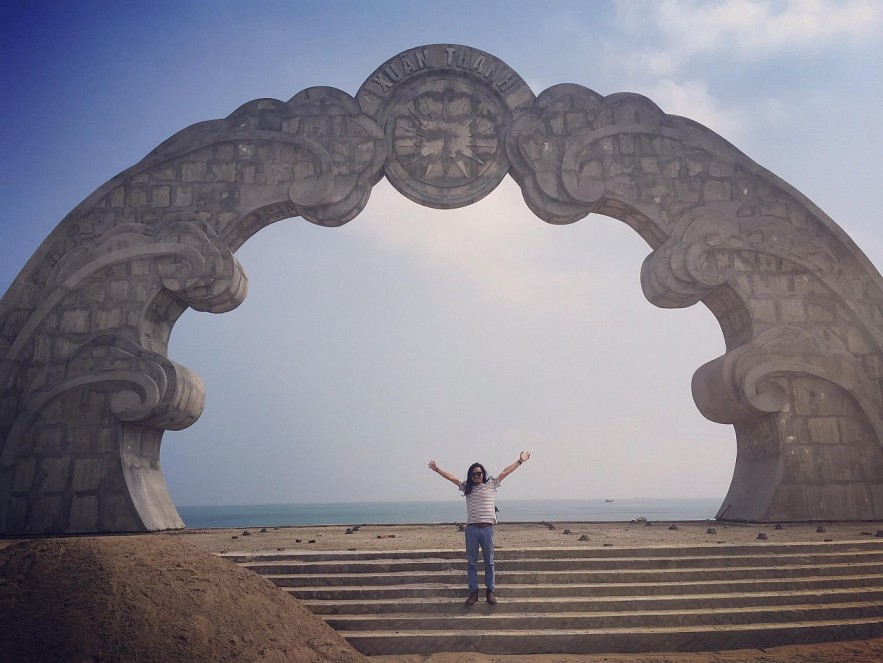 Vu Dinh Dinh celebrates his Xuan Thanh beach Monument completion. Photo: Vu Dinh Dinh
Every year, Vu Dinh Dinh takes part in Sala Charity Club's event for the less fortunate. Sala Charity Club is made up of doctors and nurses, and all proceeds from the sale of paintings at the event will go to a fund to heal and treat sick and disabled children in Vietnam's mountainous areas.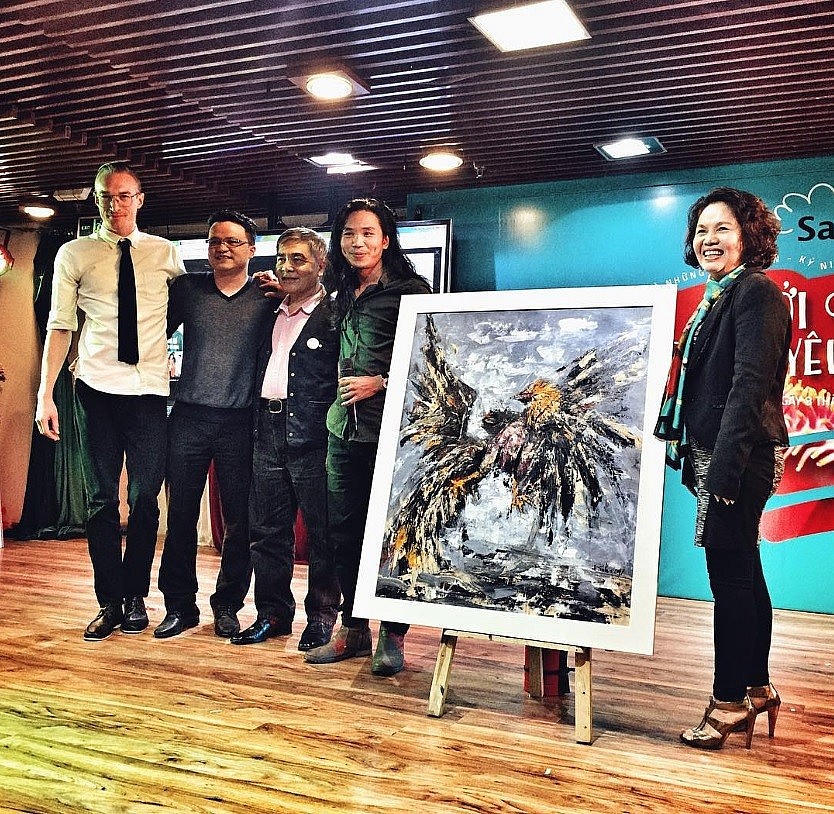 Vu Dinh Dinh's painting at a charity event hosted by the Sala Charity club. Photo: Vu Dinh Dinh
Vu Dinh Dinh also composes, performs, and organizes musical events. Painting classes for foreigners are mainly held by Vu Dinh Dinh at Bamboo Westlake, Hanoi, and other parts of Vietnam.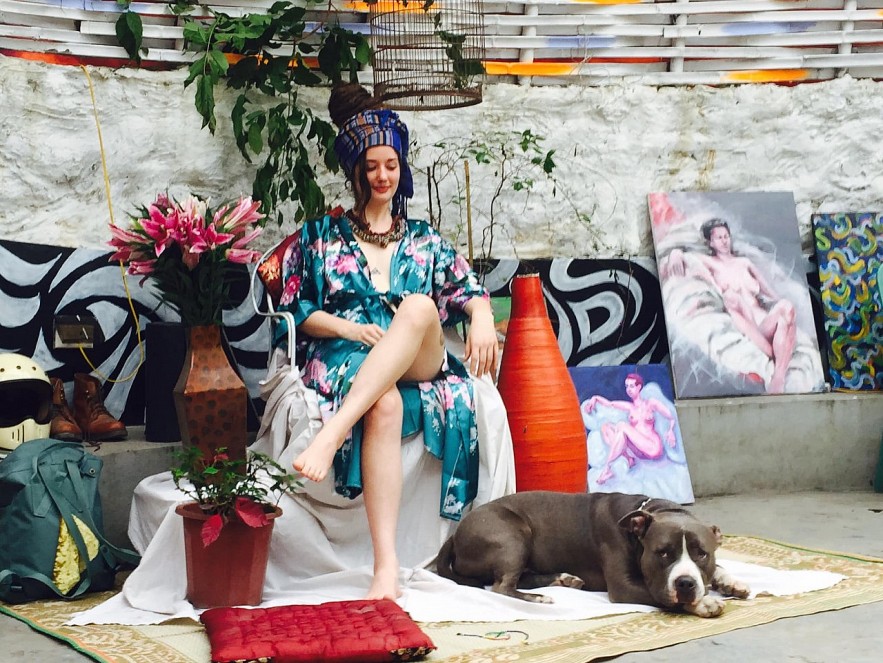 A lovely model at Vu Dinh Dinh painting class, along with Vu Dinh Dinh best friend. Photo: Vu Dinh Dinh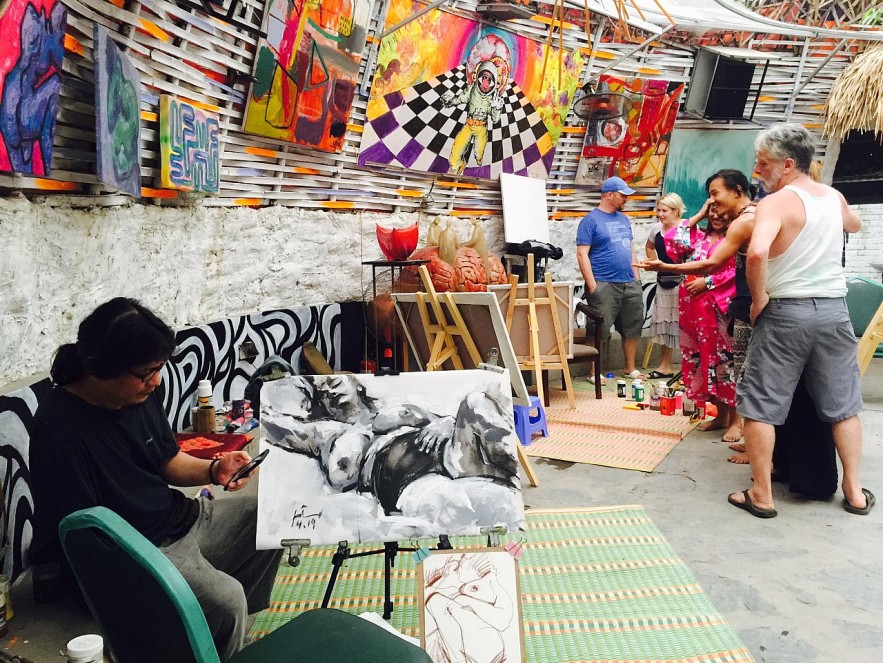 Vu Dinh Dinh's art class in Bamboo Westlake before Covid. Photo: Vu Dinh Dinh
Vu Dinh Dinh paintings are in private collections at home and abroad in countries such as France, Germany, England, etc.
Water is an exhibition that encourages art enthusiasts to be calm and transform during times of struggle and upheaval. The exhibition tells a wonderful story about how people's perspectives change when they face mental challenges.
Vu Dinh Dinh's Facebook page will keep you up to speed on his latest art creations and art classes in Bamboo Westlake.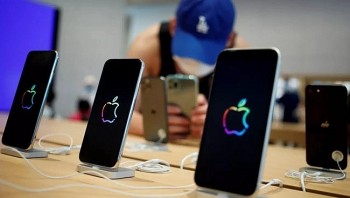 World
India exported iPhones worth $1 billion from May to September 2022, according to a Bloomberg report, but a closer look at the data shows the country is a long way from rivalling China's iPhone manufacturing chops