GNI supports Department of Child Affairs protect disadvantaged children
On April 2, the Korean non-governmental organization Good Neighbors in Vietnam (GNI) has signed a cooperation agreement with the Center of Consulting Services and Communication (Department of Child Affairs - Ministry of Labor, Invalids and Social Affairs) about the program to support child protection in the period 2021-2023.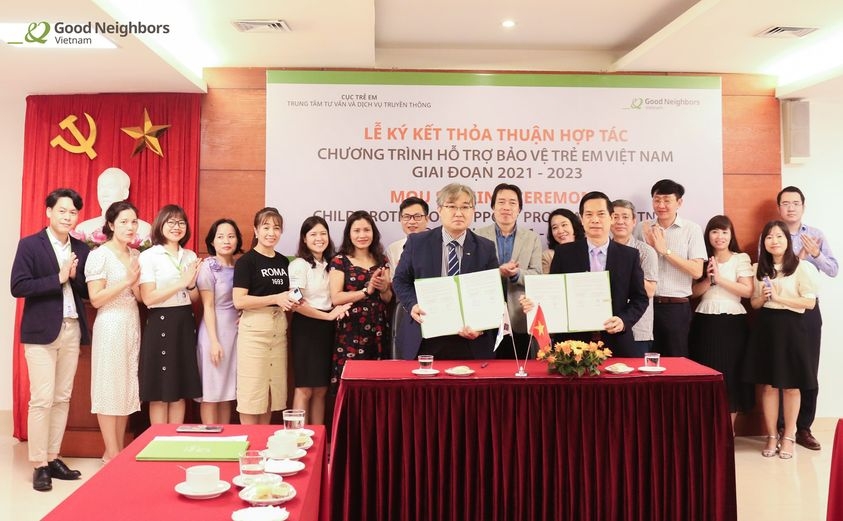 At the signing ceremony. Source: GNI
According to the cooperation agreement, the Center of Consulting Services and Communication will provide special support for children living in extremely economically disadvantaged families who cannot afford to protect children's basic rights; coordinate and connect stakeholders to intervene in some cases that need urgent assistance such as: children being sexually abused, trafficked, exposed to violence or affected by sexual abuse, etc.
They also will coordinate to organize workshops to share experiences on child protection in the Era Industrial Revolution 4.0 in Korea and other countries around the world. In addition, the two sides will jointly promote the National Hotline 111 on Child Protection in programs and activities of GNI in Vietnam; jointly organizing training programs, improve communication capacity about children for journalism and professional media units; producing communication products on child protection in new and suitable forms; promoting the humanitarian support activities of GNI.
Speaking at the signing ceremony, head of Department of Child Affairs Dang Hoa Nam highly appreciated the effective coordination of GNI in recent years.
Within the program to protect children in the period 2018-2020, GNI provided support and intervention for 54 cases with special difficulties in 10 provinces and cities of Vietnam, of which there were 89 direct beneficiaries, many of whom were victims of violence, abuse and other health problems, with total value of support was more than VND 294 million (USD 12,772).
Nam voiced his hope that Good Neighbors will continue sharing lessons learned from both successes and failures in other countries, especially in Korea about the child protection service system in the spirit of two-way communication.
In addition, GNI will strengthen social media cooperation on child protection work in the 4.0 era, as well as established the most practical child protection services in the one-stop form. At the same time, he asked the NGO continue to help Vietnam overcome difficulties in establishing a child protection service system.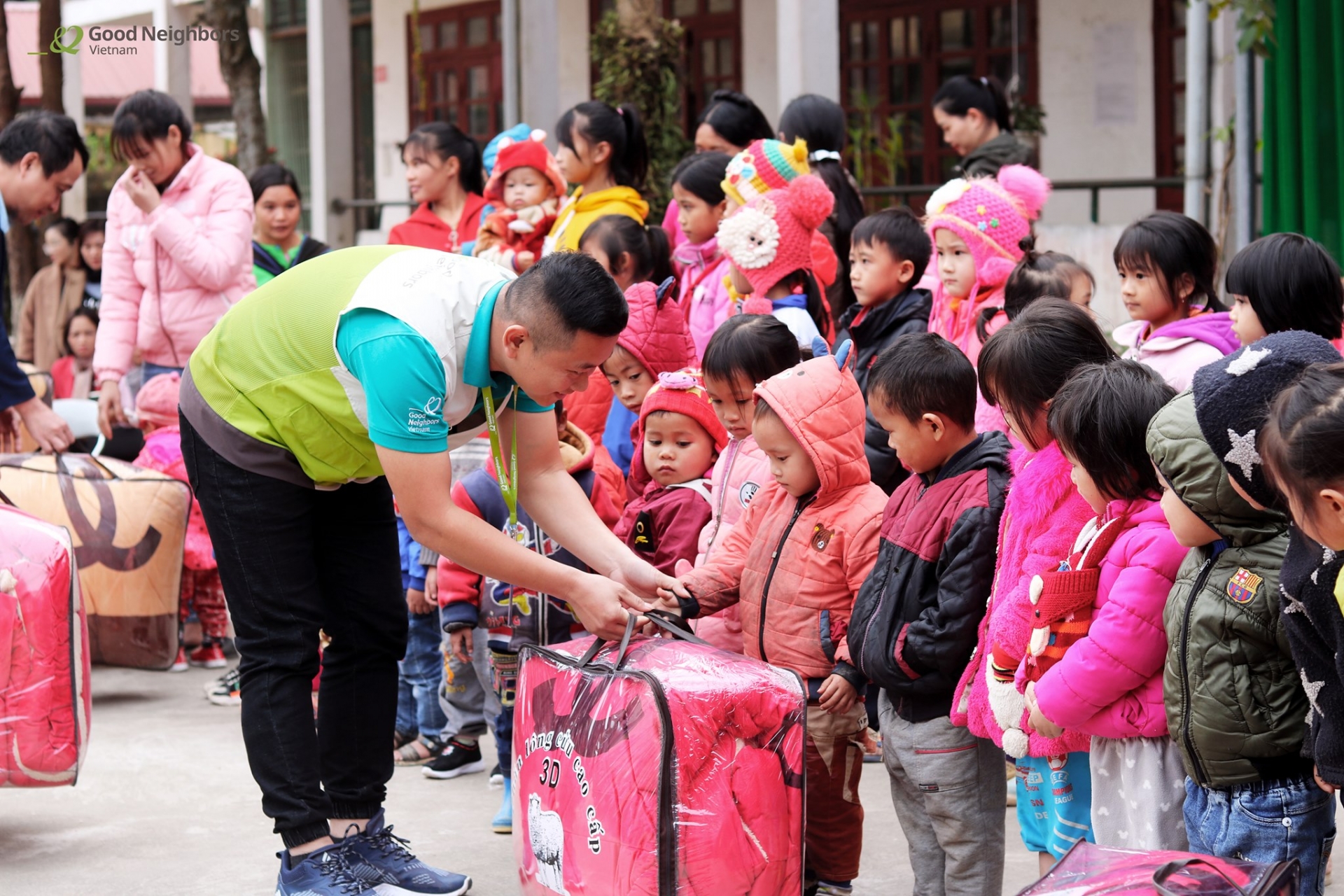 The Good Neighbors International (GNI) in Vietnam handed over children with difficulties in the Kindergarten and Primary school in Yen Binh town, Quang Binh district, Ha Giang province. Source: GNI
Park Dong Chul, GNI Vietnam Chief Representative said that the NGO always strives to mobilize resources to improve the quality of life of children and community people in the project areas.
Park pledged to continue to accompany and restlessly mobilize all resources to improve the living quality of children and people in project areas, thus contributing to implementing national strategies on sustainable development and social security for Vietnamese people.
Following the achievements of the period 2018 - 2020, Park affirmed that, Good Neighbors and the Department of Child Affairs will continue to accompany together in implementing the activities of the period 202-2023 with aims to strengthen ensuring the enforcement of children's rights in Vietnam, contributing to building a safe and healthy living environment for children, especially disadvantaged children and children in difficult circumstances in Vietnam.
Good Neighbors is an international, non-profit humanitarian organization that plans, implements and raises funds for the provision of services in child education, community development, health, sanitation, and disaster relief projects. Currently Good Neighbors has works in 37 countries, supporting approximately 17 million people, including about 10 million children. Good Neighbors Vietnam officially registered as NGO to People's Aid Coordinating Committee (PACCOM) on June 1, 2005.
Last year, GNI Vietnam celebrated its 15th anniversary celebration. It is implementing Community Development Projects (CDP) based on child sponsorship in four provinces: Ha Giang, Tuyen Quang, Hoa Binh and Thanh Hoa. GNI in Vietnam sponsors about 10,000 children and implements community development projects (CDP) in education, water & sanitation, income generation sectors in seven different areas of Vietnam.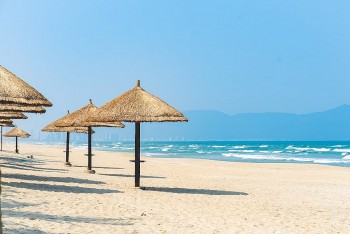 Travel
According to NZ Herald News, Da Nang beach is an ideal place to sunbathe during summer vacation.