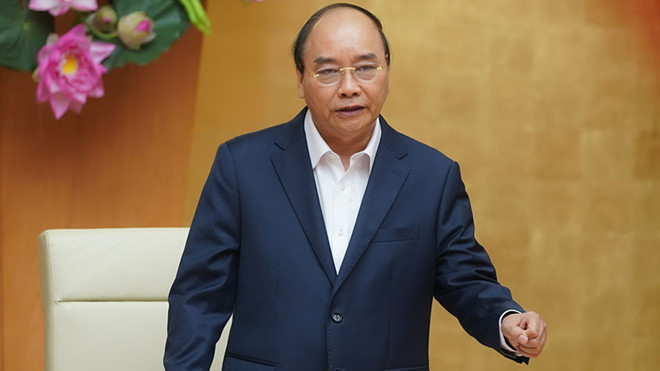 Prime Minister Nguyen Xuan Phuc. Photo: VGP
The Government chief underlined the point at a meeting on COVID-19 prevention and control in Ha Noi on April 20.
Prime Minister Nguyen Xuan Phuc said the country could start gradually loosening COVID-19 containment measures during a Government meeting in Ha Noi on Monday.
However, the decree of easing COVID-19 steps will only be decided on April 22, said PM Phuc while asking for continued implementation of measures agreed in the previous meeting (on April 15).
He warned that the virus transmission risk still remain high, thus all the political system and localities as well as citizens must continue following prevention measures, in which social distancing rule, applicable since April 1, has proved to be an important solution to staunch the virus.
Phuc also agreed with the Ministry of Health's proposals to increase export of face masks as the nation has had sufficient reserves.
Regarding repatriation of Vietnamese abroad, the PM assigned the ministries of health, foreign affairs, transport, and national defense to decide on number of flights carrying Vietnamese home on the basis of the developments of the COVID-19 pandemic, the requests of the Vietnamese citizens, and the domestic quarantine capacity .
He tasked Chairmen of provincial-level People's Committees to take proper containment measures applicable for each of their villages, communes and districts in accordance with the levels of the virus infection risks.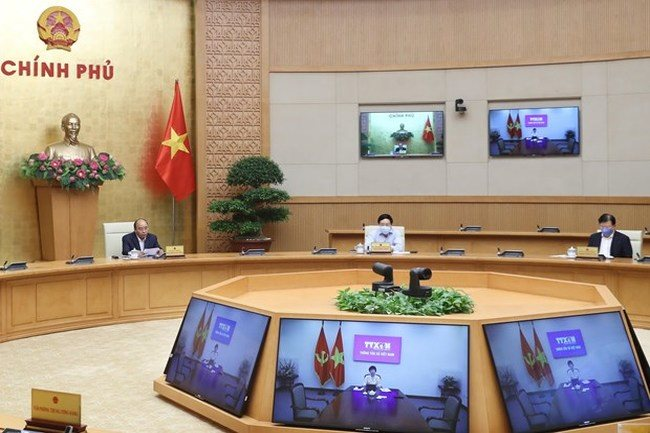 The Government leaders and members seat themselves far apart while attending a meeting on Covid-19 fighting on April 20. The nation is expected to loosen social distancing measures soon - PHOTO: VNA
At a meeting earlier the same day, the National Steering Committee for COVID-19 Prevention and Control said Vietnam has "basically" met the demand for confirmatory testing for COVID-19.
Across the country, 111 laboratories are now capable of diagnosing the novel coronavirus by using real-time RT-PCR technology.
Among them, 39 have been given the go-ahead to conduct confirmation tests, including 22 central-level healthcare establishments and hospitals, 14 centres for disease control (CDCs), and three other units outside the health sector. Their maximum capacity is 13,000 samples per day.
The committee said the World Health Organisation (WHO) has provided Vietnam with about 10,000 test kits, and is considering the provision of 40,000 real-time RT-PCR kits made in Germany. Meanwhile, domestic firm Viet A has distributed more than 70,000 test kits to labs.
The Ministry of Health has also allocated 40 rapid testing machines and over 30,000 accompanying kits, along with 140,000 biological products produced by Viet A for real-time RT-PCR tests.
Vietnam sees 5 consecutive days without new infection cases and the total number of recovered patients rose to 214 out of the total 268
Tarah Nguyen