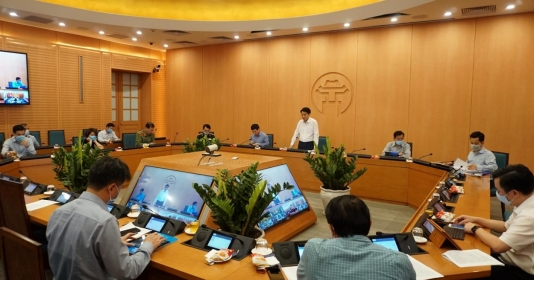 The meeting by Hanoi steering committee on Monday afternoon April 20 (Photo: phapluattuoitrethudo)
Citizens should not be subjective in the disease development
The city Chairman Nguyen Duc Chung made an analysis on Case 188's situationconfirmed positive for Covid-19 again after being discharged from hospital and also tested negative at her second hospitalization in the meeting's conclusion on Monday afternoon.
Chung said that the phenomenon considered normal due to no vaccine curing completely the virus till now. Currently, scientists have also identified viruses existing variants, the use of new drugs only boosts immunity, antibodies, and viruses can still be in the body and rise again.
Therefore, according to him, patients who had been confirmed negative after treatment and discharged from hospitals should be consecutive in 14 day quarantine at home. "This keeps 100% for sure. The city also encourages positive cases after treatment to be kept safely 30 day in quanratine at home" said Chung.
Regarding repatriates from overseas leaving central quanrantine areas should be instructed to be isolated at home for 14 days by local authorities or under longer isolation, because those can transmit the viruses unknown to them.
"This situationwill be seen until end of April 22, Hanoi - the country hotspot- will loosen its risks with no new case records. The city will launch a new announcement for social distancings but not all them lifted, especially in high risk places such as Me Linh or Thuong Tin...We must not be subjective in the disease development, still implement well preventations in case incubations and infections last more than 30 days..." said him.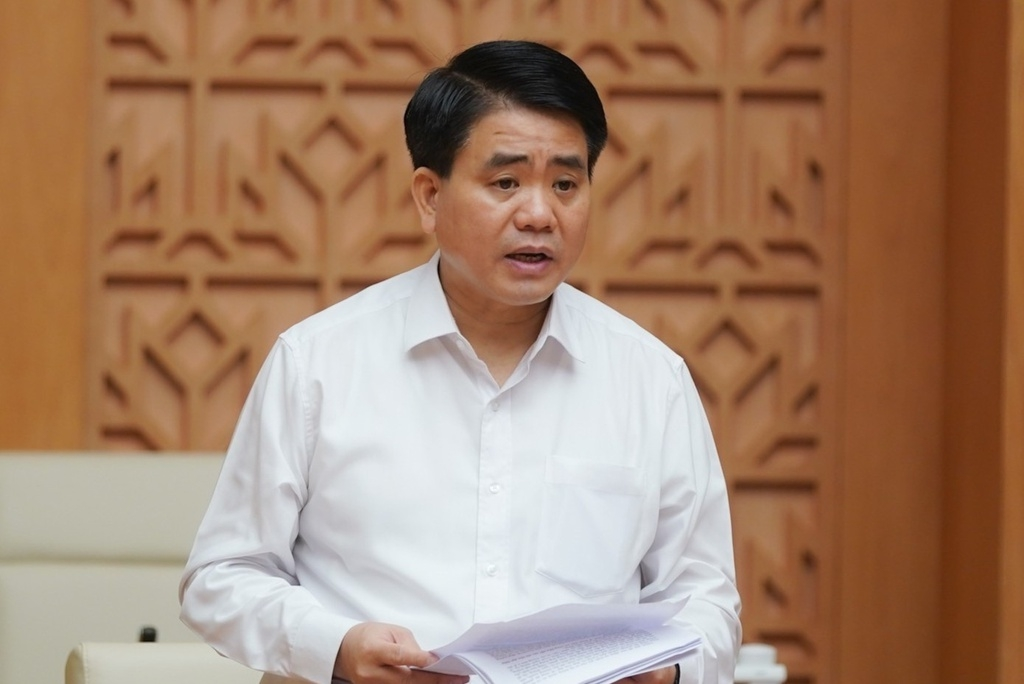 Hanoi Chairman Nguyen Duc Chung (Photo: VGP)
People are warned not to do excercise outdoor
The chairman requests the city's continuous propagandas for serious implementation of PM's and his derectives , strictly handle non-essential stores' reopening as well as outdoor no -mask wearing people. Besides, inspection for dining, massage and karaoke shops must be strengthened and people are warned not to go out for doing exercise.
Chung took some Belgian experts' analyses of high-risk droplets in public places to warn people about Covid-19 infectious possibilities in public excercise areas.
He shared that: "We understand people's inconvenience for social distancing but we need to adapt it for our and the society's safety".
Hanoi students are enabled to return schools in the first half of May
In the meeting, the city's Vice president Ngo Van Quy said that the city continues the 16/CT-TTg Directive's implementation until April 22. Accroding to him, the city party secretaty Vuong Dinh Hue proposed to the government on Monday morning loosings to the social when no new cases and hotspots seen.
Regarding students' school returning, Quy said "Students are planed to return their schools in the first half of May when situations look better. We have adjusted school year' schedules for students back to schools in necessary and sufficient conditions. The city will announce its derective for more instructions".
Tarah Nguyen