Hanoi, Ho Chi Minh City propose to ease social distancing order 
Vietnam's two largest cities have proposed to the government to not extend the social distancing order after April 22 to return the normal life as COVID-19 combat has shown positive signs.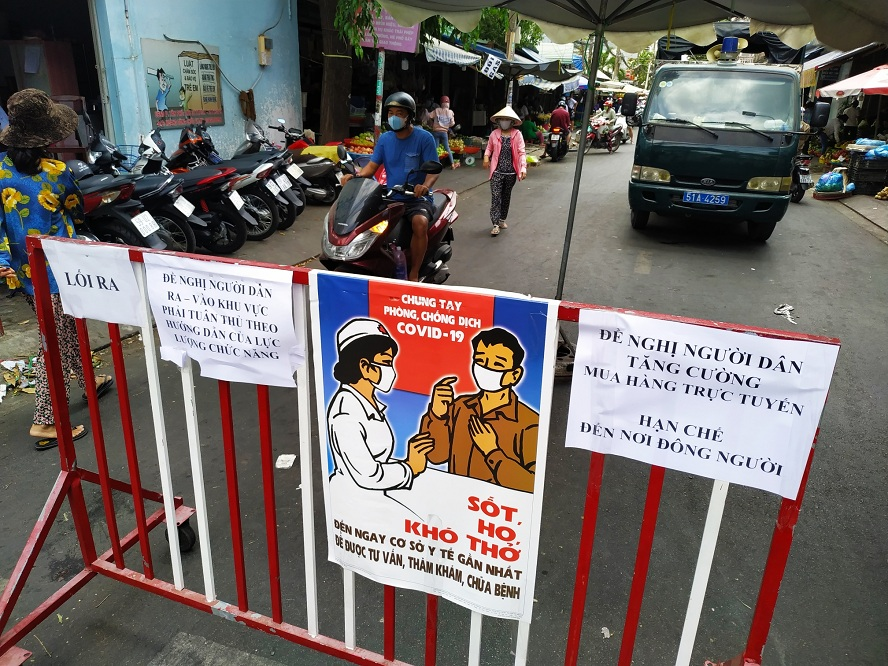 Illustrative photo by Hanoimoi.
Deputy Chairman of Hanoi People's Committee Ngo Van Quy, at the meeting with Prime Minister Nguyen Xuan Phuc and other cities and provincial leaders on COVID-19, affirmed that the situation of COVID-19 pandemic in the city is "basically controlled". As a result, he suggested that the city should be listed out of the high-risk group, eased the social distancing campaign and follows the Directive 15 rather than Directive 16 if there is no COVID-19 case detected until April 22.
Directive 16 orders the current nationwide social distancing campaign, Directive 15, issued March 27 by Prime Minister Nguyen Xuan Phuc, asks localities across the country to stop social events, gatherings of over 20 people in a place and gatherings of 10 people or more outside workplaces, schools and hospitals.
The epidemic hotspot Ha Loi village in Me Linh district is quarantined as a precaution when new cases discovered.
Over the past two days, Hanoi has also conducted over 1,000 COVID-19 tests on traders of the five largest markets in the city, which then show negative results for all.
The city also demands the Ministry of Health and other relevant soon to provide specific guidance on ensuring health safety at agencies, units, factories, construction sites and other types of business activities.
"This means that Hanoi has basically not found any new sources of COVID-19 infection in the community," Quy said.
However, he noted that people should remain vigilant because Hanoi is still a "high-risk" city.
Proposed to gradually resume social activities
At the meeting, Mayor of Ho Chi Minh City Nguyen Thanh Phong cited that the metropolis has recorded no new COVID-19 cases over the last 20 consecutive days and just has three COVID-19 patients who are being treated.
"That means, Directive 16 is one of the vital factors that contribute to the success of COVID-19 prevention and combat in the city," Phong affirmed.
For his part, Ho Chi Minh City will continue to maintain the operation of the rapid respondent forces in all levels from the city to districts, communes, and wards to examine the social distancing order implementation.
The city also arranges functional forces to sit by at several markets to track and penalized people who violate the social distancing order or do not wear facemasks in the public.
Phong said that the city is creating conditions for the development of the economy when the social distancing order is expired.
Some low-risk and small-scale business industries are allowed to operate first on a pilot basis. If the results are good, others will follow. For large-scale industries, the pilot period will last 30 days. Depending on the development of COVID-19, the city will adjust the pilot period and authorize business operations accordingly.
Prime Minister Nguyen Xuan Phuc decided to extend social distancing order on some localities in Vietnam including two biggest cities Hanoi and Ho Chi Minh City at least until April 22.
As many as 63 provinces and cities were divided into three groups including high- risk, low-risk and deem to having risks of the COVID-19 virus spreading according to some criteria such as traffic hubs, circulation density, borders, where people had contact with foreigners, population density, numbers of factories and industrial zones among others.
Hanoi and Ho Chi Minh City belonged to the high-risk group that required people to follow strictly the social distancing order, however, keep paying attention to the manufacturing, infrastructure building, creating favorable conditions for goods transportation for people.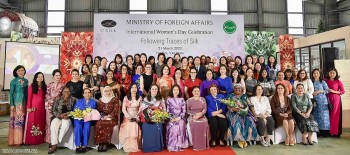 Friendship
Female ambassadors, representatives from diplomatic corps and international organizations, along with spouses of diplomats in Vietnam gathered together to find about more about silk weaving and silk products in Vietnam.