WHO encourages Vietnam to step up COVID-19 containment measures
The World Health Organization (WHO) on Saturday incentivizes Vietnam Government to take even tougher measures to curb the COVID-19 spreading and plan essential activation in the worst-case scenario.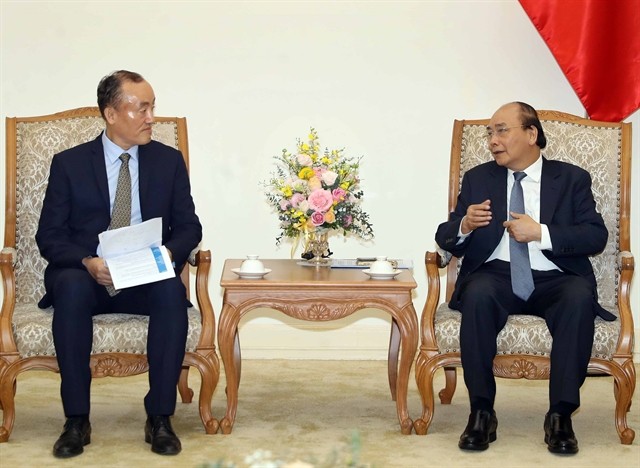 PM Nguyễn Xuân Phúc (right) discusses with Park Ki-dong, WHO Representative in Việt Nam, on the country's measures to contain COVID-19 outbreak. (Photo: VNA)
Dr. Kidong Park, the WHO Chief Representative in Vietnam, made the statement during a meeting with Prime Minister Nguyen Xuan Phuc in Hanoi on March 14.
PM Phuc thanked the WHO Representative for the organization's close coordination with the country in terms of epidemic prevention and control, whilst praising the efforts and contributions of the WHO to the nation. The government leader singled out the Chief Representative for special praise thanks to his policy advice and technical assistance to the nation in recent times.
Dr. Park stated his appreciation for the Vietnamese government's leadership, active involvement, and proper investment in the fight to combat the epidemic, adding that the WHO has been greatly impressed by the co-operation of all Vietnamese people in COVID-19 prevention efforts.
Moreover, the WHO representative has also been impressed by the two strategies implemented by the government and the Ministry of Health, with a particular focus on four on-site isolation principles.
It is hoped that the WHO will provide the country with the latest information regarding the disease, any scientific and technological advances, in addition to the best treatment equipment such as quick test kits.
The WHO guest pledged to work closely alongside the Ministry of Health of Vietnam in order to mobilize all necessary resources in support of the country's efforts to combat the spread of the COVID-19 epidemic.
Regarding a potential vaccine for the COVID-19, the WHO has been co-operating closely with partners and vaccine producers, underlining the importance of being able to mass-produce any breakthrough vaccination in the future. Dr. Park also elaborated that Vietnam's vaccine production capacity is able to meet requirements.