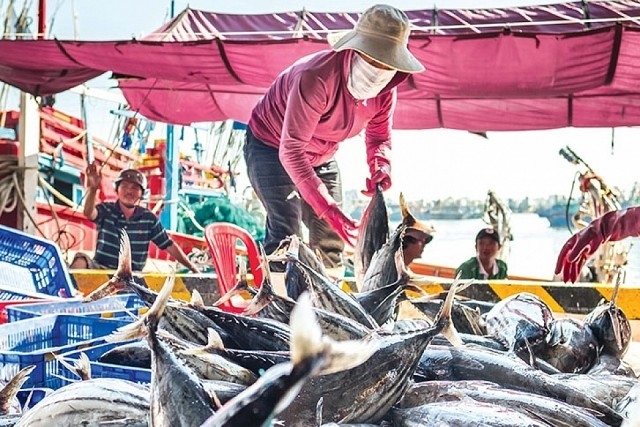 Vietnam's seafood falls in grades because of IUU yellow card. Photo: VASEP
Under the five-year plan, the Government targets to effectively control and deter IUU fishing activities of fishing boats and vessels seeking to enter and use Vietnamese ports to land and transship fish.
Vietnam will coordinate with the member countries and international community in managing, preventing, detering and eliminating IUU activities in accordance with regional and international regulations, contributing to ensuring global food security.
The Southeast Asian country will also roll up sleeves to remove the "yellow card" warning on Vietnamese seafood based on the recommendations of the European Commission.
In order to achieve the above targets, the Government will step up improving awareness of businesses, vessel owners, captains and fishermen through occupational training programs.
Coordinating regulations for actions of competent agencies and authorities will also be put in place to timely detect and handle violations of the measures enshrined in the agreement.
The Government will also review and name designated ports for foreign-flagged vessels to land and improve the legal framework to ensure effective enforcement of the agreement.
In October 2017, the European Commission (EC) issued a "yellow card" warning to Vietnam due to the country's failure to demonstrate sufficient progress in the fight against IUU fishing.
Countries that fail to meet EC standards are given a "yellow card", followed by a "green card" if the problems are resolved, or a "red card" if they are not. A red card can lead to a trade ban on seafood./.
VGP
VGP