MARD: China's fishing ban in East Sea carries no weight whatsoever
The Vietnamese Ministry of Agriculture and Rural Development (MARD) on May 11 said that China's suspension of fishing in waters within Vietnam's sovereignty in the East Sea carries no weight whatsoever.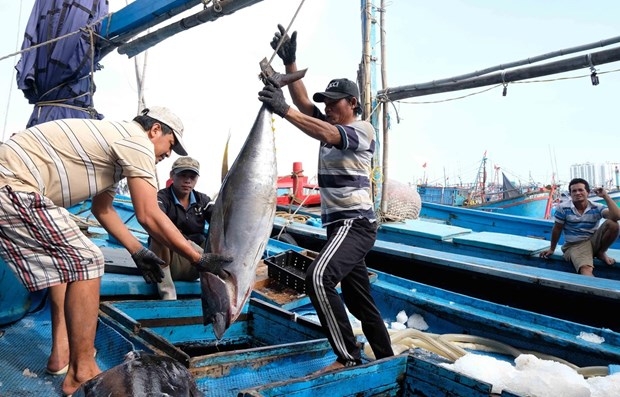 Illustrative image. Photo: VNA
According to VNA, in a document sent to the People's Committees of coastal cities and provinces, the ministry said the Chinese Bureau of Fisheries is implementing the suspension of fishing from 12am on May 1 to 12am on August 16 in various waters, some of which are within Vietnam's sovereignty in the East Sea.
The cities and provinces were required to encourage fishermen to continue fishing in Vietnam's waters and to ask them to go fishing in groups to support each other.
Vessels licensed to go fishing in the Gulf of Tonkin's joint fishing area during 2019-2020 are not allowed to move to the east of the Gulf of Tonkin delimitation line.
Authorities of the cities and provinces must direct competent agencies to enhance management and inspections over the exploitation of fisheries products in waters, especially the departure times of fishing vessels.
Localities must promptly report contingencies relating to fishing vessels and fishermen to the hotline of the Vietnam Fisheries Resources Surveillance, at 024 6273 7323.
The East Sea is internationally known as the South China Sea.
On April 30, the Hainan Provincial Department of Agriculture announced that China's annual fishing ban on the South China Sea has begun on May 1 and would last until August 16, Chinese news agency Xinhua reported, citing the South China Sea branch of the China Coast Guard.
The ban would apply to certain sea areas of the South China Sea that encompass parts of the Gulf of Tonkin and Vietnam's Hoang Sa (Paracel) Islands.
The Vietnam Fisheries Society has opposed China's unilateral decision, saying Vietnamese fishermen are not legally bound to abide with legitimate rights to fish in Vietnam's territorial waters. Meanwhile, Vietnam's Foreign Ministry also expressed clear opposition and asked Beijing not to complicate the situation further.
As a littoral country and a signatory of the 1982 United Nations Convention on the Law of the Sea (UNCLOS), Vietnam has sovereignty, sovereign right and jurisdiction over its waters as defined in the UNCLOS and enjoys other legitimate rights and interests at sea in accordance with the provisions of the UNCLO, Foreign Ministry spokeswoman Le Thi Thu Hang said on May 8.
In Manila, local fishery organizations also called on the Philippine government not to give in to "China's bullying."
"The Philippine government should not waste time and wait for Chinese maritime officers to arrest our fishermen," said Fernando Hicap, chairman of the National Federation of Small Fisherfolk Organizations.
"They have no right and moral ascendancy to declare a fishing ban in the guise of conserving fish stocks in marine waters that they have no legal claim, and they have massively destroyed through reclamation activities."
According to the South China Morning Post, China first introduced a seasonal ban in the waters in 1999, saying it would help sustain fishing resources in one of the world's biggest fishing grounds.
US NAVY SENDS SHIPS TO SCENE OF CHINA-MALAYSIA MINERAL RIGHTS DISPUTE
A pair of US Navy ships sailed to the scene of a mineral rights dispute between China and Malaysia in the South China Sea, according to the news service of the US Naval Institute.
USNI News said the littoral combat ship USS Montgomery and replenishment ship USNS Cesar Chavez conducted a patrol on May 7 near the Panamanian-flagged drill ship West Capella, which has been contracted by Malaysian state oil company Petronas to conduct surveys within Malaysia's exclusive economic zone.
Chinese navy and coast guard vessels have been shadowing the drilling ship.
In late April, US and Australian ships conducted drills near where a Chinese government survey ship, Haiyang Dizhi 8, was reportedly operating under the protection of Chinese coast guard ships.
On May 8, the US Pacific Fleet commander, Adm. John Aquilino, said China must cease "bullying Southeast Asians out of offshore oil, gas, and fisheries."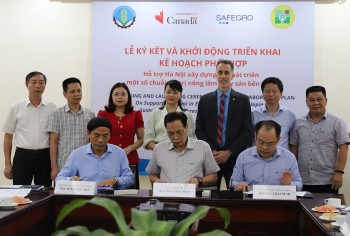 Make in Vietnam
As Vietnam furthers its international intergration, building agro-forestry-fishery high value chains is crucial for the sustainable development of the agriculture sector.