Vietnam objects to China's recent fishing ban in East Sea
Vietnam resolutely rejects China's unilateral decision to ban fishing in the East Sea, Vietnamese Foreign Ministry spokesperson stressed, adding that Vietnam has sufficient historical and legal evidence to assert its sovereignty over the Paracel (Hoang Sa) and Spratly (Truong Sa) archipelagoes in the East Sea ( internationally known as
South China Sea
).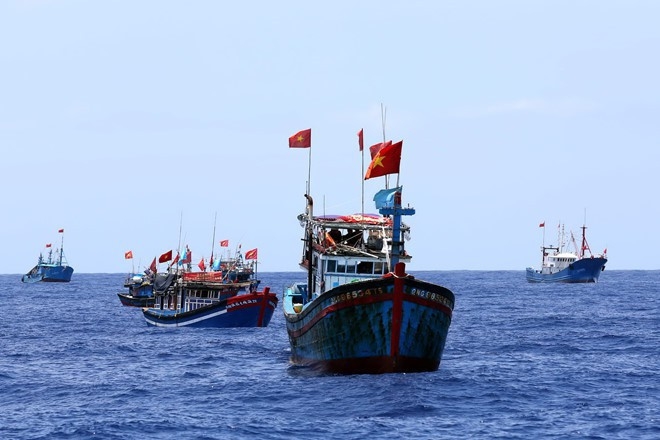 Vietnamese fishermen operate at the Hoang Sa fishing ground. (Photo: thanhnien.vn)
According to VOV, FM spokesperson Le Thi Thu Hang made the statement on May 8 while answering reporters' query regarding China's fishing ban in the East Sea (South China Sea) from May 1 to August 16 2020.
As a country along the East Sea and a member of the 1982 United Nations Convention on the Law of the Sea (UNCLOS), Vietnam has sovereignty and jurisdiction in its territorial waters established in accordance with the Convention, and has the right to enjoy other legitimate interests at sea as stipulated in the Convention, the official said
The country resolutely rejects China's unilateral decision to ban fishing in the East Sea. In the current of the current international and regional situation, Vietnam requested the Chinese side not to further complicate the situation in the East Sea, the spokesperson added.
Last week, Chinese media has announced China's annual summer fishing ban in the waters north of the East Sea to run from May 1 to August 16, covering a part of the Gulf of Tonkin and Vietnam's Hoang Sa (Paracel) archipelago.
The Vietnam Fisheries Society also has strongly protested China's illegal decision to ban fishing in the East Sea in 2020, which Vietnamese fishermen are not legally bound to abide with legitimate rights to fish in Vietnam's territorial waters.
The Society said China's regulation violates Vietnam's sovereignty over the Paracel archipelago, Vietnam's legal rights and interests over its waters, and international laws, including the 1982 UNCLOS.
It inhibits fishing activities of Vietnamese fishermen, the Society added.
China has been issuing similar fishing bans every year in recent times and Vietnam has always condemned them.
China had seized the Paracel Islands from what was then South Vietnam by force in 1974, and has since been illegally occupying them.
In 2012 it established the so-called Sansha City with the archipelago's Woody Island as its seat.
The "city" also covers a number of reefs in the Spratly Islands that China seized by force in 1988 and the Scarborough Shoal.
The unilateral fishing ban follows several actions from China have led to a more complicated and tense situation in the East Sea amid the COVID-19 situation./.