The Arava International Center for Agriculture Training (AICAT) in Southern Israel on June 14 held a graduation ceremony for Vietnamese students and their peers from 10 other countries who finished their training course on agriculture of the 2018-2019 school year.
Addressing the ceremony, First Secretary of the Vietnamese Embassy in Israel Khuat Van Quyen said the 11-month course was very useful to the trainees, most of whom come from countries with developing agriculture, as it provided an access for them to the modern agriculture of the host country.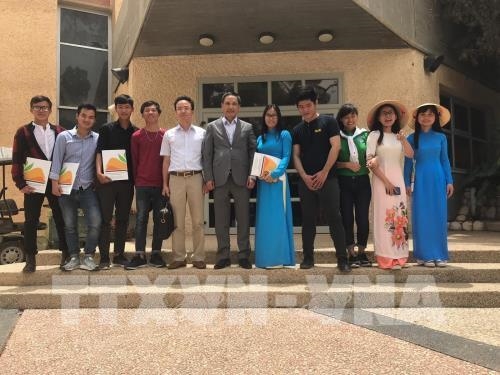 Ambassador Do Minh Hung (C) and Vietnamese students in a group photo
The official further said the host side plans to bring in more students from Vietnam next year to study and work in agriculture, adding that he hopes to help the trainees after they come back to the country through agriculture projects hosted by the Israel government and the agency.

Many trainees said they have learned a lot of experiences in the field of management and business after the course. Besides, they also spoke highly of Israel's agriculture technology as well as the lifestyle of local farmers.

Earlier, another ceremony was held at the Ramat Negev agriculture center in the Central part of Israel, with the participation of Ambassador Do Minh Hung who thanked the Israeli side for holding the course.

The diplomat added that the work has contributed to the development of the relations of friendship and mutually beneficial cooperation among countries, and affirmed that the two sides will maintain their close coordination in the time to come.