Great Potential for Vietnam – India Business Cooperation, says NA Chairman
National Assembly Chairman Vuong Dinh Hue attended and delivered a speech at a ceremony marking the 5th anniversary of the Vietnam-India comprehensive strategic partnership in New Delhi.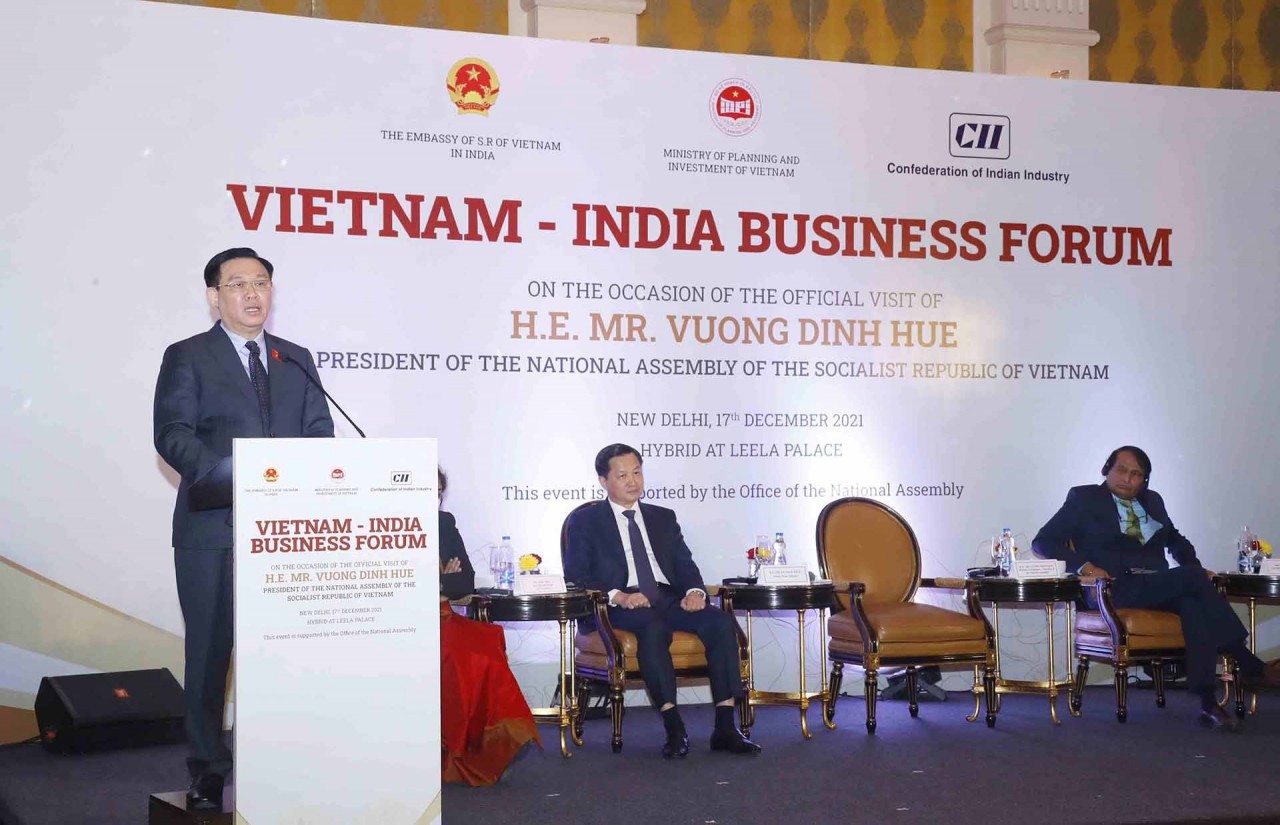 "Vietnam and India still hold great potential for stronger cooperation in various areas, especially in economy, trade and investment which are yet to be fully exploited over the years," said National Assembly Chairman Vuong Dinh Hue at the forum. Photo: Bao Quoc Te
Attending the forum were Deputy Prime Minister Le Minh Khai, leaders of the Office of the National Assembly, some committees of the National Assembly, government members, leaders of some localities of Vietnam and Vietnamese business delegations.
On the Indian side, the attendees were Mr. Chandrajit Banerjee - Chairman of Confederation of Indian Industry (CII); Mr. Anurag Jain - Deputy Minister of Industry and Trade of India; Mr. Amitabh Kant - Director General of the National Transformation Commission of India; Mr. Suresh Prabhu - Senator, former Indian Minister of Industry and Trade and representative of about 150 businesses with more than 200 entrepreneurs, including large corporations such as ONGC, Essar, Hinduja, Bharat Biotech, Adani.
Great potential for Vietnam – India business cooperation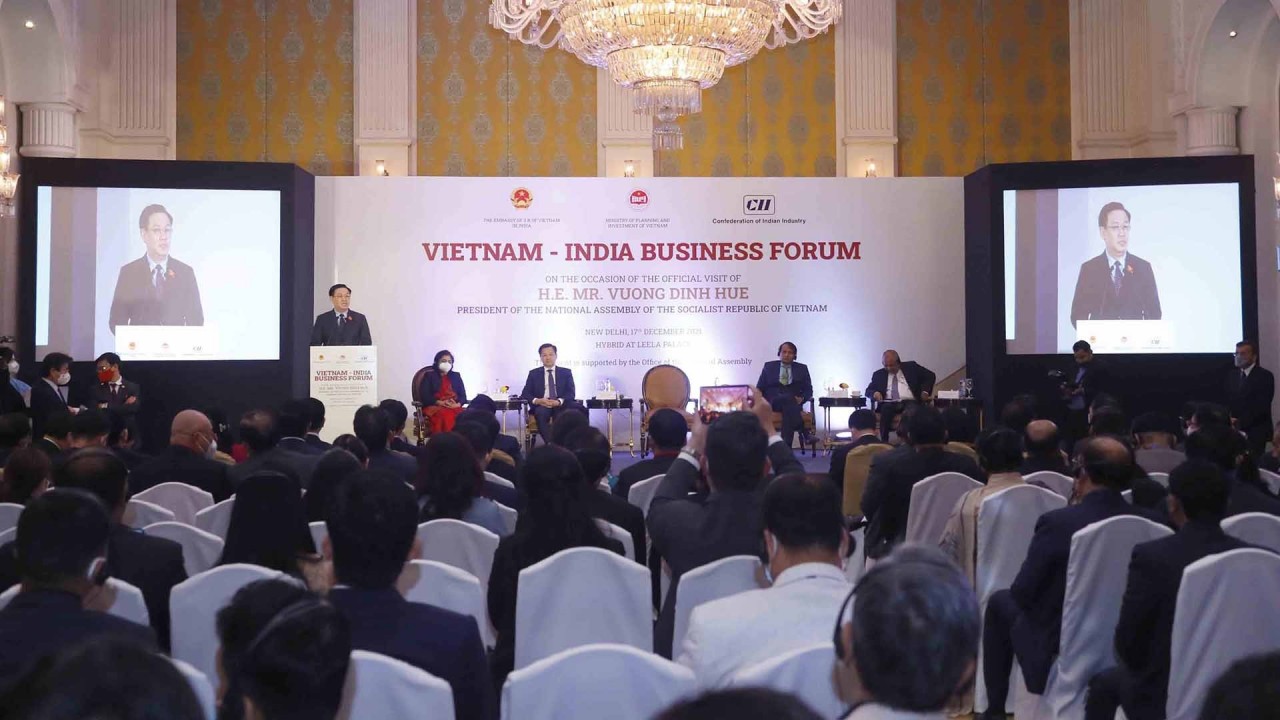 Photo: Bao Quoc Te
Vietnam National Assembly Chairman Vuong Dinh Hue spoke at a Vietnam – India Business Forum in New Delhi on Dec. 17, 2021, shared his gratitude towards the Minister of External Affairs of India.
He quoted statistics saying that the two-way trade turnover between Vietnam and India has grown by an average of 20% per year and is expected to reach US$13 billion this year despite the impact of the COVID-19 pandemic.
"When Indian businesses invest in Vietnam, they invest in a market of almost 100 million consumers with a young population and a rapidly growing middle class," analyzed Hue. "Vietnam has signed 17 bilateral and multilateral free trade agreements, including the EU-Vietnam Free Trade Agreement (EVFTA), Comprehensive and Progressive Agreement for Trans-Pacific Partnership (CPTPP) and Regional Comprehensive Economic Partnership (RCEP)."
However, he pointed out India has so far poured less than US$1 billion into investment projects in Vietnam, a modest figure compared to more than US$400 billion the country has attracted from 141 countries and territories globally. Moreover, there are not many Vietnamese businesses investing in India.
"This is not commensurate with the long-standing traditional friendship and the good, reliable comprehensive strategic partnership between the two countries," said Hue.
He expressed to see following this forum there would be a wave of Indian investment into Vietnam and vice versa.
Moreover, he said Indian businesses also have access to the large market of ASEAN, the sixth largest economy in the world with approximately 650 million consumers.
"Vietnam has a very large market with a fairly synchronous legal system, a system of policies on investment incentives and investment protection that meet high standards both regionally and globally," he stressed.
"Vietnam always improves its investment and business environment to create the best and most favorable conditions for businesses to successfully do business in the country."
India is Vietnam's major power and traditional friend
According to Hue, there remains a lot of room for business cooperation between the two countries that are working towards a green economy and a circular economy. He suggested that businesses of the two countries increase cooperation in the fields of pharmaceuticals and technology transfer for vaccine production.
"Viet Nam considers India as both a major power, with increasing role and prestige in the world, and a close traditional friend. Our bilateral ties have constantly stood the test of time, kept up with the prevailing trends of the time and fulfilled the aspiration of our peoples. I believe that this grand celebration of the 5th anniversary of our Comprehensive Strategic Partnership bears great significance, kickstarting a series of upcoming events to commemorate the 50th anniversary of diplomatic relations and the 75th Independence Day of India in 2022," stressed Hue.
Former Minister of Commerce and Industry Senator Suresh Prabhu and Director General of the Confederation of Indian Industry Chandrajit Banerjee stressed that the Indian Government is carrying out the Look East Policy and Vietnam is one of the important partners of India in Southeast Asia.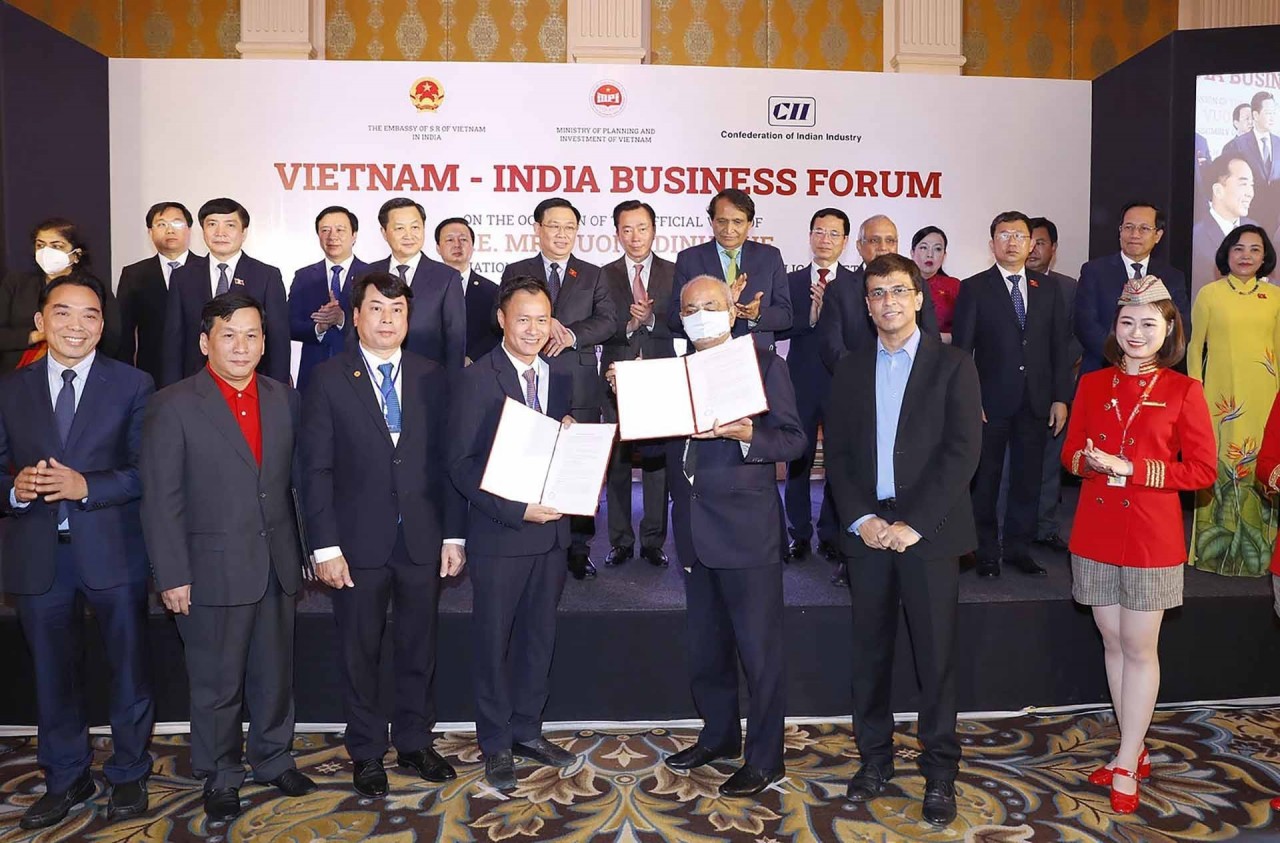 On the occasion, National Assembly Chairman Hue witnessed the exchange of 12 bilateral cooperation agreements in workforce training in information technology, oil and gas processing, and energy. Photo: Bao Quoc Te
Friendship
In Da Nang, the Vietnam-Laos Solidarity and Friendship Year 2022 was celebrated on July 2. Collectives and individuals of the Lao Women's Union were also awarded medals of Vietnam.