2023 World Travel Awards
Ha Giang Named in Asia's Leading Emerging Destination
The northern mountainous province of Ha Giang has jaw-dropping landscapes as well as a kaleidoscope of cultural traits
The northern highlands province of Ha Giang has been named Asia's leading emerging destination, VNA cited Vice Chairman of the provincial People's Committee, Tran Duc Quy.
Vietnam's Ha Giang Province is Asia's Leading Emerging Destination
At the World Travel Awards (WTA) 2023 held in Ho Chi Minh City this week, the northern mountainous province which is famous for its dangerous mountain passes beat nine other rivals to the honor, Bandar Seri Begawan in Brunei, Flores in Indonesia, Koh Kood in Thailand, Melaka in Malaysia, Morioka and Okinawa in Japan, Phnom Penh in Cambodia, Sumba Island in Indonesia, and Taipei in Taiwan.
"Asia's leading emerging destination" is an important category in the WTA, focusing on evaluating related criteria such as environmental landscape, cultural identity, heritage values, security, safety, and civilized friendly people, and experiences.
Being honored at the award known as the "Oscar of the world tourism industry", Ha Giang's image has been enhanced, affirming its important and solid position on the regional tourism map, Quy said. The award is a clear testament to the efforts that the Ha Giang tourism industry has made.
According to the provincial official, the province has mobilized resources to develop its tourism, improve tourism linkages with other localities in Vietnam and promote its tourism on digital platforms.
According to the provincial Department of Culture, Sports and Tourism, the province attracted about 2.3 million visitors in 2022 and posted tourism revenue of over VND 4.5 trillion (USD 187 million).
In the first eight months of this year, it welcomed more than 1.9 million visitors including nearly 189,000 international visitors. Total tourism revenue was estimated at nearly VND 4 trillion (USD 166.2 million).
Ha Giang tourism has been developing in a sustainable way, turning the province into an attractive destination for domestic and international tourists and gradually becoming a key economic sector of the province.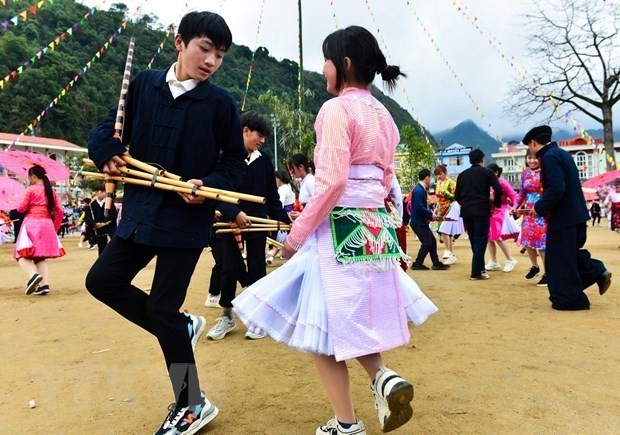 Ha Giang province houses many ethnic groups, with Mong people forming the largest among them. Photo: VNA
Ha Giang is an old land, home to more than 20 ethnic groups, the Mong, Tay, Dao, Nung, and Giay, who have their own traditional culture, lifestyle and customs, plus exciting festivals for visitors and researchers.
Living together for generations in Ha Giang province, the 19 local ethnic minority groups have spared no effort in preserving their cultural values. Such rituals and ceremonies as "Nhảy lửa" (fire jumping) of the Dao and Pa Then people, "Cấp sắc" (maturity ritual), and the Gầu tào Festival have now become a magnet for tourists keen to discover ethnic minority cultures.
The region embraces many historical relics and majestic landscapes, such as the Heaven Gate, the Quan Ba double mountains in Quan Ba district; the Mong King's Vuong Palace, the Lung Cu National Flag Pole in Dong Van district; the Ma Pi Leng Pass in Meo Vac district; and picturesque terraced fields in Hoang Su Phi, and more. They attract many visitors to come for fun or for research.
In 2010, the Dong Van Karst Plateau in Dong Van district was officially recognized by UNESCO as a global karst geo-park, the first of its kind in Vietnam and the second in Southeast Asia (after the Langkawi Park in Malaysia).
In 2012, the terraced rice fields in Hoang Su Phi District were listed among Vietnam's national relics, and later in 2015, it became a national intangible cultural heritage. With its natural resources, Ha Giang Province obviously has many tourist sites of significant value.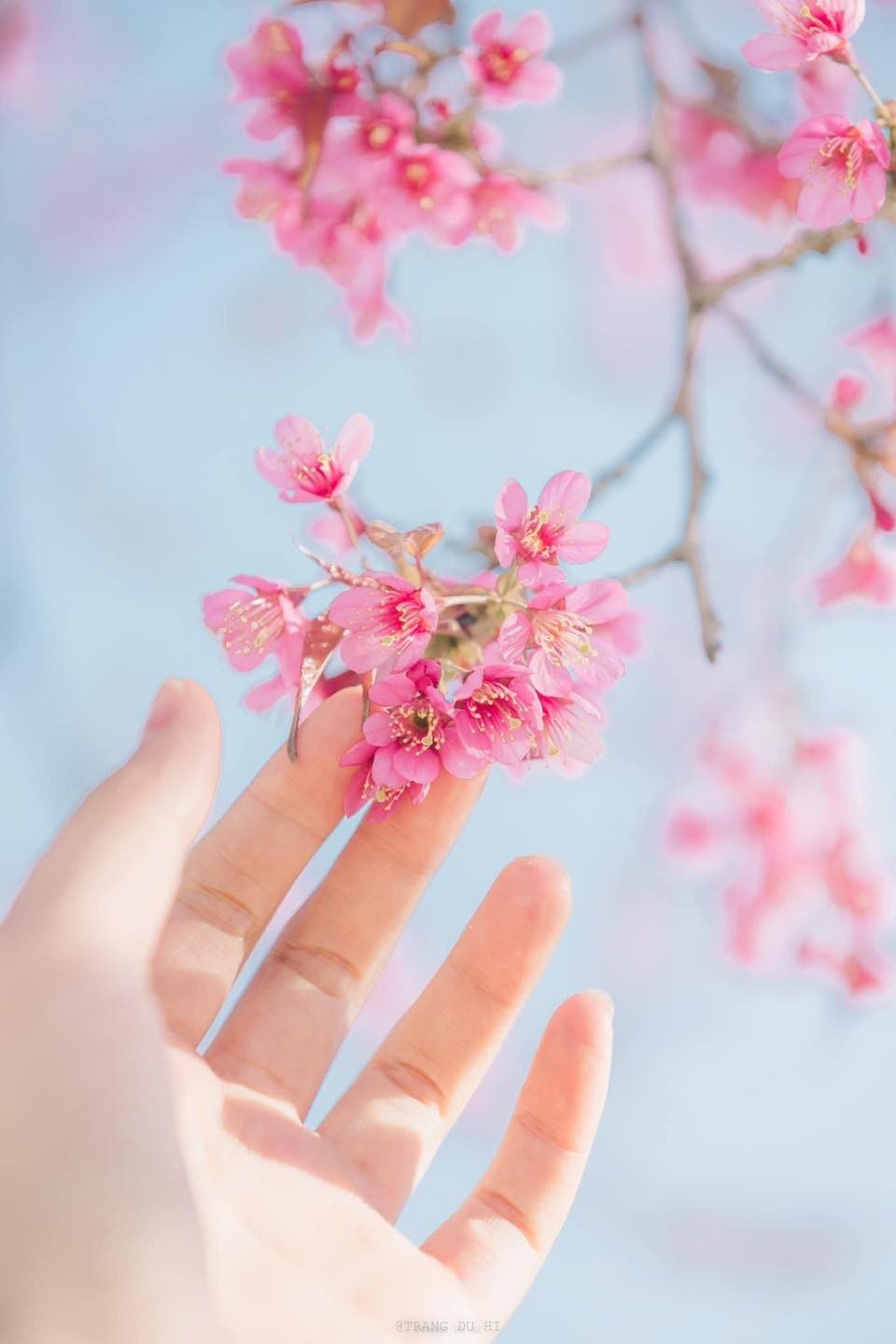 A closer look of Ha Giang peach blossoms. Source: Trang Pham
Visitors to Ha Giang will be immersed in an atmosphere of wild and magnificent beauty with ranges of rugged rocky mountains stretching far beyond the eye, the terraced rice fields looking like paintings which are shining with a golden color during harvest time, or sparkling in water during the field-watering time. Amid the up and down mountainous slopes are grounds of beautiful violet buckwheat flowers. Here and there are houses-on-stilts of the local ethnic residents resting so peacefully with cooking smoke from the kitchens covering the dark green mountains in the later afternoon.
The Dong Van Karst Plateau is located at the height of 1,000-1,600m above sea level, covering the four districts of Quan Ba, Yen Minh, Dong Van, and MeoVac with a total area of over 2,300 km2. According to researchers, the locality is one of the country's special karst mountain regions, which holds historical imprints of the earth's crust's evolution lasting for millions of years.
Beautiful all year round, however, the Dong Van Karst Plateau shows off its beauty during the season of light violet buckwheat flowers from October-November, mostly in the fields in Pho La, Sung La, Lung Tao, and Ma Le. When spring comes, yellow mustard flowers are blooming on the mountain slopes, and pink peach blossoms beside the old mossy house roofs. Their unique and magic beauty fascinates any visitors to the region.
Besides the magnificent Dong Van Karst Plateau, Ha Giang Province has been known for its terraced rice fields, mostly in Hoang Su Phi District. It is said that the local terraced rice fields were built three to four centuries ago, mostly in the communes of Ban Luoc, San Sa Ho, Ban Phung, Ho Thau, Nam Ty, and Thong Nguyen. They are among the country's most popular beautiful spots and have been recognized as one of the national intangible heritages.
Every year, in late September and early October, the terraced rice fields in Hoang Su Phi become golden due to ripening paddies. The rice fields run around the mountain slopes, and ripened rice looks like golden carpets covering the mountain slopes. In the fields, ethnic Mong people are harvesting their rice.