Ha Noi encourages cashless payment, e-commerce
Ha Noi plans to encourage the use of cashless payments as part of efforts to further develop e-commerce in the city. 
Under a plan recently issued by the municipal People's Committee, the capital city targets that 90 per cent of modern retailers and water, electricity and telecommunications services providers together with 25 per cent of petrol stations would accept cashless payments by the end of this year.
The move aims to strengthen online shopping to gradually change consumers' shopping habit from traditional to modern channels.
The capital city will also encourage the application of e-commerce in business and start-ups, with a focus on improving the logistics system to boost e-commerce development.
The city wants 75 per cent of internet users to shop online by the end of this year, up 7 per cent against 2019. It would also want all safe food chains joining the payment system using QR Code for origin traceability.
Online services in transportation such as booking, ticket purchase and ride-hailing as well as online education, health care and communications activity would also be promoted.
The platform for safe agricultural products in Ha Noi at www.chonhaminh.gov.vn will continue to be updated.
The city asked the municipal Department of Industry and Trade to work with the Trade Promotion Agency and Amazon Global Selling to provide instruction to small firms to do business on the Amazon.com platform.
According to the Viet Nam E-commerce Association, Ha Noi ranks second after HCM City in the e-commerce business index with a score of 84.3. The capital city hopes to maintain the position this year.
VNA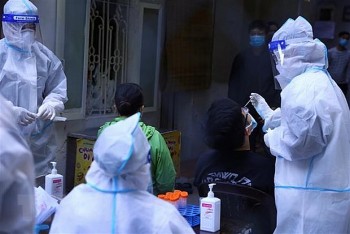 Focus
Vietnam's Covid-19 death toll is now 26,483, or 2 percent of total cases. More than 7,000 coronavirus patients nationwide are in serious condition, with 741 requiring invasive ventilation and 20 on life support.