Halloween amid pandemic crisis: How countries deal?
Amid the complicated development of COVID-19, countries in the world have their different approaches to Halloween celebration.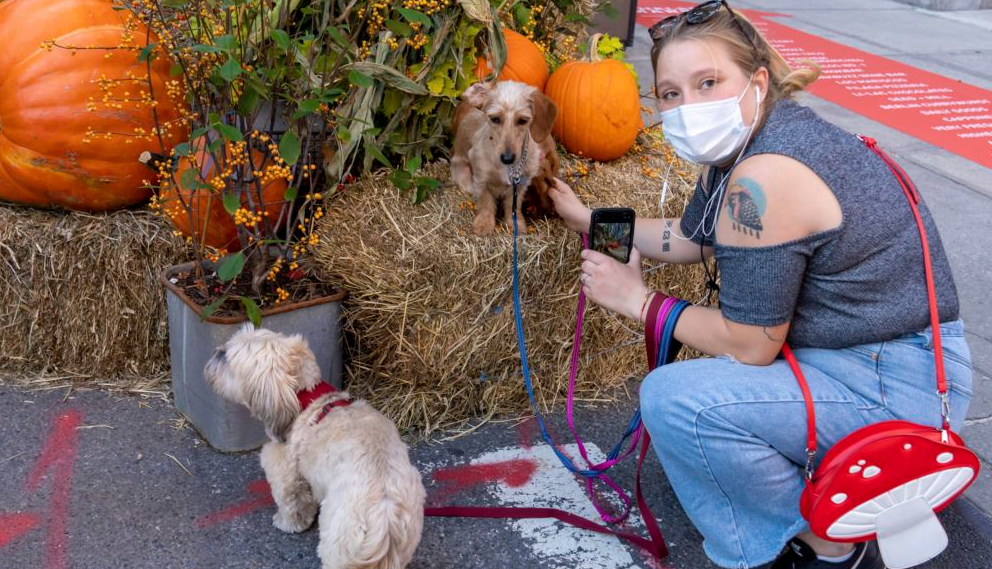 US: Large community events and outdoor festivals canceled or changed. (Photo: VOA)
US: Large community events and outdoor festivals canceled or changed
The coronavirus has cast a pall over Halloween celebrations on October 31, with the US Centers for Disease Control and Prevention warning that they can be high-risk, and many events canceled. But the village of Croton-on-Hudson, north of New York City, is still holding its annual "Jack O'Lantern Blaze", where more than 7,000 hand-carved pumpkins come to life for a sound and light show.
According to VOA, indoor attractions such as haunted houses are having difficulties operating this holiday. Brett Hays is president of the Haunted Attraction Association. The association has about 800 members in the United States. He told the AP that about half of the country's haunted houses will not be able to run this year because of the pandemic.
People are thinking of safer ways to give candy to trick-or-treaters. Some say they will use long sticks or other devices to safely deliver candy from a distance. Others say they will just throw candy at children and hope it lands close by, said AP.
According to The New York Times, many art performances are planned to hold virtually due to pandemic situation, such as a free stream on the Metropolitan Opera's website, and Pam Tanowitz's 2018 dance fest.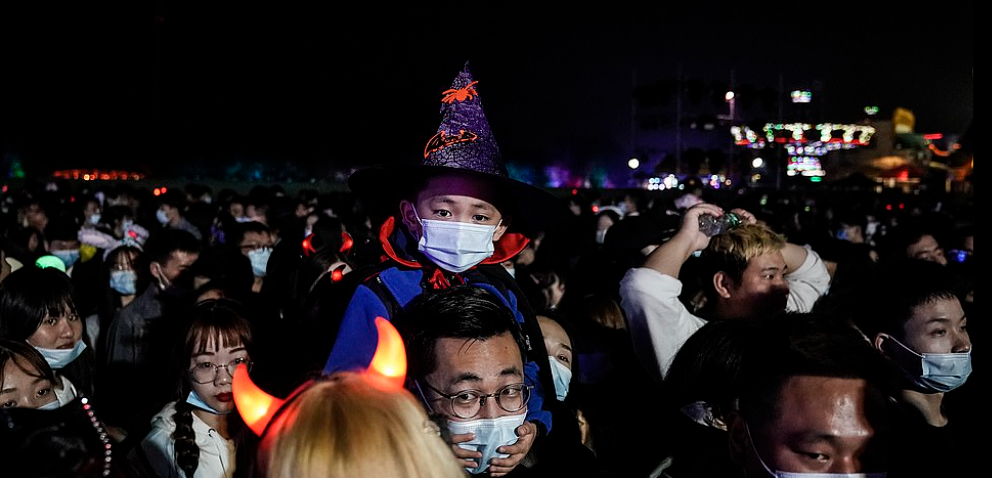 Chinese celebrates Halloween with masks. (Photo: Getty)
UK celebrates Halloween amid restrictions against the second wave of COVID-19
Halloween promises to be a very different affair to usual this year, due to the Covid-19 restrictions now in place around Europe as the second wave of the pandemic gathers momentum. In England, which is divided into a three-tier system of Covid restrictions, the Government indicated that trick or treating is possible at least in some form in the lower alert areas, but goes against tier-three guidance, according to UK Government website.
Asked about the prospect of trick or treating being banned, the Prime Minister's official spokesman said:
"The rules are those which apply to household mixing in general and what that means in practice is if you in a Very High alert level (tier three) then you cannot mix with other households indoors or in private outdoor spaces. If you're in a High Covid alert level (tier two) then the rule of six applies in private gardens and outdoor spaces but households must not mix indoors. And in terms of the Medium alert level (tier one), you can meet indoors and outdoors in groups of no more than six people. The rules are there for all circumstances and people will have to use their commons sense in ensuring they are following the rules."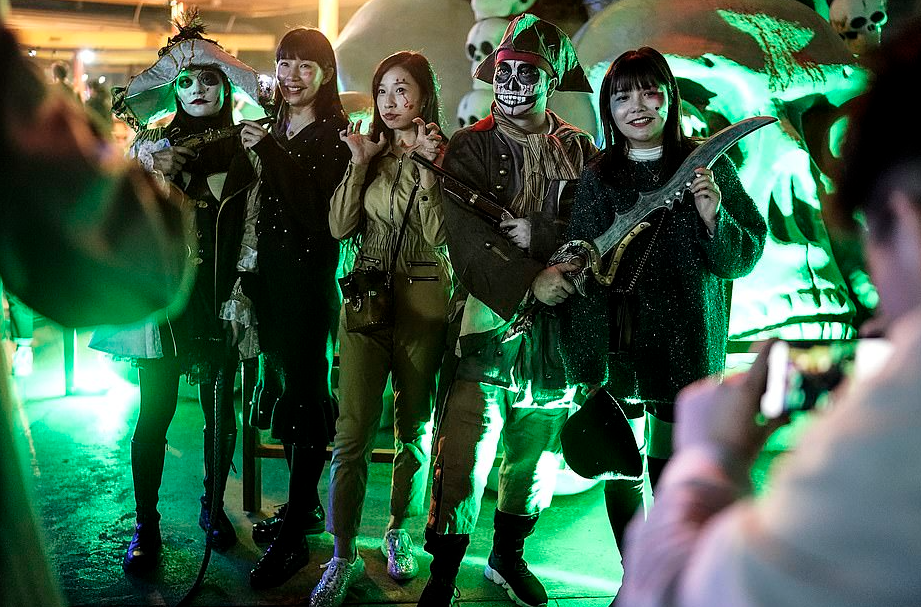 Wuhan (China) welcomes Halloween parties after 10 months of pandemic. (Photo: Getty)
Wuhan (China) welcomes Halloween parties after 10 months of pandemic
As cited by Daily Mail, crowds have poured into an amusement park in Wuhan to attend a Halloween event less than a year after the Chinese city became infamous as the epicentre of the coronavirus pandemic.
Photos show large numbers of people gathering to watch a parade at the Happy Valley Wuhan amusement park on Thursday night, with China's economy roaring back to life while most of the world suffers a historic slump. Some revelers swapped face masks for spookier options and there was no sign of social distancing as people posed for photos together and queued to see a Halloween show.
There have been no new cases of community transmission in Wuhan since May, according to Chinese government figures. In recent months, domestic tourism has begun slowly trickling back into the city, which is home to more than 11 million people.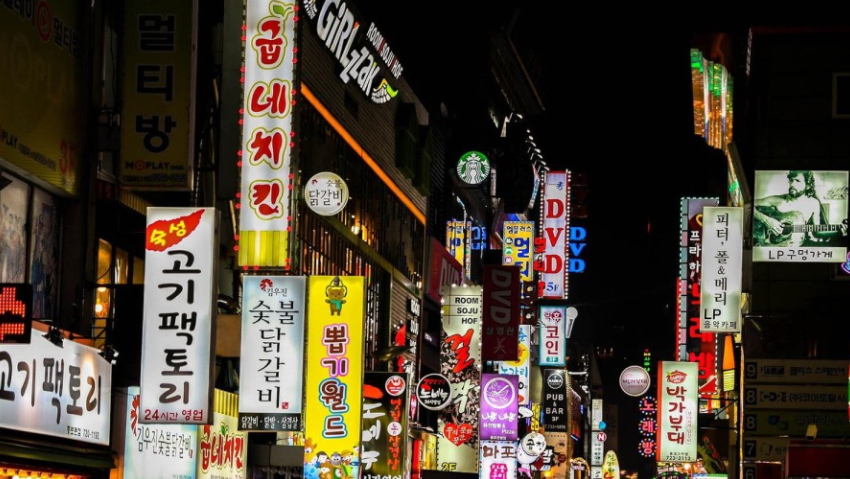 Korea limits activities of night clubs on Halloween weekend. (Photo: PIXABAY)
Korea limits activities of night clubs on Halloween weekend
South Koreans and foreigners traditionally celebrate Halloween by going bar hopping in costume in Itaewon and other popular neighborhoods in Seoul.
But authorities have expressed concern this year that partygoers may increase the risk of a superspreader event. Clubs in Itaewon, which is near Yongsan Garrison, were the source of a major outbreak in May.
Police, food and drug officials will team up to visit entertainment facilities from 10 p.m. Saturday to 3 a.m. Sunday to enforce coronavirus prevention measures such as keeping entry logs and maintaining distances between tables, the Yonhap News Agency said.
Some large clubs in Itaewon, Hongdae and Gangnam also will close for Halloween weekend after consultations with health officials and local governments as a precaution against the virus, according to Yonhap.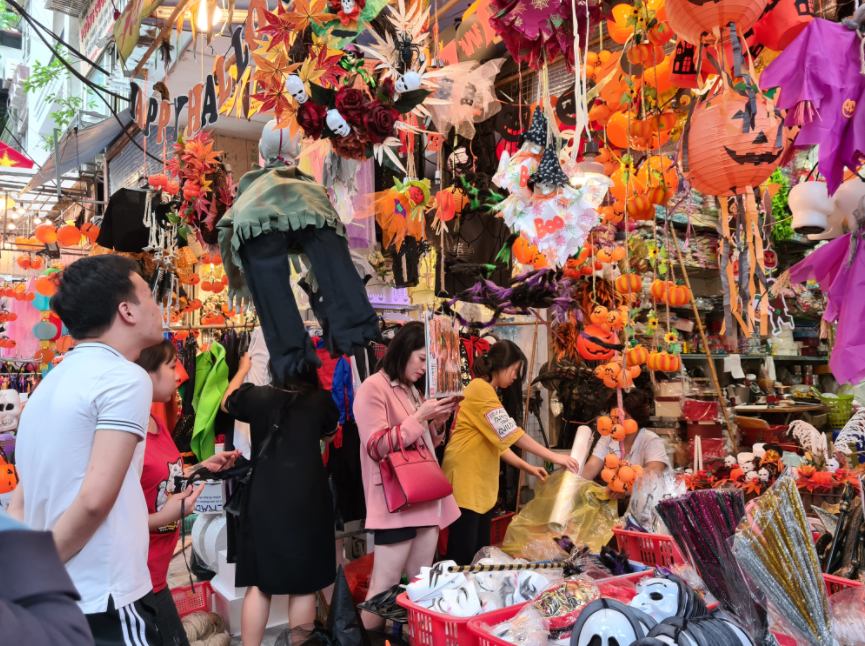 Vietnam people shopping for Halloween decorations. (Photo: Vietnambiz)
Vietnam's streets are filled with Halloween decorations
Halloween officially started on October 31st, but in the last few weeks, souvenir shops, costume shops, bookstores all over Hanoi have imported or made holiday items to put on sale. Vietnamese people are quite excited as they start shopping for costumes, Halloween decorations, or going to shopping malls and entertainment venues to take photos on the occasion of the festival.
In order to meet the needs of the people, many commercial centers, bookstores, and children's toy shops have started to decorate and sell Halloween items at different prices. At the same time, many cafes and restaurants are also decorated in a Halloween-vibe and prepare special menus and dishes so that customers can get there to spend their holiday weekend.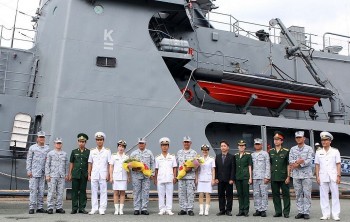 Seas and islands
Vietnam and the Philippines hold regular exchanges on personnel, expertise, arts and sports at military bases in the Spratly (Truong Sa) archipelago, which can only be conducted by strategic, trusting and responsible partners.