US News today: American people celebrate Juneteenth with anti-racism marches across the nation
American people celebrate Juneteenth with anti-racism marches across the nation, US Navy refused to reinstate the former captain of USS Theodore Roosevelt aircraft carrier, Mike Pompeo warns that China to drive wedge between US and Europe and President Trump warns protesters at Oklahoma rally are remarkable news today.
US Navy refused to reinstate the former captain of USS Theodore Roosevelt aircraft carrier
The US Navy rejected the proposal of restoring USS Theodore Roosevelt captain to Colonel Crozier, and said that he was responsible for letting Covid-19 break out on this ship, ABC News reported.
The US Navy announced on June 19 that it had decided to uphold the decision on removing Colonel Brett Crozier, the former captain of USS Theodore Roosevelt, after an internal investigation showed that he had not acted timely enough to prevent the outbreak of coronavirus. The US Navy also postponed the promotion to Rear Admiral Stuart Baker, the commander of the aircraft carrier task force in USS Theodore Roosevelt.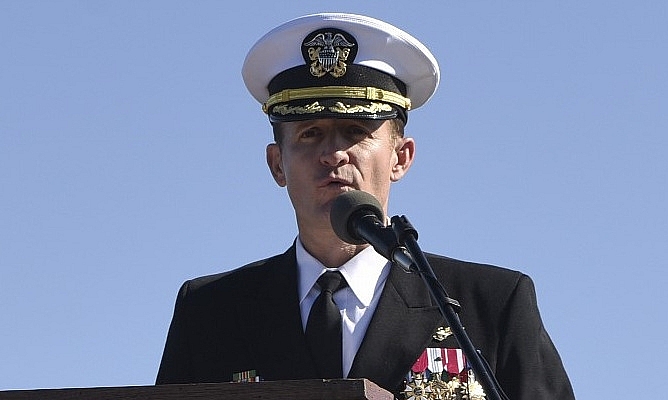 Colonel Crozier in late 2019. Photo: US Navy.
Admiral Mike Gilday proposed in April to restore the post of Crozier after the preliminary investigation. However, he withdrew the proposal after an in-depth investigation showing that both officers "did not meet expectations".
"If I knew the available information, I would not have proposed resurrecting Colonel Crozier. Moreover, if Crozier was still in command, I would dismiss him," Admiral Gilday said and added that the former captain of USS Theodore Roosevelt would not appointed to any other command post and would be transferred. This is a move considered as an end to Mr. Crozier's career.
Several Democratic MPs have expressed opposition to the decision of the US Navy. "We have serious doubts with this sudden decision," said senators Richard Blumenthal and Chris Van Hollen.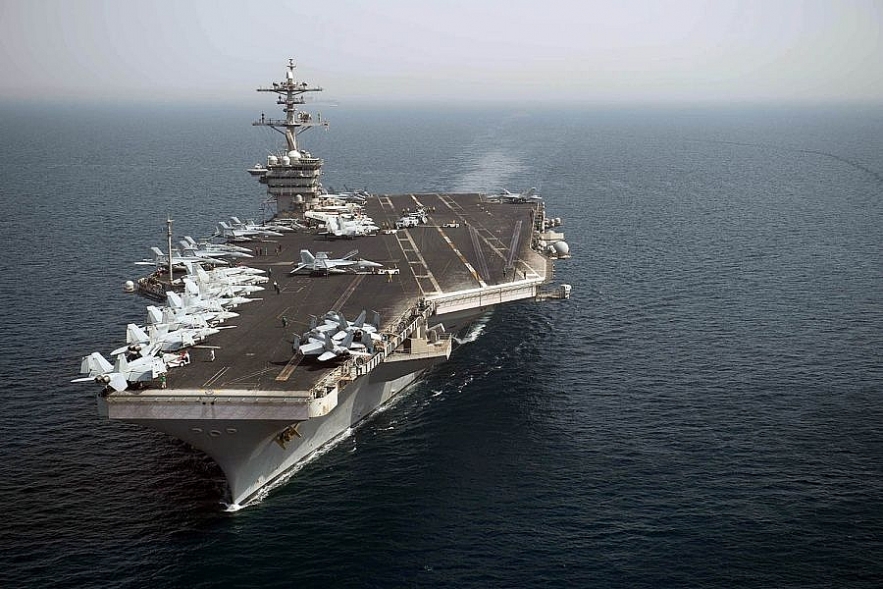 The aircraft carrier USS Theodore Roosevelt transits the Arabian Gulf earlier this March, 2018. Photo: US Navy
House Armed Services Committee Chairman Adam Smith believes that the responsibility belongs to naval leaders and his committee is conducting its private investigation.
Mr. Crozier was sacked on April 3, after writing a "request for help" to the US Navy Department and calling for the evacuation of 4,000 crews out of the aircraft carrier to prevent from spreading virus widely.
American people celebrate Juneteenth with anti-racism marches across the nation
Millions of Americans stranded the streets on June 19 to commemorate Juneteenth - the day marks the end of slavery in the US, with anti-racial marches and peaceful protests.
According to the New York Times, the mass gathered to celebrate Juneteenth holiday, which came in the context of the US experiencing against racism and police's excessive force.
The death of George Floyd, a 46-year-old African-American man, who was choked by police on his neck last month and a number of other black victims has made it more urgent to call for equality in activities of this year's anniversary.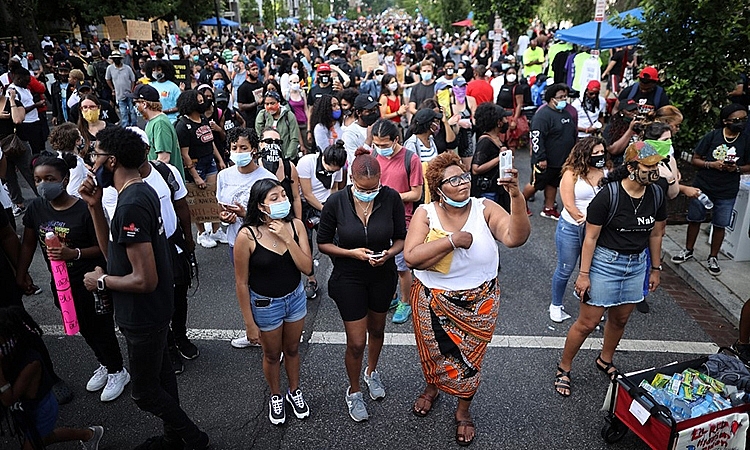 People attending Juneteenth's celebration in the US. Photo: AFP
In many parts of the US, Juneteenth participants conducted peaceful demonstrations, biked and even played music. In Minneapolis, Minnesota, a distance of about 8 kilometers with the end at the place where George died was reserved for joggers, walkers and bikers to celebrate.
In Atlanta, Georgia, protesters gathered to march for justice for Ahmaud Arbery - an unarmed 25-year-old black man shot dead. University students also led a parade that ended with a concert.
Dozens of anniversary events took place across five counties of New York City. Mayor Bill de Blasio announced that Juneteenth will become an official New York City holiday for workers and students from 2021.
Many people gathered in Washington outside the Lincoln Memorial and near the White House, while thousands of ones marched in Chicago and danced at rallies in South Los Angeles.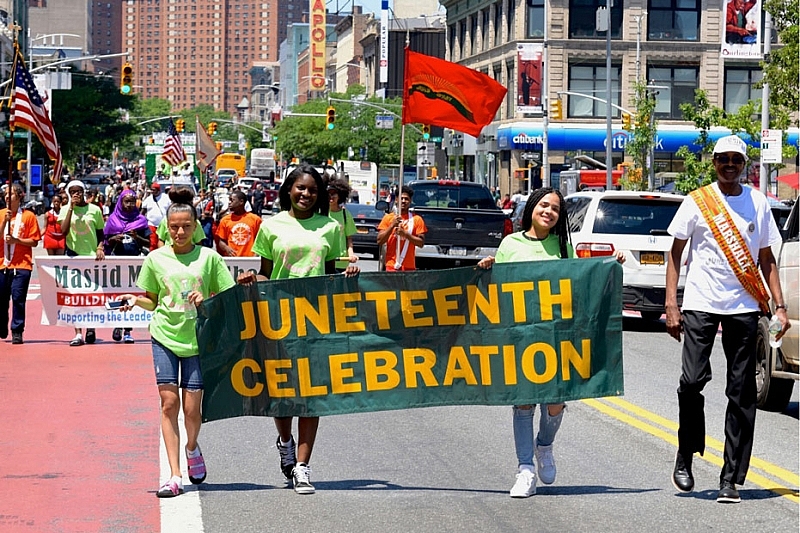 Photo: amsterdamnews.com
Awareness of public holidays in the community is raising as society calls for profound changes to address racial discrimination in American society, which affects many areas of black lives such as education, estate, voting, policy or economy.
Some companies like Twitter and Target have given employees a day off from work. Twitter's CEO Jack Dorsey revealed that Juneteenth will become an official company holiday in future. Netlfix, Lyft and Ben & Jerry's have the similar move. Besides, big companies in the US such as Nike, Google or the National Football Association all declared Juneteenth as an employee holiday.
Mike Pompeo warns that China to drive wedge between US and Europe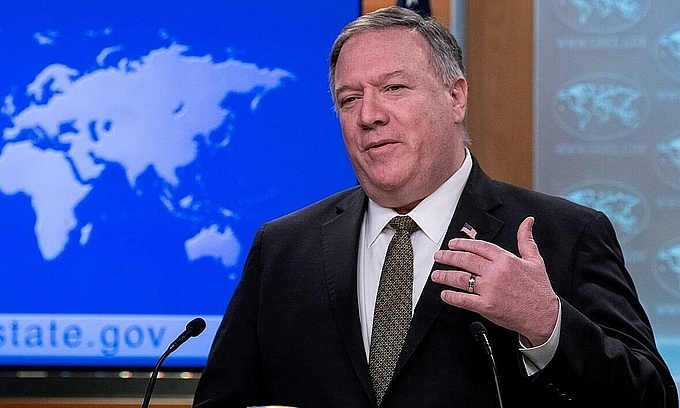 Secretary of State Mike Pompeo. Photo: Reuters
Secretary of State Mike Pompeo pointed out the risks to Europe in moving closer to China and advised them to be cautious, US News reported.
Mike Pompeo warned European countries which have economic relations with China at an online call to a forum in Denmark on June 19. The event took place two days after Pompeo met China's top diplomat Yang Jiechi in Hawaii, US.
Speaking at the forum, Secretary of State said the meeting with Mr. Duong on June 17 "changed very little of his hawkish views on China", which was considered as the "villain actor" in international community.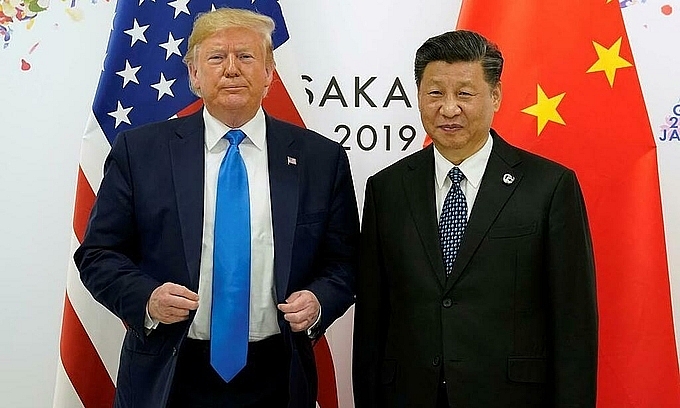 President Donald Trump and Chinese President Xi Jinping. Photo: Reuters
Mr. Pompeo also urged Europe to stay away from Chinese Huawei telecommunications giant and called it as Beijing's "eye", which was attacking European sovereignty through investments in Greece and Spain.
"We must take off the golden blinders of economic ties and see that the China challenge isn't just at the gates - it's in every capital," he said. "Every investment from a Chinese state-owned enterprise should be viewed with suspicion."
President Trump warns protesters at Oklahoma rally
The US President Donald Trump warned that he would severely punish any protesters who sabotage the campaign in Tulsa, Oklahoma, The Hill reported.
"Any protesters, anarchists, agitators, looters or lowlifes who are going to Oklahoma please understand, you will not be treated like you have been in New York, Seattle, or Minneapolis. It will be a much different scene!", Trump Trump tweeted on Friday.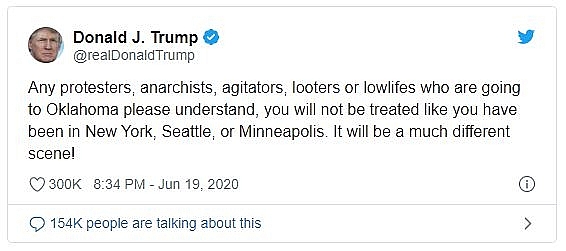 President Trump's tweet: Screenshot
Clarifying this statement, Marc Lotter, Trump's campaign spokesman, said that the warning aimed at bad guys rather than peaceful protesters.
"The president supports peaceful protests and people who are exercising their First Amendment rights," Lotter told MSNBC in an interview following the tweet. "If we see what we've seen in other cities with rioting, looting, setting buildings on fire and physical violence, then that's going to be something that's going to be met by police."
When it comes to this tweet of President, "What the president is noting is that there were inexcusable scenes that we saw play out in New York and Seattle and Minneapolis and that we would not see Tulsa, Oklahoma, look that way," McEnany told reporters at a briefing.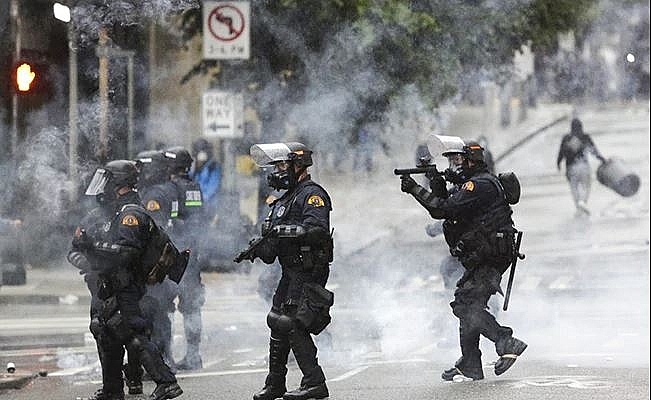 Photo: ndtv.com
The campaign for re-election is the first major event of President Trump after the COVID-19 pandemic "raged" in many states, and at the same time, instability has been taking place for 3 weeks now when consecutive protests broke out against racism and police's excessive force.
Earlier, President Trump announced that he would restart his campaign campaign in order to prepare for the upcoming White House race. The first site chosen was Tulsa, Oklahoma, on June 19.
Demonstrators march down Pennsylvania Ave. during a protest against police brutality and racism, on June 6, 2020, in Washington. Photo: ABC News
According to The Guardian, the president unexpectedly announced the postponement of changing the date from June 19 to June 20 to avoid coinciding with Juneteenth - the anniversary of the end of slavery in the US, in Texas in 1865.
In a press released by CBS News, the authority of Tulsa said: "The Secret Service asked the city to lift the curfew this weekend. Tulsa complied with the request." More than 100,000 people are expected to attend the event.