Hanoi Autumn Carnaval: A lively interference between tradition and modernity
Hanoi Autumn Carnaval 2023 took place at Hoan Kiem Lake pedestrian street on Oct. 1, attracting a large number of attendees.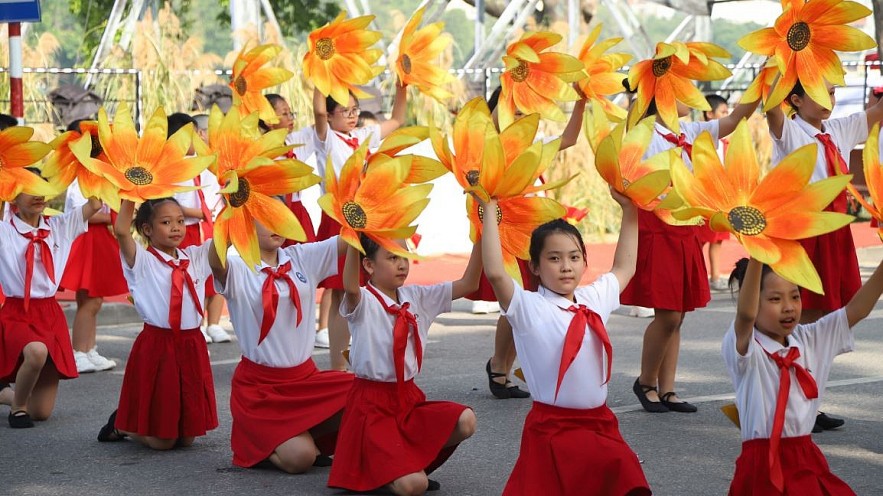 A performance by young children.
The event was held in the framework of "Hanoi Autumn Festival 2023" under the direction of the Hanoi People's Committee.
According to the Director of Hanoi Center for Investment, Trade, and Tourism Promotion Nguyen Anh Duong, "Hanoi Autumn Carnaval 2023" is a lively interference between tradition and modernity, bringing colorful cultural experiences, attractive art performances from Hanoi and other parts of Vietnam to the audiences.
This year's program features unique and grand-scaled performances to introduce to people and tourists the beauty of Hanoi in autumn, the city's most beautiful season. The charm of Hanoi in autumn has attracted tourists from all over the world to visit and explore.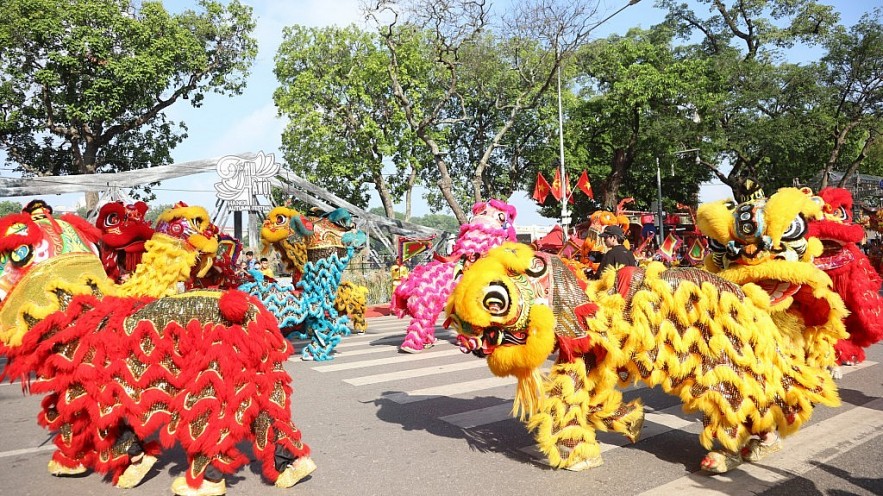 A lion dance.
"Hanoi Autumn Carnaval 2023" includes 11 parades with four chapters: "Radiant Colors of Autumn," "Essence of Vietnamese Crafts," "Street Art," and "Cultural Identities of ethnic groups."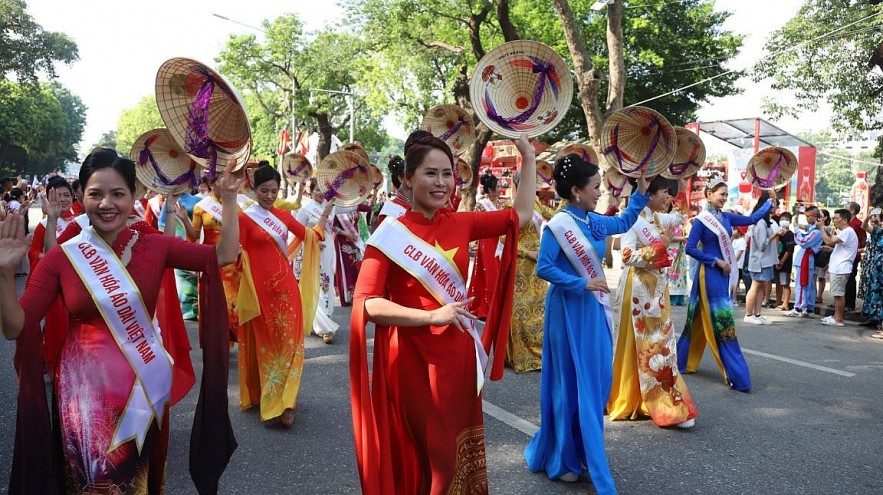 An ao dai parade.
For a long time, autumn in Hanoi has been mentioned in poetry, music, and painting as a symbol of the beauty and romance of nature. The harmony between heaven and earth, scenery, cuisine, and people amid the gentle autumn weather creates charm for Hanoi's autumn.
During the season, visitors can leisurely walk on the streets of Thanh Nien, Phan Dinh Phung, Hoang Dieu, Dien Bien Phu, and Trang Thi or around Hoan Kiem Lake, West Lake, and drive on the Long Bien Bridge. They can also enjoy the beauty of ancient architectural works such as Van Mieu - Quoc Tu Giam and Imperial Citadel of Thang Long, or try autumn cuisine in the Old Quarter.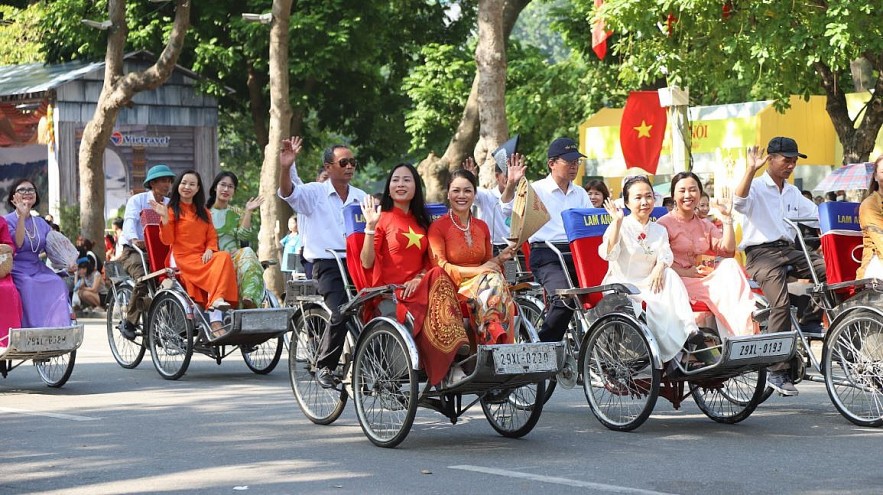 Cyclos strolling on Hanoi's streets.
With the theme "Hanoi Autumn - Come to fall in love", the first-ever "Hanoi Autumn Festival" was held to contribute to the comprehensive growth of the capital's tourism. At the event, 150 booths were set up along Dinh Tien Hoang Street, Le Thach Street, and the Octagon House area. Besides representatives from the districts, the event attracts the participation of 14 other provinces across the countries, namely Ha Giang, Lao Cai, Yen Bai, Tuyen Quang, Phu Tho, Bac Giang, Hai Duong, Thai Binh, Ninh Binh, Thanh Hoa, Quang Binh, Phu Yen, Dong Nai, An Giang.
Diplomatic missions from Cuba, India, Laos, Cambodia, Philippines, Sri Lanka, and Palestine also attended the event.
The event also features an area named "Hanoi Cuisine Space" with the topic "Essence of Vietnamese Cuisine" which brings together 51 booths of professional associations, artisans, businesses, and famous culinary establishments in Hanoi and around the world to introduce signature dishes such as pho, bun thang, fish cake, green rice flakes.