Hanoi begins facing cross-contamination, Chairman of Hanoi warns people to limit unnecessary travel until 31 March
Chairman of Ha Noi People's Committee Nguyen Duc Chung said that the major source of contamination in Hanoi from overseas and people are warned to be at home with a limitation of travelling outside or by bus until 31 March.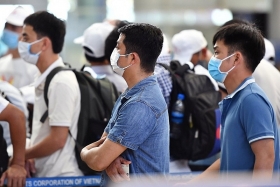 According to the Chairman, hundreds of Vietnamese repatriate daily, about 600-800, the peak day to 1000.
On March 18 afternoon, Chairman of Hanoi People Committee Nguyen Duc Chung presided a meeting for Covid-19 preventation and combat in Hanoi. Accroding to Chung, after the first case in Hanoi (Case 17) was confirmed on 6 March, Hanoi has just stepped to the second stage of the epidemic outbreak.
"Over the last few time, we have implemented strictly for the disease preventation and combat. However, we might not have had time, efforts enought to face its next development without a correct determination", Chung said.
He requested the steering committee's members to analyse the next development of disease in case of increasing new infections.
"The first stage showed the preventation infectious sources from China, Korea and Japan, the next stage requires a prepared response against the risk coming from almost countries in the world. Only just one infection was not controlled, did 9 new infectious cases contract in Binh Thuan. We are facing the risk of cross- contamination among governmental officials, the infectious security official in Noi Bai airport for instance. It may have increased new 7-8 infections in Hanoi daily from now on." He warned.
The major infectious sources are identified from overseas to Hanoi. The second source is among repatriated students, foreigners going to Hanoi from March 3-6 who have contracted to native people and moved to other places in the middle and south. The third one is from officials working in quarantined areas contaminating cross each other. All governmental agencies, businesses and individuals are strongly requested for continuously news update with highly self-aware and consciousness of preventation. Especially businesses are warned to close in neccesity, except fuel, food and medicine stores.
Chung particularly askes people to stay at home as much as possible until 31 March, limit going out or by bus.
"The infection is estimated to increase 6-8 cases daily next time, it may have caused people anxious and worry but you'd better stay calm and take care your health and family well" he emphasized.
Although a entry ban has been appoved in America, Europe and ASEAN countries, a lot of peole are still repatriating with many Vietnamese return home this period of time. About 600-800 Vietnamese nations have returned home, the peak day to 1000, so places for isolated measures have to be arranged well. It is estimated that the number of repatriation can raise up to thousands of people.
vietnamtimes.org.vn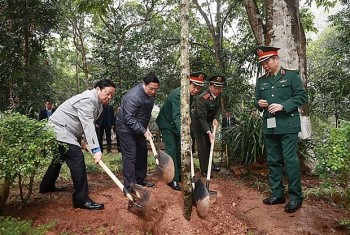 National
The Prime Minister launches a tree planting festival in Ba Vi on New Year of Cat.