Vietnamese religious communities step up COVID-19 preventive measures
Vietnamese religious communities have been requested to step up COVID-19 preventive measures as the epidemic spreads around the world.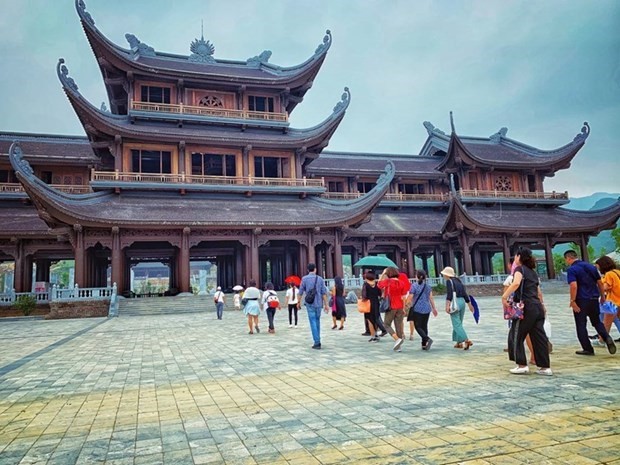 Tam Chuc Pagoda in Ha Nam province. Many places of worships have been asked to suspend mass gatherings as efforts to contain the spread of COVID-19
Head of the Government's Committee for Religious Affairs Vu Chien Thang said that the committee has called on leaders of 43 religious organisations and the boards for religious affairs of provinces and cities nationwide to seriously comply with the Prime Minister's direction as well as local authorities' guidance to curb the spread of the disease.
He noted the committee requested the Catholic Church in Vietnam to step up preventive measures like suspending or cancelling mass rituals, meetings and pilgrimages while taking actions to protect the community's health if there are any followers with fever and cough symptoms.
President of the Catholic Bishops' Conference of Vietnam Nguyen Chi Linh affirmed that dioceses across the country have been requested not to gather followers in crowds at churches and disinfect some places of worship that attract a large number of foreign visitors.
Meanwhile, the Vietnam Buddhist Sangha have ordered temples to halt festivals and crowded training courses, encouraged followers to wear face masks and wash hands before visiting pagodas, and distributed leaflets with disease-related information to monks, nuns and followers.

Other religious organisations and sects like those of Protestantism, Islam, Baha'i Faith, Hoahaoism, Caodaism have also suspended major activities, provided face masks and hand sanitizer to followers, worked to disseminate precise information about the disease, according to Thang.
The official noted from February 27 to March 1, an Islamic event was held at Seri Petaling Mosque in Kuala Lumpur of Malaysia, gathering about 16,000 Muslims from some countries, including Vietnam.
He cited the Malaysian Ministry of Health as saying that as of March 14, this country had found some 4,900 participants in the event, more than 1,600 of whom have shown respiratory infection symptoms.
Some 90 Muslims from the provinces of An Giang, Tay Ninh, Ninh Thuan and Dong Nai and Ho Chi Minh City of Vietnam were reported to have taken part in this event, and one of them in Ninh Thuan was tested positive for SARS-CoV-2, the virus that causes COVID-19.
Thang added the Committee for Religious Affairs has requested authorities and the representative boards of Muslim communities in those localities to review the people who joined the event in Malaysia and instruct them to self-quarantine, make health declarations and visit healthcare establishments for testing.
vietnamnet