Hanoi blocks 4 apartment blocks, proposes increase number of testing for F1 to 6
Four buildings in Bac Tu Liem district, Hanoi, were temporarily blocked after detecting a positive case for the SARS-CoV-2 virus.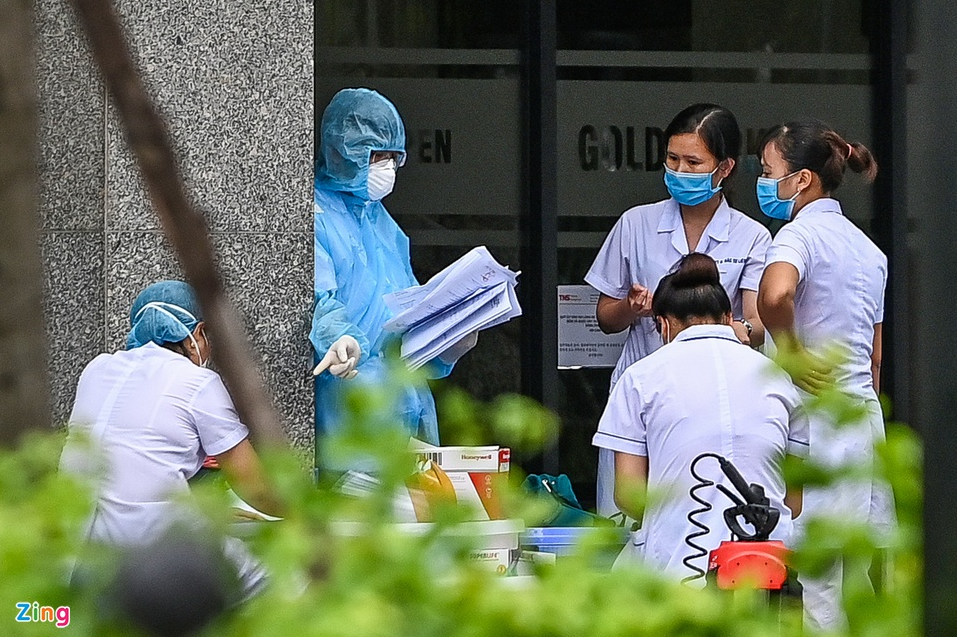 Medical forces handle cases in the Goldmark City apartment building on May 24. (Photo: Zing News)
Propose to increase the number of testing for F1 from 4 to 6
At a meeting of the Hanoi Steering Committee for COVID-19 Prevention and Control, leaders of the city's medical sector proposed to raise the number of testing for F1 from 4 to 6 after the city detected series of new cases.
Deputy Director of Hanoi Department of Health Hoang Duc Hanh said that since April 29, Hanoi has recorded 122 cases in 19 districts. There are currently 11 clusters of cases in the area. Four of them are newly detected, with complicated developments. In addition, there are two old clusters that have not yet been fully detected. Hanh said these clusters might have two to three infection cycles and an unidentified source. Therefore, in the coming time, it is likely that new cases will continue to be recorded outside of blockage areas sources were still in the community.
Hanh requested that before 8 pm May 25, localities must complete testing and transfer samples to the CDC. Any unit that misses the deadline will be strictly handled.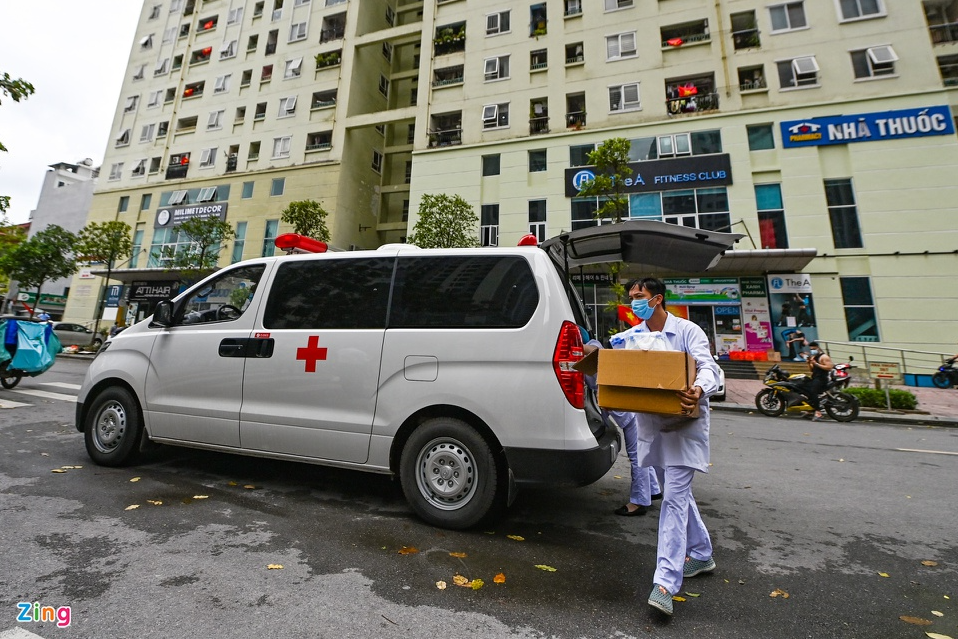 Testing equipment delivered in Nam Tu Liem district. (Photo: Zing News)
Ensure social distancing and testing
Also at the meeting, Chu Xuan Dung, Vice-Chairman of the city People's Committee, said that four groups of cases were found in the city, all of them had complicated transport activities and had contact with many people.
Facing the fast and complicated pandemic situation, the Director of Hanoi's Department of Health Tran Thi Nhi Ha suggested tightening the management at apartment buildings. She recommended making a list of people completing concentrated isolation for better management.
She proposed to postpone the campaign to give Vitamin A to children on June 1 to ensure pandemic prevention and control. At the same time, screening tests in high-risk areas should be promoted. Testing activities should focus on workers in industrial zones and people working for front-line agencies in the fight against the pandemic.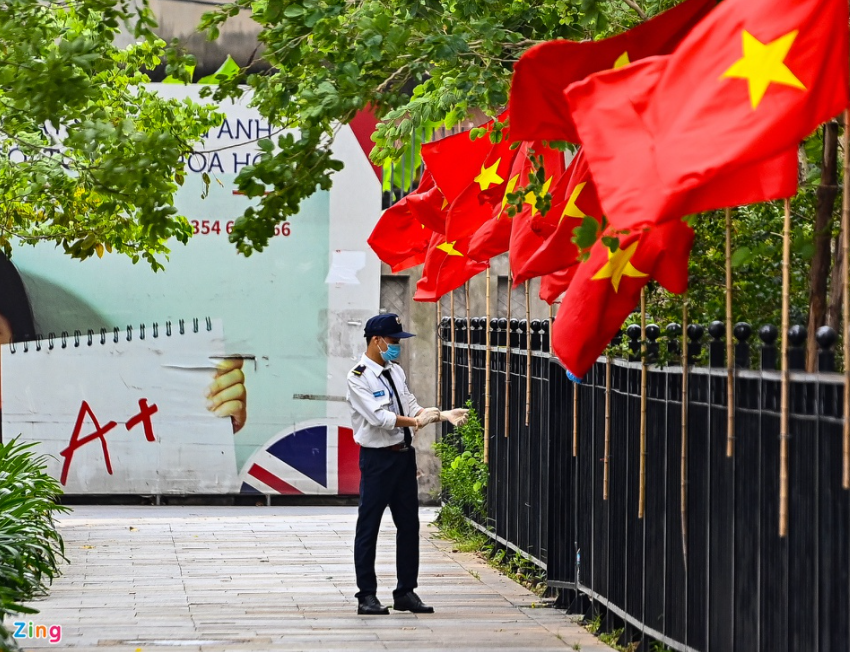 Competent forces close Goldmark City apartment building from May 24. (Photo: Zing News)
Promote working online
Except for medical forces and agencies directly involved in pandemic prevention, the Hanoi Department of Health recommended that agencies in Hanoi promote online working, allow employees to work from home, and only come to the office when absolutely necessary.
Vice-Chairman of the Hanoi People's Committee requested all administrative agencies and companies to ensure a distance of 2 meters between every two people when holding meetings. They are also asked to imit face-to-face meetings and switch to online meetings.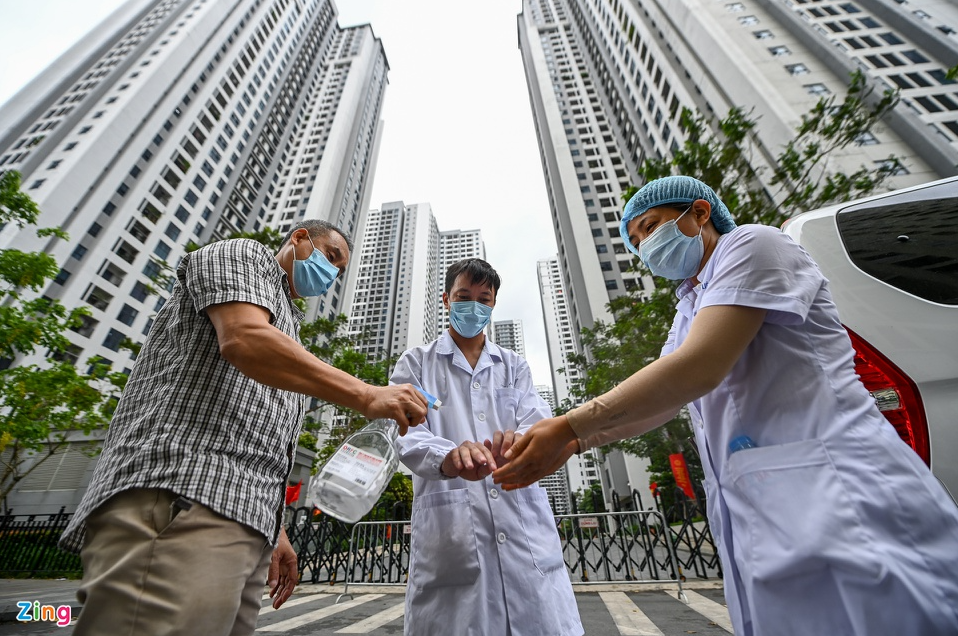 In the latest wave, the capital city has recorded 122 local Covid-19 cases in 19 districts. (Photo: Zing News)
Block 4 apartment buildings where positive cases found
On the morning of May 24, Khong Minh Tuan, Deputy Director of Hanoi Center for Disease Control (CDC), confirmed that a person in the R4A building, Goldmark City apartment building (Phu Dien ward, Bac Tu Liem district) was positive for SARS-CoV-2. Right after the confirmation, the functional force temporarily blocked 4 buildings in Goldmark City, which is home to 1,909 households with 5,752 residents.
Bac Tu Liem District Medical Center coordinated with Phu Dien Ward to take samples for testing 30 F1 and 178 related people and continue to identify people involved. At 11 am. on the same day, thousands of equipment for testing were delivered to Nam Tu Liem district. Around 12:15 pm, the medical force completed the sampling of F1 related to the cases.
In the latest wave, the capital city has recorded 122 local Covid-19 cases in 19 districts, apart from 200 cases within two locked down hospitals in the city: the National Hospital for Tropical Diseases and the K Hospital. The administration has already shut down

non-essential services

such as KTVs, bars, dance clubs, restaurants, hair salons.