Australia providing AUD 9.5 million to end violence against women and children in Vietnam
Australia is now providing AUD 9.5 million to support a new project eliminating violence against women and children in Vietnam which will be implemented for the next four years.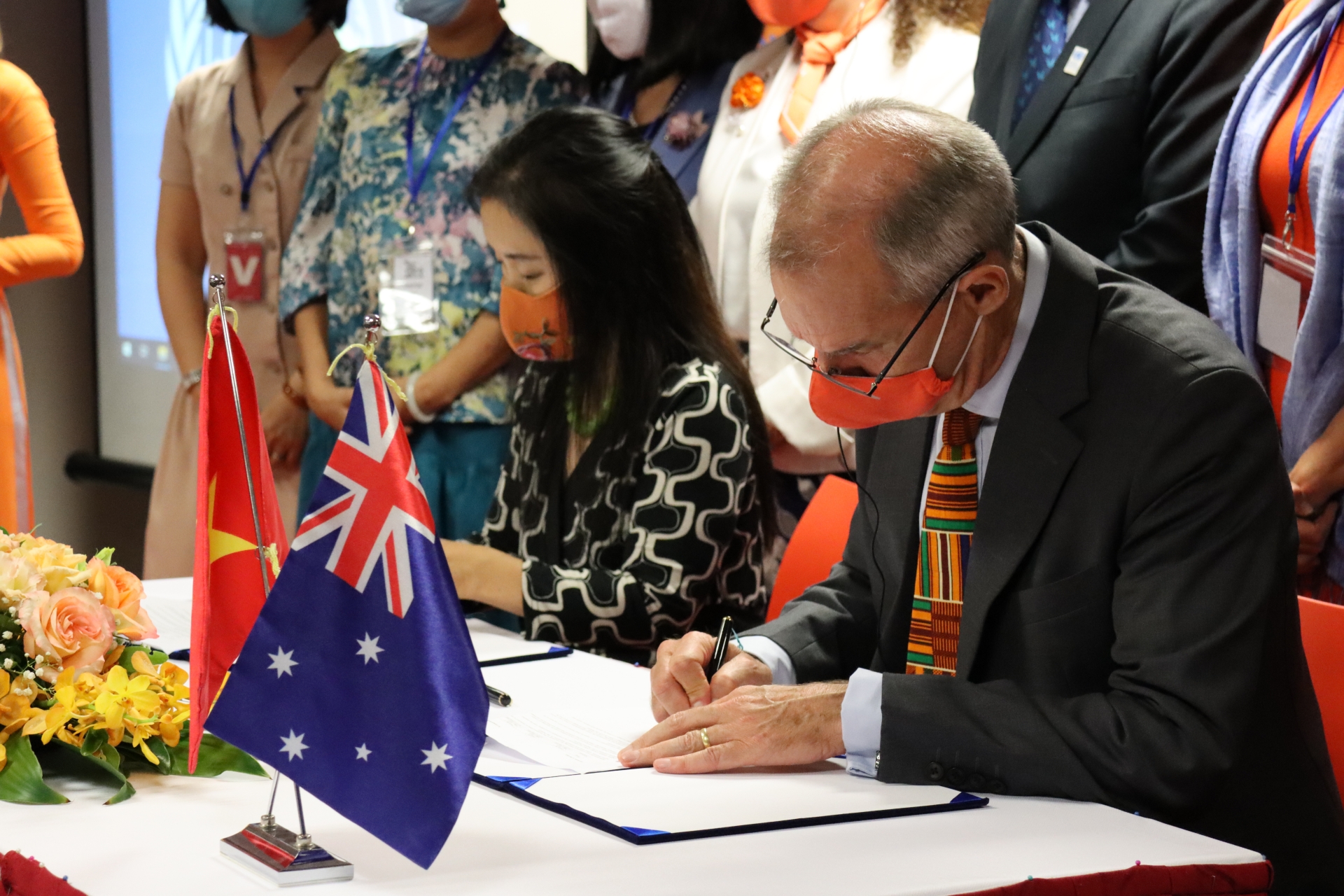 The ceremony was held by the Government of Australia and UNFPA, UNICEF and UN Women in Vietnam. Source: UNFPA
The Government of Vietnam, Government of Australia, and the United Nations agencies included UNFPA, UNICEF and UN Women have committed working together and called for more joint efforts to end violence against women and children at a ceremony to close a joint project and to sign a new one for the next four years on May 24.
The project "Supporting Interventions to Eliminate Violence against Women and Children in Vietnam under COVID-19 Emergency Context" was implemented jointly by UNFPA, UNICEF and UN Women from May 2020 to May 2021 in collaboration with several Vietnam's ministries, Vietnam Farmer's Union, Vietnam Women's Union, Center for Studies and Applied Sciences in Gender, Family, Women and Adolescents (CSAGA) and other relevant stakeholders.
After one year of implementation, the project has achieved many crucial results.
Innovative communication approaches were introduced in more than 100 supermarkets, mini-marts, and pharmacies, which is the best locations to reach women at risk of violence, especially under Covid-19 strict social-distance initiatives. These outlets distributed 10,700 leaflets on gender-based violence in four provinces, 53,600 leaflets and 12,800 posters on the guidelines for the safety of women and children in quarantine centres, and 55,600 leaflets and 12,400 posters on mental health and psychosocial support for children, adolescents and youth in 400 quarantine centres nationwide.
With voices amplified by a range of celebrities and influencers, the national #Blueheart communication campaign gained a wide audience of general public, parents, children, adolescents and policy makers across social and mass media platforms with over 100 million reaches, followed by other communication interventions with an added 55 million turns of informed people.
Meanwhile, digital technology and social media were fully utilized to increase the understanding of risks of gender-based violence amid Covid-19, reaching nearly 55 million viewers through a Facebook competition, livestream talk shows, news stories on national televisions and other media outlets, broadcasts by screens in elevators, and other targeted outreach activities at grassroots level.
Protection services were provided through Hotlines run by Anh Duong (Sunshine) House, Peace House, and CSAGA, serving more than 13,000 people for consultations, advice, and referrals. Among them, 832 survivors of violence received direct and catered support from trained staff.
The project also distributed 6,644 dignity kits with 21 essential items to women who undergo and who are at risks of violence in quarantine centers, shelters and lockdown areas in Hanoi, Da Nang, Quang Ninh, Ho Chi Minh City and Hai Duong.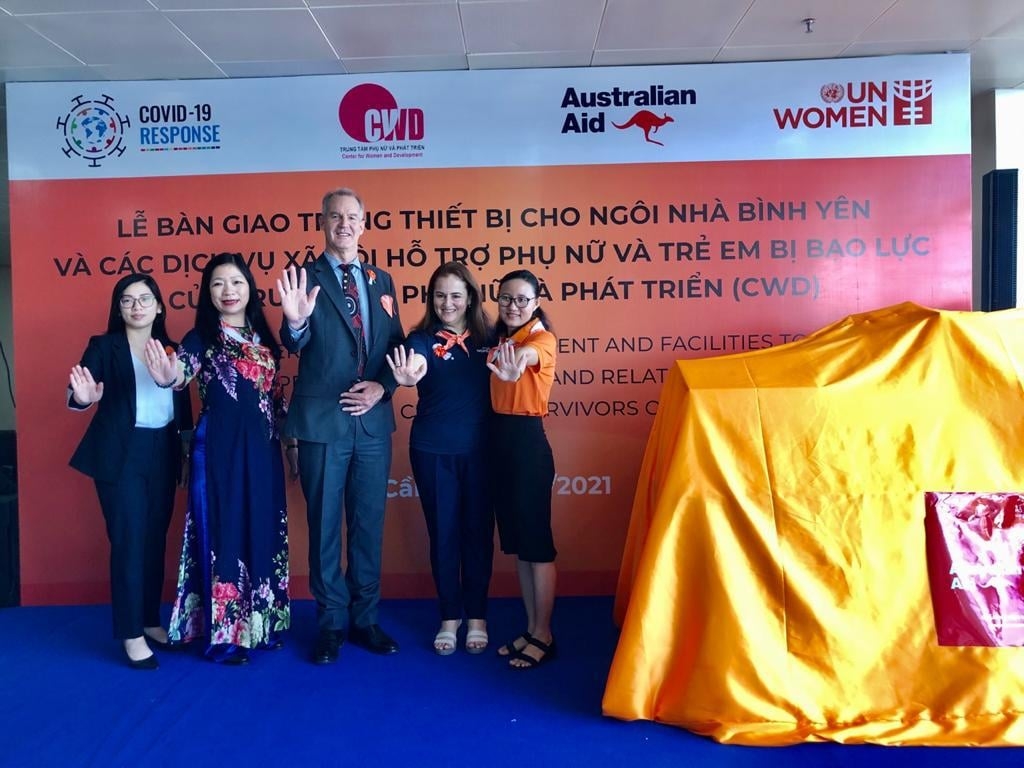 Handover ceremony of essential equipment and facilities held in Peace House Shelters in Hanoi in March 2021. Photo: UN Women/Ngoc Duong
The joint plan to support Da Nang in response to the second wave of Covid-19 was urgently developed and implemented. Information related to increased risk of violence against women and children and support services were widely disseminated through daily loud speaker bulletins, with distribution of 18,000 leaflets, 3,000 directories, large posters, and short clips.
Two temporary shelters were set up at hotels, with three advisory groups established, and local hotline numbers were operated, with 69 women survivors of violence receiving emergency cash transfers.
Building on the project's success, Australia is now providing AUD 9.5 million (7.3 million U.S. dollars) to support the new project "Elimination of Violence against Women and Children in Vietnam" which will be implemented from June 2021 to July 2025.
This new project aims to achieve a goal that all women and children in Vietnam, including those most vulnerable, are able to live a life free of violence through strengthened prevention strategies and multisectoral responses.
At the event, Australian Ambassador to Vietnam Robyn Mudie stressed that over the next four years, the program will strengthen prevention strategies and multisectoral response efforts to end violence against women and children. This program will work to strengthen systems that respond to violence and provide support to survivors.
She voiced her hope that this long-term, practical approach will make a difference where it matters most and that women and children will be able to seek and receive help when they need it./.