Hanoi Mayor warns of dual infection risks in Bach Mai Hospital
Chairman of Hanoi People's Committee expressed his concern over Covid-19 cases recently as well as the potential of dual infection risks in Bach Mai Hospital, where 200 medical staff and patients are quarantined, Zing news reported.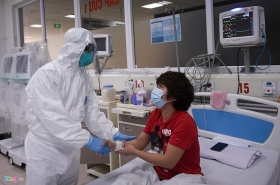 Deputy Minister of Health Nguyen Truong Son visits the nurse who detected positive with Covid-19 in Bach Mai Hospital. Photo by Zing.vn
The situation of the Covid-19 pandemic is complicatedly developing worldwide, including Hanoi. Yesterday, Vietnam Ministry of Health confirmed more 11 Covid-19 cases, in which the 133rd patient came to Bach Mai Hospital for medical treatment before being detected positive with the respiratory disease.
Last week, two female nurses at Bach Mai Hospital were also confirmed Vietnam's first Covid-19 patients among the medical cadre, leading to concerns over the cross infection risk in the medical facility.
According to overall assessment on the situation of Covid-19 worldwide, there are three sources that the transmission and infection risks may lead to severe consequence including public spaces, hospitals or nursing homes and religious events where gather crowded people.
Reflecting on the situation in Hanoi, the infection risk in Bach Mai Hospital may be more serious as it is one of the largest medical facilities in Hanoi with multiple departments testing and treating varied groups of patients including some with serious health problems.
The 86th and 87th Covid-19 patients are two nurses whose sources of infection have been not discovered yet, resulting in the high risk of infection in the area. "There could be more infection cases in the coming days. The safe door is narrower," said Mayor Nguyen Duc Chung.
On March 22, Bach Mai Hospital announced to stop accepting medical checkups at requests and re-examination at the departments to avoid crowding.
In a move to combat with the Covid-19 pandemic, Hanoi also demands to shut down service businesses including bars, massage, karaoke parlors, cinemas, stadiums across the city.

Previously, the city had at once asked businesses and entertaining services to shut down until March-end without naming the types of businesses. Yesterday, HCMC ordered all of its restaurants and barbershops to close starting Tuesday over rising numbers of Covid-19 infections.

The decision, effective 6 p.m. Tuesday until the end of March, covers all the above-mentioned businesses with a capacity of 30 people or more.