Hanoi People's Committee Receives World Bank Country Director
Carolyn Turk, Director of the World Bank in Vietnam, stated that Hanoi, with its strong development speed, would soon become one of the most beautiful cities in Southeast Asia.
On March 4, Member of the Party Central Committee, Deputy Secretary of the City Party Committee, Chairman of the Hanoi People's Committee Chu Ngoc Anh worked with Carolyn Turk, Director of the World Bank in Vietnam.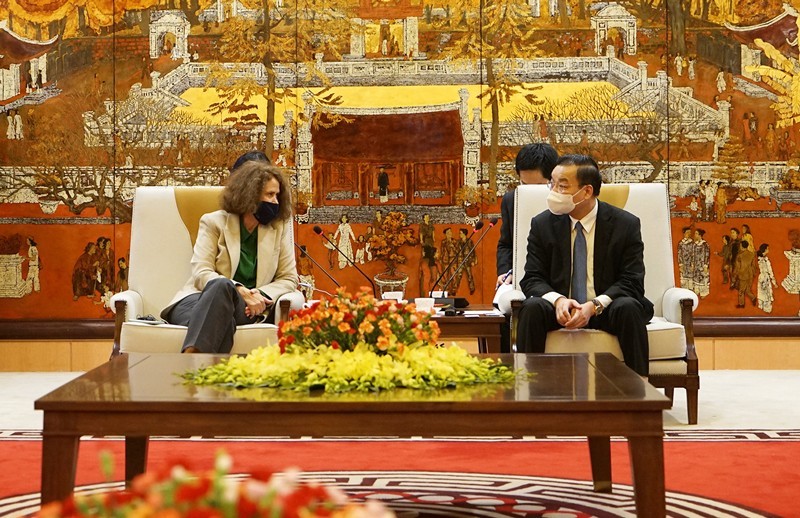 The two leaders discussed the development priorities of Hanoi city in the current time. World Bank Director in Vietnam Carolyn Turk said Hanoi has made significant advances compared to 30 years ago when she first came to Hanoi. Photo: Dang Cong San
At the meeting, Chu Ngoc Anh said that Hanoi aims to solve key urban problems that the two sides have the potential for cooperation such as air quality control, wastewater treatment, urban railway construction, e-government, smart city, and especially the Traffic Network Integration Operation Center.
He affirmed that, since 1990, the development of Hanoi capital has made great contributions from about 109 ODA projects, of which 80 projects are of great significance from the World Bank.
Particularly in the field of urban transport - accounting for 69% of the total number of ODA projects, there are 11 programs and projects funded by the World Bank that are appreciated for their effectiveness, bringing important impacts to the city development.
The Chairman believes the two sides can join hands to further two projects. The first is Long Bien - Gia Lam Waste Improvement Project and the Safe Agricultural Food Project to help improve production capacity for Hanoi.
The second is a number of urban transport projects to be promoted, with the policy of diversifying investment sources.
The Chairman of the City People's Committee said that Hanoi will pay attention to directing and promoting the projects.
In response, Carolyn Turk assessed that Hanoi, with its strong development speed, will soon become one of the most beautiful cities in Southeast Asia.
The director said that one of the challenges of the capital is to preserve the identity, environment, and strengths of Hanoi while continuing to develop and maintain the momentum of economic growth.
She emphasized that the World Bank hopes to accompany the capital in this process.
Turk expressed deep interest in the cooperation proposals from Hanoi in projects of wastewater treatment, the development of safe food.
She emphasized that this was an issue of common concern of the two sides and there had been effective cooperation.
Regarding urban transport, she said that Hanoi will have full support from the World Bank in urban transport and infrastructure projects, especially related to the urban railway system.
She also wished to receive more information about the plan to integrate different means of transport in Hanoi into a common system in the future.
This would ensure that the World Bank's support will bring positive effects to the whole community regarding urban the transport system of the capital.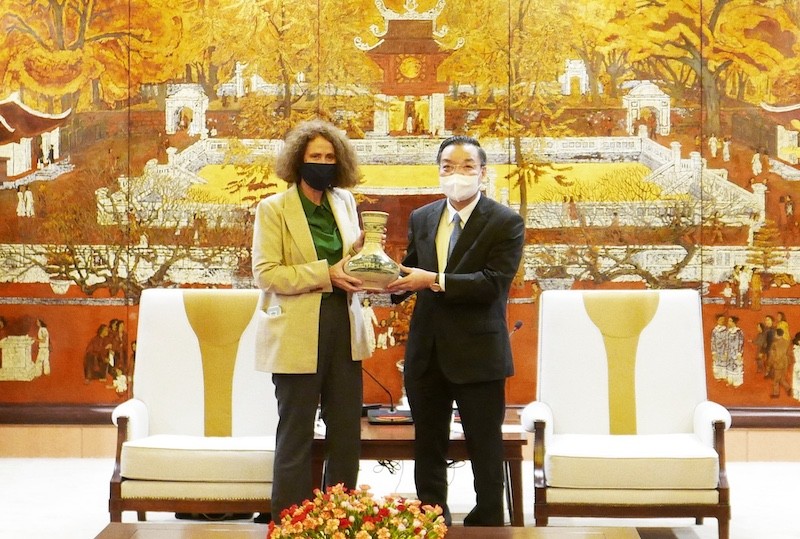 Chairman of the Hanoi People's Committee Chu Ngoc Anh (right) presents a gift from Hanoi People's Committee to Carolyn Turk. Photo: Hanoitimes