Hanoi's Devil's Tree Flower
Devil's tree flower, or hoa sua, is a symbol of Hanoi's beauty. Expats living in the capital city share their feeling about the fragrance of blooming devil's tree flowers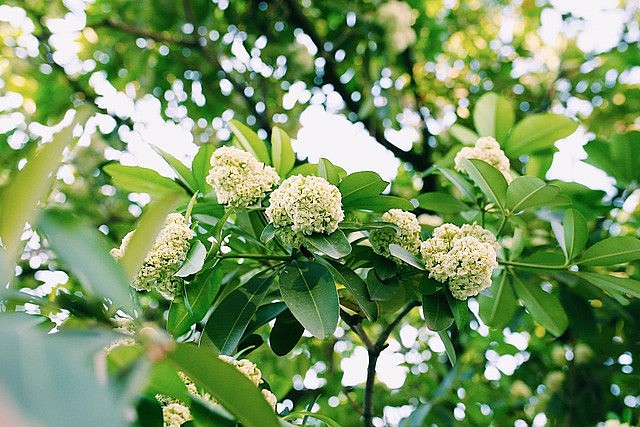 The devil's tree flowers bloom all over Hanoi in September and October. Photo Cafebiz
Devil's tree flowers or milk flowers bloom all over the city in the autumn. The flowers are also mentioned in many famous songs about Hanoi.
Its fragrance has become a subject of romantic, wistful nostalgia among Hanoians who have had to live far away from the city for a long time.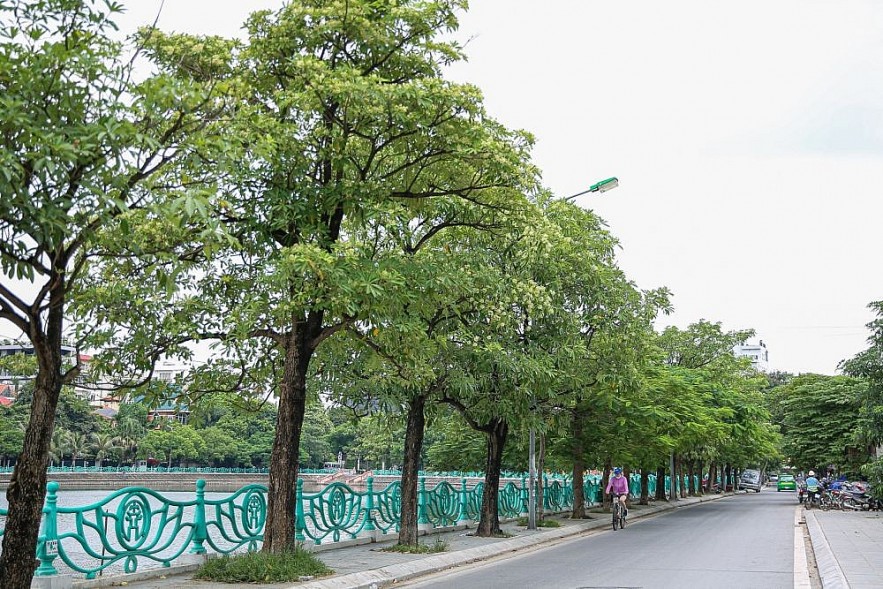 A line of devil's trees in Hanoi. Photo Bao Quoc Te
Travel blogger Nguyen Khai Trung described devil's tree flowers as a part of Hanoi. The flowers are so familiar. Every time the flowers bloom, many people take a walk on the street pavements to enjoy their beauty and fragrance.
A lot of foreigners living in Hanoi did not know what devil's tree flower was until they smelt the fragrance on the streets these days.
When Hanoi streets began to be covered with the flower's signature fragrance, Sonya Firsova, 27, from Russia, was touched.
"In Russia there are no such flowers but there is a flower of the same type. I had never smelt the fragrance of devil's tree flowers until I came to Vietnam," she told VnExpress.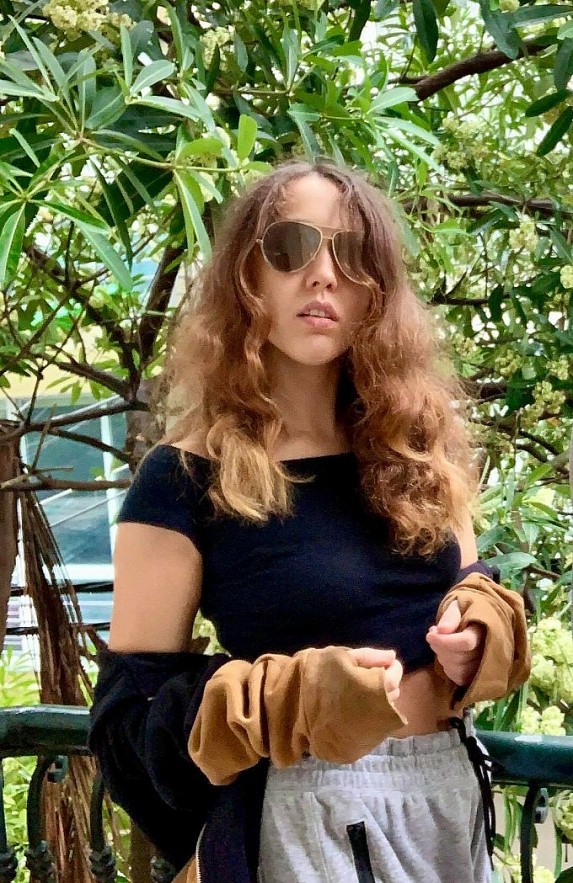 Sonya poses with a devil's tree. Photo courtesy of Sonya
Living in Vietnam for two years, Firsova has had beautiful memories with flowers every autumn.
She remembers the most a romantic memory with her boyfriend when they both took pictures together under a devil's tree.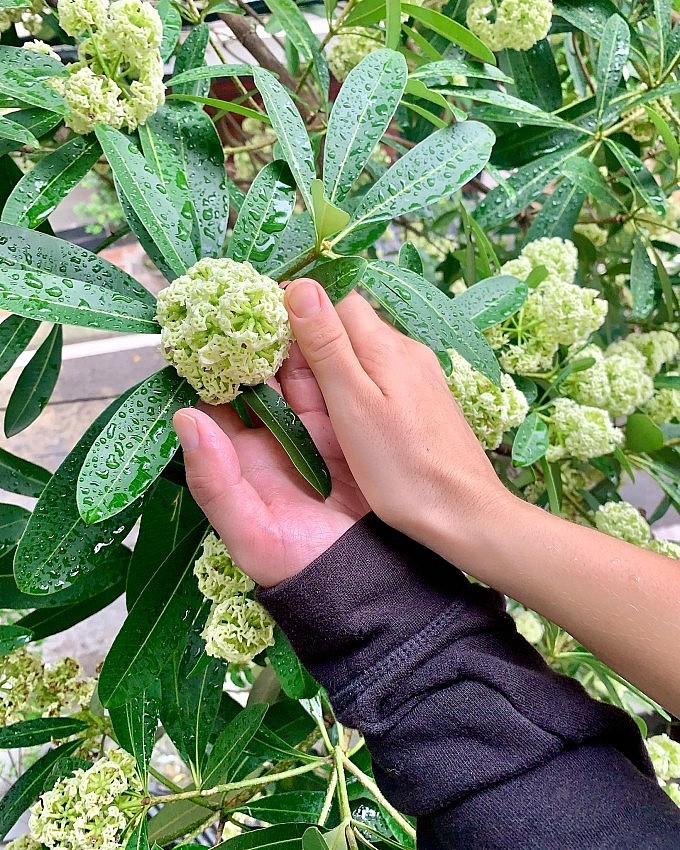 Sonya and her boyfriend take a photo with devil's tree flowers in Hanoi. Photo courtesy of Sonya
"It's a very delicate fragrance. I can enjoy the fragrance everyday from my room because there is a blackboard tree next to my balcony," she said.
Firsova feels the devil's tree flower fragrance is similar to the smell of warm milk mixed with honey. In Russia, honey milk is popular among children so Sonya feels very warm when smelling devil's tree flower fragrance.
Jon Kazinsky, 24, from Lithuania, has lived in Vietnam for three years and just moved to Hanoi.
This year is the first time he has recognized the scent of devil's tree flowers.
Kazinsky said his country did not have the flower.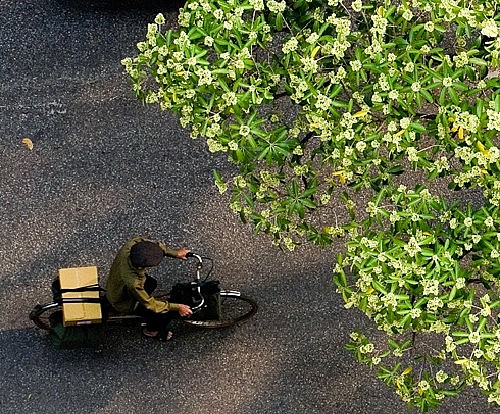 Photo VnExpress
"I used to live in the south of Vietnam. This year is the first time that I have felt the cool and pleasant weather of Hanoi's autumn. My friend just revealed a few days ago that smelling milk flowers is a must-do to enjoy the autumn in Hanoi to the fullest," he said.
At the first time he smelt devil's tree flowers, he sneezed a lot, but did not know what fragrance it was and where it came from.
After listening to his friend's explanation, he began to pay attention to the fragrance and felt was unique.
"It smells like herbs used as spices in Italian cuisine. The smell of devil's tree flowers is like a combination of rosemary and musk fragrance," he said.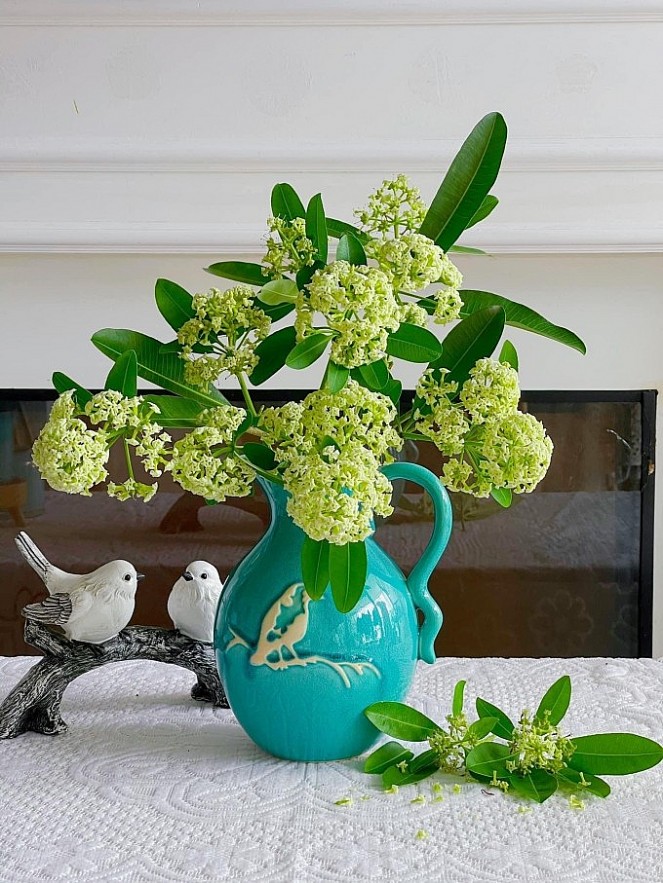 A lot of Hanoians pick the flowers and put them in a vase for home decoration. Photo VnExpress
Devil's tree or blackboard tree is a woody, medium-sized tree that can grow to about 50 m in tropical areas.

Devil's tree flowers are small and are white or light yellow.

Previously, Hanoi only had a few trees on streets like Nguyen Du, Quang Trung but now Devil's trees are grown in many new streets.

The tree flowers have a pleasant fragrance if planted with moderate density. When the trees are planted in spectacular profusion, the flower fragrance will be strong.
Restful Streets of Hanoi in Autumn

As Hanoi enters autumn, the atmosphere turns cool and relaxing. Hanoi's streets become more poetic with the clear blue sky and golden sun rays leaking ...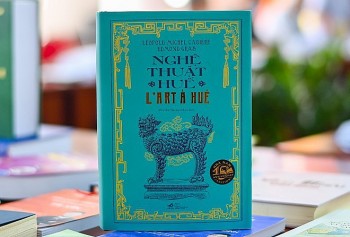 Expats in Vietnam
Inspired either by Vietnamese art or the people themselves, foreign authors often find inspiration in the S-shaped nation.